It is no secret that biotech's have been brutally beaten down since mid-July 2015 ( Figure 1.). The iShares Nasdaq Biotechnology ETF (NASDAQ:IBB) is down roughly 27% over that time period with many of the top biotech's sporting double digit percentage declines during that time. There have been many reasons for the biotech bear movement including foreign affairs, political drug price battles, oil prices, potential over valuations in the sector, and even perhaps a healthy correction.
Figure 1. Top Biotech's since mid-July 2015

With the overall market bouncing back from the correction in January and the S&P 500 slightly positive for 2016, one must be asking: Is the pain over for biotech and is it ready to recover like the rest of the market? Before investing, a diligent investor must first ask the question: Who is undervalued and what are the catalysts to move the stock upward?
Saying that the overall market has recovered is clearly not enough. There is still political pressure around drug pricing and it is not unreasonable to have a correction as the IBB has soared over 400% from 2011-2015.
One must also answer the question: which companies have drastically declined based on the overall sector versus specific catalyst events?
A good example of this is Biogen (NASDAQ:BIIB). Biogen is down 30% over the last 9 months but there are plenty of reasons for their decline which limits its bounce back. In July, Biogen slashed its earnings outlook around multiple-sclerosis drug, Tecfidera and also reported subpar clinical data on its highly anticipated Alzheimer's trial. That's clearly a one-two punch for a drop with little rationale for a full turnaround in the stock price.
On the other hand, you can look at Regeneron (NASDAQ:REGN). Regeneron is down roughly 22% over the last 9 months even after a recent 10% jump from good clinical data around its phase III dermatitis drug. Regeneron is growing earnings Y/Y with their macular degeneration eye drug (Eylea), and recently had their PCSK9 inhibitor, Praluent, approved for high cholesterol in late 2015. Despite the current patent war with Amgen over infringement issues, Regeneron has a stacked pipeline with 8 potential drugs in late stage development (phase 2 or later) and another potentially huge revenue driver with Dupilumab for eczema that will likely receive approval in mid to late 2017. Regeneron is a completely different story and is already soaring higher to make a comeback ($350 to $425 and going higher).
Turning to M&A, Pfizer (NYSE:PFE) was set to acquire Allergan (NYSE:AGN) this year until theU.S. Treasury Department unveiled a package of measures designed to counter a wave of tax-evading acquisitions. Pfizer was then forced to terminate the acquisition and will likely be looking for another big acquisition soon. Over the last two years, Pfizer has been trying to expand its pipeline and bottom line through a major acquisition. First it was through an aggressive move to purchase AstraZeneca (NYSE:AZN) and later Allergan. Ian Reed and company are not executives that like to hear the word no. Clearly, Pfizer is looking for a major acquisition and with biotech and pharma prices reduced from 9 months ago, I would not be shocked to see Pfizer act fast.
When looking at the IBB top 15 holdings (Figure 2), any company is a possible takeover target for Pfizer. When looking at this list and Pfizer's ambition of strengthening its position in cancer, Celgene (NASDAQ:CELG), Alexion (NASDAQ:ALXN), and Medivation (NASDAQ:MDVN) are on my short list. In the pharma sector, Bristol Myers-Squibb (NYSE:BMY) would be the best acquisition to drastically improve their oncology pipeline and bottom line revenue and that could be a move Pfizer is considering. Don't be shocked if there is an offer coming very soon. But remember, Pfizer is not the only giant in town looking to make an acquisition either. Allergan is flushed with cash (over $40B) and is also looking to make acquisitions as part of their business model for growth. Gilead (NASDAQ:GILD) is also sitting on roughly $25B for acquisitions but is more likely to make small acquisitions unless they find a true pot of gold sitting out there on the clearance rack.
Figure 2. IBB Top 15 Companies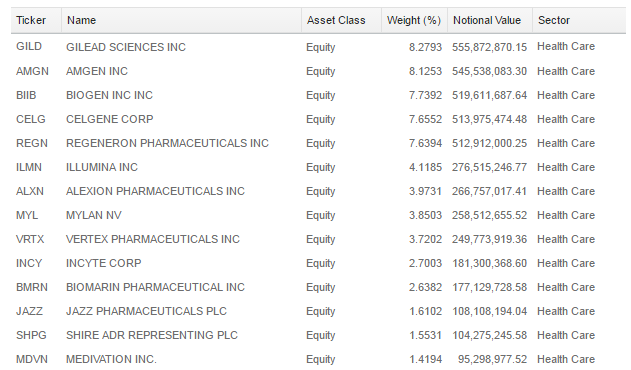 With the overall market recovering and the S&P now in positive territory for 2016, which biotech's are soaring higher?
The biotech's that are most undervalued or most likely to be potential acquisition targets. Let's have a look (Figure 3). Regeneron is clearly leading the pack up 18% in the past 5 trading days while Gilead is trailing the pack (+6%) and half the IBB increase of 12%. For all of the Gilead readers out there, Gilead is moving in the right direction but it will take time until some of their recent assets mature enough to grow the stock price or until another acquisition helps bolster their bottom line and vision for growth.
Figure 3. Top Biotech's over the last 5 trading days

Prediction:
Top biotech's with good earnings, growth trajectory, and a pipeline will continue to lead the pack upward. There will likely be multiple acquisitions in the near-term and this will provide additional fuel to lead the biotech recovery. My top picks are Regeneron, Celgene, and Alexion moving higher for all of the reasons mentioned above. However, watch out for political turmoil around high drug prices in this election year and international economic weakness which could derail this biotech rally at any time.
Disclosure: I am/we are long GILD, CELG, BMY, REGN.
I wrote this article myself, and it expresses my own opinions. I am not receiving compensation for it (other than from Seeking Alpha). I have no business relationship with any company whose stock is mentioned in this article.