The LED Lighting Market is in the middle of a strong growth phase with the global market expected to grow from $4.8 billion in 2012 to $42 billion by 2019. Unfortunately for the shareholders of Cree, Inc. (NASDAQ:CREE), it appears that its growth phase is dying a premature death as its superior technology has not been able to compete with the superior distribution of its many competitors. On April 5th, the company warned that revenue would be only $367 million for the third quarter (ended March), missing the midpoint of the guided range of $400 to $430 million by 12%. Earnings are expected to be more or less zero while non-GAAP EPS is expected to be 13 to 15 cents, missing analyst expectations of 24 cents.
Particularly troubling is that the decline is coming out of the company's Lighting Products division, the only segment that has produced growth so far in fiscal 2016:

CREE stated that Q3 revenues for its LED Products division of $151 million and Power and RF Products division of $29 million were in line to previously announced revenue targets, which means the Lighting Products division revenue of $187 million is responsible for the bulk of the decline. The division was expected to achieve about $235 million in revenue, so the miss is $48 million or over 20%.
Reviewing Q3 2015 revenue by segment:

The LED Products and Power and RF Products divisions have declined slightly. Lighting Products has declined 17% from Q3 2015, driving an overall revenue decline of over 10%. Growth for the first six months of the year was just over 2%, but Q3 will ensure that the company has decreased revenues of about 2% for the first nine months of 2016.
Despite the upward trend in the industry, CREE's growth appears to be in peril. The company's explanations for its sudden erosion in the Lighting Products division are not particularly compelling as it tried to frame them mostly as non-recurring events:
Lighting Products revenue is estimated to be approximately $187 million, lower than previously targeted due primarily to lower commercial orders driven by three main factors: customer service disruptions related to our ERP system conversion, new product delays and a slower than forecast calendar Q1.
The company mentioned that the ERP system implementation was a short-term risk on the Q2 earnings conference call, but upon follow up questions from an analyst, assured investors that the company has successfully managed similar implementations in the past: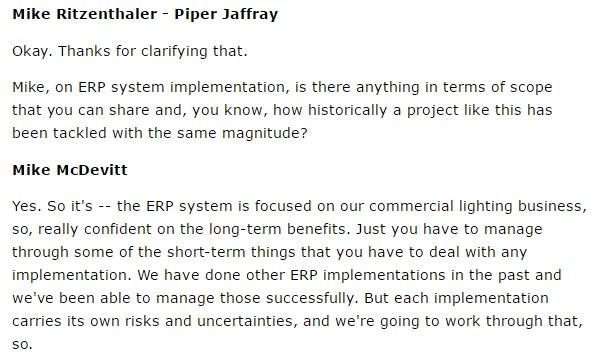 While Mike McDevitt was ambiguous about the potential impact of the ERP system change, CEO Charles Swoboda was a lot more candid in retrospect:
Some U.S. commercial lighting project business was lost due to customer service disruptions primarily related to our transition to Oracle in the quarter," he added. "The ERP (Enterprise Resource Planning system) conversion, which is necessary to support the long-term growth of our Lighting business, affected lead times, deliveries, and customer responsiveness. We believe that this disruption is mostly behind us as on-time delivery performance has improved significantly over the last month, although it will take time to rebuild customer momentum."
One would think that if the company has implemented ERP systems in the past that perhaps it could reasonably estimate and account for any possible disruptions to the business as a risk factor in the original guidance. But by management's change in tone it looks like it was a total disaster if it has been a serious contributor to a 20% miss in revenue. The admission that it will take time to rebuild customer momentum does not bode well for expectations in the near term. I believe that CREE will have to temper expectations for Q4 as well.
New product delays would have had an impact, but revenue for the division in the quarter was only $187 million. That's a decline of $37 million from last year and a sequential decline from Q2 of $68 million. The revenue decline is due to declining demand for the company's existing products. The company is losing to larger players as Acuity Brands, Inc. (NYSE:AYI) shot up 13% on Wednesday after it beat analyst expectations with 26% revenue growth while Jim Cramer believes that General Electric Company (NYSE:GE) is eating up CREE's market share.
Analysts have blamed this loss in share to the company's lack of a distribution channel as it sells only in Home Depot. CREE has based the bulk of its business on selling direct to commercial, industrial and government clients. In January 2015, U.S. President Obama increased the target on the replacement of bulbs in street poles with energy-efficient LED-based fixtures from 500,000 to 1.5 million by May 2016. So if CREE's growth has stalled even with a very favorable government policy move, what'ss in store for the company if the next regime isn't so focused on energy saving initiatives? Analysts have surmised that CREE is suffering from certain sector-related declines, for instance, if it has served or planned to serve the lighting needs for businesses in the oil industry, those projects may have been shelved indefinitely as that industry faces its own hardships.
Given that CREE's growth has stalled, where does that leave the stock? At $25, it is close to 52-week lows of $22, however I believe it should drop below that. CREE's forward P/E is rather high at 21 for a company that has completely stalled in a very competitive industry, but given its cash position relative to market cap, it is most fair to focus on its EV/EBITDA multiple of 16. This compares favorably to AYI's EV/EBITDA multiple of nearly 24, so bulls on the stock can point to the fact that the company is already trading at a discount to a larger peer. But I believe that the market is paying for AYI's growth while CREE's future prospects are much less certain.
Philips (NYSE:PHG) was going to sell its lighting division to GO Scale Capital before the deal was nixed due to security concerns. The deal would have valued the business at $3.3 billion US enterprise value while EBITDA for the business has been estimated to be 290 million euros. With exchange rates being around 1.2 at the time, that would value the business at a 9.5 EV/EBITDA multiple. I believe that would be a reasonable floor for CREE.
Considering that growth has slowed to a standstill, valuing CREE's business at a multiple that is closer to the proposed valuation on the Philips deal is more appropriate than toward high-flying Acuity. If the company was to trade at a 12 EBITDA multiple, that would lead to a stock price of a little less than $20. I believe that given how badly Wall Street has punished other former darlings like GoPro, Inc. (NASDAQ:GPRO) for a sudden downturn in growth and profitability, it is only a matter of time before CREE challenges the $20 mark. Q3 results and conference call are due in a couple of weeks. There's no shortage of unpleasant surprises that could be disclosed on the call, including lowered guidance for Q4 upon clarity of just how long it will take to win back business supposedly lost due to the ERP issue.
I think CREE makes an excellent near-term short candidate and it should be avoided as an investment until it trades at a conservative enough valuation where buyout rumors start to surface. The company has great technology, but it has been unable to capitalize on that and it will only get worse as more competitors enter into the market and its position as a premium player gets lost in all of the noise. A company with strong distribution channels could benefit a lot from having the Cree brand in its possession. The problem for current shareholders is that it might not end up benefiting them.
Disclosure: I am/we are short CREE.
I wrote this article myself, and it expresses my own opinions. I am not receiving compensation for it (other than from Seeking Alpha). I have no business relationship with any company whose stock is mentioned in this article.