Hostilities between Saudi Arabia and Iran are well known. The latest feud is Saudi Arabia's attempts to slow Iran's surge in exports by banning tankers carrying Iranian crude from entering ports in KSA and Bahrain.
But Kuwaiti OPEC governor Nawal al-Fezaia predicts an output freeze excluding Iran: "Oil producers have no option but to freeze their production as oil prices are low and hurting everyone," she said. "All early signs before the meeting point to this conclusion."
Russian sources told Reuters on April 6 that the output freeze is on track, and that Russia and OPEC are discussing the details, such as how long to maintain it, and how to monitor it. Russia hinted that OPEC would start the freeze without Iran and allow Tehran to join next year after it restores the 4 million barrels a day output that it maintained before international economic sanctions were imposed in 2012.
Bloomberg published the full transcript of its interview last week with Deputy Crown Prince Mohammed bin Salman. The specific responses by the prince contradict the posturing that is attempting to keep prices firmer: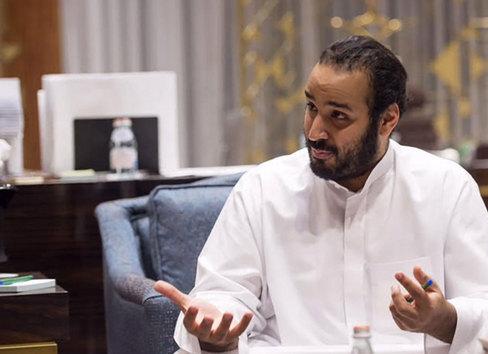 Prince Mohammed bin Salman.
Source: Saudi Arabia's Royal Court.
Bloomberg: So will Saudi Arabia insist that Iran joins the production freeze?
Prince Mohammed: Without a doubt.
Bloomberg: But would you be happy freezing without Iran, if all the other producers are prepared to freeze, would you be prepared to freeze production even if Iran continues?
Prince Mohammed: If there is anyone that decides to raise their production, then we will not reject any opportunity that knocks on our door.
On the one hand, I think if KSA could ramp-up production any further, the prince would have said so rather than "we will not reject any opportunity that knocks on our door."
However, I think an "opportunity" that he may have in mind is increasing Neutral Zone production. Recently, it was reported that Kuwait and Saudi Arabia reached an agreement to resume production from an offshore field there. It follows that production onshore may resume as well. The total capacity potential is around 750,000 b/d over time, about the same increase that Iran is claiming it needs to get back to 4 million barrels per day.
Prince Mohammed is the de facto king of Saudi Arabia. His father is reported to be in poor health (Alzheimer's). Saudi Oil Minister Ali Al-Naimi reports to the prince.
Conclusions
Despite headlines that the freeze is on track, I believe the Saudi position will be that it can increase its production (from the Neutral Zone) as much as Iran before it freezes. The group will still craft some kind of communique claiming success of a "freeze" agreement.
Disclosure: I/we have no positions in any stocks mentioned, and no plans to initiate any positions within the next 72 hours.
I wrote this article myself, and it expresses my own opinions. I am not receiving compensation for it (other than from Seeking Alpha). I have no business relationship with any company whose stock is mentioned in this article.