I have previously highlighted ConAgra (NYSE:CAG) as a reliable dividend play and covered the decision to split into two separate companies as an excellent move for shareholders. This is because I first expected its dividend to grow over time and, of course, its products have household name status. I'm of course still willing to bet at least one of its products are in your kitchen pantry as you read. Here's the thing, while the performance of the company has been somewhat flat to average of late, the company is committed to its strong dividend policy and its buyback. I like that. What we need to know is whether the company is continuing to grow earnings and sales ahead of the pending split. The stock is trading at about $46.07 as I write and I expect it to move higher over time given its recent performance, its commitment to maintaining a strong dividend and the value creation of the split.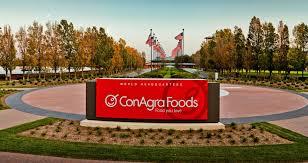 Now, as we wait for these things to pan out for the company, we need to be mindful of the performance of the company's key segments. On the surface of things, ConAgra's most recent quarter appeared to be decent as revenues beat estimates by $60 million. Further, earnings beat by $0.10. Year-over-year, things were strong. Comparable earnings per share from continuing operations was $0.68 vs. $0.59 a year ago, a $0.09 or a 15% increase. Revenues as a whole came in at $2.92 billion, and this was up by 0.3% year-over-year.
The question is where is the improvement in earnings coming from as revenues were about flat? Well, The Consumer Foods segment saw sales of $1.9 billion and operating profit of $291 million. This operating profit was up markedly from the $266 million last year. However, sales were down 2% year-over-year due to a 4% drop in volumes and a negative impact of foreign currency of 1%. These were however offset by a 3% favorable price/mix. Good productivity/output combined with overall lower commodity input costs contributed to the quarterly profit growth. Advertising investment also increased $10 million, or 12%, consistent with the company's plans to increase support behind key brands to drive long-term growth that I discussed in my article last year.
The Commercial Foods segment did well. Sales came in at $1.1 billion, up 6% from last year while operating profit was $175 million. This also was up 21% year-over-year. Lamb Weston made the most significant contribution to the segment's profit increase, continuing to show good international volumes and lower product costs. Profits for the remainder of the segment grew as well, albeit at a lower rate. One thing I want to highlight is that international sales were strong thanks to a large demand in key Asian markets as well as potato operations growth in North America.
The company continued to pay down debt. In the quarter it paid down $2.15 billion of debt. Further, the company paid dividends for the quarter of $109 million vs. $107 million in the year-ago period, reflecting an increase in shares outstanding, despite the repurchasing of shares over the last few years. I note however no shares were repurchased this quarter as the company was enveloped in the private label sale and focused on repaying debt. Looking ahead, given the recent divestiture of the private label business, the company's guidance for fiscal 2016 is now based on expectations for comparable results for continuing operations. For fiscal 2016 it now expects adjusted earnings per share to be $2.05 to $2.07.
While the company has seen some growth year-over-year, the company is committed to its strong dividend policy and creating value for shareholders. ConAgra may no longer be a high yielder, but it remains a dividend play. With the spinoff of Lamb Weston, current ConAgra Foods shareholders will own shares of both independent companies and this will be tax-free to the company and its shareholders. The company is on track to establish two independent segments with excellent operating foundations this fall and I think that the opportunity to own two companies is better than just one. The stock has run up nicely, but I would hold tight here.
Note from the author: Christopher F. Davis has been a leading contributor with Seeking Alpha since early 2012. If you like his material and want to see more, scroll to the top of the article and hit "follow." He also writes a lot of "breaking" articles, which are time sensitive, actionable investing ideas. If you would like to be among the first to be updated, be sure to check the box for "Real-time alerts on this author" under "Follow."
Disclosure: I/we have no positions in any stocks mentioned, and no plans to initiate any positions within the next 72 hours. I wrote this article myself, and it expresses my own opinions. I am not receiving compensation for it (other than from Seeking Alpha). I have no business relationship with any company whose stock is mentioned in this article.