As investors in 3D Systems (NYSE:DDD), Stratasys (NASDAQ:SSYS), ExOne (NASDAQ:XONE), and Voxeljet (NYSE:VJET) can vouch, 2015 was a rough year for many parts of the 3D printing/additive manufacturing industry, as excess capacity at many industrial clients led to major order cutbacks. But according to this year's edition of the industry's closely-watched Wohlers Report, total sales still grew at a healthy clip.
Wohlers Associates estimates total additive manufacturing product/service revenue rose 25.9% in 2015 to $5.165B. The growth rate was below the 33.8% CAGR delivered during the prior three years, but nonetheless, contrasts greatly with some of the weak numbers 3D printing firms delivered for the second half of 2015.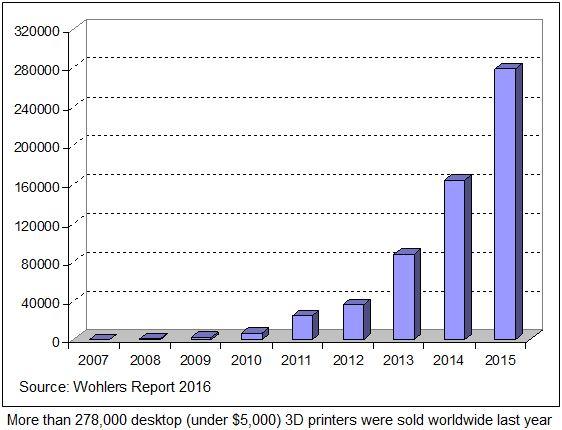 Desktop 3D printer sales
Metal printing, a market 3D Systems has grown its exposure to via M&A, was a strong point. Desktop 3D printers, embraced by consumers/enthusiasts as well as firms doing smaller prototyping jobs, were also strong: Wohlers estimates desktop printer sales rose nearly 70% to 278,385. Terry Wohlers, the firm's president said, "It's similar to when AutoCAD was introduced in the early 1980s. It could not do everything the expensive CAD software could do, but it did enough, so the value was good. The same was true with the early PCs compared to the more expensive UNIX workstations and mini computers from DEC and others."
At the same time, the desktop market has seen intense competition, as a quick look at some of the desktop printers that have launched at CES highlights. Stratasys has carried out multiple goodwill write-downs for its MakerBot desktop printer unit, which it bought for $403M in 2013. Meanwhile, 3D Systems announced in December it's discontinuing its $999 Cube desktop printer.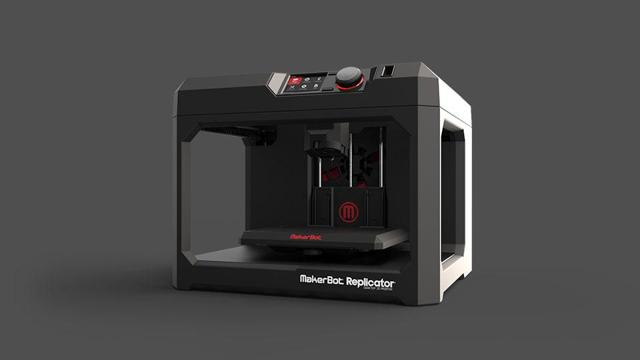 MakerBot's Replicator desktop 3D printer. It sells for $2,499.
Competition is also growing in traditional industrial printing segments, as strong growth and industry hype bring in new entrants and VC dollars. Wohlers states 62 firms sold "industrial-grade" additive manufacturing systems sporting $5,000+ price tags in 2015, up from 49 in 2014 and 31 in 2011.
HP Inc. (NYSE:HPQ) plans to enter the fray this year via 3D printers using a proprietary inkjet process called Multi Jet Fusion: HP states the process can simultaneously operate 10,000 nozzles, and allow objects supported by the process to be printed more rapidly and cheaply than via existing approaches. An HP exec has suggested the printers will be priced at the low end of the $150K-$500K range that has existed for similar hardware.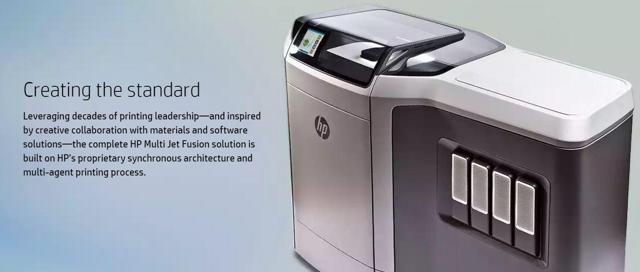 Source: HP
Still, Wohlers' report provides much to be encouraged about for 3D printing bulls, given how bleak news flow for 3D printing firms was in late 2015 and early 2016. Things have looked a little better lately, with 3D Systems and Stratasys each rallying following their Q4 reports - 3D Systems' report was especially well received. Soft demand still clearly exists in many market segments after companies got carried away with their printer-buying in 2013 and 2014 (echoes of the 1999-2000 telecom bubble), but business adoption of 3D printing/additive manufacturing is still growing at a healthy clip.
Disclosure: I/we have no positions in any stocks mentioned, and no plans to initiate any positions within the next 72 hours.
I wrote this article myself, and it expresses my own opinions. I am not receiving compensation for it. I have no business relationship with any company whose stock is mentioned in this article.