On April 26, AT&T (NYSE:T) releases 1Q 2016 earnings.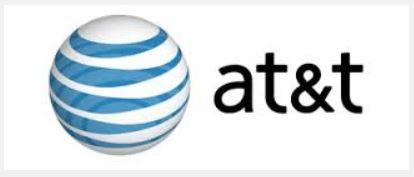 Since the beginning of the year, the shares have seen a nice run, moving from about $33 to $39. Investors cheered a price breakout, too. Since early 2012, AT&T's stock had been locked in a $32-38 price channel.
AT&T Price Channel and Breakout: 5Y Monthly Chart

Source: Ameritrade.com
Some of the current bid under the shares reflects Latin American growth expectations (post-acquisition DirecTV, Nextel Mexico, and Iusacell). Meanwhile, the stock offers investors ~5% dividend yield. AT&T stock is a Dividend Aristocrat. Equity owners have enjoyed annual dividend increases for 32 consecutive years.
Given recent price dynamics, the upcoming earnings report is especially important. Does the underlying business support the recent share price movement, or has the stock gotten a bit ahead of the fundamentals?
On April 26, I plan to focus on three key items:
Consolidated financial results versus pre-merger AT&T/DirecTV "bolt-on" earnings and cash flow
"Bolt-On" Earnings and Cash Flow
First, Step Back
The DirecTV deal was completed on July 24, 2015. Therefore, the last quarter both companies recorded independent financial results was 2Q 2015.
Here are pre-merger earnings and cash flow highlights:

If we simply "bolt-on" DTV to T results, we obtain the following pro forma figures:

EBIT (earnings before interest and taxes, aka operating income) was selected as a superior earnings metric since it excludes interest and taxes. These items may distort the underlying core business performance.
Note: The three-month figures are simply the six-month figures divided by two.
Furthermore, it is recognized AT&T completed the Nextel Mexico and Iusacell transactions during 1Q 2015. However, these acquisitions were relatively small. The July DTV deal is what moved the needle.
4Q 2015 results reflected the first full post-merger quarter.
AT&T reported these results:

Comparing three-month pre and post merger periods, we see revenue and opex ranged higher than the "bolt-on" pro forma. Net EBIT grew. That's a good thing; especially the $1 billion improvement in total revenue.
On the other hand, operating and free cash flow came in lower than the pre-merger "bolt-on" averages.
Next, Look Forward
I was not overly concerned with the 4Q 2015 drop in free cash flow. It was to be expected AT&T would ramp up capital in conjunction with the new Latin American operations. Full-year 2016 capex is expected to be ~$22 billion, up $2 billion versus 2015.
Pay particular attention to 2016 operating cash flow. The year-over-year comps are unimportant. What matters is OCF versus the "bolt-on" pro forma figures.
Continued top-line growth could be another welcome signal. Once again, traditional comparisons are not the ticket. What we want to see is quarterly revenue in excess of $42 billion and/or trailing six-month revenue above $83 billion.
Finally, AT&T's management promised operating merger synergies. These should begin to show up in the opex figures; though perhaps not right away. Indeed, actual operating expense vs. "bolt-on" pro forma figures increased in the fourth quarter; however, the deal had just closed. An increase in near-term expenses is normal due to system integration, new process installation, and rationalization activity.
Debt Management
Certainly, the spate of 2015 acquisition activity beefed up AT&T's debt profile. Year-end net debt escalated to $121 billion, up 65% from $73.3 billion one year prior.
Debt management has become a major issue. Management recognizes this. It has emphasized plans to reduce leverage. 4Q 2015 net debt-to-adjusted EBITDA is 2.31x versus 2.28x in the linked quarter. The company's stated target leverage ratio is <1.8x.
Note: For comparison, straight GAAP net debt-to-EBITDA is 2.6x versus the aforementioned "adjusted" leverage figures.
We should expect to see this ratio decline, starting with the April report. I believe the AT&T dividend is sacrosanct; the Dividend Aristocrat title will stand. My expectation is share repurchases will fall, thereby permitting excess free cash to go towards debt reduction.
Effectively, CEO Randall Stevenson confirmed this view during the 4Q 2015 earnings conference call:
... I think we've been pretty clear that the next couple of years we want to get our debt levels back down to kind of more normal levels for us. We spiked them a little bit to get the spectrum bought last year and then also to do that DIRECTV deal. So we'll spend the next couple of years working the debt back down before we start talking about different capital allocations in terms of share buyback or anything of any magnitude.
As part of its 2016 guidance, management stated the dividend payout ratio as a function of free cash flow will be in the "70s%" range. Assuming 75% FCF payout ratio on anticipated ~$11.6 billion dividends, we may back into the premise AT&T expects to generate about $15.5 billion free cash flow in 2016 (T recorded $15.9 billion free cash flow in 2015).
This affords approximately $4 billion for debt management.
With zero EBITDA improvement, AT&T needs to reduce net debt from current levels to $94 billion. While a tall order, there are some mitigating circumstances. First, expansion into Latin America requires a near-term capital infusion. Second, premising zero EBITDA improvement is a bit dire. Even if margins remain steady, coming years should see AT&T experience modest EBITDA growth.
Meanwhile, AT&T holds a comfortable interest coverage ratio of 6.6x. Servicing current debt should not be a problem.
Margins
All of which brings us to margins. As suggested above, coming years' EBITDA is likely to grow along with revenue even if margins just remain stable. Margin expansion simply accelerates the growth profile.
Therefore, good investors should keep close tabs on margins. It's integral to the narrative.
First, here's the current state recap:

Please notice post-merger 4Q 2015 margins were down considerably versus full-year results. However, back-checking reveals 4Q 2014 margins were also lower than the full-year print. Consequently, I am not overly alarmed by the drop. On a positive note, 2015 margins improved markedly versus 2014.
AT&T's management projects flat margins for 2016. Therefore, we should expect EBITDA and operating margins to come in about 32% and 19%, respectively. We have benchmarks to watch.
Indeed, under the assumptions revenues rise gradually and debt gets paid down, we find margins are a critical piece of the debt/leverage equation.
Final Thoughts
The following presentation slides from the 4Q 2015 earnings release provide additional perspective around cash flow, margins and the 2016 outlook.
For your consideration: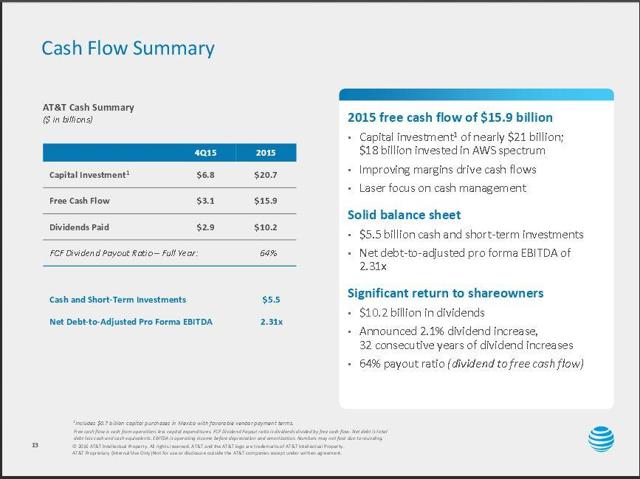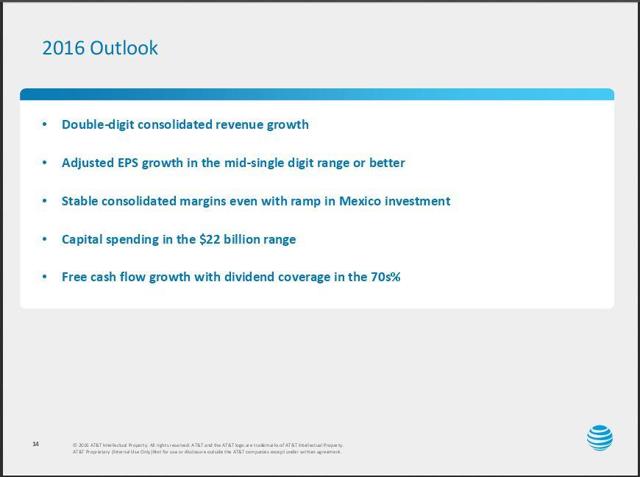 Readers, on balance I contend the 2016 run-up in share prices reflects growing investor optimism in an "AT&T of the Americas" franchise. AT&T aims for leadership in wireless, business communication solutions, and video entertainment.
I find myself in agreement with the strategy and actions to-date. Nonetheless, the recent share price advance is somewhat prospective. The stock does not appear cheap. The following long-term F.A.S.T. Graphs illustrate this outlook: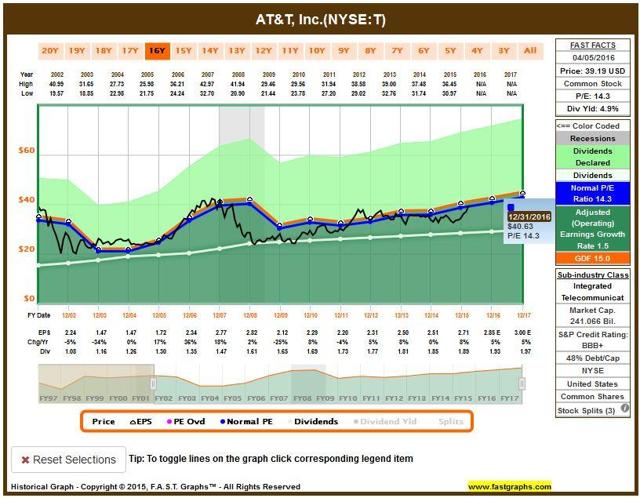 Through the earnings per share lens, T's shares look fairly valued, but not inexpensive. S&P analysts' $2.85 consensus 2016 earnings estimates are well aligned with AT&T management's outlook. Coupled with the dividend yield, 2016-17 earnings growth in mid-single digits offers sound investment returns.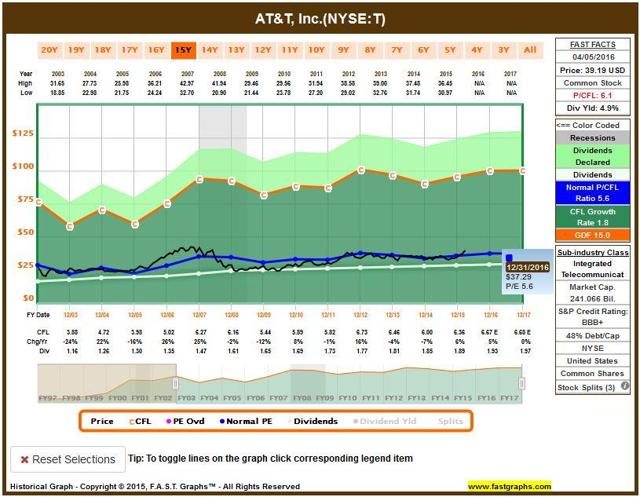 Courtesy of fastgraphs.com
On a price-to-cash flow valuation, the stock may be slightly overvalued. Based upon S&P estimates and the historic P/CF multiple, $37 is a reasonable fair value estimate.
Therefore, while I remain constructive on AT&T, the stock price has built in greater forward expectations than in recent memory. Shares are valued fairly; neither cheap nor dear. My view is management is up to executing international growth plans while maintaining its profile at home.
First-quarter earnings will be an early marker. I encourage investors to read past the headline numbers; instead eyeing earnings and cash flow versus "bolt-on" comps, debt management, and margins.
Please do you own careful due diligence before making any investment decision. This article is not a recommendation to buy or sell any stock. Good luck with all your 2016 investments.
Disclosure: I am/we are long T.
I wrote this article myself, and it expresses my own opinions. I am not receiving compensation for it (other than from Seeking Alpha). I have no business relationship with any company whose stock is mentioned in this article.