I first wrote about some of the lithium miners here on Seeking Alpha in 2015. You can read about it here. Since then, the lithium spot price has spiked, and many lithium miners' stock prices have also spiked higher. For example, Australia's General Mining Corp. [GMM:ASX], is up 1,102% in the past year. This is just the beginning of a lithium bull market for the next decade.
With the electric vehicle (EV) demand expanding globally and likely to be just in the early stages, this will lead to a huge demand for lithium in the next 5-10 years. Lithium is in huge demand from three mega industries: electronic devices (phones, PCs, etc.), electric vehicles, and energy storage. You can read my article on energy storage here. Several lithium battery gigafactories are currently in the planning stages or are being built, led by Tesla (NASDAQ:TSLA) with its gigafactory that will double global lithium battery production by 2020 to supply 500,000 Tesla EVs and home storage batteries. Tesla Model 3 orders are at 276,000 after just three days. BYD Co. (OTCPK:BYDDF) (OTCPK:BYDDY) [01211:HK], Panasonic (OTCPK:PCRFY) (OTCPK:PCRFF), LG Chem (OTCPK:LGCLF) (OTC:LGCEY) (051910:SK), and Samsung SDI (OTC:SSDIY) are the other major lithium battery suppliers.
Other articles have illustrated this clearly none better than Anton Tyumin's excellent article, "Goldman Calls Lithium The New Gasoline - Get In Before It's Too Late Or Stay Out?". You can read the article here on Seeking Alpha.
A brief summary:
The lithium market is likely to at least double in the next four years. Citi Research projects the global lithium battery market to be $40b by 2020 from around $20b now.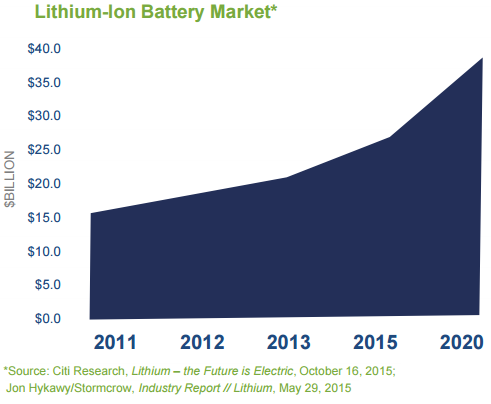 The lithium spot price is rising and reflecting the increase in demand. "Mr. Lithium," Joe Lowry, reports $20,000 per metric tonne in China, stating "the lithium shortage is real." The price of 99% pure lithium carbonate imported to China more than doubled in the two months to the end of December 2015 to $13,000 a tonne.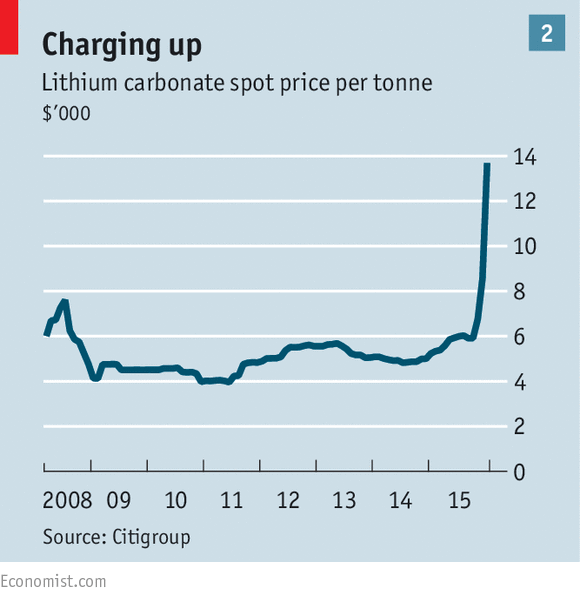 Most analyst models are still using lithium carbonate prices of around $5,000-6,000 per tonne. If you assume lithium prices will move higher than this (currently spiking at 13,000), with massive demand coming from EVs, then the lithium producers will all be soon getting large price upgrades.
My article is for those investors who are ready to invest in a lithium mining company, as they see the coming demand wave and lithium price increase, but are not sure what company to buy. I will give a summary of the main players in two sections - lithium producers and lithium start-ups.
1) Lithium Producers
The graph below shows the main current producers.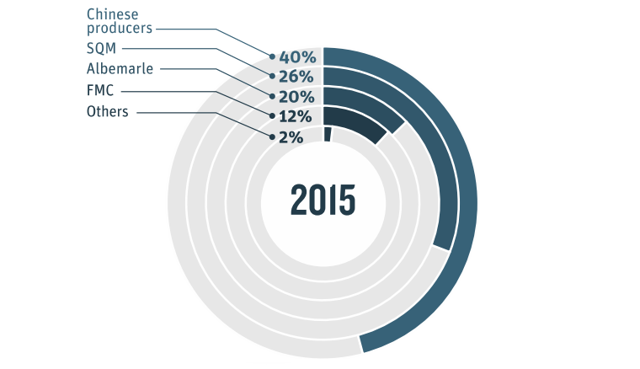 The main issue here is that Sociedad Quimica y Minera de Chile (NYSE:SQM) and FMC Corp. (NYSE:FMC) are not pure lithium plays.
Sociedad Quimica y Minera de Chile - Price = $19.99
SQM of Chile is mostly a fertilizer producer, selling potassium nitrate, sodium nitrate, and potassium sulfate to the agricultural industry. With lithium brine mines in Chile, SQM is currently one of the largest producers of lithium globally. However, lithium only contributes 11% of revenues for SQM. The company has recently done a JV with Lithium Americas (LACDF), which will in time see its lithium production increase.
Net profit margin in 2015 was 12%; however, due to the commodity price collapse of 2012-2016, SQM has seen declining revenues and profits. SQM's market cap is $6b, PE 2016 is 17.2, PEG ratio 2.4, and a dividend yield of 0.86% pa.
FMC Corp - Price = $38.16
FMC is a US company. It is similar in some ways to SQM in that it is not a pure lithium play. It is also a manufacturer of agricultural, specialty and industrial chemicals. Its lithium segment is small, only contributing just $11m to earnings in 2015, but it is growing. FMC has a market cap of $5.1b, PE 2016 of 14.5, PEG ratio of 1.4, and a dividend yield of 1.73% pa.
Albemarle (NYSE:ALB) - Price = $64.50
Albemarle is a US specialty chemical producing company. In 2014, ALB, some say the world's biggest lithium producer, bought Rockwood, owner of Chile's second biggest lithium brine deposit. Notably, Rockwood was a very low-cost producer. ALB is currently producing about 35,000 metric tonnes of lithium carbonate per year (plus what they produce with their Chinese Talison JV with Tianqi), but planning to increase production towards its newly increased government cap of 70,000 per year (for the Chile mine). Net (long-term) debt is still some concern at about $3.3 billion, but with rising lithium production and prices and 35% EBITDA margins, ALB should be able to pay down debt aggressively. 2015 net profit margin was 6%, however, this is likely to improve going forward especially if lithium prices increase.
You can read more on ALB here. ALB has a market cap of $7.2b, PE 2016 of 17.5, PEG ratio of 2.3, and a dividend yield of 1.89% pa. ALB is one of my top three preferred lithium miners, and worth buying on dips.
Orocobre (OTCPK:OROCF) - Price = AUD 2.90, USD 2.33
Orocobre is an Australian mineral exploration company. It is basically a pure lithium play (with some borax), and a very new producer. It has a 66.5% interest in the Olaroz lithium brine project in Argentina. The other partner is Toyota Tsusho (OTC:TYHOY). 2016 production is expected to be 17,500 tons of lithium carbonate at a cost of around $2,000-2,500 per tonne. It will be a low-cost producer, and margins will be very good whilst debt levels are manageable. You can read a detailed analysis by Paulo Santos on Seeking Alpha here. The comments section of that article is very good, and reveals the company's production has been delayed. A key will be if the company can in fact produce 17,500 tons a year, at a low cost of production. Given that Toyota has partnered, it looks promising.
Orocobre has a market cap of USD 488m according to Bloomberg, and a PE 2016 of between 11.65 (233/0.20) and 19.4 (233/0.12) based on best- and worse-case numbers as presented in the above quoted article. P/B is 2.08. The best case assumes $6,000/ton price for lithium delivered, and worst case assumes $5,500/ton price for lithium delivered. Of course, that PE may be pushed out to 2017 or later if the production target is delayed or not reached until later years.
Saxo consensus analyst estimates have it as a hold with a target of AUD 2.90 or USD 220. Sovereign risk and being a small start-up miner are the main risks. Obviously, the stock price will be very sensitive to the lithium spot price. It is a high-risk/high-reward stock.
Orocobre is one of my top three preferred lithium miners and worth buying now and again on any dips. Be aware the stock price has run up 100% in the past four months.
Galaxy Resources Ltd. (OTCPK:GALXF) - Price = AUD 0.265, USD 0.20
Galaxy Resources is an Australian-based company focused on lithium resources. The company is engaged in three projects, including: Sal de Vida - Argentina, James Bay - Canada, Mt Cattlin- Western Australia.
Year on year, Galaxy Resources grew revenues 119.90% from 34.9m to 76.9m while net income improved from a loss of 54.6m to a gain of 55.2m.
GALXF has a market cap around USD 300m, with 1.264b shares outstanding, the EPS was 0.05.
Note the stock is up 703% in the past year.
You can read more about Galaxy and some of the other booming Australian lithium mining stocks here.
Post-publication update: Galaxy has taken over General Mining as of May 30, 2016.
Ganfeng Lithium (GFL) and Sichuan "Tianqi" Lithium Industries [002466:CN]
I have not chosen to discuss these top two Chinese lithium producers as they are not US listed.
2) Lithium Start-Ups (Not Yet Producing)
Pure Energy Minerals (HMGLF) - Price = $0.53
The Canadian company Pure Energy recently signed an agreement to supply Tesla's gigafactory. Its flagship project includes the lithium brine project, covering approximately 8,000 acres in Clayton Valley, Nevada.
It is currently not yet profitable, so no PE, with a market cap of $35.1m. The stock has rallied 197% in the last year, especially after it gained the Tesla agreement. Consider it as speculative with a lot of good news already priced in.
Bacanora Minerals (OTC:BCRMF) - Price = $0.94
Tesla has also agreed to buy lithium from Canada's Bacanora Minerals from its clay deposit in Mexico's northwest should the new project reach production. It plans to produce 35,000 tonnes of lithium pa when in full production, with a 20-year mine life. The company plans to be a low-cost producer around $2,100 per tonne after K2S04 credits. You can read more on Bacanora with its company presentation here.
With a current market cap of $91.3m, the stock has some potential.
Lithium Americas Corp. - Price = $0.45
Western Lithium recently merged with Lithium Americas Corp. (NYSE:LAC), and the two groups will operate under Lithium Americas Corp. stock code. The merged company will supposedly hold two of the leading lithium development projects in the world. Western Lithium has the Kings Valley lithium mine in Nevada and Lithium Americas has the Cauchari-Olaroz project in Argentina. Kings Valley production is four years away, and Cauchari-Olaroz is two years away.
The key here is that the Western Lithium project is located very near to Tesla's gigafactory, so it could be a future major supplier to TSLA. NB: Currently it has no agreements with Tesla.
Lithium Americas has no current earnings or PE, a market cap of $132m, and has an analyst buy recommendation and a price target of $1.30. Consider it as speculative.
Dajin Resources (OTCQB:DJIFF) - Price = $0.11
Another Canadian company, Dajin Resources, has lithium deposits in Nevada, therefore located near to Tesla's gigafactory. NB: Currently, it have no agreements with Tesla. You can read more about Dajin here. Market cap is a mere $13.1m, so plenty of upside potential, however no PE as it is not yet producing. Consider speculative.
Lithium ETFs or Listed Investment Companies (LICs)
Global X Lithium ETF (NYSEARCA:LIT) - Price = $21.00
Global X Lithium is an ETF that tracks the Solactive Lithium Index. Its top holdings include FMC, SQM, Samsung SDI, LG Chem, Tesla, Panasonic Corp., and Albemarle Corp. Its returns have been very disappointing in the past five years with -11.07% annualized return. This is mostly because the resources crash of the past years and many of the miners in the fund have only a small percent devoted to lithium as stated above with SQM. Its current PE is 21.15.
Rare Earth Minerals (REMMY) [REM:LSE] - Price = $0.55
Rare Earth Minerals Plc is a London LIC focused on creating a diverse portfolio of direct and indirect interests in lithium and rare earth minerals. You can read more about it here.
Conclusion
Lithium spot prices are likely to do very well as lithium demand increases rapidly in the next decade. Expect prices well above the previous standard $5,000-6,000 per tonne.
Cautious investors can buy a lithium ETF such as LIT, or a LIC such as REMMY.
My top three lithium miners for now would be Albemarle, Galaxy and Orocobre. I would invest a smaller sum now, and look to add on any dips, bearing in mind some miners have recently spiked as the lithium spot price spiked.
My top speculative picks would be Lithium Americas and Dajin Resources.
Disclosure: I am/we are long TSLA, BYD:HK.
I wrote this article myself, and it expresses my own opinions. I am not receiving compensation for it (other than from Seeking Alpha). I have no business relationship with any company whose stock is mentioned in this article.
Additional disclosure: The information in this article is general in nature and should not be relied upon as personal financial advice.
Editor's Note: This article covers one or more stocks trading at less than $1 per share and/or with less than a $100 million market cap. Please be aware of the risks associated with these stocks.