The YMBC (You Must Be Crazy) High Yield Portfolio utilizes primarily UBS leveraged 2x ETNs in order to formulate an easily managed, very high yield portfolio. The YMBC(i) (You Must Be Crazy -individual, or if you prefer You Must Be a Crazy Individual) High Yield Portfolio is similar, however it utilizes non-leveraged positions in individual equities instead of 2x leveraged ETNs. The 2014 review article, includes an explanation of the goals, characteristics, and a risk analysis of the YMBC portfolio. The 2015 review article contains more information regarding the downdraft experienced during that year, and introduces the YMBC(i) portfolio.
For this update it is assumed the reader has already read both articles and is familiar with the goals and characteristics of these portfolios, as well as the inherent risk involved with these largely small cap, high yield positions.
I forgot to take a snapshot of exactly where we started the year but on February 11th, when I published my last article the YMBC portfolio was invested as follows:
17% UBS ETRACS 2X Leveraged Long Wells Fargo Business Development Company ETN (NYSEARCA:BDCL)
15%

UBS ETRACS Monthly Pay 2x Leveraged Mortgage REIT ETN (

MORL)
14%

UBS ETRACS Monthly Pay 2xLeveraged Diversified High Income ETN (

DVHL)
UBS ETRACS Monthly Pay 2x Leveraged S&P Dividend ETN (NYSEARCA:SDYL) 19%
ETRACS Monthly Pay 2xLeveraged U.S. Small Cap High Dividend ETN (NYSEARCA:SMHD) 4%

Yorkville High Income MLP ETF

(NYSEARCA:YMLP) 7% (new entrant during quarter)
Eaton Vance Floating-Rate Income Plus Fund (NYSE:EFF) 19%
Blue Capital Reinsurance Holdings Ltd. (NYSE:BCRH) 6%
0% -

UBS ETRACS Monthly Pay 2xLeveraged Closed End Fund ETN

(NYSEARCA:CEFL),

UBS ETRACS Monthly Pay 2xLeveraged Wells Fargo MLP Ex - Energy ETN (

LMLP),

UBS ETRACS Monthly Pay 2X Leveraged Dow Jones International Real Estate ETN (

RWXL),

ETRACS Monthly Reset 2xLeveraged ISE Exclusively Homebuilders ETN (

HOML),

UBS ETRACS Monthly Reset 2xLeveraged S&P 500 total Return ETN (

SPLX),

UBS ETRACS Monthly Pay 2xLeveraged US High Dividend Low Volatility ETN (

HDLV),

UBS ETRACS Monthly Pay 2x Leveraged Dow Jones Select Dividend Index ETN (

DVYL)
<1% Cash
Indicated Forward Yield: 17.8%
At the beginning of the year YMBC(i) portfolio was invested almost entirely in cash (there was a small 0.3% position in a bankrupt preferred that it was not worth the transaction fee to sell). This is not because the portfolio was just starting to be introduced to the public. Rather in addition to being primarily comprised of individual equities, the YMBC(i) portfolio utilizes timing as well as fundamental criteria in order to choose individual equities. All three of the proprietary market timing criteria I use for this portfolio had been signaling danger, get out, since mid-November, hence the portfolio started moving to cash at that time. All three signals concurring sell is not a common occurrence. To my recollection, it has only happened a couple other times since the Great Recession. Therefore, when it does happen, I pay attention, sell, lick my wounds, and try my best to wait patiently for the market to become more conducive to investment.
To be more specific, when one timing indicator issues a warning but the other two do not, I don't change anything. This happens all the time, so I buy and sell as normal. When two indicators say sell and one buy, I actively look for and am quick to pull the trigger on sells, and don't buying anything unless it is a compelling deep value candidate which is also heavily oversold. Thus when two out of three indicators issue a warning the portfolio starts raising cash. When all three say sell, I sell everything, go to cash, and in portfolio's which allow it, actively look for short candidates.
YMBC(i) was 99.7% cash at the start of Q1 2016 because my indicators were saying the risk was not worth it. In hindsight, this was probably accurate.
Changes:
In the middle of Q1 2016 (February 9th to be exact) YMLP, a MLP ETF, was finally added to the YMBC portfolio. I say finally because during the first two years of the portfolio readers had repeatedly questioned in the comments section below my articles why I did not add MLPL, the UBS 2x MLP ETN into the mix. My explanation was always pretty much the same, it did not seem to improve diversification, and more importantly I thought most MLPs expensive. The pipeline MLPs in particular were overpriced trading in the 4-6% yield range when a fully covered 8% or more was the point I started to become interested. As it turned out, UBS announced they were pulling the MLPL ETN on January 20th when it broke intraday low criteria for being dissolved. I ended up buying YMLP instead.
YMLP is a somewhat more diversified ETN than MLPL was, being more focused on yield and thus less concentrated in the pipeline space. The Solactive index which YMLP utilizes first screens for MLPs meeting basic size and volume criteria (to allow for efficient trading), then chooses the top 25 ranked accorded to current yield, coverage ratio, and distribution growth. So YMLP is a more distribution than market cap focused fund, somewhat similar in criteria to SMHD. Like SMHD therefore the question one must ask is will the criteria capture out of favor securities about to rebound, or falling knives about to cut their dividend? In my opinion the jury is still out.
In order to add a reasonable allocation to YMLP I needed to not just re-invest distributions but also to sell some shares (a Required Minimum Distribution taken in Q4 utilized most available cash). I could have re-balanced in the process, bringing each component back exactly to plan; however, that would have involved a number of small trades which merely adjusted the component allocations a couple percent or less. Rather than do this, I chose instead to simply sell some BDCL and use it (plus remaining cash) to buy YMLP. One may say I was lazy, but that is part of the point of the YMBC portfolio, an easy to manage portfolio. Thus SDYL and EFF currently have a little higher allocation in the YMBC portfolio than I would like, while BDCL and BCRH are a little lower than I would prefer. In the grand scheme of things, it is unlikely to matter much. I suspect next quarters distributions will be re-invested in BCRH in order to increase its allocation.
In January one of my three market indicators switched away from sell. Thus the YMBC(i) portfolio was released for potential, cautious, buying of deep value opportunities which were also oversold, and/or special situations. Luckily, on January 20 th, the same day UBS chose to shutdown MLPL, YMBC(i) got many such opportunities. While UBS was stepping away from MLPL and the market was selling off securities in general and pass-through securities in particular, the YMBC(i) portfolio bought Capital Product Partners L.P. (CPLP), Ellington Financial LLC (EFC), the WisdomTree Europe Hedged Equity ETF (HEDJ), Goldman Sachs BDC (GSBD), Ladder Capital Corp (LADR), Main Street Capital (MAIN), Premier Financial Bancorp, Inc. (PFBI), TCP Capital (TCPC), and TriplePoint Venture Growth (TPVG).
So far this has turned out to be very fortunate timing. Everyone one of these purchases, with the exception of CPLP, is up. Most with double digit increases. Since then additional purchases have been made for the YMBC(i) portfolio in:
Dynagas LNG Partners LP (DLNG) 2019 notes, Eldorado Resorts, Inc. (ERI), Flagstar Bancorp, Inc.(FBC), Fortress Investment Group LLC (FIG), Fifth Street Senior Floating Rate Corp. (FSFR), Full Circle Capital (FULL) (+ some July FULL calls), TerraForm Global (GLBL) (hedged with equal number of short term April puts), New Residential Investment Corp. (NRZ), The Phoenix Companies, Inc. (NYSE:PNX) 2032 QUIBS (PFX), RCI Hospitality Holdings, Inc. (RICK), StoneMor Partners L.P. (STON), TICC Capital Corp. (TICC), and TPG Specialty Lending (NYSE:TSLX).
Each one of these purchases was either a deep value and oversold security at the time, or a special situation (mergers, liquidations, etc.). Thankfully, each one is also showing a gain since purchase, again most in the double digits. While it is not practical to do a full article on each of these purchases (or sales) as they are made, I have and will continue to disclose them in the comment sections of these article immediately after the transaction. I will also attempt to provide a couple lines on my reasoning for each one.
The YMBC(i) portfolio benefited from some fortuitous timing in Q1 to be sure, but that is part of the point. Some credit is probably due to the timing strategy utilized; it was not all luck. Just don't expect these kind of results in the future. No one wins 21 out of 22 times on an ongoing basis.
Returns:
As alluded, Q1 2016 was a good quarter for both the YMBC and YMBC(i) portfolio's, particularly for YMBC(i).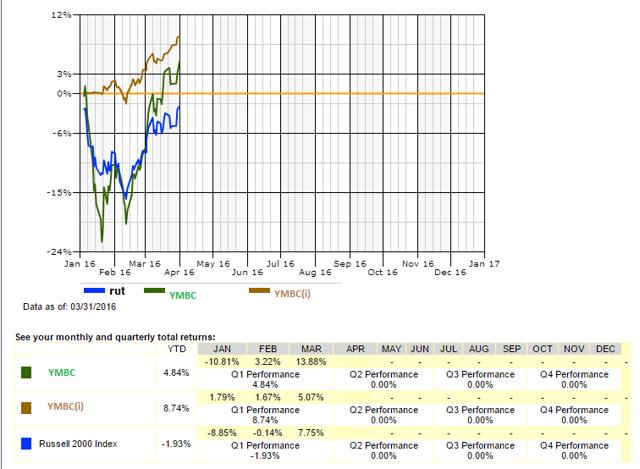 The YMBC portfolio was up 4.8%, and the YMBC(i) portfolio gained 8.7%. The gain in the YMBC(i) portfolio could have been much higher if not for the significant cash position it maintained during most of the quarter, however that would also have increased volatility. Meanwhile, the Russell 2000 declined 1.9% and the S&P 500 managed a +0.8% return. A 10% positive quarterly variance for the YMBC(i) portfolio over the Russell 2000 (+8.7% vs. -1.9%) is stellar performance; particularly since it was accomplished with noticeably less volatility thanks mainly due to high levels of cash in that portfolio during most of the quarter. Unfortunately, one can only dream of maintaining this kind of outperformance; Darren McCammon is not a pseudonym which extremely successful investors Warren Buffett, Peter Lynch, or James Simons write under. So I can enjoy the outperformance and do a little crowing for now, but unfortunately we cannot expect nor depend upon it to continue.
Q1 2016 was also an interesting quarter for the market. As was indicated in this section of my last report, the market ended 2015 calendar year with a lot of fear. Fear that foreign countries would continue to cut interest rates while the U.S. raised theirs. Fear that this relative devaluation of foreign currencies vs. the dollar would make our companies less competitive, effectively importing the declining growth rates from foreign countries into the U.S. But fear is sometimes a good prelude to potential; what the lady taketh, she can also give back.
In mid-February, Janet Yellen changed her mind. On February 8 th Yellen gave congressional testimony sighting, among other things, heightened competitive risks, and stating if necessary the US too could play the negative interest rate game. This in my opinion was a signal to both the market and other foreign sovereign bank leaders that the US would lead only so far. That one and done for the rest of the 2016 was a distinct possibility for the Fed funds rate.
It was not a coincidence that one day later I invested all YMBC portfolio available cash in to YMLP. I have previous written that an interest rate increase was likely to be one and done. That ongoing foreign stimulus measures simply would not allow us to normalize rates too far ahead of the rest of the world. I still think that way. We can lead, but we can't get too far into the lead. If we do we may effectively find ourselves looking over our shoulder at the rest of the world sitting on the sidelines, drinking Mai Tai's, and laughing at the stupid Americans putting out all that effort just to run around in circles.
Meanwhile, the income flow produced by the YMBC portfolio continues to be re-invested:

Fundamentally, the underlying holdings of most YMBC components are spread businesses. Carry trades that were significantly hurt by the flattening of the yield curve Mrs. Yellen purposely produced. But what the lady taketh, she can also give back. Since her congressional testimony that curve has indeed begun to steepen.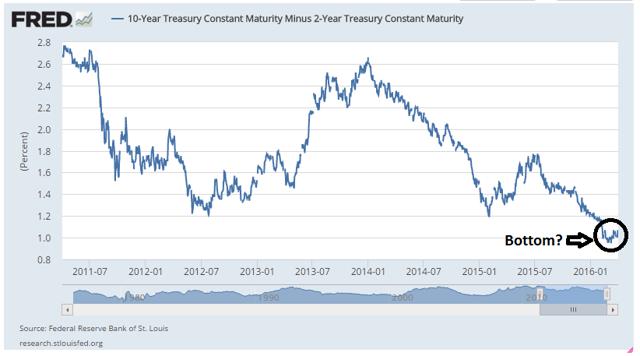 One can hope January 20th, the day UBS announced they were closing MLPL, marks the bottom for MLPs; and February 8 th, the day Janet Yellen gave her congressional testimony, marks the bottom for bottom for pass-through securities and spread investments in general.
Round Trips, Winners, and Losers:
CorEnergy Infrastructure (NYSE:CORR) was the first round trip (buy and sell) for the YMBC(i) portfolio since introduction to the public, as well as its' largest gainer during the quarter, at 29%. It did well as a recovery in oil prices reduced worries that its' major customers, UPL and EXXI, would go bankrupt. Probably more accurately, one could say if UPL and / or EXXI went bankrupt, worries that someone would not continue to produce energy utilizing the CORR operating leases were reduced. Either way, while this equity was YMBC(i)s biggest gain during the quarter, it was also in a very real sense a failure. CORR went on to rise significantly after it was sold from the YMBC(i) portfolio; the position could have been a 70% gain as of quarter end. I thought oil price increases may be temporary, and that the CORR price recovery had gotten a little ahead of itself. While indeed oil prices have fallen since the sale, CORR just seems to keep going up and is currently in overbought territory.
The WisdomTree Japan Hedged Equity ETF (NYSEARCA:DXJ) was another round trip this quarter, gaining 8.4% for the YMBC(i) portfolio. It was originally bought reasoning that a combination of the US Fed increasing rates while the Bank of Japan simultaneously decreased rates into negative territory, would give Japanese exporters (heavily represented in this ETF) a significant currency advantage. However, with Janet Yellen's congressional testimony, and frankly my ongoing concerns about Japan's extremely large debt compared to GDP, I backed out and decided to sell. DXJ is down about 7% since that call, so the call seems to have worked out so far.
Capital Product Partners L.P. was the biggest loser in the YMBC(i) portfolio in Q1, the only loser. As of quarter end it was down 18.4% on fears that one of its major customers, Hyundai Merchant Marine (HMM), would either declare bankruptcy or exact a significant reduction in lease rates. I must admit I seem to have a bit of a blind spot when it comes to CPLP, having continued to hold this name in other portfolio's as it just seems to hit one new low after another. I continue to think the equity very appealing, with a 29% yield which would likely still be fully covered even if HMM were to get a 30% concession in lease rates. The best I can say here is the YMBC(i) portfolio has not backed up the truck on this name despite my temptation to do so. For the YMBC(i) portfolio I'm trying to stick to a policy of not increasing position size in an existing equity unless an event (other than just price change) triggers a specific reason for doing so.
Risk: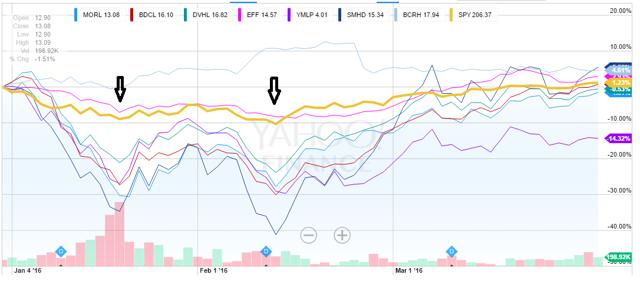 The above graph of YMBC components compared to each other and the S&P 500 (thicker gold line) measures price change. At first glance it appears like overall, the YMBC components did about the same in the quarter as the S&P 500, only with much more volatility. However, don't be fooled, the YMBC portfolio actually outperformed by about 4%, the difference being of course the high dividends it throws off.
I have marked with arrows the dates January 20th (significant plummet in MLP equities, MLPL closure announced) and February 7th (the day before Janet Yellen's congressional testimony) on the graph. As you can see, these two days marked distinct short term lows for the YMBC portfolio. Hopefully, these short term lows eventually become intermediate and then long term lows. BCRH (disaster reinsurance, light blue line) did its job in Q1, yawning through both occurrences. EFF (floating rate notes, pink line) also provided some of the leavening it is supposed to during the quarter. SMHD (dark blue/ black line), with its leveraged, small cap, high yield focus, continues to be the most volatile component of the YMBC portfolio.
The YMBC(i) portfolio tries to somewhat control risk by limiting position size. Initial buys are usually limited to 3-4% of the portfolio, re-buys are limited to 8% in total, and any individual equity position is reduced if it climbs above 10%. It also tries to control risk through some partial diversification. Part of the reasoning around recent purchases of HEDJ and NRZ was to add diversification. Also, there are three distinctly different methods I utilize to find potential candidates. The hope being that this tactic diversification might also help to lower volatility of the overall portfolio. However, to be clear I would not call YMBC(i) diversified by any means; it is a small cap, high yield, focused portfolio. Last, timing is utilized in the YMBC(i) portfolio. Any form of timing will cause one to be in cash more often than a portfolio that remains fully invested. This in and of itself likely reduces risk (and potentially also return).
However, all that being said, I feel compelled to once again warn readers that YMBC and YMBC(i) are NOT low or even average risk portfolio's. Neither is designed to be a core holding in one's overall portfolio strategy. YMBC is merely a live money test portfolio which comprises less than 5% of my assets. Also, though YMBC(i) is representative of how I manage a majority of my holdings, I am willing to accept more risk than most people. Both YMBC and YMBC(i) are small cap, high yield portfolios which tend to be focused on pass-through securities; they are likely to be more volatile than the S&P 500, and are better compared to the Russell 2000.
Q2 allocation:
Going into Q2 2016 the portfolios are allocated as follows: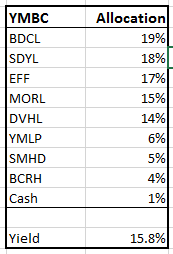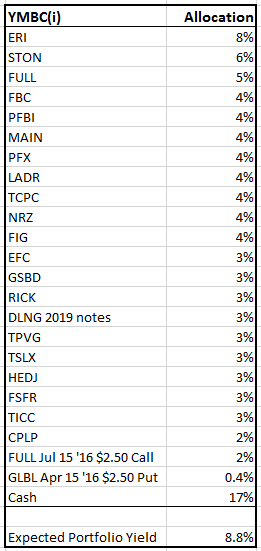 Conclusion:
The YMBC portfolio had a rough time of it in 2015 but is now back into positive territory, +3.5% since inception (1/1/2014 - 3/31/2016). During this same period of time the large cap equities which dominate the S&P 500 did significantly better, +11.5%, but the small cap equities in the Russell 2000 lost 4.7%. This multi- year experiment with a 2x leveraged portfolio of small cap, high yield investments has been interesting and educational. Considering that both small cap and high yield assets fell out of favor much of the period, and that it has outperformed the Russell 2000 (its benchmark) by 8.2% over the time period, I think it has done OK. In my opinion this better than benchmark performance is probably due more to the power of re-investment of very high dividends, rather than either superior timing or asset selection.
The significant outperformance of the YMBC(i) portfolio however is due purely to the superior asset selection and timing skills of the author. At least that the story I'm sticking with for now (until the market proves me wrong).
As always, I look forward to your comments and criticisms.
Disclosure: I am/we are long ALMOST EVERY SECURITY MENTIONED.
I wrote this article myself, and it expresses my own opinions. I am not receiving compensation for it (other than from Seeking Alpha). I have no business relationship with any company whose stock is mentioned in this article.
Additional disclosure: I say right there in the name, if you follow either of these portfolios YOU MUST BE CRAZY! I don't know who you are much less your particular situation; so how can I recommend a portfolio or for that matter any investment to you? Don't follow a crazy person, do your own due diligence.
Editor's Note: This article covers one or more stocks trading at less than $1 per share and/or with less than a $100 million market cap. Please be aware of the risks associated with these stocks.