I last wrote on Banco Santander Chile (NYSE:BSAC) way back in mid-2013, and in that article, I concluded that the bank was sharply undervalued. Nonetheless, since then, there has been a sudden and marked change in global financial markets as well as the global economic outlook, which has fundamentally changed the outlook for emerging market banks such as Banco Santander Chile.
These factors include the end of probably the greatest commodity boom ever witnessed in human history, the sharp collapse of oil and a growing concern over the outlook for emerging markets because of the commodities crash.
Given my love of Latin banks, I thought these were as a good a reason as any to take a closer look at Banco Santander Chile to see whether anything had changed. This is particularly relevant given the increasing deterioration in the outlook for its sister company Banco Santander Brasil (BSRB) and its parent Banco Santander (NYSE:SAN).
Coming to grips with Chile's banking sector
Chile's banking industry possesses similar characteristics to those of many developed industries with the banks focusing on retail banking with a focus on consumer and mortgage lending. The industry is also essentially an oligopoly with the six largest banks, Banco Santander Chile, Banco de Chile (NYSE:BCH), stated controlled BancoEstado, BCI, Itau Corpbanca (NYSE:ITCB) and the Chilean unit of Spanish banking giant BBVA (NYSE:BBVA) controlling 78% of the banking systems total assets.
Banco Santander Chile is the Andean nation's leading bank having a dominant market share of all commercial banking activities including holding 19% of the loan market and 18% of total deposits.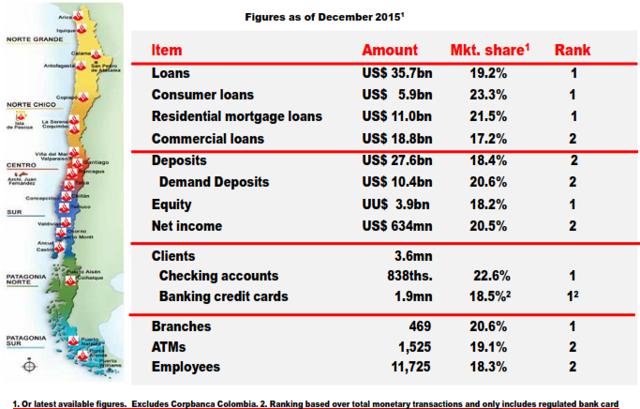 Source: company filings.
When this is considered in conjunction with the strict regulatory requirements and steep barriers to entry, Chile's major banks possess a wide economic moat, which helps to protect them from competition.
However, a range of overseas banks have entered Chile's banking market including Canada's Scotia Bank (NYSE:BNS) and Spain's BBVA being the major foreign banking platforms. These have now been joined by Brazilian banking giant Itau Unibanco (NYSE:ITUB), which has completed a merger with Chile's fifth largest bank Corpbanca to form Itau Corpbanca that will soon become the country's fourth largest bank.
The oligarchical nature of Chile's banking sector also means that the dominant banks such as Banco Santander Chile can to a degree act as price makers rather than price takers and this helps to protect their earnings growth.
Unlike the majority of other Latin American countries such as Colombia and Peru where the majority of loans are issued to the business sector, consumer lending makes up around half of all loans issued in Chile. In the case of Banco Santander Chile, consumer lending and mortgages makes up just under half of the value of all loans issued, with the remainder being made up of commercial loans.
The same can be seen with Chile's second largest bank by assets, Banco de Chile, where 54% of all loans are made to retail customers and the remainder to commercial clients.
This can be explained by Chile having the most mature banking system in South America, where the majority of the population has access to the full suite of financial products and services. Whereas, countries such as Colombia and Peru are heavily under banked with only a relatively small proportion of the population having access to consumer lending and mortgages.
This adds an additional layer of profitability for Chile's banks with them able to access a relatively mature banking market and economy. It also makes their loan books less lumpy and volatile because they aren't over exposed to a single company or industry, although it should be pointed out that it does make them more vulnerable to a general economic downturn, because of that consumer exposure.
Understanding Chile's economy
An important aspect of Chile's economy is that it ranks as the most developed in Latin America and has the lowest degree of corruption.
In fact, for Transparency International's 2015 Corruption Perception Index, Chile ranked 23rd, placing it ahead of all of its Latin American neighbors except for Uruguay which ranked 21st only seven places behind the U.S.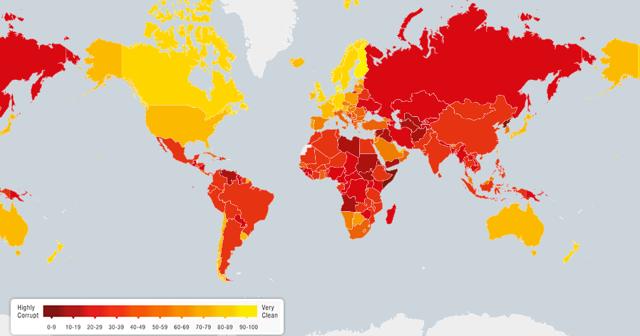 Source: Transparency International.
This high ranking highlights the advanced nature of Chile's economy and its legal, bureaucratic and regulatory infrastructure. In Heritage's 2016 Index of Economic Freedom, Chile rates as seventh well ahead of its Latin American neighbors and even the U.S. which came in at 11th.
This puts it in a league of its own in Latin America and indicates just how advanced its economy has become along with a relatively transparent regulatory and legal environment.
All of these factors highlight just how attractive Chile is as an investment location and this is another tailwind that will help the Chilean economy grow over the long term.
Nonetheless, like the rest of Latin America's resource dependent economies, its economy has been impacted by China's economic slowdown and the collapse in commodity prices.
You see, Chile's number one export is copper which makes up around 46% of the value of its total exports.
With copper as Chile's top export, China is its number one export destination as the world's single largest consumer of copper. The impact of China's economic slowdown in the sharp decline in commodity prices can be seen with Chile's 2014 GDP growth rate slowing to a tepid 1.9%, compared to 4.2% in the previous year.
More importantly, despite the commodity rout deepening during 2015, GDP growth for that year increased by 20bps to come in at 2.1%, an impressive achievement in the harsh economic environment witnessed over the course of that year. This can be attributed to the diverse nature of Chile's economy as the chart highlights.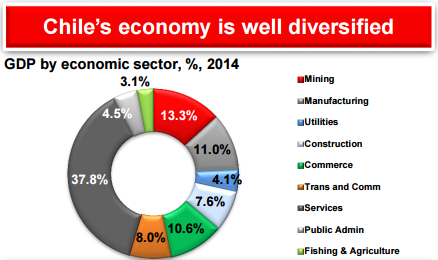 Source: company filings.
In fact, it is Chile's service sector that is the greatest contributor of GDP making up 37.8% followed the mining sector. This is the reason for the strength of Chile's economy in light of the headwinds it is experiencing because of the collapse in commodity prices and particularly copper.
Furthermore, despite these headwinds, unemployment has remained manageable with the unemployment rate at 6.4% at the end of 2015 and remaining steady since then, falling by 30bps to 6.1% by the end of February 2016.
Each of these factors indicate that Chile's economy is certainly facing its fair share of headwinds, but it is not suffering as much as many of its more commodities dependent neighbors that have less advanced economies. It also shouldn't be forgotten that Chile's GDP grew by 2.1% despite these headwinds.
As a result, I expect economic growth to remain relatively flat through 2016 and 2017 at around 2% to 2.3% and then there will be the start of an economic recovery in 2018 that should see GDP growth improve to around 3% and continue to grow. This bodes well for Banco Santander Chile's long-term growth prospects and will help the bank's revenue to grow as demand for credit rises.
Maintains a solid balance sheet
An important consideration when determining whether to invest in a commercial bank is the quality of its balance sheets and it core assets, its loan portfolio.
In the case of Banco Santander Chile, it remains solid with the bank's non-performing loans or NPLs ratio coming in at 2.5% at the end of the fourth quarter 2015. This ratio remains unchanged QoQ but represents a 30bps improvement year over year as the chart shows.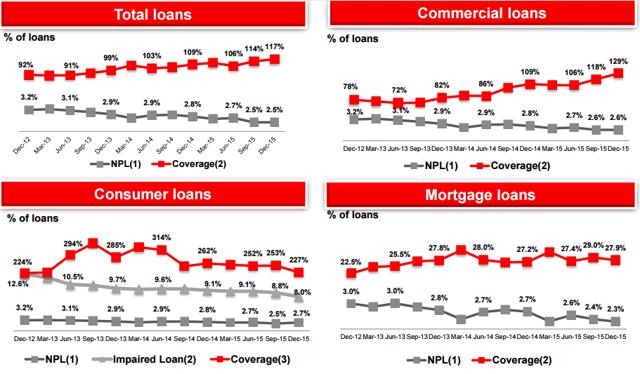 Source: company filings.
In fact, the overall volume of NPLs is falling across its loan portfolio and this is a healthy sign, particularly when the harsh economic environment in Chile is taken into account.
There is also a healthy coverage ratio in place at 117% and in the case of higher risk consumer lending and commercial lending, this is at a massive 227% and 129% respectively.
Despite these positive signs, I do expect to see a moderate uptick in NPLs as the commodity crunch continues to impact Chile's economy, but this won't have a significant impact on the bank's performance.
An impressive feature of Banco Santander Chile's balance sheet is its high degree of liquidity. The bank at the end of the fourth quarter 2015 had a tier one capital ratio of 10.3% which is well above the regulatory minimum and represents a 40bps increase QoQ, although it is a 60bps decrease YoY.
More importantly, it has a loan-to-deposit ratio of 89.4%, which with it well below 100% indicates that Banco Santander Chile retains a high degree of liquidity and is not dependent on external funding for its lending activities.
This significantly reduces the risks faced with its lending activities, because external funding is typically more expensive than internally sourced funding and applies greater pressure to margins. It is also more risky because during times of economic stress, its cost can rise sharply or the sources funding can even disappear if the stress is severe enough. During the global financial crisis, this occurred and left many banks that were overly reliant upon wholesale funding for their lending operations flat-footed, with some dangerously exposed to the prospect of insolvency.
The end result is that Banco Santander Chile is the most liquid and best capitalized of Chile's major banks as the graphic illustrates.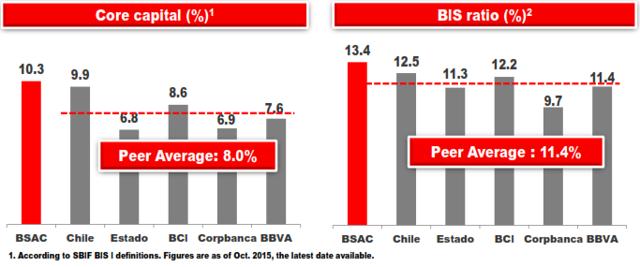 Source: company filings.
This highlights just how low the degree of risk is when investing in Banco Santander Chile.
Banco Santander Chile is highly efficient
One of Banco Santander Chile's key strengths is its ability to efficiently deploy its assets so as to maximize its return from those assets. That sees the bank reporting an efficiency ratio of 43.5% at the end of the fourth quarter 2015 and while this may be a 3.9% increase QoQ and a 6.6% decrease YoY, it is still an impressive ratio.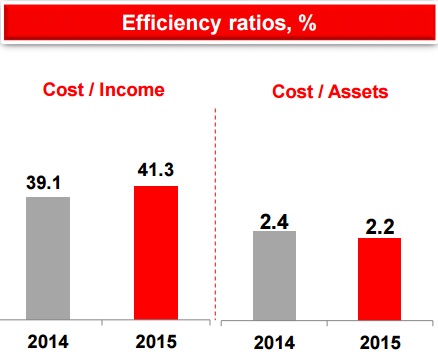 Source: company filings.
This efficiency ratio is superior to U.S. and European banks and is part of the reason for Banco Santander Chile's ability to deliver outsized returns on equity with it well above the average efficiency ratio for European banks of 64%, for U.S. banks of 62% and Canadian banks of 61%. If we take a look at Wells Fargo (NYSE:WFC), which is my preferred investment choice among major U.S. banks, it is possible to see that it is far less efficient with an efficiency ratio of 57.4%.
Margins remain impressive
An attractive aspect of Banco Santander Chile's operations is its ability to generate solid net-interest-margins or NIMs. For 2015, it reported a NIM of 4.8% which was an 80bps decline from 2015 but still well above the NIMs of banks operating in developed economies such as the U.S., Australia and Canada.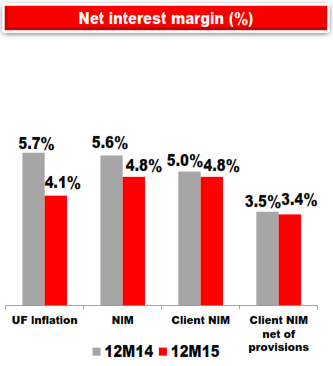 Source: company filings.
This can be attributed to Chile's relatively high baseline rate of 3.5%, which is almost double Australia's 2%, seven times the U.S.'s and Canada's 0.5%.
As a result, Banco Santander Chile's 2015 NIM is higher than Wells Fargo, which reported for that period an impressive NIM for a U.S. bank of 2.92%. When this is combined with the bank's solid efficiency ratio, it has allowed it to generate some solid ROEs, with its reported ROE for 2015 being 17% and 18% when adjusted.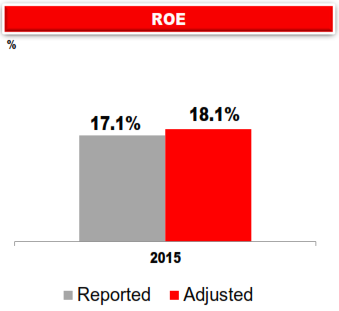 Source: company filings.
Banco Santander Chile expects ROEs of similar magnitudes to continue through 2016, 2017 and 2018, but I believe this is unlikely with Chile's slowing economic growth, higher NPLs and lower loan growth set to impact the bank's performance for the foreseeable future.
Nonetheless, it will still generate solid ROEs of 14% to 16% over the next four years and I have factored this into the section setting out Banco Santander Chile's indicative fair value.
Let's not forget there are a range of long-term growth catalysts that will help to propel the bank's performance higher over time.
Key Growth catalysts
Surprisingly, for such an advanced economy, Chile's population is still relatively under-banked in comparison to developed economies as the chart highlights.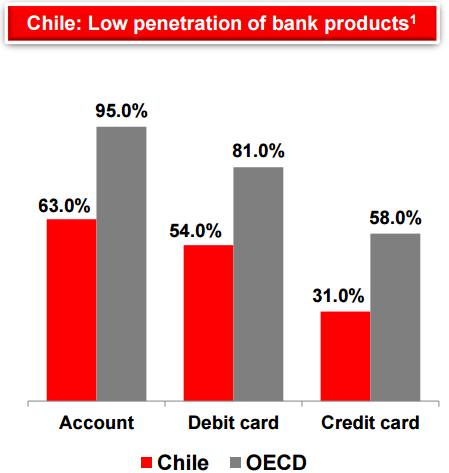 Source: company filings.
As can be seen, the penetration rates for accounts and debit cards in Chile are only a third of OECD countries, while for credit cards, the penetration rate is only just over half for the OECD. This means that Chile's banks including Banco Santander Chile have greater organic growth opportunities than those banks operating solely in developed markets.
Another outcome of this low level of penetration is that in comparison to a range of developed economies, Chile has a relatively low loan-to-GDP ratio as can be seen from the graphic.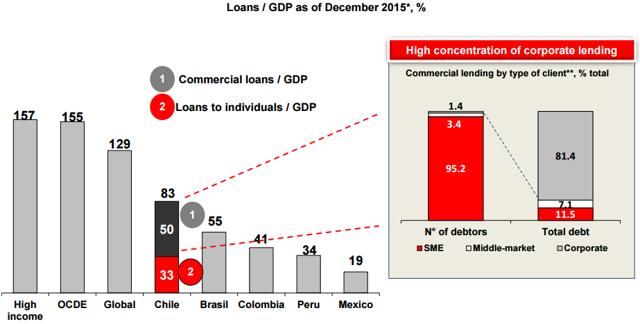 Source: company filings.
As a result, there is considerable room for banks in Chile to continue growing their loan portfolios with credit demand continuing to grow because of the country's stable economy and strong economic growth. One of Banco Santander Chile's core strengths is its focus on growing its commercial lending portfolio, with the low loan-to-GDP ratio indicating that there is considerable growth potential in the small-to-medium enterprise of SME segment.
Another important growth catalyst is a rebound in copper prices, with copper extraction and export being a key driver of the Chilean economy.
However, any recovery is dependent on China with its being the world's single largest consumer of copper. With an impending hard landing in China, the short to medium-term outlook remains grim. Goldman Sachs believes that copper is caught in a long-term bear market and the trend of declining copper prices will continue through to 2018, with the base metal set to rise quite strongly by around 2020.
While this certainly doesn't bode well for Banco Santander Chile's near-term outlook, it does bode well for its long-term growth as the Chilean economy will grow strongly once copper prices recover over the long term.
The final tailwind is the growing strength of Chile's economy and its capacity to shrug off the impact of weaker commodity prices.
For 2016 and 2017, it is estimated that Chile's economy will grow by between 2% and 2.3% and that an economic recovery will start in 2018 that will cause GDP growth to shoot up to 2.9% for that year and even higher in the next. Such a strong recovery in the fortunes of Chile's economy will trigger a sharp increase in the demand for credit, particularly from the business sector as it regroups and business confidence soars.
Finding Banco Santander Chile's true value
Regardless of the headwinds facing Chile's economy, Banco Santander Chile will continue posting solid ROEs over coming years, because of its ability to control costs, maintain an impressive efficiency ratio and generate solid margins with a NIM that is roughly double that of banks operating in developed markets.
Chile's economy also continues to perform well and demonstrate its resilience to weaker commodity prices, despite showing some pockets of weakness. I expect to see Chile experience an economic recovery over 2018 as firmer commodity prices, particularly copper and greater investment in the country's copper industry drives higher economic growth.
Accordingly, to effectively value Banco Santander Chile, I have used a retained earnings valuation model with the following assumptions: Banco Santander Chile's ROE has been discounted over the valuation period in order to reflect the impact of the headwinds the bank is facing. These included its exposure to commodities and Chile's weaker economic growth.
An ROE in perpetuity of 12% has been used to calculate the terminal value of retained earnings. This takes into account both the bank's growth prospects as well as any future economic headwinds it may experience.
A conservative rate of economic growth has been used. This is represented by an assumed long-term GDP growth rate of 2.4% for Chile's economy and takes into account the near-term impact of the weaker commodity prices as well as slowing long-term growth as it continues to develop.
I have accounted for the bank's dividend payout ratio using a combination of its stated dividend policy and its average payout ratio in recent years.
I have applied a cost of equity of 7.6%, which was calculated using the capital asset pricing model (CAPM). The calculations and assumptions for the CAPM model are set out below: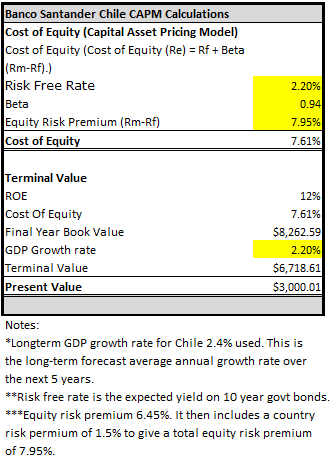 From this data and assumptions, an indicative fair value from Banco Santander Chile's retained earnings of $26.45 per share has been calculated as the table shows.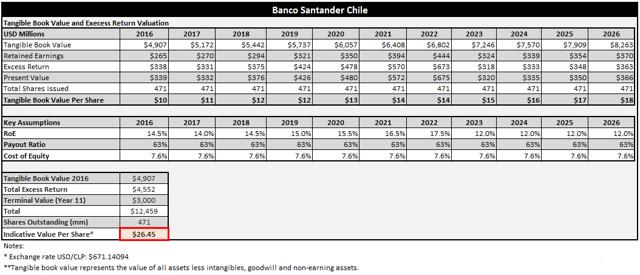 This represents a premium of 37% over Banco Santander Chile's current share price, highlighting the upside available to investors. There is also a reasonable margin of safety baked in given the conservative assumptions used for conducting the valuation and the large amount of upside available.
Albeit, I expect this to be a 12-month to 24-month price target with it reliant upon an improvement in Chile's economic growth and to a degree a recovery in copper prices.
It should also be noted that this valuation is sensitive to the exchange rate between the Chilean peso and U.S. dollar, as the chart below illustrates.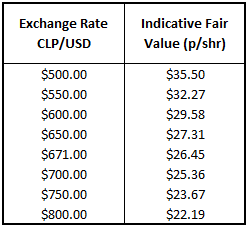 If the Chilean economy grows better than expected or the U.S. dollar performs poorly against the peso, then there is certainly even greater upside available to investors.
Has an impressive dividend yield
Banco Santander Chile has a long history of rewarding investors with a regular and sustainable dividend payment with a yield of just under 6%. The juicy yield can be attributed to the sharp sell-down of its stock rather than any dividend increases.
The dividend payment is also subject to Chilean withholding tax which in the case of Banco Santander Chile amounts to 15%, despite the standard rate of withholding tax being 35%. This is because a tax credit of 20% is provided where Chilean First Category Tax has been paid on the corporate profits which are funding the dividend.
Typically, Banco Santander Chile pays its dividends out of profits that have already been subject to First Category Tax. The end result is that after allowing for withholding tax, the dividend yields around 5% at this time.
Bottom line
The decline in Banco Santander Chile's stock price, predominantly because of market concerns over the bank's ability to grow and the sharp decline of the Chilean peso, has created an opportunity for investors seeking exposure to the banking sector outside of the U.S.
The bank still has a solid balance sheet, with non-performing loans as a portion of the entire loan portfolio in decline, remains well capitalized and is highly liquid. This in conjunction with an improving long-term outlook for Chile's economy will see the bank perform well over the long term and grow its revenue and profitability over that period.
Furthermore, at its current price, the bank offers investors potential upside of around 37%, combined with a dividend yield that is over 5% after allowing for withholding tax. This I believe makes it a compelling buy for any investor seeking a combination of income and growth.
Supporting Documents
Disclosure: I/we have no positions in any stocks mentioned, and no plans to initiate any positions within the next 72 hours.
I wrote this article myself, and it expresses my own opinions. I am not receiving compensation for it (other than from Seeking Alpha). I have no business relationship with any company whose stock is mentioned in this article.