The "Fight for $15" minimum wage movement was building momentum for the past few years. Last week, it had by far the biggest success when California's Governor Jerry Brown reached an agreement with labor unions to increase the minimum wage to $15 by 2022. Immediately there were concerned opinions by some economists that this rapid increase in minimum wage might lead to job losses in certain sectors of the economy.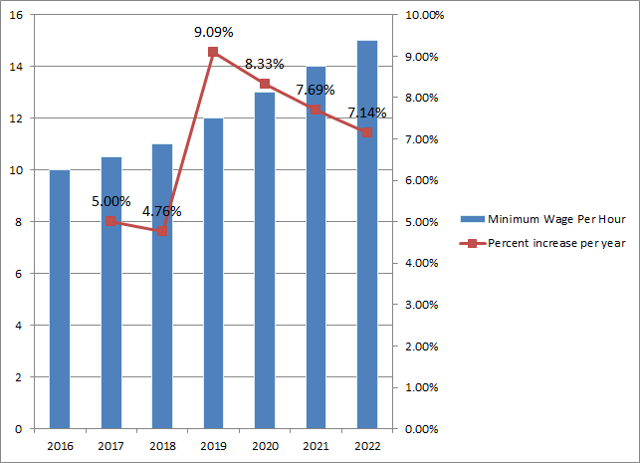 Fig: California's wage increase in percent per year till 2022 according to the recent deal.
Wal-Mart Stores, Inc. (NYSE:WMT), being the biggest retailer has a high proportion of jobs which pay close to minimum wage. A major increase in the minimum wage will not only affect the lower rung of jobs, but its effect will be felt across the entire pay hierarchy.
For example, where Wal-Mart pays a minimum wage of $10 per hour to entry-level workers and $18 per hour to supermarket department manager, higher minimum wage will push the wages of department manager also. Theoretically, with a $15 per hour entry wage, the department manager should receive 18/10 or 1.8 times the minimum wage which will be $27 per hour. (Although it might not be in the same ratio and there are already signs that higher earning positions might face a wage squeeze).
Wal-Mart's growth in the past few decades was built on a super-efficient back-end supply chain. It was able to eliminate intermediaries, and by directly dealing with the producers and manufacturers, it was able to get massive discounts and was able to give higher savings to the shoppers.
It went a step further and provided guidance to manufacturers in other parts of the globe like China, Vietnam and Bangladesh to deliver goods according to the firm's quality parameters at lower relative cost. (This was a common issue during election cycles where the firm is blamed for loss of manufacturing jobs in America, but it also helped reduce the inflationary pressure on daily items for millions of shoppers).
However, there is little cost saving left in the back end. It can only get some small percentage savings if it goes further into food processing, as it did recently by opening a milk processing plant in Indiana. If it has to manage a higher wage bill due to an increase in minimum wage, there would need to be major cost savings effort within the stores themselves. It can learn a lot of things from Aldi on how to bring greater efficiencies in the running of the store and reduce the amount of labor required in running the stores.
There have been mixed reviews from customers about shopping experience at Aldi. Many customers are turned off by the need to pay 25 cent deposit to use carts which is refunded when carts are returned. Other nuisances voiced by customers include the need to bring their shopping bags and bagging their own groceries.
However this no-frills experience also helps in creating one of the most efficient processes from retailer's point of view, requiring minimum labor. The workers do not have to spend much time unpacking boxes of groceries. The boxes are themselves delivered with an open side and can be put on the shelf without any requirement for unpacking.
Wal-Mart's U.S revenue is $298 billion, of which grocery accounts an estimated 55% of the sales or $164 billion. On the other hand, Aldi, which is a privately held German company and does not release its exact figures, is estimated to have U.S revenue of $13 billion by consulting firm Kantar Retail. Hence, it is still a long while before Aldi can even come close to the sales pulled by grocery segment of Wal-Mart. But it also has grown much faster than Wal-Mart in the past 5 years and is looking to spend $3 billion to open an additional 500 stores, bringing the total to 2000 stores in U.S.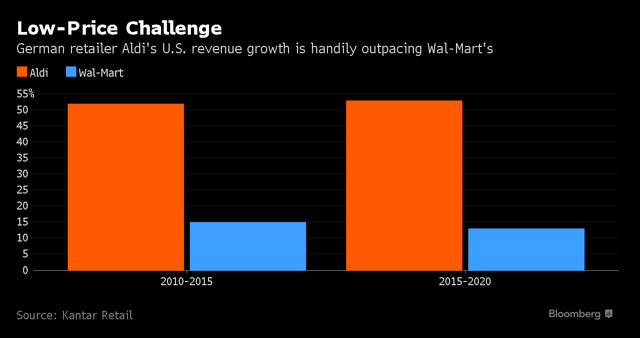 Fig: Comparison of Aldi and Wal-Mart's growth from 2010-2015 and estimated growth from 2015-2020. Source: Kantar Retail
Aldi's growth is based on some key strategies followed by the retailer. It has much smaller store format of 10,000 to 11,000 square feet where an average of 3,000 to 4,000 items are stocked. This is in contrast to other grocers who can provide as many as 50,000 items in every store. Lesser items equate to less options for customers. Instead of stocking ten different kinds of ketchup, one can find one or two ketchup at Aldi. Also most of the items are private label which helps them get massive discounts from producers and also give higher savings to customers.
According to recent research done by WillardBishop, a consultancy firm in the food retailing business, Aldi's prices can be about 40 percent lower than supermarket stores. It also found that the prices at Aldi were about 25 to 30 percent cheaper than Wal-Mart. Although the figures for Aldi are not available but if the firm is able to give such cost benefits and also grow at a fast pace, it has to be due to overall cost optimization efforts of the chain.
Conclusion
Wal-Mart and Aldi might not be friends but Wal-Mart which is facing the pressure of a higher wage bill can take a few tips from Aldi in reducing labor-intensive processes and bring greater efficiency within the stores.
Disclosure: I/we have no positions in any stocks mentioned, and no plans to initiate any positions within the next 72 hours.
I wrote this article myself, and it expresses my own opinions. I am not receiving compensation for it (other than from Seeking Alpha). I have no business relationship with any company whose stock is mentioned in this article.