A few weeks ago, I was on a plane and I decided to watch The Big Short, twice.
It was a great movie and having also experienced the financial meltdown during the last recession, it was especially interesting to watch all of the dominoes unfolding within the housing collapse.
As most of you know, I'm not a market timer and that simply means that I'm not trained at picking the bottoms or tops of security prices. Many people believe that the fastest way to the highest market returns is to find short-term trades that are accurately timed. However, as a value investor, I have learned that there is simply no way to accurately and consistently time short-term market movements.
Through trial and error, I have found that it's simply better to be in the market invested in stocks that offer the highest potential returns than play the timing game.
Many of you know that I'm generally a buy-and-hold investor and that means that I like to invest in REITs that I can own for the long haul. It's rare that I bet against securities that will fall in price… that's like gambling that my plants will die. I prefer to plant my seeds firmly in the ground and wait for my crops to grow.
Occasionally, I run across a few REITs that seem to be deteriorating, and as a result, I seek to avoid the companies all together. I'm not a proponent of shorting REITs as that is RISKY!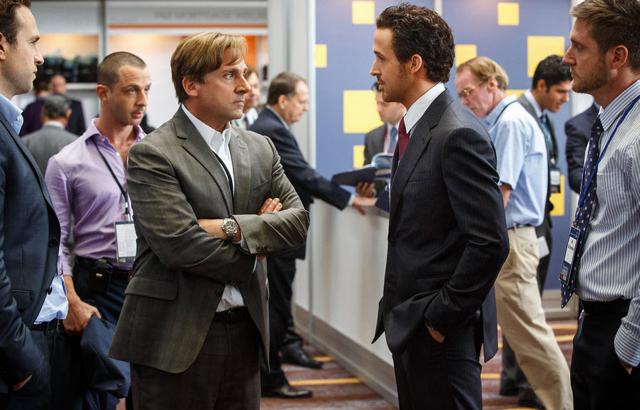 Think about it like this, the outcome of a short sale is basically the opposite of a regular buy transaction, but the mechanics behind the short sale result in extremely volatile risks.
It's somewhat like the law of gravity as the law of investing is inflation (instead of gravity) and that means that betting against the upward momentum is inherently risky. That means that when you bet against the momentum and you keep a short position for a long period of time, your odds get worse.
Also, when you short sell, you don't enjoy the same infinite returns you get as a long buyer would. A short sale loses when the stock price rises and a stock is (theoretically, at least) not limited in how high it can go. In other words, you can lose more than you initially invest, but the best you can earn is a 100% gain if a company goes out of business and the stock loses its entire value.
Finally, and the most concerning risk is leverage or margin trading. When short selling, you open a margin account, which allows you to borrow money from the brokerage firm using your investment as security.
Just as when you go long on margin, it's easy for losses to get out of hand, because you must meet the minimum maintenance requirement of 25%. If your account slips below this, you'll be subject to a margin call, and you'll be forced to put in more cash or liquidate your position.
For all of these reasons, I'm not willing to risk my hard earning capital to short a REIT. Plain and simple, it's just way too risky and I believe that by patiently taking advantage of the margin of safety, my portfolio will hold more winners than losers.
Silly Rabbit: Shorting Realty Income Is Not For Kids (or Adults)
Today, fellow Seeking Alpha writer, Dana Bowler, wrote an article on Realty Income (NYSE:O) after he recently disclosed a short position. I read over the article and I saw no catalysts supporting his arguments related to "slowing growth" and "weak price foundation."
More importantly, Bowler failed to mention the most important element related to investment thesis: Realty Income's low cost of capital advantage.
Before I dissect Bowler's article, let me remind you of a well-known hedge fund activist who decided to short Realty Income back in 2009. Bill Ackman of Pershing Square waged a battle against O on the thesis that the REIT had poor credit quality.
Ackman argued that Realty Income was suffering from mispriced risk - similar to Bowler - since the REIT was always paying a dividend of ~7.5% while the private market cap rate values were closer to 10.5% (at the time) - or a 40% premium. Ackman was suggesting that Realty Income's fundamentals could not support the dividend.
Obviously, Ackman was wrong.
Now Bowler's short thesis is a little bit different from Ackman's but it seems that both of these gun slingers have completely irrational arguments as it relates to Realty Income.
First off, before asking yourself why you would sell or short Realty Income, it's important to ask the question, "why would you buy Realty Income?"
Most all investors in Realty Income own the shares for one reason: dependable monthly dividend income. I'm sure that if I polled 100 investors today, 99 of them would agree. Realty Income's blueprint for a dependable dividend machine is that of a wide moat that has been successful at fending off competition for over two decades.
Accordingly, by earning higher returns consistently, Realty Income has been able to increase earnings and dividends and most importantly, compounding intrinsic value.
Back in May 2013, Bowler wrote an article explaining that he had sold his position in Realty Income. Here's a snapshot of the performance from then to now: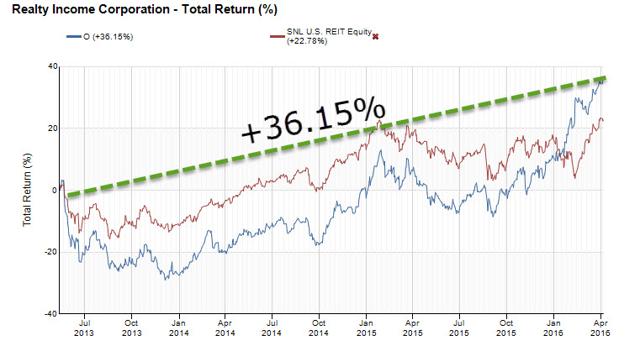 As you can see, Realty Income has returned over 36.15% since May 13, 2013 and the SNL US REIT Index has returned 22.78%.
However, as we reflect on Realty Income's price movement since January 1, 2016, we can see that Bowler is right about the more recent "excellent returns" - shares are up 23% year to date.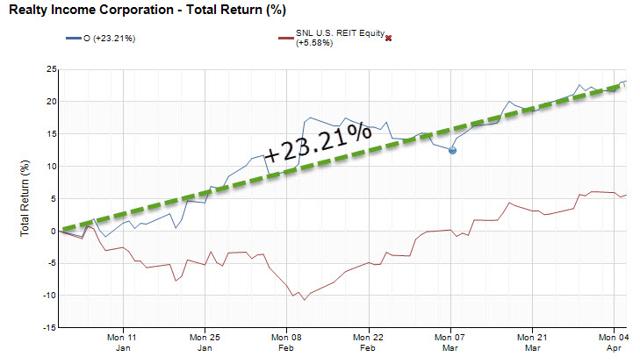 So is that the catalyst to short such a dependable dividend payer?
You Left Out The Most Important Thing
As I read over Bowler's latest article, I kept looking for his reference to Realty Income's secret sauce, the low cost of capital advantage. While he was primarily singling out Realty Income's high cost of equity multiple, there was no mention of the "wide moat" spreads that the company is generating as a result of the exceptional balance sheet and strong fundamentals.
As I explained in a recent article, Realty Income's spreads are at an all-time high - around 250 bps - and as I explained,
O is one such moat-worthy brand that manifests itself - pricing power or repeat business translates into sustainable economic profits. It's because of O's powerful pricing power that the stalwart REIT has enjoyed long-term sustainable advantages.
In my opinion, it's ridiculous to short a company that has extremely cheap currency and its overall cost of capital represents the proxy for any Net Lease REIT. That's like telling my kid that she made all As in school and that she should now run laps around the house because she did so poorly.
The other thing Bowler ignored, or maybe got confused, was the argument related to cap rate compression. For those who don't know, a cap rate is the metric used in valuing real estate that is annual net operating income dividend by the cost of the property. Here's what Bowler said,
…the window of accretive property acquisitions has nearly closed with cap rates continually diminishing on the types of properties O likes to buy. Shown below are O's cap rates in the last six years going from the initial average lease rates of 7.9% in 2010 to 6.6% in 2015.
Bowler then included the following chart from Realty Income's filing: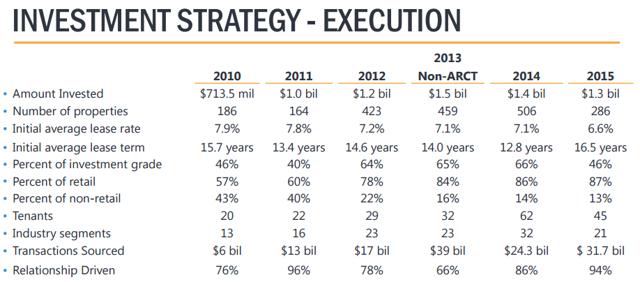 What he failed to mention is that there has been NO cap rate compression during the last year. None. In addition, when you look at cap rates from 2010 through 2015, cap rates have declined across ALL property sectors and sub-sectors.
Thus, the argument that "all of a sudden" Realty Income is at a disadvantage because of cap rate compression is ridiculous.
More importantly, as I mentioned already, there is no mention of Realty Income's cost of capital advantage. Go look at the last row in the above chart. You can see that Realty Income is acquiring properties at cap rates of around 6.6% and the company's weighted average cost of capital is ~4.2%.
Ladies and gentlemen, we are talking about a cash cow!
Finally, Bowler's argument that Realty Income has modest Funds from Operation (or FFO) per share growth is again misguided.
Historically, Realty Income has grown FFO per share by around 5% per year (and that's why most investors own the stock today, including me). In 2016, Realty Income has guided 4% FFO growth, normal for Net Lease REITs, and typically, Realty Income outperforms guidance.
In Bowler's chart, he lists VEREIT as a REIT that is expected to grow FFO per share by 23.8% in 2016. However, one should analyze VER's actual profit potential - or AFFO per share - to realize that in 2016, the REIT is projected to grow by -8% in 2016.
More importantly, when did we find out that Realty Income was a Net Lease REIT? The way Bowler describes it, you would think that Realty Income is the only Net Lease REIT that has modest organic growth. Isn't that what a Net Lease REIT does?
So how is that news worth shorting?
The Bottom Line: There is a very good reason for Realty Income's high FFO per share multiple. We are at the trail end of a cycle and it is in these later innings that Realty Income performs the best, as evidenced by the investment spreads that are at an all-time high.
So what is the catalyst for the short? Don't you need a catalyst for the movement?
There's no question that shares are pricey, but shorting them is nonsense. Currently, there's around 9.5% short and when the shares have to be covered there's more upside. In my opinion, shorting a REIT is like playing with dynamite and if it were to me, I would be spend my hard-earned cash playing the slot machines before I would short one of the most profitable REITs in the universe.
Finally, in an efficient market, valuation premiums or discounts generally exist for a reason. To claim that there will be mean reversion "just because" is not an investment thesis. There needs to be a catalyst that will cause one stock to see its multiple spread contract.
I don't see a valid catalyst in Bowler's piece.
Author's Note: I'm a Wall Street writer, and that means that I am not always right with my predictions or recommendations. That also applies to my grammar. Please excuse any typos, and I assure you that I will do my best to correct any errors if they are overlooked.
Finally, this article is free, and my sole purpose for writing it is to assist with my research (I am the editor of a newsletter, Forbes Real Estate Investor), while also providing a forum for second-level thinking. If you have not followed me, please take 5 seconds and click my name above (top of the page).
The only guarantee that I will give you is that I will uncover each and every rock I can, in an effort to find satisfactory investments that "upon thorough analysis promises safety of principal and satisfactory return. Operations not meeting these requirements are speculative." (Ben Graham).
Disclaimer: This article is intended to provide information to interested parties. As I have no knowledge of individual investor circumstances, goals, and/or portfolio concentration or diversification, readers are expected to complete their own due diligence before purchasing any stocks mentioned or recommended.
Disclosure: I am/we are long O, DLR, VTR, HTA , STAG, GPT, ROIC, HCN, OHI, LXP, KIM, WPC, DOC, EXR, MYCC, BX, TCO, SKT, UBA, STWD, CONE, BRX, CLDT, HST, APTS, FPI, CORR, NHI, CCP, WSR, CTRE, WPG, KRG, SNR, LADR, HCP.
I wrote this article myself, and it expresses my own opinions. I am not receiving compensation for it (other than from Seeking Alpha). I have no business relationship with any company whose stock is mentioned in this article.