Though silver and gold streaming company Silver Wheaton (NYSE:SLW) has gained over 32% on the market this year, it has faced tough times on the market in April. This month, Silver Wheaton shares have dropped almost 8% after the company entered into a financing deal with underwriters on March 30.
As a part of the financing deal, Wheaton will raise $500 million by issuing 30.125 million shares at a price of $16.60 per share. In addition, the underwriters have the option of buying another 4.518 million shares 30 days after the offer closes, and in this scenario, it will be able to raise $575 million in proceeds.
However, the bad part about the deal is that Wheaton offered it at a discount. On March 30, when the deal was announced, Wheaton shares were trading at around $17.70 per share, so the company offered a discount to the underwriters. However, this has not gone down well with investors, as a result of which Silver Wheaton shares have dropped this year.
But, in my opinion, investors should not ignore the fact that as a result of this deal, Wheaton will be able to pay down the revolving credit facility that it had used in November last year to acquire a silver stream from Antamina for $900 million. Thus, it is a smart move on Silver Wheaton's part to reduce the debt in this manner and improve its liquidity position. More importantly, I think that investors should use the recent weakness in Silver Wheaton shares to buy more of them as the company is set to benefit from better silver and gold pricing going forward. Let's see why.
Why the weakness is a buying opportunity
Since Silver Wheaton is a streaming company, its stock price, revenue and margins are directly dependent on the prices of precious metals. This is shown in the following chart: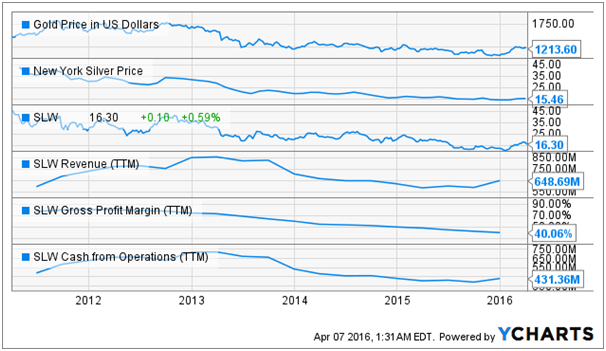 As shown above, a decline in gold and silver prices has led to weakness in Silver Wheaton's stock price, while also hurting its revenue, margin, and cash flow. However, a closer look at the chart above indicates that prices of precious metals have made a comeback in 2016 and have positively impacted the stock price.
Moreover, Silver Wheaton's revenue and operating cash flow also started picking up pace in the final quarter of 2015, as shown above. This is good news for investors as gold and silver prices are expected to remain strong going forward due to a variety of reasons. Now, 67% of the company's streams are silver and since it managed to increase production by 59% on a silver-equivalent basis last year, we will take a closer look at the prospects of the silver market.
Stronger silver pricing in the cards
Silver prices have increased this year due to two reasons - volatility in the stock markets and increasing demand for the metal in industrial applications. In fact, in the past three months, the price of silver has increased close to 8.6%. Going forward, this trend of robust silver pricing will continue due to favorable demand and supply developments.
For instance, the industrial demand for silver is set to rise this year on the back of industrial fabrication. Last year, demand for silver from industrial fabrication was 54% of the total physical demand for silver. This year, this segment will continue to drive silver demand due to an increase in automotive manufacturing and construction.
For example, light vehicle production in North America is expected to increase as sales will rise to 17.3 million units from 17 million units last year. Additionally, the National Association of Home Builders forecasts that the construction of single-family homes will increase 27% this year after a rise of 11% last year. As a result, it is not surprising to see that the Fabricators & Manufacturers Association International (FMA) expects new order activity to accelerate this year.
Apart from industrial fabrication, silver's usage in photovoltaics will also increase this year and exceed the peak of 75.8 million ounces seen in 2011. This is because solar installations this year are anticipated to increase in the high-single digits, driving silver usage in photovoltaics to 13% of overall industrial demand this year as against just 1.4% 10 years ago.
On the other hand, silver supply will remain constrained going forward as production is anticipated to drop 5% as compared to last year. This will be first time since 2002 that silver production has dropped, and it is likely that supply will continue to decline as a result of a fall in production from mature mines and weakness in scrap supply. As reported by The Silver Institute:
"Looking further ahead, many analysts expect global silver mine production to fall through 2019 as primary silver production from more mature operations begins to drop. Scrap supply, which has been on the decline for several years, should further weaken in 2016. This outlook is based on additional losses in photographic scrap, a depleted pool of near-market silverware, jewelry and coins, and slowed scrap flows from industrial sources."
A concern to watch
In July last year, Silver Wheaton received a proposal from the Canada Revenue Agency (CRA) for taxing the income earned by its foreign subsidiaries in the years 2005-2010 for $567 million. The ambit of the review was increased in January this year to include the 2011-2013 tax years, increasing the back taxes by another $310 million.
However, Silver Wheaton has been challenging this proposal in court since last year, and the good thing is that the concern is already priced into the stock. I'm saying this because in the month of July last year, when the CRA came up with the proposal, the stock had taken a big hit. So, in my opinion, investors should not be much concerned about the CRA audit, since it is already priced into the stock.
Conclusion
Given the strong prospects in the end-market, using the weakness in Silver Wheaton shares to buy more of the stock looks like a good idea. The company's fate is closely tied to silver and gold pricing, and since the price of these precious metals has picked up pace of late, investors should consider going long Silver Wheaton.
Disclosure: I/we have no positions in any stocks mentioned, and no plans to initiate any positions within the next 72 hours.
I wrote this article myself, and it expresses my own opinions. I am not receiving compensation for it (other than from Seeking Alpha). I have no business relationship with any company whose stock is mentioned in this article.