Introduction
The pharmaceutical industry is a tough one to tackle. As someone told me recently "someone is lucky if they believe they understand one quarter of the healthcare industry". Man, that's a crazy thought to process. Well, with that one quarter of information at the back of my mind, let me show the macroeconomic company-specific analysis for Shire PLC (NASDAQ:SHPG), and end with an investment thesis explaining why this company is still a steal.
Macroeconomics
You can't go 10 minutes without being confronted with something political (especially as a college student). "Are you voting Bernie or Hillary? Which policies do you support? You're wrong, this is why" are all things I am consistently asked and told. A big conversation topic in the upcoming election is that of healthcare regulation. There is currently a dilemma where sick people can no longer afford their medication, and are experiencing further decline in health along the way. This has spurred a position by both Democrats in the field to call for price caps on drugs. While one can clearly understand the motive, it is also necessary to consider something a little less apparent: R&D costs. The average cost to bring a drug to the market ranges between $1.3 Billion and $4 Billion. That's an extraordinary amount, but many companies believe that the investment will be worth it in the future. If drug cap legislation is passed, companies will begin allocating less money to R&D, effectively minimizing the potential for life-preserving drugs to enter the market. Economies of scale are something important to consider as well.
Political Landscape
The leaders in the Republican and Democratic parties in the primaries as of now are Donald Trump and Hillary Clinton, respectively. Right now, after looking at the RealClearPolitics poll of a general election, it looks like we will be seeing another Clinton in the White House come November.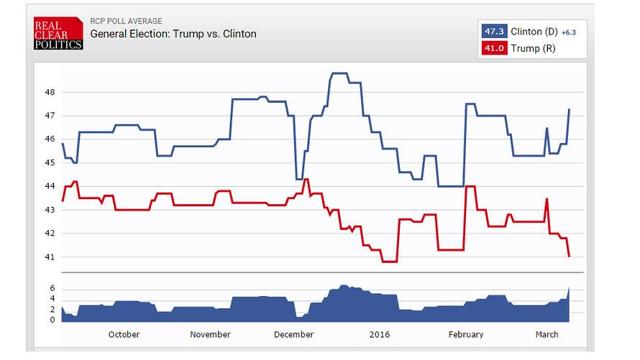 Disagree all you want, that's the way things are shaping up according to national polls. Obviously, things are subject to change, but let's assume she wins. Will we see healthcare reform? My honest opinion leads towards the negative. While Hillary claims that healthcare reform is necessary, look at who the pharmaceutical companies are overwhelmingly funding.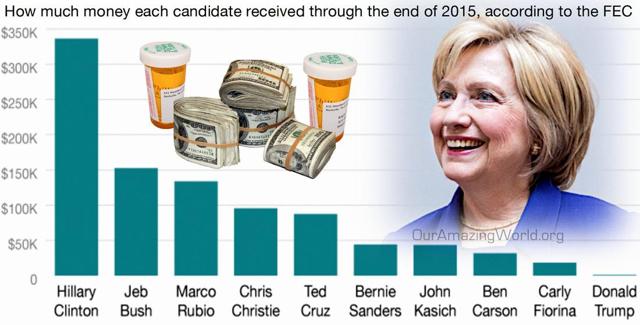 (Ouramazingworld.org)
In addition to this alarming fact, we also know that Hillary was a big fan of the Trans-Pacific Partnership Trade Agreement well before the more stringent regulations of pharmaceuticals were introduced to the agreement. All in all, I do not think that there will be radical healthcare reforms if Hillary wins the White House in November.
With Obamacare, more people are being covered than before. Yeh, the legislation is very polarizing, and there are pros and cons to be argued on both sides. But, in the end, more people are being covered than before. This leads to a potential increase in the total market for healthcare companies.
Employment has been increasing. Wages, as seen with the landmark decisions in both New York and California, are on their way up dramatically over the next decade. This will potentially open up people's wallets to purchase more affordable pharmaceuticals, helping increase the total market demand.
All in all, the macroeconomic environment is fairly bullish towards healthcare companies.
Company-Specific Analysis: Why Shire?
The environment I just described applies to a whole host of corporations. So why do I believe in Shire so much that my largest position by far in my portfolio consists of it? Let's dig down into it:
The Undeniable Success and Growth of the ADHD Market
It is a shame that patients diagnosed with attention deficit hyperactivity disorder have rapidly grown over the past decade, especially in the United States. Take a look at this quick graphic for reference: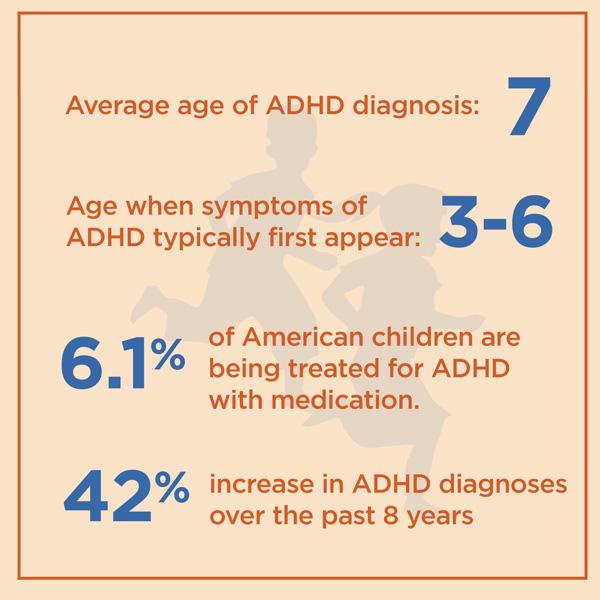 (Healthline.com)
Put it any way, this is alarming. There is an extremely unfortunate reason for this rapid rise: there is no clear/precise definition for ADHD in the DSM. Doctors over-diagnose the disease, and now we are left with thousands of children in need of medication. If we take the 6.4 million kids aged 4-17 and multiply it by the 6.1% figure given to kids taking medication for the disorder, then we are left with over 390,000 children taking medication. It is an unfortunate statistic, but one that is definitely taken advantage of by Shire PLC.
Vyvanse
Vyvanse is Shire's ADHD stimulant treatment, and it has done exceptionally well. This drug is perhaps the pillar to Shire's metaphorical structure. Just take a look at this quick drug revenue breakdown from the company's FY2015 results: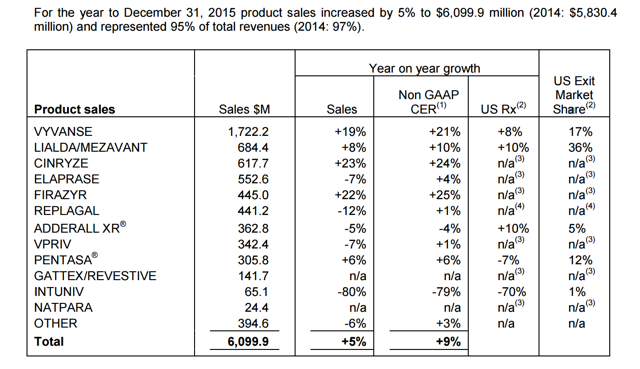 Vyvanse achieved incredible growth in 2015. This can be partially attributed to the FDA's approval of label expansion to include adults with binge eating disorder in the second half of 2015. That was a huge win as Shire has been working since 2012 to secure that expansion. Perhaps, the most important aspect of Vyvanse is the current state of its patents. In September 2015, Shire won an incredibly important court battle (patents now valid until 2023). With the blockbuster drug secure of any generic rivals, Shire can rely on steady revenue from Vyvanse, especially if the ADHD numbers continue to climb as they have in recent years.
Shire is also still receiving solid royalty payments for its other ADHD drugs, Adderall and Intuniv. People were concerned that the introduction of generics into Intuniv's market would severely harm the company, but revenues were still up, and overall demand in the market was up 10%, at least for Adderall.
Yesterday, Shire announced that it achieved primary endpoints for its Phase 3 study on SHP465. This drug would also treat ADHD and further solidify Shire's utter dominance in the market, at least until 2029 when its ADHD family of patents begins expiring. This news sent the stock up on a day where the markets declined, showing investor excitement in the company.
At the end of the day, it is a shame so many people are being diagnosed with ADHD, but it is good to know that Shire is consistently providing proper treatment to alleviate the symptoms to the afflicted individuals.
Cinryze
Another drug worth mentioning is Shire's Cinryze, its second highest revenue-producing drug in FY2015.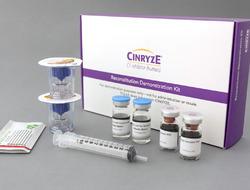 It raised $618 million, representing a 23% increase Y/Y. It currently treats the rare blood disorder HAE (hereditary angioedema). What's even more impressive is that the drug is being reviewed to treat AMR (antibody mediated rejection) in kidney transplants. The amount of kidney transplants have been growing for years now, as seen in this graph: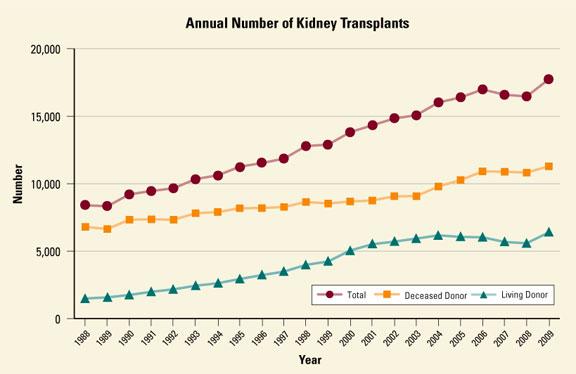 (Nih.gov)
If approved, Cinryze will be the first drug to treat AMR, capturing a rapidly growing market.
Margins
Alright, you get it. Shire has some really unique drugs and dominates its markets. But how are those margins looking? Damn well, that's how they look.

(Tdameritrade.com)
It crushes the industry average in each metric, and things aren't changing quickly in that regard.
Oh, That Baxalta Merger Is A Thing Too
You may have seen those headlines way back about Shire's merger with Baxalta. You know that $32 Billion thing that took a while to hash out. Well, the company anticipates solid growth until 2020, and believes that it will make a combined $20 Billion in revenue at that point. Let's look at what Baxalta brings to Shire's metaphorical table: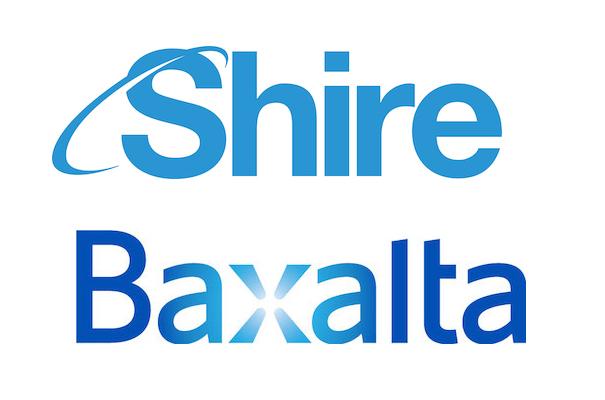 So this merger adds a whole slew on new markets to Shire, but a big one is hemophilia.
Adynovate
Baxalta received FDA approval for adynovate in late 2015 for the treatment of hemophilia. The hemophilia market is expected to grow 4-6% compounded annual growth rate by 2020. The market size is currently sitting at $11 Billion, and adynovate will surely achieve a sizeable chunk of that market. The drug just received approval earlier in the week in Japan, a market that will offer solid demand in the field.
Vonvendi and Oncaspar
Another couple drugs to look at are Vonvendi and Oncaspar. Vonvendi received FDA approval for the treatment of Von Willebrand disease, the most common inherited bleeding disorder in the world. Oncaspar was purchased for under $1 Billion, and is already FDA approved for the treatment of leukemia. It is expected to reach peak sales of around $500 Million in the near future. EU marketing rights were recently given to Oncaspar, so that's another sweet catalyst.
Quick Financials
Baxalta beat on top-line in both Q4 and FY2015, upping revenues 4.8% and 3.3%, respectively. Shire is taking on a company that has proven that it can succeed on its own. Also, with the corporate tax rate of the combined company set to be in Ireland, it will save $500 annually in the first three years.
Thesis (And Lifitegrast)
Lifitegrast is Shire's dry-eye disorder treatment that met both primary and secondary endpoints in its pivotal Phase 3 study. Shire resubmitted an NDA and will receive a response by July 22nd from the FDA. This drug can capture much of the current ophthalmology market share as restasis, the only current competitor, has a much less effective efficacy and has not received strong support by the community. In addition to lifitegrast, Shire also has SHP640, a treatment for both viral and bacterial forms of pinkeye, in the works. If approved, this will be the first drug to treat both forms of pinkeye, and will help Shire gain even more traction in the ophthalmology segment. As I've shown, Shire is a company that is successful in the ADHD market, but is rapidly expanding to cover hemophilia and ophthalmology too. The company is more attractive than ever, and I recommend a strong buy.
Disclosure: I am/we are long SHPG.
I wrote this article myself, and it expresses my own opinions. I am not receiving compensation for it (other than from Seeking Alpha). I have no business relationship with any company whose stock is mentioned in this article.