After reaching an all-time high last June, Gilead Sciences (NASDAQ:GILD) fell to a 52-week low of $82 in February. At least the stock has recovered somewhat in the recent weeks, despite a series of bad news. At the moment, I cannot see many reasons why Gilead should appreciate substantially which leads to the question whether this is a good opportunity to add more shares for the long run or to sell in case the stock climbs above $100 again.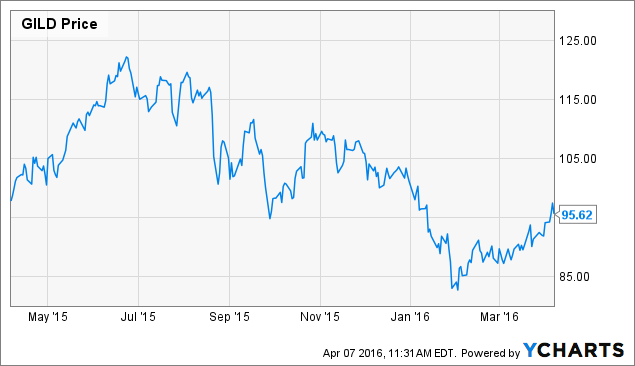 Much has been written about the low valuation of Gilead, which I do not intend to reiterate. Compared to other stocks in the sector, Gilead is cheap, and it generates enormous amounts of cash. What keeps shares on earth is the uncertainty about the future of the HCV business, with the most recent piece of bad news being the Merck patent litigation. Gilead needs a catalyst, any sign that can convince the market that the company can either continue to grow EPS at double-digit rates or that it will be able to reduce the dependency on the HCV franchise to justify a higher valuation.
I see basically three scenarios how this could become reality. The first one is sustainable growth of the HCV business at relatively high rates; second, a new blockbuster drug in another therapeutic area; and finally, acquisitions.
The Future of the HCV Franchise
Gilead has continuously beaten expectations in the past quarters thanks to strong Sovaldi and Harvoni sales, but this has not helped the stock at all. The market assumes that peak HCV sales will be reached soon and that the franchise cannot deliver meaningful growth anymore. In fact, there are many moving parts in these assumptions, with the number of patients receiving treatment, the average price, and competition products being the main drivers. Possibly the biggest threat would be a new treatment regimen that could take meaningful market share from Gilead and/or put pressure on prices. So far, there has been no serious competitor for Gilead, but Merck's Zepatier could become the first real threat for Sovaldi and Harvoni.
If Gilead can defend its dominating market position against new treatments, I am neither particularly optimistic nor pessimistic about the future of the HCV franchise. My guess is that revenues could stay more or less constant over the next years, driven by a slowly growing number of patients being treated in developed countries at slightly declining prices. I do not expect a major impact from growth in developing countries, because either the number of patients who can afford treatment at current costs is too small or prices had to come down significantly which would generate other issues.
Another new Blockbuster?
The HCV franchise stands for 60% of Gilead's product sales in 2015. If we assume that sales and margins there remain constant, the other segments have to grow at an accelerated pace to increase EPS at double-digit rates. At present, I cannot see such a significant growth contribution from Gilead's remaining portfolio. The company's second important therapeutic area are HIV drugs where Gilead already is the market leader. The franchise will continue to grow, but not fast enough to really move the needle. For example, the introduction of the new TAF-based lines is first of all product lifecycle management. Although these developments are highly important to defend market share and profitability, they will not bring outstanding top and bottom line contribution. Besides anti-viral drugs, Gilead has not been too successful until now. The chances for oncology to become another pillar for Gilead in the near future seem to diminish after the recent setbacks of its anti-cancer drug Zydelig. NASH bears many hopes for Gilead, but it will be a long way before a product makes it to market, and the competition in this field is strong. In summary, I do not believe that Gilead's current pipeline can support double-digit growth anytime soon.
When I read some of the very optimistic comments about Gilead here on SA, I get the impression that Gilead's R&D is so outstanding that the success of Sovaldi or Harvoni can be repeated or that the company can easily enter a new therapeutic area in a short period of time. Obviously, Gilead did exactly the right thing when buying Pharmasset and was rewarded big. Gilead saw the exceptional potential of sofosbuvir, invested $11B, took the risk that the drug would eventually make it to the market and put the right price tag on it to make it extremely profitable.
This is an unparalleled success story, but unfortunately, success in pharmaceutical R&D is not predictable. The reality is that most drug candidates fail in earlier or in later stages. Even if a drug is finally approved, there is no guarantee for commercial success. When looking at the pipelines in the pharma and biotech industry, there is an impressive number of candidates which have the potential to become blockbuster drugs, but only few will make it to the market, and even fewer will eventually live up to their expectations. Like it or not, pharmaceutical research has do a lot with luck. Ultimately, it is a question of probabilities, and the more horses enter the race, the higher the chances to have a winner. Ultimately, there is no guarantee for success, and even Gilead's most promising candidates can fail.
In the early phases of drug discovery, in order to identify the right targets, find drug candidates and to optimize lead structures, basically all players use the same toolboxes. The right stop-or-go decisions at the appropriate time are crucial to focus on the most promising programs and to allocate resources properly. Therefore earlier and later phase clinical studies are possibly an area to excel for Gilead, but this requires that enough promising candidates are available in the first place. The biggest lever management has is to maximize R&D output and to identify the most lucrative therapeutic areas (based on core capabilities, market value and competition) and to have a sufficient number of candidates to really maximize chances of success.
Acquisition Strategy
This basically leaves the third option as the most likely near-term catalyst for the stock. Of course, acquisitions should not be rushed, and I would be disappointed if Gilead lost patience and moved too quickly. Gilead is not under pressure and does not have to hurry, but also time is not on Gilead's side. Prices for Sovaldi and Harvoni will only go down and not up, and sooner or later there is the threat of a serious competitor emerging. One argument for acquisitions is that the valuation of the biotech sector is the most attractive since years. In order to be meaningful for Gilead, it had to be a larger (and possibly industry changing) acquisition or alternatively a series of smaller ones to strengthen the pipeline. Obviously, the first option would be more tangible and bring faster results, but it would change Gilead as a company considerably. Maybe, prices are yet too high for Gilead to consider such a drastic move, and management would see added value if valuations come down further.
The acquisition of junior biotechs or early phase candidates is the alternative to a large takeover, but in order to really have an impact and to probably chance the market's stance on Gilead, several will be required. The outcome of such a strategy is less predictable and requires more patience, but if Gilead can feed enough new candidates into its pipeline, it could justify a higher valuation. A first step in this direction is the recent acquisition of Nimbus Apollo and its ACC inhibitor program, targeting at NASH and other liver diseases.
I assume that we will get more clarity on Gilead's strategy, particularly in terms of acquisitions by the end of the year. At present, Gilead's near to mid-term outlook based on the dependency on HCV, the rest of the portfolio and its pipeline does not convince me to add more. I plan to hold on to my shares for the time being, but without a new catalyst until the end of the year, I plan to trim the position, possibly even earlier if the stock gets closer to earlier highs.
I have to admit that I would be more patient if the dividend yield was higher, and I had anticipated a higher dividend increase for 2016, but with the present 1.9% yield, I do not feel paid well enough to wait too long.
In this context, I would like to add, I am not a big fan of Gilead's massive buyback program, and I would have preferred a higher dividend. Dividend payments instead of repurchases allow me as an investor to decide where to allocate this money. Surely, the company's valuation is low, and there could be worse times for Gilead repurchasing shares, but I would prefer a more balanced way of shareholder distributions.
Conclusion
I have to admit that I am slowly losing patience with Gilead. Although the stock is cheap, and a lot of bad news should already be priced in, so that the downside potential seems limited, I cannot see much upside potential either, at least near-term. The company is in the fortunate situation to sit on a large and rapidly growing cash pile, but I would like to see Gilead spending this money on something else besides buybacks. The primary thing which comes to mind are acquisitions, either a large one or several smaller ones, and since the valuation of the biotech sector has come down, it could be the appropriate time to go shopping.
Disclaimer: Opinions expressed herein by the author are not an investment recommendation, any material in this article should be considered general information, and not relied on as a formal investment recommendation. Before making any investment decisions, investors should also use other sources of information, draw their own conclusions, and consider seeking advice from a broker or financial advisor.
Disclosure: I am/we are long GILD.
I wrote this article myself, and it expresses my own opinions. I am not receiving compensation for it (other than from Seeking Alpha). I have no business relationship with any company whose stock is mentioned in this article.