Bank of America (NYSE:BAC) is down 28% year to date. If you were hanging out on a deserted island (with no WiFi) since the beginning of 2016 and just checked BAC's stock price today, you would have quite reasonably assumed that the U.S. economy is in the midst of a recession.

Well, not quite - the real culprit for the share price decline is interest rates expectations (both on the short and long ends). The following chart comparing BAC and the Direxion Daily 20+ Year Treasury Bear 3x Shares ETF (NYSEARCA:TMV) is instructive.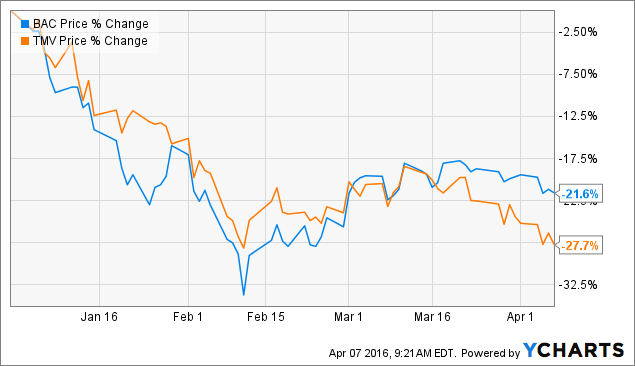 BAC data by YCharts
As can be seen from chart above, the correlation is rather close - in other words, BAC, in the short term, is really a leveraged bet on interest rates as opposed to trading on the fundamentals of the stock.
BAC's sensitivity to interest rates - is it a fact or fiction?
BAC's 10-K discloses interest rates sensitivity for various scenarios: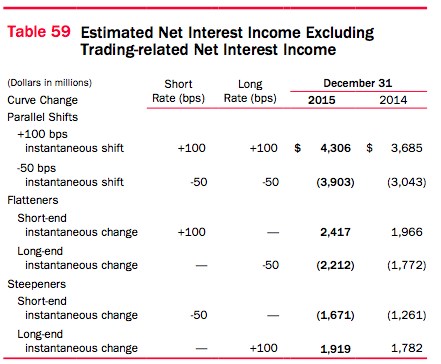 As can be seen from above, it appears that a reduction of 50 basis at the long-end results in $2.2 billion of pre-tax income reduction, whereas 100 basis points increase at the long-end yields only $1.9 billion benefit in pre-tax outcome.
In other words, BAC is positioned at the end of 2015 towards rising long-term rates - but we all know, that didn't quite happen so far in 2016.
Why is BAC more interest-rate sensitive than other banks?
It has to do with its asset composition - consider the following charts: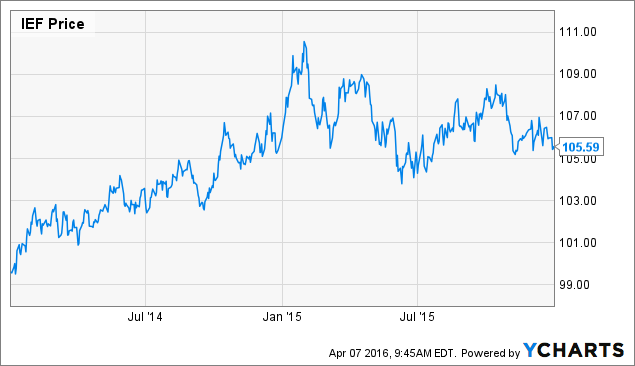 IEF data by YCharts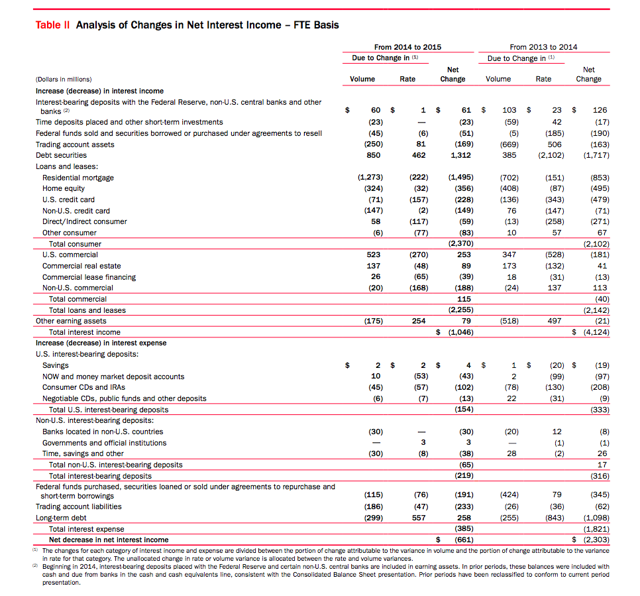 As can be seen from above, treasury yields have declined in 2015 compared to 2014 (note price of bond is inversely related to yield) - this has the impact of reducing the net interest income from BAC's assets as these re-price.
So given interest rates outlook - it is appropriate for BAC to trade below tangible book value, right?
Wrong.
While low interest rates are a material headwind in the near term, the fundamentals of the stock are very much intact. Even in this low rates environment, the returns of the core businesses are solid:
Consumer is generating over 20% on allocated equity.
Global Wealth and Investment Management (GWIM) is generating 22% return on allocated equity.
Global Banking (GB) is generating mid-teens returns on allocated equity and Global Markets (GM), in a challenging year for the industry, managed to eke out 7% ROAE.
The more-than solid returns of its core businesses are somewhat diluted by legacy divisions (Legacy Assets & Servicing and All Others) but the good news is that these are abating with each and every passing quarter.
Final thoughts
Mr. Market is taking a short term and quite a narrow view on the stock - this is presenting investors (as opposed to traders) with a very attractive entry point. Even if the low interest rates environment persists for the foreseeable future - core businesses are still earning well above their cost of capital which warrants a much higher valuation. In the interim, management needs to refocus on things it can control (for example cost management, efficiency and unwinding legacy businesses).
For further context, I am covering BAC's fundamentals in great detail in this series of articles.
I cover U.S., European, Asian, Canadian and Australian large-cap banks, identifying long and short opportunities. If interested in the topic, I encourage you to sign up as a "real-time follower" or message me if interested in a specific banking name.
Disclosure: I am/we are long BAC.
I wrote this article myself, and it expresses my own opinions. I am not receiving compensation for it (other than from Seeking Alpha). I have no business relationship with any company whose stock is mentioned in this article.