QTS Realty Trust Inc. (NYSE:QTS) is a leading data center REIT operating mostly in the US, but internationally as well. Its offerings include custom data center ("C1"), colocation ("C2"), and cloud and managed services ("C3"). These provide the flexibility, scale, and security needed to support the rapidly evolving infrastructure demands of Web and IT applications. Many new companies are growing quickly in this area, and many older "enterprise" companies are ramping up quickly. Due to the continued growth in cloud applications, this should be a growth industry for many years to come. QTS operates or manages over 4.8 million square feet of secure, state-of-the-art data center infrastructure. The REIT supports more than 1000 customers. The map below shows QTS' worldwide presence.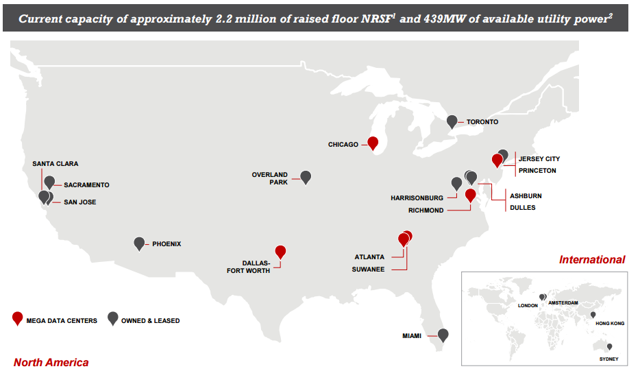 The 2.2 million square feet of raised floor space referred to at the top of the pictorial is that "owned" as opposed to "leased" by QTS. Of the 2.2 million square feet of current "owned" capacity, about 1.1 million is designated for future build-out. Normally, this might seem worrisome. However, investors should keep in mind that the REIT grew its monthly recurring revenues by 60.4% as of December 31, 2015, compared to revenues as of December 31, 2014. With that kind of growth, capacity will get eaten up quickly.
QTS already has a huge ($47.7 million annualized) booked-not-billed backlog of contracted MRR (monthly recurring revenue). This is not yet started, but it is already leased data center capacity/services (see chart below). Approximately $26.8 million in revenue of this annualized MRR backlog are set to come on-line in 2016. The chart below indicates the dates and amounts of the rest.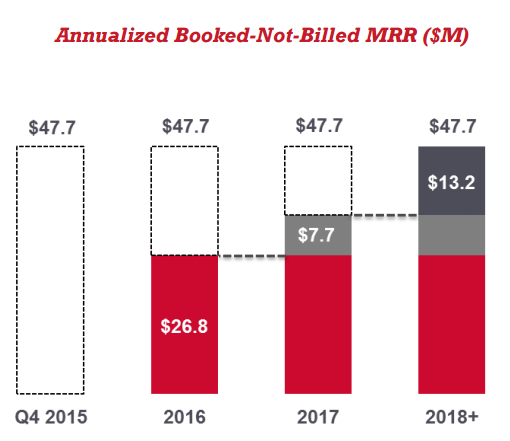 To put this in perspective, QTS reported $92.7 million in revenues in Q4 2015 and $311.1 million for FY2015. The extra $26.8 million in backlog set to come on-line in FY2016 represents growth of 8.6% on its own. That is without taking into account all of the new business that the company manages to sign up for itself in FY2016. Remember that the backlogs of later years are likely to grow as 2016 wears on.
More fully, the Q4 2015 and FY2015 earnings were:
Operating FFO of $31.5 million and $103.9 million, or $0.65 and $2.29 per fully diluted share respectively. These were an increase of 54.4% and 40.2% year over year.
FFO of $28.1 million and $98.5 million. These represent increases of 40.1% and 38.8% year over year, respectively.

Adjusted EBITDA of $41.0 million and $140.0 million. These were an increase of 41.4% and 40.0% year over year, respectively.
NOI of $59.2 million and $200.9 million. These were an increase of 48.8% and 42.3% year over year, respectively.
Revenues of $92.7 million and $311.1 million. These were an increase of 55.6% and 42.8% year over year, respectively. Monthly Recurring Revenue ("MRR") at Q4E 2015 had increased by 60.4% to $27.5 million year over year.

Net income for Q4 2015 was $5.3 million ($0.11 per basic and diluted share), compared to net income of $5.8 million in Q4 2014. The decrease in net income was largely due to about $5.0 million of transaction and integration costs associated with the acquisition of Carpathia Hosting, Inc.
Net income for FY2015 was $24.1 million ($0.53 per diluted share), compared to net income of $19.1 million for FY2014.
The Leasing activity was good in Q4 2015. Incrementally annualized rent, net of downgrades, increased by $9.8 million in Q4 2015 and by $39.6 million in FY2015 year over year. If you take out the one $2 million downgrade in Q4 2015, the Q4 number rises to $11.8 million. That would be a 40% increase over the prior four-quarter average. The average of renewed leases was +2.3% higher rent for each period. Rental Churn was only 2.2% for Q4 2015 and 4.0% for FY2015. Both numbers were very low.
Of course, readers will now be interested in the guidance for FY2016 (see below):
Adjusted EBITDA is expected to be $177.0-185.0 million (up from $140.0 million in FY2015).
Operating FFO is expected to be $125-130 million (up from $103.9 million in FY2015).
Operating FFO per share is expected to be $2.54-2.64 (up from $2.29 in FY2015).
Churn is expected to be 5.0-8.0% (up from 4.0% in FY2015).
Capital Expenditures Incurred are expected to be $300.0-350.0 million (up from $311.7 in FY2015).
Using the midpoint of the Operating FFO per share guidance, you get +13.1% growth in Operating FFO for FY2016. This is good growth, but it is not startlingly good. We will have to wait for a Q1 2016 earnings release to see how accurate the first estimate of FY2016 guidance is going to prove. Typically, quickly growing companies underestimate growth early on in the year so as not to open up the possibility of falling short. The Q1 2016 earnings report should give investors a read on how much of an underestimate the first 2016 guidance numbers may be. Currently, the FY2016 Operating FFO estimate leads to a Price/Operating FFO for FY2016 midpoint of range multiple of approximately 18.9. This is not high for a growth stock. Conceivably, this multiple could go as high as the low twenties - let's say 22.0. However, if the market falls dramatically, which it is threatening to do, this multiple could go as low as 10 (or perhaps even lower). This leaves investors with more risk to the downside for the stock. It makes QTS a HOLD, especially since growth appears to be slowing down for the future.
The approximately 1.5-year chart of QTS provides some technical direction for a trade/investment.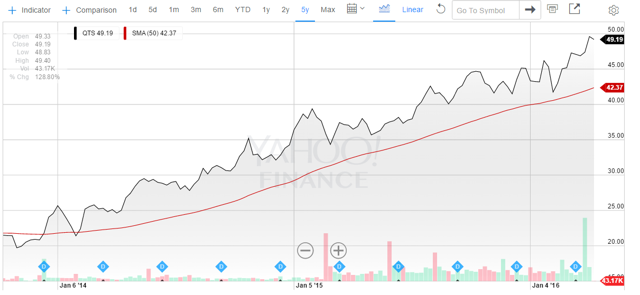 No one can argue that QTS has a terrific uptrend going. It does not appear to be stopping anytime soon. However, the stock price line is about as far above its 50-day SMA line as it has historically gotten. This increases the chances for a pullback in QTS' stock price in the near term. When investors also consider the slowing of the average analysts' five-year EPS growth estimates per annum from 102.26% per annum for the last five years to 11.0% per annum for the next five years, investors have to at least entertain the possibility that QTS stock may start trading at a lower Price/Operating FFO ratio in the near future due to the lower growth. That would cause the stock price to fall even further than for just a normal pullback.
When you further consider that the US stock markets could be in for a serious pullback or crash, the picture becomes worse. If there is a textbook definition recession, that too would tend to argue for a falling US equities market. Many think we were very near negative GDP growth for Q1 2016. If Q1 2016 proves to be a negative quarter, it brings the specter of a GDP growth recession into play. Remember, we already have an earnings recession slated for Q1 2016. The higher FY2016 Churn rate expected should be a negative for the stock too. Considering all of this, QTS is a HOLD, even though it has been a top-performing stock for a long time.
NOTE: Some of the fundamental fiscal data above is from Yahoo Finance.
Good Luck Trading/Investing.
Disclosure: I/we have no positions in any stocks mentioned, and no plans to initiate any positions within the next 72 hours.
I wrote this article myself, and it expresses my own opinions. I am not receiving compensation for it (other than from Seeking Alpha). I have no business relationship with any company whose stock is mentioned in this article.