Coca-Cola (NYSE:KO) is without a doubt one of the highest quality companies in the market that can deliver consistent shareholder returns through steady sales of its beverages. However, every company, no matter the quality, can become overvalued, leading to substandard returns in the future.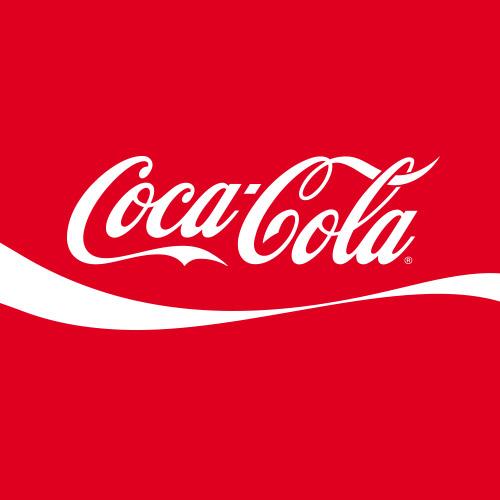 I want to make clear that at this very point in time, Coca-Cola is part of my portfolio and has been since I first started investing back in 2012.
Why did I purchase KO in the first place?
Most investors are aware of the unmatched moat that Coca-Cola has: being able to price its products above competitors, extremely strong brand power and ability to bring new products to market efficiently in most countries.
The dividend
Coca-Cola had approximately 50 years of consecutive dividend increases at the time. Due to the steady stream of earnings through both bull and bear markets, this can be continued even by allocating the same amount of money to dividends along with continuing a buyback to reduce share count. This means the same amount of money can be allocated to dividends, but with less shares each year, the dividend payment to shareholders increases.
My yield on purchase was similar to current yield.
Valuation
Back when I purchased Coca-Cola, the valuation was very reasonable, sitting at approximately 18 times earnings. This was in line with the broader market. Although I would have liked the growth rate to be better, I believe consistency of earnings and stability of the dividend allowed for this valuation.
If we compare that to the valuation now, a great deal has changed. The company is now trading just shy of 28 times current earnings, so we would expect good earnings and possibly revenue growth to support this.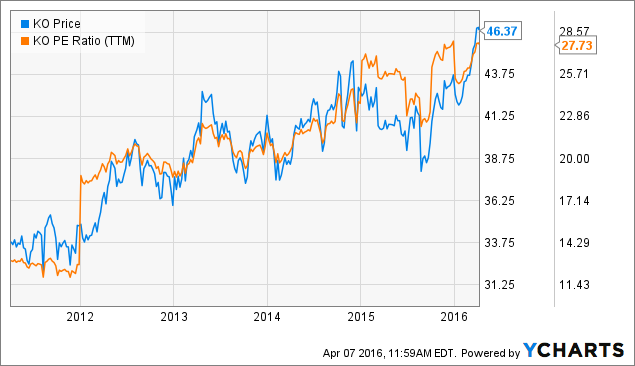 KO data by YCharts
In addition, the price to book value, currently just shy of 8, is the highest level in the past 5 years, far above the average over the last 5-year period (5.5)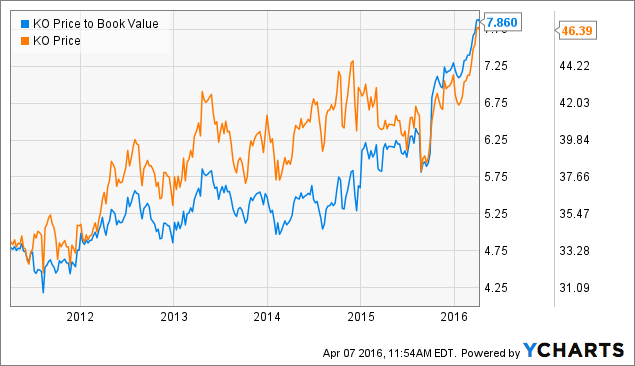 KO Price to Book Value data by YCharts
As can be seen, from 2012 to 2015 the price/book stagnated while the share price rose, creating an argument that the shares became 'cheaper.' However, from mid-2015 the price/book rose significantly, eroding this opportunity for investors.
From the latest earnings report earlier this year, the picture does not look bad at all for the company, but it certainly does not look good enough to justify its current valuation.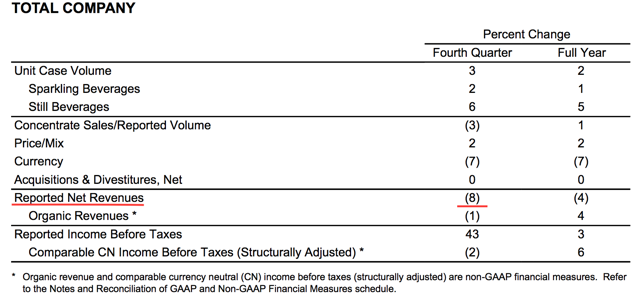 As highlighted, net revenues were down 8% YoY. It should be noted that part of this was due to there being 6 less days in the trading quarter than the previous year.
Outlook for 2016
As per the earnings statement, revenue is expected to rise 4-5% in 2016 with EPS rising by similar amounts. The EPS growth will be helped by the continued share repurchases (stated to be between $2 billion and $2.5 billion) instead of good organic earnings growth.
Favourable investments elsewhere
As per my last article (click here to view), I have grown a strong interest for Fevertree Drinks Plc (OTCPK:FQVTF). The company has become the dominant player in the premium tonic and mixers market and is used by the top bars around the world.
The company trades at a current P/E ratio of 56 at a market cap of £740 million ($1.04 billion). Although this is exactly double the earnings multiple of Coca-Cola, Fevertree is in a strong growth stage with revenues up 71% YoY and EBITDA up 82% YoY. These figures make Fevertree look like an absolute bargain next to Coca-Cola, which is declining in revenues and stagnant organic earnings.
The company also pays a dividend, although not as big a yield as Coca-Cola, it is also in a hyper-growth stage, rising over 10 fold in 2015 from the previous year.
To sum up
Every investment should be made at prices that present good value. When investments become very overvalued we should consider selling. I firmly believe that interest rates cannot stay down for much longer and once they start to rise stocks should fall. Companies commanding high valuations will also be hit the hardest, especially when they do not have the sufficient growth to support their valuation. I brought up the valuation of Coca-Cola a few months back as a concern and the valuation has only got worse since then.
As I have not sold my Coca-Cola shares, I would like to hear the thoughts of the Seeking Alpha community whether you agree or disagree with me and why I should either hold onto my shares or sell. Proceeds will most likely go to purchasing more shares of Fevertree.
For my followers my current portfolio is:
| | |
| --- | --- |
| Company | No. of shares |
| Aberdeen Asset Management (OTCPK:ABDNF) | 424 |
| Apple (NASDAQ:AAPL) | 53 |
| Bank of America (NYSE:BAC) | 29 |
| Coca-Cola | 28 |
| DaVita HealthCare (NYSE:DVA) | 37 |
| FeverTree Drinks plc | 88 |
| General Motors (NYSE:GM) | 50 |
| Gilead Sciences (NASDAQ:GILD) | 27 |
| IBM (NYSE:IBM) | 11 |
| Rolls Royce (OTCPK:RYCEF) | 296 |
| Transocean (NYSE:RIG) | 168 |
| Wells Fargo (NYSE:WFC) | 18 |
| Cash as % of portfolio | 34% |
As always, thanks for taking the time to read and comment.
Disclosure: I am/we are long ALL STOCKS MENTIONED.
I wrote this article myself, and it expresses my own opinions. I am not receiving compensation for it (other than from Seeking Alpha). I have no business relationship with any company whose stock is mentioned in this article.