| | |
| --- | --- |
| Purchase Price: $2.05 (4/3/2016) | Market Capitalization: $39.35 Million |
| Enterprise Value: $25.71 Million | EV/EBITDA: 3.34 |
| Price Target: $3.08 (~50% upside) | Time Frame: 24 months |
Mind C.T.I. Ltd. (NASDAQ:MNDO) develops, manufactures, markets and implements real-time and off-line convergent billing and customer care software solutions for various types of communication providers, including traditional wire-line and wireless, VoIP and broadband IP network operators, LTE operators, cable operators and mobile virtual network operators. The company operates under the following segments:
Billing and Customer Care - Provides real-time and off-line, scalable billing and customer care software, including mediation and rating, for providers of voice, data and content services that are designed to meet their complex, mission-critical provisioning, authentication, authorization, accounting and reporting needs.
Enterprise Software - Used by corporations for telecom expense management, call accounting, traffic analysis and fraud detection. PhonEX and MEIPS are call management systems that collect, record and store all call information in a customized database.
Professional Services - Provides professional services to customers, consisting primarily of project management, customization, installations, customer support, training and maintenance services.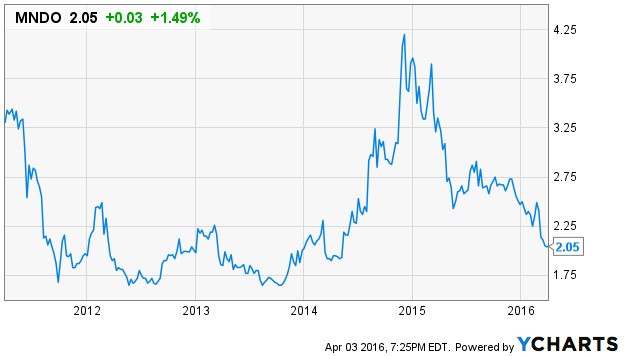 What Happened?
FY 2015's revenues were down 16% compared to FY 2014. The reality is that revenues have historically fluctuated year to year, but have over the long term, gone up. Under the risks section of the 20-F, management, referring to the backlog, says:
Due to all of the foregoing, we cannot predict revenues for any future quarter with any significant degree of accuracy. Accordingly, we believe that period-to-period comparisons of our operating results are not necessarily meaningful and you should not rely upon them as indications of future performance. In future quarters, our operating results may be below the expectations of public market analysts and investors, and as a result, the price of our ordinary shares may fall.
Given that investors prefer linear growth and despise volatility, it's no surprise that the stock trades at a stunted valuation.
RISKS
Currency Exposure
The company derives half of its revenues from the United States and reports in U.S. dollars, but derives most of its expenses from Israel and Romania. A decline in the values of other currencies relative to the dollar as we have seen over the past few years bodes well in terms of margins, but poorly in terms of revenues for MNDO, given that the international currencies will need to be converted to dollars. The revenues/margins will mostly cancel each other out, I don't see it as a relevant issue.
CATALYSTS
Dividends & Intelligent Capital Allocation
The pivotal reason for adding this stock to the portfolio is management's financial acumen. The management team is led by CEO Monica Iancu. Ms. Iancu owns 17.3% of the shares outstanding and pays out virtually all of the FCF as dividends. Dividend for the year 2016 was paid last month, the yield was 12% (they are paid once a year). The average dividend paid dating back to 2003 - excluding the monster 2009 dividend was $4.40 million, representing an 11% yield on today's prices.
The chart below is one of the dollar amount of share repurchases of S&P 500 companies. What's odd is that corporations tend to repurchase stocks when they trade at inflated prices and steer clear when they should actually be buying (08/09 period)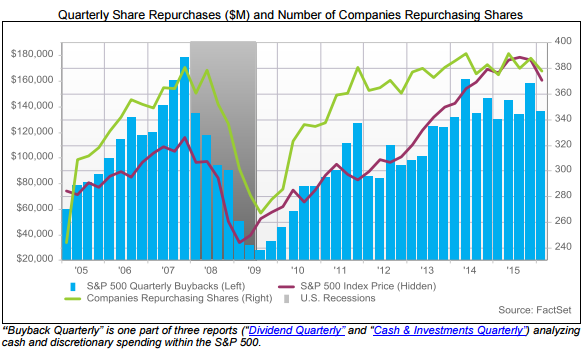 Quarterly buybacks dating back to 2005 (Source: FactSet)
The same holds true for M&A activity, which tends to fall precisely when it should be rising - during a recession when valuations are actually cheap.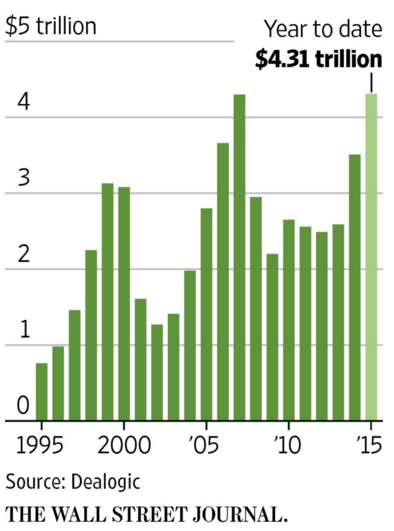 I want to mention that MNDO has, over the past 15 years, only repurchased shares in two years - 2008 and 2009. The company repurchased 3,165,902 shares (15% of total) for $2.8 million, or at an average price of $0.88 - The stock trades at $2.05 today.
Reasonable Valuation
FY 15's FCF was $6.2 million, but averaging the free cash flow - which by the way, has been positive since 2001 (even in 2007/2008) - over the past 5 years comes $4.7 million. The company has consistently cranked out cash at that level over the past 15 years. Current market cap is $39.35 million and enterprise value is $25 million. EV/FCF ratio sits at just over 5; 50% upside from today's prices places the EV/FCF ratio at 9.5 which is still fairly conservative in comparison to the general market level. This will make up 7% of the portfolio.
Editor's Note: This article covers one or more stocks trading at less than $1 per share and/or with less than a $100 million market cap. Please be aware of the risks associated with these stocks.