Monsanto (NYSE:MON) has recently released its quarterly results in which its net income slid 25%, just a month after the world's leading seller of soybean and corn seeds cut its earnings outlook.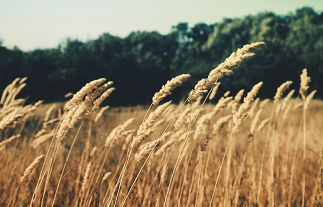 Monsanto said that its profits dropped from $1.43 billion a year earlier to $1.06 billion, which translated into adjusted EPS of $2.42, below Wall Street's expectation of $2.53 per share, according to Thomson Reuters. The bigger than expected drop in EPS was disappointing, especially since the company benefited from lower effective tax rate (25% vs. 28% a year earlier) and reduction in the number of outstanding shares. The total number of shares (diluted) dropped 9.5% from a year earlier as the company completed its $3 billion accelerated share repurchase program.
Total sales declined 13% to $4.53 billion, also missing analysts' consensus estimate of $4.76 billion as the sales of soybean seed and traits and corn seed and traits came out worse than expected, leading to 8.6% drop in seeds and genomics sales to $3.81 billion. Meanwhile, the agricultural productivity segment, which consists of crop protection and garden maintenance products, also witnessed 30% decline in sales to $715 million due to glyphosate declines and pricing pressure.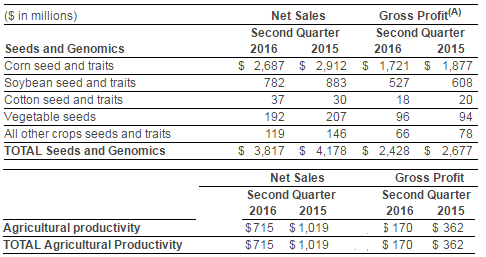 Monsanto said that the gross profit in the seeds and genomics business will be largely flat as compared to last year. As for the smaller agricultural productivity business, the gross profits are expected to come in the range of $900 million to $1.1 billion, down from $1.9 billion last year. Monsanto reduced its profit outlook from $4.12 to $4.79 to between $3.72 and $4.48, but that is largely due to the timing of recording the restructuring charges. In adjusted terms, the company's EPS outlook remained in the range of $4.40 to $5.10, which implies a drop of 17% at the mid-point from last year. Note that this does not include restructuring charges of between $370 million to $400 million which could lift its operating expenses. Therefore, the actual decline in profits will likely be greater.
Monsanto is facing some serious macro headwinds, such as the strengthening US dollar which is eating away its profits. In fact, during the recent conference call, Brett Begemann, Monsanto's president and COO, said that foreign currency impact is "the single largest driver" of year-over-year decline in profits for the global corn business. The company, like other leading US-based multi-national organizations, gets a significant chunk of its profits from outside of the US. The strength in the US dollar as compared to other currencies makes Monsanto's products relatively more expensive. The weakness in Argentine peso and Brazilian real exacerbates Monsanto's woes. In the current year, Monsanto believes that its profits can take a $400 million hit due to negative currency effects.
Meanwhile, Monsanto is facing severe competition in the US, especially in Illinois, where producers are battling for market share. The glyphosate pricing has been under pressure as it faces growing competition from the cheaper Chinese generics.
During the conference call, Monsanto also acknowledged that Xtend hasn't received the final EU approval. The unfortunate delay is only increasing uncertainty regarding future earnings growth, given Xtend is expected to be one of the key growth drivers for the next two fiscal years.
All of this is happening on the backdrop of a major downturn in the agricultural business. The entire sector has been under pressure, with deteriorating prices for major crops - that are at the heart of Monsanto - namely corn and soybean. And things could get worse this year. According to US Department of Agriculture, net farm income, which has been going downhill for the last two years after peaking at $123 billion in 2013, is going to drop again by 3% from 2015 to $54.8 billion this year.
Monsanto, however, continues to eye strong EPS growth in the next two fiscal years on the back of new soybean products, expansion of the global corn business, stability in currency effects and cost saving initiatives. However, the company is facing significant near term headwinds whose impact on the bottom-line is turning out to be bigger than what the company, or Wall Street anticipated. And this was reinforced by the latest quarterly results.
Monsanto has been adjusting its earnings estimates. The company reduced its earnings outlook last month, as highlighted earlier. Monsanto now expects annual EPS to growth in the "mid-teens" from the mid-point of this year's guidance through FY-2019. Until last year, however, the company was expecting more than 20% EPS growth between FY-2017 and FY-2019.
Meanwhile, the consensus EPS forecast has already fallen by 9.4% and 10% for the current and next year respectively over the last two months alone, according to data compiled by Thomson Reuters. Following the latest quarterly results, I believe analysts will further slash earnings forecast. That's going to drag Monsanto stock.
In the worst case scenario, Monsanto may be forced to abandon its ambitious target of doubling EPS during the five years ending 2019.
Disclosure: I/we have no positions in any stocks mentioned, and no plans to initiate any positions within the next 72 hours.
I wrote this article myself, and it expresses my own opinions. I am not receiving compensation for it (other than from Seeking Alpha). I have no business relationship with any company whose stock is mentioned in this article.