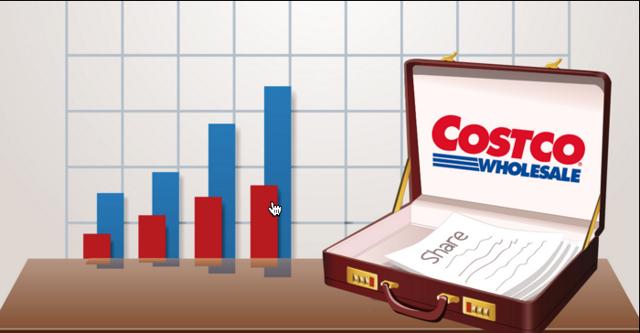 If you asked me to pick one retailer I would blindly invest my money in and gave me five seconds to answer, I would say Costco (NASDAQ:COST) without batting an eyelid. Not Amazon (NASDAQ:AMZN) - the fastest-growing retailer with a global customer base, and not even Wal-Mart (NYSE:WMT) with its half trillion dollars but no clue where it's going in the future. I plan to invest in Alibaba (NYSE:BABA) at some point, but with Costco, all I'm hoping is that the company misses earnings, so I can get in at a good price.
Let me explain why.
There are several factors that lead me to the conclusion that Costco is a one-of-a-kind business that has a solid enough moat around it to ward off any threat from the fast-growing e-commerce segment.
But the one thing that sets the company apart from any other over the past five years is its same-store sales, or comps.
Costco Stands Tall Amidst Comps Chaos
That Wal-Mart is struggling to keep up its top line is an old story. The company expects its revenue to dip before it starts moving up, and it is trying as hard as it can to recapture the ground that's moving under its feet. Wal-Mart is superficially getting into the e-commerce game to try and stem some of the market share erosion, but that won't solve the problem. It is also expanding its successful Supercenter footprint in Europe, China and even at home, and is seeing some success with its Neighborhood Market concept that's primarily an urban-targeting initiative - but that won't show up significantly on the top line for several quarters yet. Despite these growth initiatives, Wal-Mart's market share is being actively consumed by e-commerce players that are hungry for growth.
To understand the true impact of e-commerce on traditional brick-and-mortar retail sales, one need only look at comparable store sales of some of the traditional companies in this space.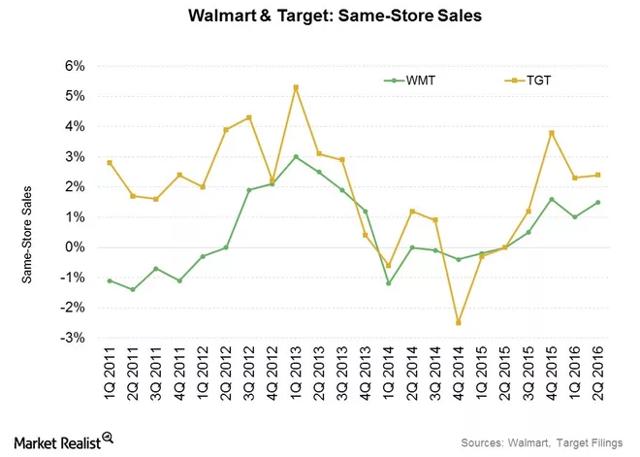 Taking Wal-Mart as a prime example, let's dig even deeper into its various reporting segments within the U.S. and see what's happening there.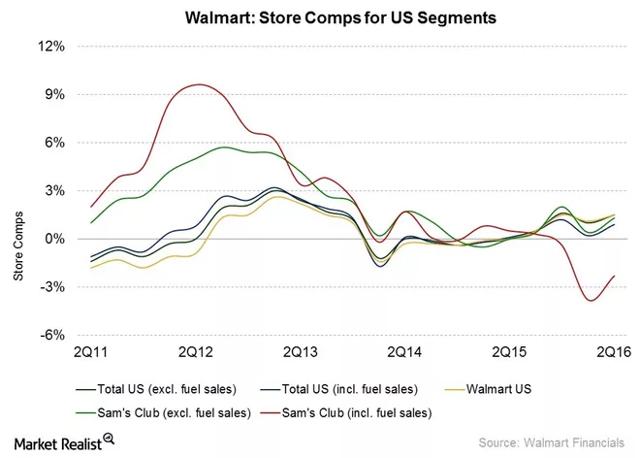 Since as far back as 2013, retailers like Wal-Mart and Target (NYSE:TGT) have been struggling to keep their comps growing at above the 2% level, with the latter managing to breach that over the past few quarters. Wal-Mart still hasn't broken that poor trend.
That may not mean anything on its own - until you look at the number of times Costco breached 5% in comparable store sales over an even longer period than that.
Source: Investopedia
Over the past 22 quarters, Costco has only gone below 5% in 5 of them. Before you start pointing out the downturn in recent quarters, you have to remember that low oil prices had a major part in that. Take that out of the equation, and this is what it looks like: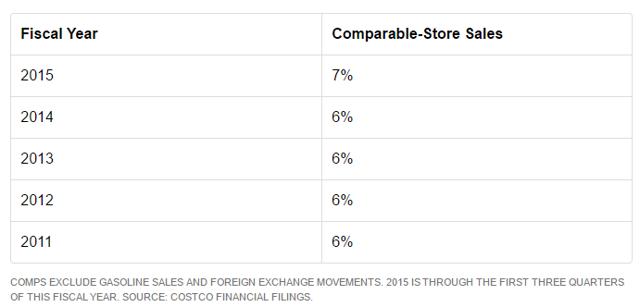 Source: Motley Fool
Where most other retailers alternated between positive and negative comps, Costco has been delivering fiscal after fiscal of 5%+ comps. You have to remember that this is also the period during which U.S. and overall global e-commerce growth is at its strongest. Costco's careful (to say the least) survey of e-commerce waters can only serve to help its comps once the company decides to aggressively push that agenda.
More pertinent to this article is the fact that the company has managed to achieve this without much of a helping hand from online revenues. And this is the very thing that testifies to the fact that Costco has a very effective moat around its business - one that will only continue to grow stronger year over year.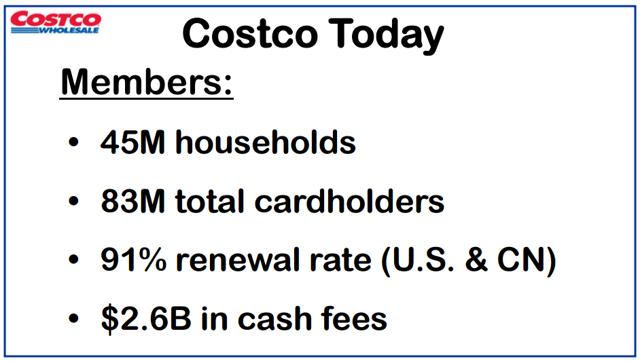 Source: Costco Presentation
Costco's 80 million cardholders are its biggest asset - and that asset has shown no signs of weakening in the last dozen or more years. The true measure of success is its untouchable renewal rate. This metric (consistently around 90% in key markets) is what makes the company so resilient against the onslaught of e-commerce.
I've already discussed the company's business model and competitor advantages at length in previous articles here, so I invite you to read through to get a snapshot of how it's performing.
Costco Enters New Growth Phase As International Markets Expand Faster
Is Costco Being Overcautious About Going Online?
Why Wal-Mart Can't Break Costco's Loyalty Spell
Investor-speak: Growing Even Stronger
Armed with this knowledge about Costco, it should come as no surprise to investors that the company is on the verge of doubling its total sales, and that it has already more than doubled its operating income during the golden decade of e-commerce.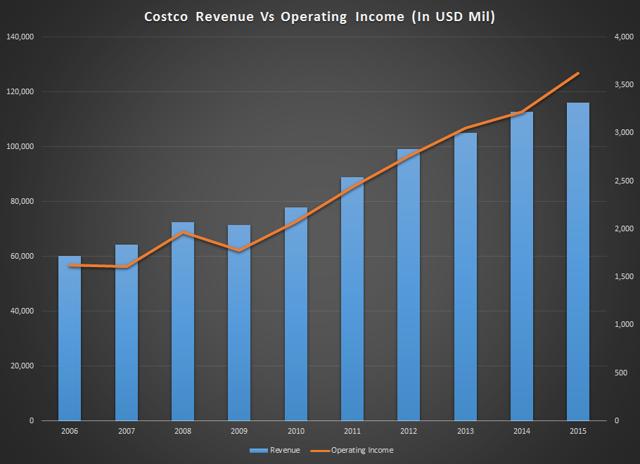 Source: Morningstar
To put things in perspective for the future of Costco, consider this:
There are more than 130 million housing units in the United States, and more than 40 million of them are shopping at Costco, which puts the company's domestic penetration at around 30%. While expansion through new customer acquisition may not be as fast as it was in the last decade, it will lead to a new stage of stable growth over the next 10 years. It is the international markets that will now continue to show rapid growth as the company fortifies its presence across the U.S.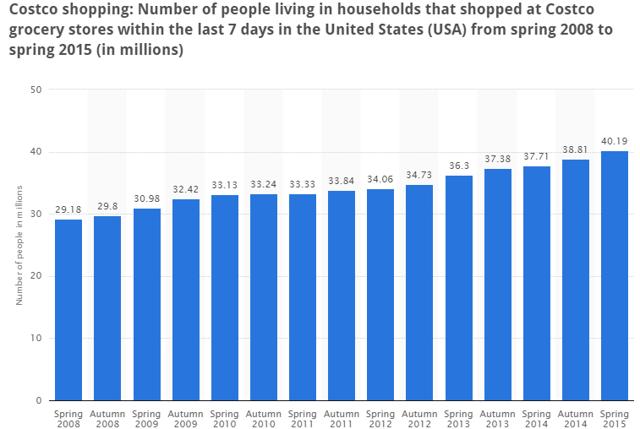 Source: Statista
That can only mean one thing to a potential or current investor: get in or add when you see weak earnings, and get on a DRIP to fully leverage the company's dividend strength. And then keep adding whenever the price drops on earnings misses.
You'll see opportunities coming your way, so follow COST closely and get in when you can. In my opinion, this needs to be done before Costco fully wakes up to the reality of e-commerce and is ready to jump in with both feet. Once that happens, it will become even harder to find the right entry points.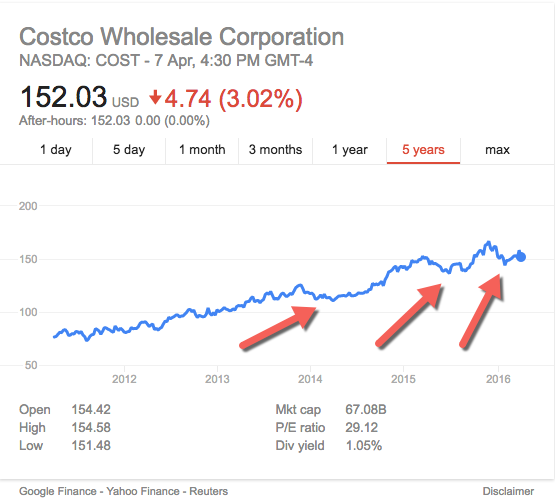 I invite you to follow me as I unveil the best-performing companies and reveal investment opportunities in retail, technology, automobiles, e-commerce and other industries.
Disclosure: I/we have no positions in any stocks mentioned, and no plans to initiate any positions within the next 72 hours.
I wrote this article myself, and it expresses my own opinions. I am not receiving compensation for it (other than from Seeking Alpha). I have no business relationship with any company whose stock is mentioned in this article.