1. Introduction
Santos (OTCPK:STOSF, OTCPK:SSLTY) is, by many accounts, a poorly run company. In the boom years of oil and gas, it possessed great assets, but it never provided the great returns promised from its annual reports. As the oil price declined and sentiment turned against the company, the poor operating performance of the group has come to the forefront.
The balance sheet is in tatters and a capital raising in 2015 significantly diluted shareholders, yet did little more than buy the group time. Fast forward to the present and Santos has become the epitome of an oil and gas value trap. It has bounced off recent lows of $AUD 2.46 on the ASX to reach recent highs of over $AUD 4.00, opening up an opportunity to profit off the company's future declines.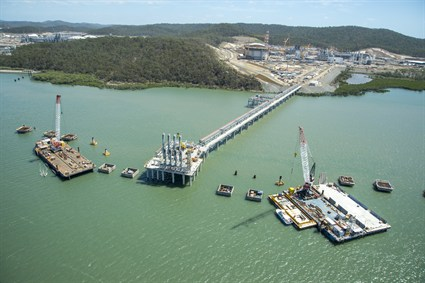 Investors will find much more volume exists on the ASX, in excess of $30 million in trading per day, and Santos proves to be a very liquid asset. Options provide great exposure to the upcoming short-term events.
We now sit at a different time for the company. It is time to evaluate the ongoing prospects for Santos and whether they will exist in their current form several years from now. While posting impressive bottom line figures of $14.4/boe production costs, these numbers are misleading enough to be considered farcical. One needs to look no further than the balance sheet to see that this is at best, a misleading figure. Here is what the cash flow statement looks like, consolidated into five main categories (revenue, exploration/development, direct costs of production, borrowing costs, and asset purchases).
Note - Santos reports numbers in $AUD. I have converted at a rate of $AUD 1 = $ US 0.75 for ease of comparison to other stocks and price projections. Most of the information, unless otherwise noted, was sourced from Santos' Annual Report 2015.
| | | |
| --- | --- | --- |
| | 2015 $US/BOE | 2014 $US/BOE |
| Production Volume (mmboe) | 57.7 | 54.1 |
| Sales Volume (mmboe) | 64.3 | 63.7 |
| Avg Realized Price | $40.9 | $51.2 |
| Exploration And Development | $(6.1) | $(7.1) |
| Direct Cost Of Production | $(25.1) | $(29.3) |
| Borrowing Related Costs | $(4.6) | $(3.3) |
| Asset Purchases | $(18.2) | $(34.5) |
| Dividends | $(2.5) | $(2.3) |
| Total | $(56.5) | $(76.4) |
Moving from 2014 to 2015, the only real changes that Santos invoked was decreasing the rate of asset purchases - spending over $15/bbl less in an attempt to maintain reserves. The reduced rate of asset purchases resulted in a 22% decrease in 1P reserves and a 24% decrease in 2P reserves. It is becoming clear that without large asset purchases, Santos will fail to maintain reserves to produce into the future, but if it continues to buy assets, then its balance sheet will fall further into disarray. It is a precarious situation. A realized oil price in 2015 of $US 40.9/boe shows the discount that the majority of Santos' sales have to the oil price, and a realized oil price for Q1 2016 in the low 30s is the expectation.
Costs For 2016
So what can we expect for 2016? Unfortunately, much of the same. Santos may scrape a few dollars per barrel off operating expenses, and capital commitments will drop $300-$400 million during the year. Exploration commitments are higher in 2016 than they were in 2015, and operating lease obligations are higher as well. I'll assume for the sake of this exercise that the dividend will be removed, and asset purchases will be reduced a further 75%.
| | |
| --- | --- |
| | 2016 $US/BOE |
| Exploration And Development | $(6.8) |
| Direct Cost Of Production | $(25.1) |
| Borrowing Related Costs | $(4.6) |
| Asset Purchases | $(6.7) |
| Dividends | $- |
| Total | $(43.1) |
This data brings us to best case company costs of circa $US 43/boe produced before the payback of any debt. How does that compare to realized oil prices? Here is the breakdown of sales prices for 2015 by product, compared to the volume sold in barrels of oil equivalent.
The majority of sales was via gas sales, a low margin portion of the company's sales. We can expect higher LNG sales from GLNG throughout 2016, however, as the spot price for LNG has cratered, there is little in the way of positive to see there. Lower crude oil prices will create further pricing pressure on oil-linked gas contracts, LNG prices, spot prices, and ultimately, the company's bottom line.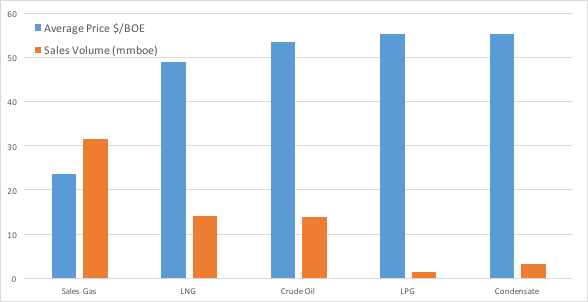 2016 Prices
In 2016, across all products, we can expect to see an average realized price per barrel of oil equivalent in the low US$30. This corresponds to a company loss, excluding the payback of debt of up to $10 per barrel, nearly US$800 million in total losses and a corresponding significant decline in reserves. Santos is my least favorite major oil company, and due to its size provides ample option liquidity that provides fantastic leverage to upcoming short-term events. As Santos does not hedge itself against the oil price, it finds itself completely exposed. A rising AUD makes it even more difficult for the company as it collects operating costs primarily in the local currency.
2. Balance Sheet
Debt and Liabilities - Santos' balance sheet is, despite a massive capital raising and asset sale in November, still in rough shape. Total liabilities dropped US$0.9 billion from $9.7 billion to $8.8 billion despite its US$2.63 billion capital raising and sale of a 33% stake in the Kipper gas field for US$366 million. It sits on a debt to equity ratio of more than 1 and has a capitalization ratio of over 40%.
Liquidity - Santos has stated its liquidity at US$3.6 billion in its recent annual report. This backdrops maturities totaling US$165 million in 2016 (net of US$900 million cash), $2.11 billion in 2017, and $2.4 billion from 2018-2020. Without a price recovery over $50 per barrel in that time, the stated liquidity will fall short of the company needs by the second quarter of 2017. However, let's have a review of the stated liquidity rather than taking it at face value.
The bulk of liquidity is provided by a US$2.7 billion bilateral (AUD/USD) loan facility, and a US$0.6 billion commercial paper for meeting short-term commitments. The remaining $0.3 billion of liquidity is provided by cash net of short-term liabilities. Investors can do nothing more but speculate on the strength of that liquidity as the oil price continues to sit below US$40/bbl with little knowledge available on prerequisites for the loan agreements. Based on the lack of information provided, investors have little to feel comfortable about.
3. Investment Thesis And Catalysts
My investment thesis for Santos is to profit off their decline. As one of the weakest companies in the sector, Santos is free cash flow negative below US$50/bbl by their own accord. With several upcoming catalysts for a share price rout, I put forward that this is one of the best short-term bets I have seen recently.
April OPEC Production Freeze - U.S. inventories have continued to rise despite a rising oil price. Seemingly devoid of fundamentals, and backed by the meaningless rhetoric of a production freeze (without Iran and at the highest production rates seen in most countries), the oil price has managed to climb into the top 30s. The upcoming meeting saw the oil price whipsaw based on minister comments, but the underlying fact remains that Iran has no intention of freezing production, and Saudi Arabia refuses to take part in a production freeze without Iran.
Recent comments out of Kuwait saved the oil price from a short-term rout, but with ten days until the meeting, the volatility will continue to rise. My money is on a failed meeting, and my vehicle of choice is to short Santos.
Expected Large Inventory Rise In April - A recent 4 plus million barrel inventory draw saw the oil price shoot up several percent. When we look behind the numbers, we see figures that are far from supportive.
LNG Prices - With a substantial amount of exposure to LNG pricing, and a significant proportion of LNG shipments falling on the spot market, Santos will hardly be making money as it ramps up its projects. I covered operating costs for LNG liquefaction here, and as the delivered price to Asia tumbles to $4/mmbtu, Santos is likely losing money on spot LNG shipments - a fact that will continue to hurt the company as it becomes more exposed to spot throughout 2016 and beyond.
March Quarterly Report - Santos is on track to make a $US 200-250 million loss for the quarter before we take any account for debt repayments. A number closer to $400 million is more likely, and will make for one of the worst quarters from a cash flow perspective that Santos has ever recorded. At 1.77 billion shares on issue, Santos is currently valued at nearly US$5 bn, and is set to lose US$0.22/share ($AUD 0.30/share) for this quarter alone. An outcome that will inevitably result in a share price decline.
Credit Rating Downgrade - On January 6th, Santos received a rating downgrade with a negative outlook from S&P. Moving from BBB to BBB- on January 22, 2016, despite its efforts to raise a significant amount of capital and sell of prime assets. As the forward price for oil continues to languish, Santos' balance sheet degrades further each month, and it becomes evident that Santos' US$50 oil price required to produce FCF is not met, a downgrade to junk territory is on the cards. This could see a substantial amount of Santos' liquidity pulled (although little information is available on the requirements for this liquidity).
4. Investing Takeaway
Santos is the proverbial lame duck value trap. My view for oil sees 1-2 years of sustained sub $50/bbl oil prices, which will cause Santos to sell itself piecemeal to competitors, dilute shareholders, or default on debt. All of these scenarios result in a company that does not resemble the one currently in place today, and will provide a negative return for existing shareholders.
The best strategy is to short Santos. My recommendation is to open a series of puts. The first put I have entered into has a AUD$3.75 strike price and an expiry for the end of April, purchased for AUD$0.15. I will open the second put at $3.50 for three months out of expiry in June if the share price rallies again to AUD$ 4.00.
Overall, Santos is structurally weak with an FCF break-even requiring an oil price of $50/bbl. The balance sheet will continue to deteriorate, and the share price will continue to decline. Short-term catalysts from OPEC, the quarterly report, and a credit downgrade could result in a volatile price rout on a stock with little technical and fundamental support.
Investors looking to the recent off-market purchase from ENN Ecological Holdings and director purchasing will find the support in vain as the market comes to the realization that Santos is marching toward a cliff.
Investors often underestimate the chance and magnitude of bad things happening. Options are backward looking, and therefore provide a skewed risk/return profile if future events are likely to result in increased volatility. I have hedged the short option with a long purchase of Woodside Petroleum (OTCPK:WOPEY) to remove the downside event of an oil freeze and focus more on shorting the company than the market. I suggest investors looking to short the company to take on similar protection.
Disclosure: I am/we are short STO.AX.
I wrote this article myself, and it expresses my own opinions. I am not receiving compensation for it (other than from Seeking Alpha). I have no business relationship with any company whose stock is mentioned in this article.
Additional disclosure: Many of the assumptions are opinion based or inferred based on available information. This article is not, and should not be considered as, financial advice or an accurate view for investment purposes.
Editor's Note: This article discusses one or more securities that do not trade on a major U.S. exchange. Please be aware of the risks associated with these stocks.