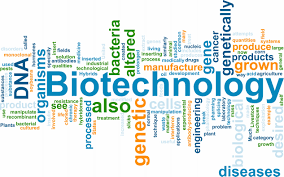 I've been on a shopping spree of late for biotech. This is the first in a series of planned articles designed to initiate coverage on a dozen or so new names starting with AMAG Pharmaceuticals (NASDAQ:AMAG).
The biotech sector has substantially underperformed the S&P 500 in 2016 as the graph below clearly illustrates.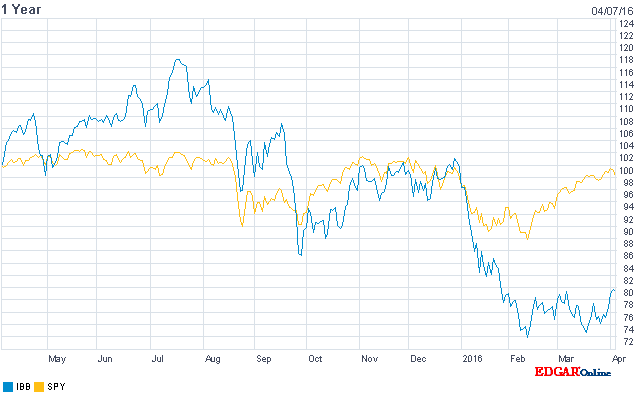 There are two schools of thought as it relates to the divergence. One is that biotech, which was on a tear for five years leading up to its peak on July 13th of last year, was due for a correction. The second, more bullish school of thought, is that biotech is a risk off trade that has been overly impacted by the negative sentiment that has permeated the overall stock market in 2016, which has been further exacerbated by the political focus on pharmaceutical price gouging. Those in the latter camp view the slump as a buying opportunity for investors with a long-term perspective.
Macro View
My bullish view of the overall sector is based largely on the macro dynamics of an aging population. You'd be hard pressed to find a sector with stronger tailwinds than biotech. The projected population growth in the US for people aged 65 and over is staggering as the graph below illustrates.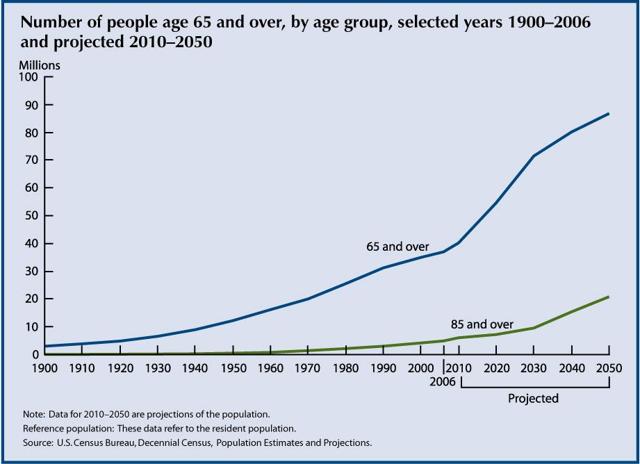 As stated succinctly in the Medicare study referenced below,
Between 2010 and 2050, the United States population ages 65 and older will nearly double, the population ages 80 and older will nearly triple, and the number of nonagenarians and centenarians-people in their 90s and 100s-will quadruple.
And it's not just the US. Throughout the world, the population over 60 is expected to grow rapidly over the next 30 years.
Now, let's look at the correlation between medical cost and age. There have been many studies done on the relationship between medical costs and age including a 2015 study, which analyzed Medicare spending by age for beneficiaries in traditional Medicare. The findings are reflected in the chart below.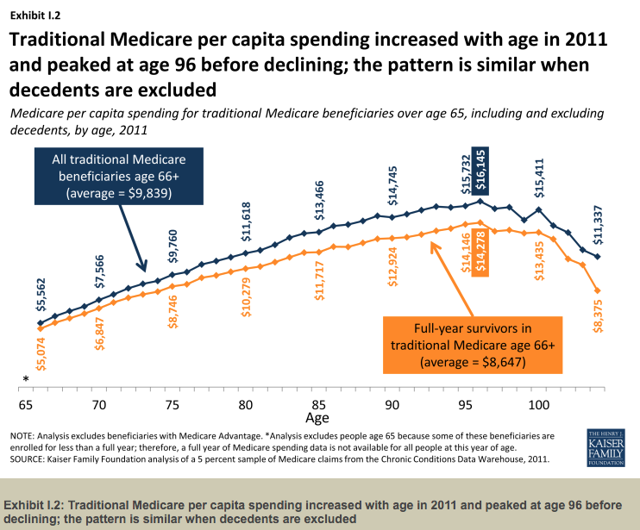 Per the study,
This analysis shows Medicare per person spending rising steadily with age, more than doubling between ages 70 and 95 in 2011, and peaking at age 96, before declining for the relatively small number of beneficiaries at relatively older ages.
The rising cost of medical care as people age in conjunction with an aging population will create a strong demand for pharmaceutical sales and medical services for many years to come.
AMAG Pharmaceuticals
Company Overview:
My research on any potential investment always begins with an analysis of the company's most recent financial filings and AMAG is no exception. The company filed its 10-K on February 24th. I assume most investors take at least a cursory look at the financials of the companies they invest in. However, my opinion is a 10-K should be read like a good book, cover to cover.
I'll cover AMAG's information in the order it is presented starting with the company overview. For those new to the name, AMAG develops and commercializes a diverse group of products that primarily focus on maternal health, anemia management, cancer supportive care, and services related to the collection, processing and storage of umbilical cord blood stem cell and cord tissue operated through Cord Blood Registry [CBR]. The company's goal is to grow organically as well as pursuing products and companies that align with its core competencies and therapeutic focus. Main revenue drivers are sales from its lead products, Makena and Feraheme (further described below), and CBR services.
Makena is a progestin indicated to reduce the risk of preterm birth in women pregnant with a single baby who have a history of preterm births. It was acquired as part of the 2014 Lumara Health acquisition.
Feraheme is an iron replacement therapy for the treatment of iron deficiency anemia in adults with chronic kidney disease.
CBR services was acquired from CBR Acquisition Holdings in 2015 for $700 million in cash. CBR is the largest newborn stem cell bank in the world.
Both indications have additional uses in various stages of development/approval. The history of both drugs is extensive and too lengthy for this brief synopsis of the company, but I encourage those interested to read the 10-K for further information, particularly the post-approval clinical studies needed for Makena and next generation developments. There is also the potential of a patent litigation suit for Feraheme that bears further attention.
Recent Developments:
Since the filing of the 10-K, AMAG was approved by the FDA for single-dose preservative-free formulation of Makena. The company received a CLR in November 2015, so the approval for the single dose was positive for the company and will help drive growth of Makena going forward.
Financial Information:
The acquisitions over the past few years have left AMAG with debt of approximately $1 billion at year-end, but fortunately, those acquisitions also generated substantially more cash flow needed to service AMAG's debt load while the company also maintained a liquidity position of cash and investments in excess of $466 million.
Operating income for 2015 totaled $111 million with an adjusted EBITDA of $213 million. However, given the midyear acquisition, a more appropriate analysis would be to look at the last quarter and annualize the performance over a 12-month period. For the fourth quarter, AMAG generated adjusted EBITDA of $61 million providing an annualized operating leverage of 2.4x. Adjusted EBITDA margin for the fourth quarter was slightly over 50% while generating adjusted EPS for the quarter of $1.12. A full quarterly and 2015 fiscal year presentation can be found on AMAG's investor website.
Conclusion
There's nothing sexy about AMAG's products, which may be one reason it's flying under the radar. It is, however, a well-managed pharmaceutical company with solid fundamentals and substantial free cash flow. Due to its large liquidity position and relatively low stock price, AMAG's Board recently approved a share repurchase program totaling $60 million. It's hard to find a young biotech that's undervalued with a strong balance sheet and robust growth potential. AMAG fits that bill.
Disclosure: I am/we are long AMAG.
I wrote this article myself, and it expresses my own opinions. I am not receiving compensation for it (other than from Seeking Alpha). I have no business relationship with any company whose stock is mentioned in this article.