Carpathian Gold (OTCPK:CPNFF) has a massive amount of gold and copper in three neighboring deposits in the Carpathian Mountains in Romania. These deposits, collectively referred to as the Rovina project, contain an estimated 7.5M ounces of gold and 1.5B pounds of copper (most of which are in the measured and indicated category). The grades of the deposits are not particularly high, so the economic feasibility of extracting these resources is questionable at today's metal prices, but should be very attractive if metal prices rise significantly. If the company can get through the restructuring unscathed, and be careful not to run out of money, then this company should trade like a gold option, with massive upside potential if metal prices rise or a takeover happens. Shares are not very liquid on the OTC market, but hundred of thousands of shares regularly change hands on the Canadian Securities Exchange under CPN.
Let's talk about the jurisdiction first, their project second, then the details of their restructuring, and the financial position the company will be in once it is completed.
Romania
When mining investors think of Romania, they think of the Canadian company Gabriel Resources (OTCPK:GBRRF) and the Rosia Montana debacle. Their plan for the massive open-pit mining project would require the destruction of three villages and four mountaintops. Opposition to the mine stemmed from a variety of reasons: some residents refused to leave their homes for the mine to be built, and the plans for the project included the use of cyanide heap-leaching. Romanians are especially wary of cyanide because of a cyanide spill in the year 2000, which ended up flowing into the Danube and affecting Hungarians' drinking water supply. It has been called the worst environmental disaster in Europe since Chernobyl.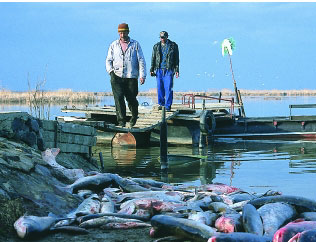 The Baia Mare cyanide spill also poisoned countless numbers of fish
A mass protest took place all across Romania in 2013, the largest since the fall of Communism, which basically caused the Romanian government to suspend development on the project indefinitely. Gabriel Resources has filed for international arbitration, citing the bilateral agreement between Romania and Canada. These things take time, however, and we cannot expect a resolution for another few years, so Gabriel Resources looks sunk for now.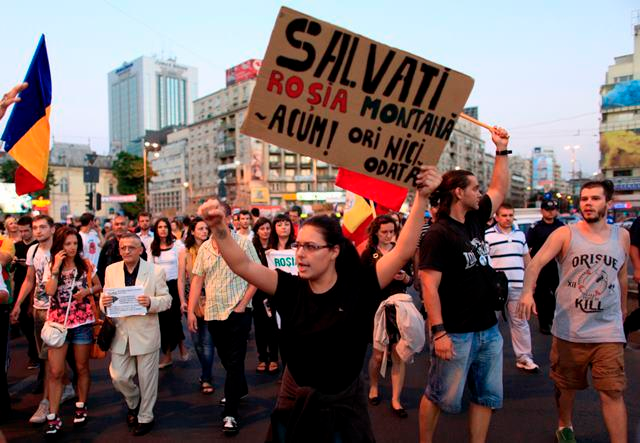 The government couldn't allow Gabriel Resources to continue development after such huge demonstrations
In spite of all this, I think Romania will be a very exciting jurisdiction for mining investors in the next few years, as the political situation there is changing. Carpathian Gold does not plan to use cyanide in its operations, and there are no towns that need to be destroyed to build their mine, so I don't expect protests over their project.
Political Outlook for Romania
From 2012 to 2015, the parliament of Romania had been dominated by centre-left prime minister Victor Ponta, whose tenure was marked by one scandal after another, being accused of plagiarism, corruption, and tax evasion. He opposed controversial projects like Rosia Montana and fracking, but suddenly began to support them after he became Prime Minister, fueling speculation of his corruption.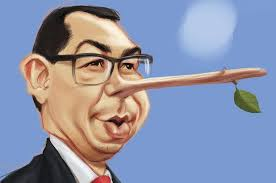 Caricature of ousted former Prime Minister Victor Ponta, the face of corruption in Romania
His loss in the presidential election to the centre-right candidate at the end of 2014, and his resignation as prime minister at the end of 2015, signaled a shift in Romanian politics. The current prime minister is independent of Romania's major parties, and even if the parliamentary elections at the end of this year put the centre-left back in power, the circumstances have changed dramatically.
Klaus Iohannis, President of Romania since December 2014, is fighting corruption and cozying up to Europe
The current centre-right president's attempt to prosecute Victor Ponta shows his conviction in rooting out corruption from the government. He is also committed to friendly relations with Europe and the West, and we can expect him to encourage foreign investors while Romania gets closer to adopting the Euro.
While Romania still has its problems, like its slow permitting process, and all the problems stemming from the recent political upheaval, I believe it is on the right track.
Geology of Romania and Their Deposits
Romania has a long history of mining activities, going back at least as far as the Roman Empire. A mineral belt known as the Tethyan Belt runs from the Middle East through Turkey all the way to Romania. Significant mineral discoveries have been made along this belt, especially massive porphyry deposits, like the ones Carpathian Gold has. While mining continued under the communist regime, modern methods and technology have largely been missing from the Romanian mining industry, which is still largely state-owned, and the further opening up of the country to private interests and the West means there should be a lot of opportunities in Romania for mining investors from here forward.
Carpathian Gold's Rovina project is situated in the so-called "Golden Quadrilateral," the historic center of Romanian mining, along with Gabriel Resources' Rosia Montana project and Eldorado Gold's (NYSE:EGO) Certej project. Eldorado is moving their project forward, and they plan to spend about $20M on it in 2016.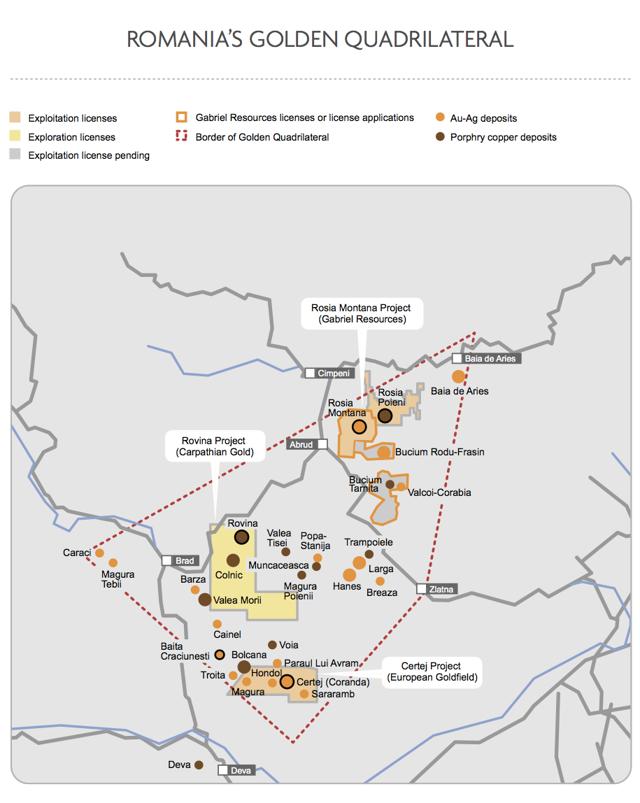 Note: The Certej Project is owned by Eldorado Gold now. Image source
While Carpathian Gold didn't have enough money to move their Rovina project forward, they did manage to get a license from the Romanian government in 2015, the first step in the permitting process, and the company plans to update their 2010 PEA (preliminary economic assessment). This should be a positive update, as it will reflect the increased resource estimate from 2012 and the increased metal prices.
Carpathian Gold's Financial Position
Before the restructuring, Carpathian Gold was in a precarious financial situation, to put it kindly. They were being suffocated by their interest payments to Macquarie Bank (OTCPK:MQBKD), who has provided them over $200M at interest rates ranging from 10-20%. Carpathian Gold has only been allowed to survive this long because Macquarie did not want to write down their investment completely, so they've been continuing to provide Carpathian Gold with more and more money under the bridge loan (at a truly onerous 20% interest rate, of course).
Carpathian Gold incurred this massive debt to develop the Rio Dos Machados gold mine in Brazil. This is a profitable operation, even at low gold prices, but cost overages and development delays forced the company to go into more and more debt to bring it into production. The mine flooded when the dike ruptured during unusually heavy rains, and the government temporarily revoked their permit due to safety issues. After that was resolved, a drought forced the company to build a dam for the area. As a result of all of this, even though it had finally made it to commercial production, all of the profits were going to pay down the interest on their debt. When you consider that Macquarie also had a gold stream on this mine, it wouldn't be going too far to say that Macquarie owned this mine, or at the very least, was the one who got to decide its fate.
That's where a third party comes in. On November 20th, 2015, it was announced that Yamana Gold (NYSE:AUY) subsidiary Brio Gold would buy the debt obligations from Macquarie, and then proceed to forgive this debt in exchange for the mine. The first part of this deal was completed on March 31st, and the second part should be finished by early May. Brio will also provide $1M to Carpathian Gold in exchange for equity, but the exact price and details of the subscription are unclear.
Anyway, when all is said and done, what will Carpathian Gold look like after this deal? Basically, they will be a debt free company with $1M in the bank and their Rovina project in Romania, and they will no longer have any interest in the mine in Brazil.
The Future of the Company
So now that the company will be given a second chance, what will they do with it? The company has absolutely no chance of raising enough money to build a mine itself. They will need to find a strategic partner to help them develop it, or buy them out entirely. The current CEO of the company is a dealmaker, first and foremost, so either one is possible. It's hard to imagine a deal will happen, though, without an updated PEA and all of the permits required to start construction.
Then the question is, will the company be able to produce an updated PEA and make it through the whole permitting process with only $1M dollars? Will they have to raise more money in the future? These are important questions. The CEO of the company has set up a meeting with Romanian ministers this month to try to get an idea of when the permitting process can be completed. I am optimistic the Romanian government will try to avoid scandal and finish the process in a timely manner before the elections.
Conclusion
Carpathian Gold is getting close to finalizing the deal that will make them a debt free company with $1M in the bank and a massive gold/copper project in Romania, a project that will look very attractive to major mining companies when metal prices start to rise decisively. Shareholders will be diluted a bit as Brio Gold purchases $1M of shares from the company, but I do not believe the dilution will be significant. If all goes well, the company will use that money to finish the permitting process and complete an updated PEA by the end of the year. If they can do this, I believe the company will either be taken over at a significant premium, or find a joint venture partner to develop the project (as long as metal prices cooperate).
Shares of Carpathian Gold trade under CPN on the Canadian Securities Exchange, and currently fluctuate between C$0.015 and C$0.02, giving it a market cap just over C$10M. Nevertheless, shares are very liquid, regularly trading hundreds of thousands of shares per day. Day traders have really enjoyed trading this one.
Significant catalysts in the near term could drive the share price up regardless of this. The risk of a prolonged permitting process is significant, and the $1M they'll receive soon might not last long enough, but the company is so cheap right now that I believe the potential rewards are tremendous, so I recommend a speculative position in the company at these levels. Even if the risks are too great for you personally, this is still a company that all mining investors should keep on their radar.
Disclosure: I am/we are long CPNFF.
I wrote this article myself, and it expresses my own opinions. I am not receiving compensation for it (other than from Seeking Alpha). I have no business relationship with any company whose stock is mentioned in this article.
Editor's Note: This article covers one or more stocks trading at less than $1 per share and/or with less than a $100 million market cap. Please be aware of the risks associated with these stocks.