Seabridge Gold Inc. (NYSE:SA)
Seabridge Gold continues to make progress at the KSM project, announcing a large increase to the mineral resource at Deep Kerr. We expect additional increases in mineral resource at the Deep Kerr Deposit as the deposit remains open in most directions. We are maintaining our BUY rating and raising our price target of $1 6.00.
| | | | |
| --- | --- | --- | --- |
| 52-Week Range | $3.31 - $12.77 | Long-Term Debt | $0.0 |
| Shares Outstanding | 52.1 million | Debt/Equity | 0.0% |
| Institutional | 20% | ROE (NYSE:TTM) | NA |
| Public Float | 42.8 million | Book Value/Share | $4.16 |
| Market Capitalization | $604 million | Daily Volume (shares) | 1,066,300 |
FYE DEC

FY 2014A

FY 2015A

FY 2016E

EPS ($)

ACTUAL

CURRENT

PREVIOUS

CURRENT

PREVIOUS

Q1 Mar

$(0.04)A

$(0.04)A

$(0.04)A

$(0.04)E

$(0.04)E

Q2 Jun

$(0.06)A

$(0.02)A

$(0.02)A

$(0.04)E

$(0.04)E

Q3 Sep

$(0.05)A

$(0.04)A

$(0.04)E

$(0.04)E

$(0.04)E

Q4 Dec

$(0.06)A

$(0.04A

$(0.04)E

$(0.04)E

$(0.04)E

Year*

$(0.21)A

$(0.14)A

$(0.14)E

$(0.14)E

$(0.14)E

P/E Ratio

NA

NA

NA

NA

NA

Change

8.7%

33.3%

0.0%
FYE DEC

FY 2014A

FY 2015E

FY 2016E

Revenue ($ mil.)

ACTUAL

CURRENT

PREVIOUS

CURRENT

PREVIOUS

Q1 Mar

NA

NA

-

NA

-

Q2 Jun

NA

NA

-

NA

-

Q3 Sep

NA

NA

-

NA

-

Q4 Dec

NA

NA

-

NA

-

Year

NA

NA

-

NA

-

Change

-

-
* Numbers may not add up due to rounding.
CURRENT HIGHLIGHTS
Seabridge announced a large increase in the inferred mineral resource at Deep Kerr, adding 3.2 million ounces of gold and 2.1 million pounds of copper. This outpaces the 1.6 million flow through shares issued to finance the drilling program, keeping in line with management's objective of increasing ounces of gold per share. Following an equity issuance in October 2015, we believe the company is in position to fund operations through at least the end of 2016. The only reason we would anticipate an equity issuance in 2016 would be to for the possible opportunistic acquisition of an asset from a competitor that is not able to raise capital, or a larger miner that is shedding assets. While stock prices have started to recover in the sector, we foresee many companies continuing to have trouble raising capital. Seabridge's share price has performed well as of late with respect to both the price of gold and the Junior Gold Mining ETF (NYSEARCA:GDXJ), with SA up 105% over the past 6 month compared to 10% for gold and 48% for the GDXJ.
Company Description
Seabridge Gold is a development stage company engaged in the acquisition and exploration of gold properties located in North America.
Primary RISKS
SA is highly levered to the price of gold. A JV of the KSM project is dependent on favorable market conditions.
DETAILS
As outlined in our previous reports on Seabridge Gold, we highlighted that the company planned to use the 2015 drilling season to focus on extending the Deep Kerr deposit and defining the core zone below the Mitchell deposit. Preliminary results announced in 2015 pointed towards success in both of these activities, with impressive drilling results at both of the deposits. More recently, the company was able to release an updated resource estimate for Deep Kerr that added 3.2 million ounces of gold and 2.1 million ounces of copper to inferred mineral resources. Compared to the company's goal of making the exploration accretive to ounces of gold reserve and resource per share, this was a successful program as the increase in ounces outpaced the 1.6 million shares issued to fund the program. It should also be noted that the company does not include copper in this estimate, but that the copper component of the KSM project has become increasingly substantial, and of potential interest to major mining partners. Compared to other junior gold mining and exploration companies, Seabridge has been able to successfully raise the capital required to fund its operation, where may other companies have had a very hard time obtaining financing. In addition, they have been able to raise capital without drastically diluting current shareholders. The company has generally used flow-through share offerings to fund exploration activities, and common offerings to fund general corporate expenses. We don't foresee a particularly expensive drilling campaign in 2016, and believe that the commitments remaining on the previous flow-through offerings (the proceeds of these offerings must be used for qualified exploration expenditures) will be sufficient to satisfy minimal exploration expenses for the remainder of the year. The company also raised $14.6 million in a common share offering in October 2015, and we believe that this is also sufficient to fund the company's operations through the remainder of the year. The company has also stated that it plans to complete an updated preliminary feasibility study by mid 2016, which was last done in 2012. In the past, Seabridge has shown an ability to opportunistically acquire mineral interests with exploration upside during times when capital is constrained in the sector, and then sell for a premium after adding value to the project. The current capital market conditions for mining companies are such that there may be junior miners unable to advance projects due to the inability to secure financing, or larger companies looking to dispose of non-core assets. We would not be surprised to see Seabridge become active in one of these opportunities. Although the major reason to own Seabridge is KSM, a small deal that was successful could reduce the amount of share issuance down the road, increasing value per share. Seabridge actually did one of these deals back in 2006 when they acquired the Buena Noche project from Hecla for just over $4 million usd. After investing a modest amount in drilling and the analysis of those results, they were able to sell the mineral interest in the property for $25 million usd in cash in 2008, and disposed of their remaining residual interest for another $10 million usd in 2010. The company was then able to deploy those funds back into the KSM project and other core activities while issuing less shares.
DISCUSSION
The long term thesis for SA remains unchanged, which is that based on proven and probable reserves it is the world's largest undeveloped gold and copper project (NYSE:KSM), and that the value of this project will ultimately be realized via a JV with a major mineral producer. In addition to the quantity of resources and reserves at KSM, it is also located in Canada, which means that it has the added benefits of a jurisdiction that is both politically stable and mining friendly as opposed to other large deposits that are located in places such as Indonesia, South America, Africa, or Mongolia. While the company had a successful drilling campaign in 2015, adding substantially to the mineral resource at Deep Kerr and showing promising results in defining the Mitchell Core Zone, we don't anticipate the company announcing a large drilling program for 2016. We see much of the effort in 2016 going towards the update to the KSM preliminary feasibility study, and some additional permitting work related to KSM. While there may be some work at Courageous Lake, the company's other large project, we don't see anything material happening in that regard. Management's internal metric in regards to return on exploration is that they want to continually increase the ounces of gold resources and reserves per share outstanding. As Graph 1 shows below, they have clearly met this goal, and since 2003 they have increased gold reserves and resources by a factor of 6x, while increasing the share count by less than 2x. This actually understates the progress that has been made as it does not account for the advances in regulatory or permitting activities, nor the significant amount of copper identified at the various deposits at KSM.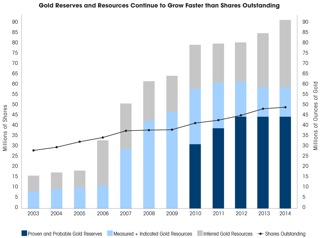 GRAPH 1: Seabridge Gold Reserves & Resources and Shares Outstanding (Source: SA March 28, 2016 Investor Presentation)
This focus on increasing the gold resource and reserve per share is a good test to ensure that funding is used to increase the value per share, and not funding activity for the sake of activity while causing excess dilution on a per share basis. If management holds to this standard, if they are not able to obtain funding at favorable terms, or the work is not expected to result in sufficient benefits, we expect that management can, and will scale back activity to preserve shareholder value. As operational costs are low compared to funds spent on investment in things such as drilling and environmental activities, we think this provides some downside protection.
While it is yet to be seen whether the multi-year bear market in gold has finally hit bottom, gold has performed well in usd terms since the end of 2015, up over 15% year to date. Over the past 6 months, while gold is up about 10%, the Junior Gold Miners ETF is up almost 50%, and Seabridge stock is up over 100%. It seems that while sentiment for the sector was extraordinarily low recently, with some junior miners trading at market caps below their cash levels, sentiment is starting to pick up. However, we still see many companies unable to raise capital to fund operations and maintain projects, and this may represent an opportunity for Seabridge to acquire an asset from a company that is capital constrained at an attractive valuation. As CAPEX in the industry remains depressed, major miners are failing to replenish resources and reserves internally, and the price of Gold stabilizes and starts to recover, we see SA as being favorably positioned for a JV when the CAPEX cycle swings.
RECOMMENDATION/VALUATION
Over the course of FY:15, SA stock was up approximately 10%, beating the GDXJ (an index of junior gold miners) which was down about 18%, and outperformed the price of Gold, which was down about 12%. While SA has recovered from the extremely depressed valuation it traded at during some points in FY:15, it currently trades at an EV/ounce of only around 11x. On an EV/ounce valuation, most major mining companies are in the 100-300x range. While it is difficult to make any definitive valuation comparisons, the best comp may be to Novagold, which controls 50% of two deposits in Alaska and Canada that combined have Gold and Copper resources on the same order of magnitude as SA. The Novagold are at a roughly similar stage of development as SA. Novagold trades at an EV/ounce of close to 100x. Novagold does have major producers as 50/50 partners in each of their projects, but they are both still in the development stage, and not yet in the pipeline for construction and movement towards production. While there are some differences between the companies, this does demonstrate that SA trades at a significant discount, and there is ample room for gains. We believe that SA deserves to trade at an EV/ounce of 16x in the near term, which represents a share price of $16, and a higher valuation once a JV partner is signed. Assuming that the company continues to make progress at KSM, we anticipate raising our price target in the mid term based on either company specific developments, or continued improvement in the market conditions for gold and gold miners. We believe that while progress at Seabridge will remain slow and steady towards a JV, the direction continue to be positive, and maintain our BUY rating and raise our price target to $16.
Disclosure: I/we have no positions in any stocks mentioned, but may initiate a long position in SA over the next 72 hours.
I wrote this article myself, and it expresses my own opinions. I am not receiving compensation for it. I have no business relationship with any company whose stock is mentioned in this article.