Aeglea BioTherapeutics Inc. (NASDAQ:AGLE) opened flat and closed at $9.77 in its IPO debut Thursday. The company priced the upsized 5 million share IPO at $10.00, well below the indicated range of $16.00-$18.00. All of the shares being sold are primary shares that the company intends to use: "(1) to fund the continuing development of AEB1102; (2) to fund the advancement of any additional product candidates; and (3) to fund working capital, including general operating expenses." Based on the $10.00 pricing, the company will have a market capitalization of approximately $129 million. UBS Investment Bank, BMO Capital Markets and Wells Fargo Securities are lead underwriters on the offering, with Needham & Company as a co-manager.
Aeglea is a clinical stage biotechnology company developing engineered human enzymes targeting specific amino acids in the blood. Their focus targets patients with inborn errors of metabolism and cancer. Their lead product candidate, AEB1102, focuses on arginine, an amino acid involved in many biochemical functions in the body. AEB1102 has demonstrated the ability to reduce blood arginine levels in clinical and nonclinical studies. Their current product candidates have been in-licensed from the University of Texas at Austin or assigned from one of their founders.
The table below describes their current product candidates (from the prospectus):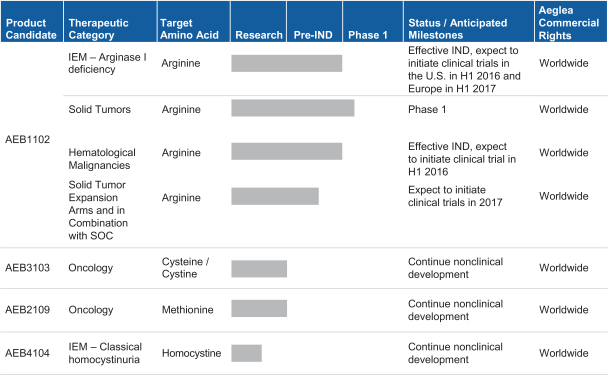 Post offering the company will have approximately $75M in cash and no debt. Loss from operations was $11.3M in 2015 and we expect that number to increase for the foreseeable future as the company plans on initiating two additional phase 1 clinical trials in H1 2016 and one in 2017. Based on the early stage of the company, we could expect them to return to market for additional funding in within the next couple of years.
As the first and only IPO offering for Q2 2016, this Aeglea offering has been rather quiet. As with many recent biotech offerings this year, the deal price was dictated by the Institutional buyside interest. As the company is in very early stage, the offering was apparently purchased with a large portion going to insiders and the balance to a very "clubby" group of dedicated investors. After the first few days post IPO, we expect volume to dry up in relatively short term, which will make for potentially large price swings on relatively low volume. Based on the stage of the company, we view this stock more as a longer term option and believe there will be an opportunity to purchase at a lower price than today's close.
Disclosure: I/we have no positions in any stocks mentioned, and no plans to initiate any positions within the next 72 hours.
I wrote this article myself, and it expresses my own opinions. I am not receiving compensation for it (other than from Seeking Alpha). I have no business relationship with any company whose stock is mentioned in this article.