Biotech continues to have significant gyrations, but mostly up. Wednesday the sector surged almost six percent on the day. What was impressive about this rally was that it occurred after Pfizer (NYSE:PFE) and Allergan (NYSE:AGN) disclosed that they were calling off their mega-merger, thanks to new tax inversion rules from the Treasury Department. In the recent past, that would have caused a sell-off in the biotech and pharma sectors and is sign sentiment has turned more positive on the sectors over the past week or so of this large rally. Wednesday's rise also had the whiff of some panic by short sellers as the sector just ripped higher throughout the day.
We did give back some gains on Thursday which was understandable given the big decline in the overall market. Another factor helping both sectors is that Valeant Pharmaceuticals (NYSE:VRX) which has cast a large and negative shadow on these sectors over the past few months had its biggest two-day gain in some two decades this week as it reached agreement with the majority of its creditors to extend the deadline for filing its annual report.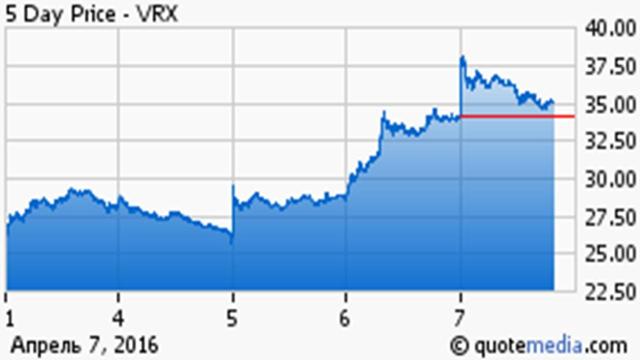 The company is far from out of the woods and is uninvestable in my opinion, but this took a technical default off the table and was beneficial to the mood of the market on the pharma & biotech sectors.

Relypsa (NASDAQ:RLYP), which was a spotlight feature in a Daily Digest piece mid-March, surged almost 70% in trading on Thursday. Both Reuters and TheStreet reported the company was contemplating or in acquisition talks. As I noted in that previous feature, this was a highly possible outcome.
Based on where hyperkalemia competitor ZS Pharma (NASDAQ:ZSPH) was purchased by AstraZeneca (NYSE:AZN) for $2.7 billion last November, it is easily possible Relypsa could go in the low $40s if not higher even with some sort of discount based on potential sales. This is why the stock remains in the Biotech Forum portfolio as there is plenty of upside should a deal actually emerge. As I stated late in 2015, Relypsa makes one of the most logical buyout targets of the small biotechs & biopharmas I follow and this remains the case. Maybe this time there will be fire behind this large amount of smoke.
I also believe that if the biotech sector continues to rally, an uptick in M&A activity as well as IPOs hitting the market could be the next logical events for the industry. This is especially true on the M&A side given Pfizer and Allergan are no longer going to do their tie up and will be for other ways to build out their pipelines and have plenty of money to spend.
In fact, Allergan announced right after the merger dissolution that it has entered into a potential $3.3 billion licensing deal for global rights to a portfolio of drugs for neurological disorders from the U.K.'s Heptares. Heptares will get $125 million of the transaction upfront, $665 million in milestones for clinical development and up to $2.5 billion in sales milestones.
In other news, the stock Ionis Pharmaceuticals (NASDAQ:IONS) fell in trading Thursday as it was made known that the FDA has placed GlaxoSmithKline's (NYSE:GSK) Phase 3 clinical trial assessing IONIS-TTRrx in patients with transthyretin (TTR) amyloid cardiomyopathy on clinical hold until such a time that GSK can provide answers to the agency's questions about the protocol stemming from Ionis' ongoing Phase 3 evaluating IONIS-TTRrx in patients with TTR familial amyloid polyneuropathy.
As Piper Jaffray noted when it reiterated its Buy rating and $80 price target on Ionis after this news triggered a significant decline, this is pretty standard operating procedure and the analyst firm expects the hold to be lifted in the next few months.
I picked up a few shares in this promising biotech concern on the dip at under $42. The company has a deep pipeline with numerous phase 3 trials in place and myriad partnerships with the "Who's who" of the industry. It is also a frequent buyout target with amount of compounds in its pipeline and the fact it is one of the few biotechs with a $5 billion to $10 billion market capitalization which is one reason Medivation (NASDAQ:MDVN) is also the subject of frequent buyout speculation.

Not surprisingly, both Pfizer and Allergan were reiterated as Buys at numerous analyst firms after their merger was called off. Probably the best parlor game going through the rest of April will be what acquisition and collaboration deals both companies will target now that they have ended their embrace as the government stepped to initiate a shotgun divorce.
Pfizer was reissued as a Buy at Bernstein, Jefferies, Morgan Stanley and JP Morgan after the merger fell through. Allergan was touted as a Buy at JP Morgan, Citigroup, Wells Fargo, Deutsche Bank, Piper Jaffray, Canaccord Genuity and UBS. As I noted in my last Daily Digest I picked up some shares in Allergan as they fell some 15% on the news the deal was dead.
Credit Suisse came out this morning with their three favorite biotech stocks which are Gilead Sciences (NASDAQ:GILD), BioMarin (NASDAQ:BMRN) and Celgene (NASDAQ:CELG). The latter I just did a favorable piece on right here on Seeking Alpha yesterday and is one of my core holdings in my biotech portfolio.
Gilead is another core holding. The stock is extremely cheap at under eight time earnings. The company should throw off some $15 billion in free cash flow this year giving it a free cash flow yield of more than 10%. It is using that cash flow to buy back more than one percent of its float a month on average right now. It also has made a couple of small acquisitions and collaboration deals recently which I think is emerging as its "small ball" strategy in this space.
I took a look at BioMarin last fall but passed on making an investment as I did not think the company's offering to treat Duchenne muscular dystrophy would lead to approval, which it turned out was the correct view. However, now that the stock has declined more than 40% from its highs this summer it might be worth another look. The company has a nice pipeline and possesses multiple "shots on goal" as well as a growing recurring revenue stream and increasingly positive mentions recently by analysts. We will make this one a spotlight feature for one of Daily Digests next week.
Note: New analyst ratings are a great place to start due diligence, but nothing substitutes for deeper individual research in this very volatile sector of the market. Many of the small cap names highlighted in the "Analyst Insight" will eventually appear in the "Spotlight" section, where we do deeper dives on this type of promising but speculative small cap concern.

Our spotlight feature to end the trading week is on Inovio Pharmaceuticals (NYSEMKT:INO). The company has been in the news recently as it is one of several firms trying to develop a vaccine to the Zika Virus. This, along with rapidly improving sentiment on the biotech sector which has emerged in recent weeks from a long and deep bear market, has powered a ~80% rise in the stock over the past three months.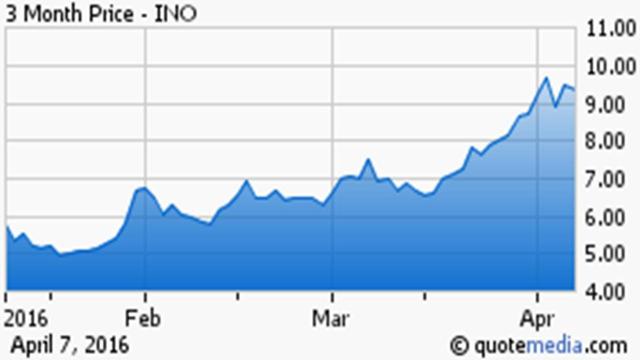 However, Inovio is much more than a possible Zika vaccine and that is not even the main attraction of owning this small biotech concern that now sports a market capitalization of just under $700 million even with the recent large rise of its stock. First, the company has an extensive pipeline of emerging vaccines that are moving along in development. Second, over 20% of its market capitalization is represented by net cash on its balance sheet. Inovio is well funded for all of its development at least through 2018. This is important given demand for secondary offerings for small biotech concerns has almost completely dried up in the past couple of months, although this has improved some recently. This helped push down the stock prices of most companies that need to raise funding in the foreseeable future.
Inovio has numerous trial milestones in 2016. One of the more intriguing vaccines the company has in its pipeline is its INO-3112 immunotherapy compound. It reached a collaboration deal with larger MedImmune around this focus area in the summer of 2015 which granted Medimmune the exclusive rights to INO-3112 immunotherapy. Inovio received $27.5 million dollars as an upfront payment and will receive performance milestone payments up to $700 million upon reaching development and commercial milestones. In addition, Medimmune will also fund all development costs associated with the study and has agreed to pay Inovio double-digit tiered royalties upon commercialization of INO-3112. Inovio plans to initiate human trials sometime in 2016.
Although most of the company's pipeline consists of early stage or pre-clinical vaccines it does have other partnerships with DARPA, other government agencies and Roche (OTCQX:RHHBY). This speaks to the potential of Inovio's underlying technology which consists of two parts.
First, Inovio's DNA-based immunotherapies are designed to treat and/or prevent diseases. For this they have something called SynCon® DNA plasmid technology. This platform is based on this concept. The company takes the genetic code for a vital element of the immune system or immune response and facilitates significant production of it in the body. This novel approach to synthetically designing the genetic code hopefully will help the body more readily break the body's tolerance of cancerous cells or achieve more universal protection against both existing and newly emerging strains of pathogens. These products are designed to produce multiple disease-specific antigens, cytokines that help kick-start the immune system, and monoclonal antibodies that provide a differentiated immune response to rapidly protect against a target disease. In addition, Inovio's electroporation delivery technology then plays a vital role in activating best-in-class immune responses from these immunotherapy products.
Although years away from a recurring revenue stream, the company will continue to get milestone payments from its development partners as its pipeline moves through trials. In addition, it has strong support due to its potential from the analyst community. 4 Buy ratings have been issued over the last three months by analyst firms including Piper Jaffray and Stifel Nicolaus. Their price targets range from $13 to $31 on this speculative but very promising emerging vaccine play. A small stake is worthy of consideration for aggressive investors.

Disclosure: I am/we are long AGN, CELG, GILD, INO,IONS, RLYP.
I wrote this article myself, and it expresses my own opinions. I am not receiving compensation for it (other than from Seeking Alpha). I have no business relationship with any company whose stock is mentioned in this article.