COMPANY DESCRIPTION
Exco Technologies (OTC:EXCOF) (XTC-T) is a designer, developer and manufacturer of dies, molds, components and assemblies, and consumable equipment for the worldwide die-cast, extrusion and automotive industries. The company operates in two principal segments: the Casting and Extrusion segment, and the Automotive Solutions segment. The company is based in Ontario, Canada, with operations located worldwide.
Note: Unless otherwise stated, financial figures are in Canadian dollars (C$) Exco's reporting currency.
INVESTMENT THESIS: SMALL CAP AUTO SECTOR GARP STORY
We rate Exco Technologies' shares a BUY. Our 12-month target price of US$15.00 per share (C$20.00) is based on a weighted DCF valuation and justified Forward P/E multiple. Our target price implies a 26.3%% return.
Our BUY rating is based on Exco's growth potential from (1) its exposure to the automotive industry's secular trend of incorporating lightweight aluminum components, (2) a growing automotive interior trim market presence, (3) a share price that underestimates long-term growth, (4) a valuation well off of recent P/E and EV/EBITDA highs, and (5) a sound balance sheet that provides flexibility for future growth through acquisitions, while limiting exposure to potential economic headwinds.
We believe that the company's growth and profitability will continue to drive strong shareholder returns (Figure 1) vs. the market.
Figure 1. Exco vs. S&P/TSX & S&P500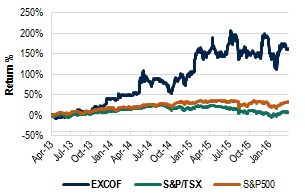 Source: Yahoo! Finance, analyst estimates. Note: EXCOF's price shown is from Exco's Canadian ticker (XTC-T), its primary exchange
Stronger-for-longer growth from the auto industry's secular aluminum adoption
Nearly half of Exco's 2015 EBITDA (Figure 2) came from its Casting & Extrusion segment, which provides aluminum die-casts, extrusion moulds and related tooling equipment to the worldwide automotive and tooling industries. Because of increasingly stricter global emissions standards, we believe this segment could see continued strong demand and growth as the automotive industry trends towards more lightweight aluminum-based components to reduce fuel consumption (Figure 3).
Figure 2: Exco Technologies segment EBITDA & EBITDA Margins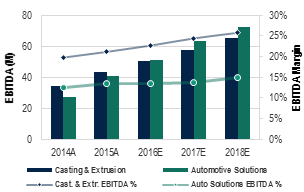 Source: Company reports, analyst estimates
Figure 3: Growth of aluminum content in commercial vehicles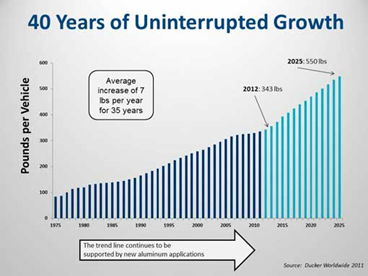 Source: drivealuminum.org
As an integrated producer of casting and tooling products and services for OEMs and Tier 1 suppliers, Exco is favourably positioned to increase revenues, and potentially displace tool shops that mainly provide parts for existing steel-based designs being phased out.
A growing interior trim market presence provides increasing scale, opportunities
The recently completed acquisition of AFX Industries will likely increase Exco's ability to pursue contracts with North American OEMs, adding to the company's portfolio of Asian and European OEM clients. The acquisition will nearly double Exco's interior trim business sales, and we believe that a successful integration of this business will bring synergies that will allow the company to continue increasing this business line with potential benefits to operating margins.
Growth At A Reasonable Price: Long-term growth not priced in stock
Based on our DCF valuation, we estimate that the market is essentially pricing in a 0% long-term growth rate in the company's Free Cash Flow, while also using a higher cost of capital than we calculate. To arrive at a share value consistent with today's observed price, we would have to use a 0% growth rate vs. our conservative 2% assumed long-term growth rate, and a WACC 1.0% higher than our estimated value of 10.4%.
We consider such a low-growth scenario to be very unlikely, particularly given the long-term prospects of the Casting & Extrusion segment. As such, we consider the stock to be fundamentally mispriced at current levels and an attractive Growth at a Reasonable Price (GARP) stock.
Trading multiples well off highs, but expected to improve
Exco's multiples are currently well off recent figures (Figures 4 & 5). Exco's multiples are well off of recent highs. In terms of its 12-month Forward P/E, the stock is trading at 12.0x vs. an average 2-Year Forward P/E low of 12.8x. In contrast, we estimate a justified 12-month Forward P/E of 13.6x, which is closer to its 1-year average. In terms of its 12-month Forward EV/EBITDA, the stock is at 6.7x, near its average 1-Year Forward EV/EBITDA, but also well off recent highs. We believe these discounted multiples represent a clear buying opportunity for value-minded investors, particularly since near-term earnings and EBITDA expectations remain unchanged.
Figure 4: 3-Year 12-Month Forward P/E Multiple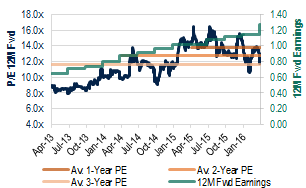 Source: Yahoo! Finance, company reports, analyst estimates
Figure 5: 3-Year 12-Month Forward EV/EBITDA Multiple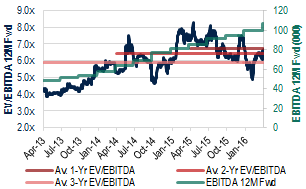 Source: Yahoo! Finance, company reports, analyst estimates
In our view, Exco's current multiples are at least partially the result of foreign investors having left the Canadian stock market as the CAD/USD dollar value fell from a 12-month high of $0.8365 to a low of $0.6860. Although we expect continued FX volatility in the near term, we expect the CAD/USD rate to eventually stabilize to a longer-run average as commercial exports pick up.
With lower CAD/USD volatility, we could see a lower beta for foreign investors to price their equity risk with, and a return of foreign money into the Canadian marketplace.
Strong balance sheet to continue providing opportunities for expansion and growth
In our view, Exco's strong balance sheet allows the company to pursue shareholder friendly actions and business opportunities, as evidenced by its history of increasing dividends, and the recently closed purchase of AFX Industries to bolster its Automotive Solutions segment, which we believe the market took positively.
We continue to see a trend of OEMs divesting non-core operations such as parts die-casting and the aforementioned trim business, which will provide Exco further opportunities to buy market share and continue to grow the company.
Finally, compared to several peers, notably Martinrea Intl. (OTC:MRETF), and American Axle (NYSE:AXL), which have a large amount of debt on their books, Exco has very little debt, even after accounting for the debt taken on to pay the acquired interior trim company's vendors. Given the cyclical nature of the automotive industry and the expectations of near-term credit tightening conditions, we prefer stocks with a small debt burden.
RECENT DEVELOPMENTS
Acquisition of AFX Industries a boost to the Automotive Leather Company business
On February 16, 2016, Exco announced that it had agreed to buy AFX Industries, a privately held, leading Tier-2 supplier of interior trim components to North American automotive customers. We believe that the acquisition will be a significant boost to Exco's Automotive Leather Company, which is one of the Automotive Solutions segment businesses.
As per the announcement, the target business' 2015 sales were C$115M, or approximately US$90M. Therefore Exco is paying approximately 1.2x Sales, and assuming a similar 13.5% 2015 EBITDA margin to Automotive Solutions, approximately 2015 4.8x EBITDA. Considering Exco's recent multiples, we believe that the price being paid for AFX Industries is fair and the acquisition reasonably accretive.
Street opinion about the acquisition appears to have been positive as well, with EPS estimates for Q3/16E (June-end) increasing C$0.02, and FY/16E increasing C$0.06 from 90 days ago.
Considering 2015 ALC sales of C$148M, the target acquisition will eventually close to double ALC sales, but more importantly bring new customers and a strong North American presence to the business.
Figure 6: EXCOF share price and recent company announcements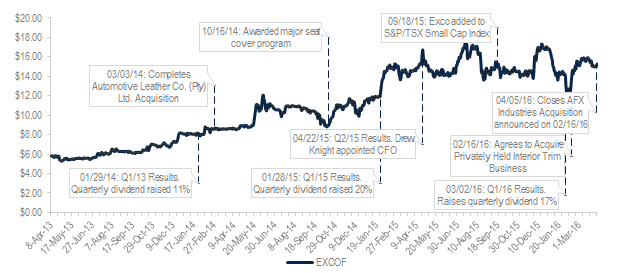 Source: Yahoo! Finance, analyst estimates. EXCOF price shown is from Exco's Canadian ticker (XTC-T), its primary exchange
EARNINGS FORECAST
Below is a summary of our consolidated and segment Sales, EBITDA, and Net Income forecasts. For a full detail of our financial forecasts, please see Appendix 1.
Figure 7. Consolidated earnings forecasts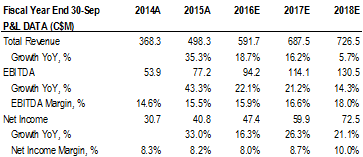 Source: Company reports, analyst estimates
Figure 8. Consolidated earnings forecasts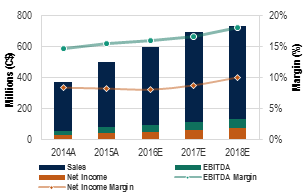 Source: Company reports, analyst estimates
Overall, we expect 2016E to 2018E organic growth to be driven mainly by strength in the Casting & Extrusion segment due to increasing adoption of aluminum in the automobile industry, as well as the fruition of its recent greenfield & capex expenditures. We expect the Automobile Solutions segment, which operates in a mature industry, to grow in line with the overall automobile sector. Nonetheless, the purchase of the target interior trim company announced in February will significantly increase sales YoY to 2017 (Figure 9).
As a result, we forecast a Casting & Extrusion segment sales CAGR of 7%, and an Automobile Solutions segment sales CAGR of 13%, to 2018. In 2019, our final forecast year before terminal growth, we estimate a Casting & Extrusion segment sales growth of 4%, and an Automobile Solutions segment sales growth of 2%.
Figure 9. Segment Forecasts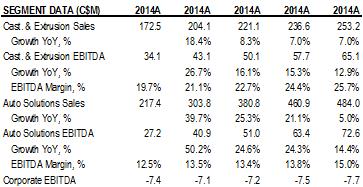 Source: Company reports, analyst estimates
Figure 10: Forecasts vs. analyst consensus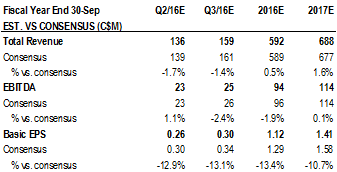 Source: Yahoo! Finance, analyst estimates
FINANCIAL POSITION
Exco has a strong balance sheet, with stable liquidity and debt trends (Figure 11), inclusive of the proposed interior trim business acquisition, which will see the company take on approximately US$79 million in debt to the target business vendors. However, we expect sales and profitability to increase proportionately, which will allow the company to maintain its financial health, and continue to increase cash from operations and its overall cash balance (Figure 12).
Figure 11. Common size balance sheet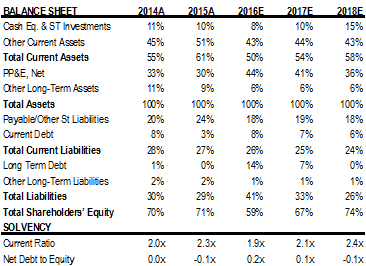 Source: Company reports, analyst estimates
Figure 12: Projected cash sources (uses) & cash balance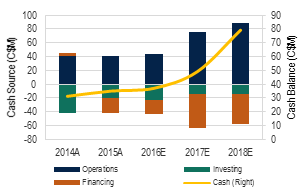 Source: Company reports, analyst estimates
VALUATION AND COMPARABLES
Exco stock began trading at a persistent premium vs. the peer group average following the announcement that it had been awarded a major seat cover contract in late 2014, and raising its dividend by 20% in its subsequent earnings release in early 2015 (Figures 13 and 14).
Figure 13. Figure 13: XTC-T P/e 12M Fwd vs. peer group average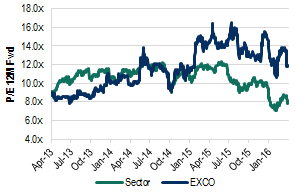 Source: Yahoo! Finance, company reports, analyst estimates
Figure 14: XTC-T % Premium/discount vs. peer group average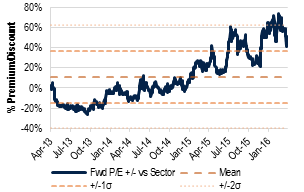 Source: Company reports, analyst estimates Note: Peer group average includes LIMAF, MGA, MRETF, AXL, LEA, BWA.
Exco's Automotive Solutions business EBITDA margin is slightly above its peer group's average while its overall margin including Casting & Extrusion is well above the peer average. Assuming the company can maintain the Automotive Solutions' segment margin following the recently announced acquisition, we see no reason why its premium valuation should necessarily tend to converge to its mean value. On the contrary, if expectations for an expanding Casting & Extrusion segment EBITDA margin, and synergies from the AFX Industries acquisition materialize, Exco could continue to trade at a healthy premium to its peers.
Figure 15. Peer comparables

Source: Yahoo! Finance, company reports, analyst estimates
Figure 16. Sector 2-Year PEG ratio to ROIC TTM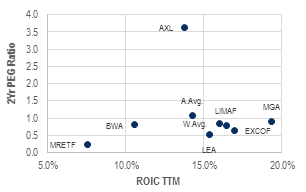 Source: Yahoo! Finance, company reports, analyst estimates
Figure 17. Sector EV EBITDA to EBITDA Margin 12m Fwd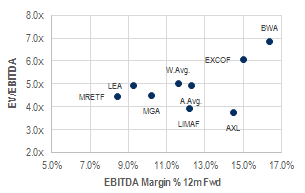 Source: Yahoo! Finance, company reports, analyst estimates
TARGET PRICE
Our 12-month target price of C$20.00 per share (US$15.00) is based on a 60% weighted DCF implied C$21.06 per share value, and 40% weighted 12-Month justified Forward P/E multiple implied C$18.24 per share value. Our blended target price implies a 32.9% return in (C$), including dividends.
DCF Valuation
Our DCF valuation is based on a 2-Stage Free Cash Flow to the Firm (FCFF) model. The first stage is based on explicit growth and profitability estimates between 2016 and 2018, which taper to long-term values in our terminal year of 2019. The second stage uses a conservative long-term FCFF growth rate of 2%, with a 10.4% Weighted Average Cost of Capital, which is based on an estimated 10.9% Cost of Equity and 7% Cost of Debt.
Figure 18. DCF Model

Source: Company reports, analyst estimates
We consider cash flows using a 12-Month Forward horizon, such that our DCF value is based on what the future FCFF would be worth in one year's time.
Figure 19. Derived DCF equity value per share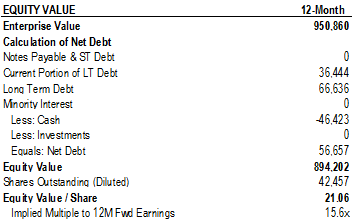 Source: Company reports, analyst estimates
Figure 20. DCF Sensitivity to long-term growth rate and WACC

Source: Analyst estimates
P/E Multiples Valuation
Based on our analysis of Exco's recent trading multiples, we believe a 12-M Forward justified P/E of 13.5x is warranted. This P/E ratio is based on the same 10.9% Cost of Equity we use in our DCF, but assumes 5.0% growth in earnings, which is conservative relative to our forecast 2-year CAGR EPS growth of 24% to 2018. A 13.5x P/E is also in line with recent multiples (see Figure 4).
As with our DCF calculation, our P/E Multiples valuation considers 12M Forward earnings, 12 months from now, to determine what the share value should be worth in one year's time.
Figure 21. Derived P/E value per share

Source: Company reports, analyst estimates
Figure 22. P/E Sensitivity to long-term growth rate and cost of capital

RISKS TO OUR INVESTMENT THESIS
The principal downside risk to our thesis is lower than expected growth in the Casting & Extrusion segment (from unexpectedly higher competition, and/or economic factors), which in our view is Exco's principal source of organic growth through the medium-term. Also, potentially weaker than expected margins from the integration of the recently announced interior trim acquisition could have a negative impact on our future earnings estimates. Lastly, faster than expected central bank monetary tightening could negatively affect consumer demand for automobiles, slowing demand for the company's products and services, while also increasing cost of capital assumptions we use to value its shares. Upside risks include new business and awards to both the Casting & Extrusion and Automotive Solutions businesses, in particular as a result of an expanding interior trim business.
INVESTMENT RISKS
The risks noted above are in addition to the following risks generally associated with an investment in the automobile sector-related manufacturing industry:
Foreign exchange risks: Exco operates manufacturing businesses in several countries, resulting in costs and revenues generated in different currencies. Fluctuations in currency values can positively or negatively affect the company's profitability.
Contract risks: Exco's sales are pursuant to purchase orders, which typically set our price per unit but not volumes or fixed terms. These purchase orders may be terminated at any time with limited recourse.
Price risk: Major automobile manufacturers exercise significant bargaining power, and pricing of products in purchase orders may be subject to periodic "cost downs", which may impact margins and overall earnings if not offset by new business at better prices.
Sovereign risk: Exco has manufacturing facilities in many developing countries across Latin America, Africa, Asia and Eastern Europe. Sovereign risks including unfavorable legislation and nationalization of private property, which however unlikely, is possible.
Input price risk: The cost of commodities including metals and plastics may fluctuate unexpectedly, leading to uncertainty in the cost of product inputs and affect earnings. Many products are also labour intensive, with attending labour risks including wage and benefit costs, and limited unionized worker risks in certain countries.
BUSINESS DESCRIPTION
Exco Technologies (XTC-T) is a designer, developer and manufacturer of dies, molds, components, assemblies, and consumable equipment for the die-cast, extrusion and automotive industries. The company operates in two principal segments. The Casting and Extrusion segment designs, develops and manufactures die-casting and extrusion tooling and consumable parts for both aluminum die-casting and aluminum extrusion machines, with operations located in North America, South America and Thailand serving the automotive and industrial markets worldwide. The Automotive Solutions segment designs and manufactures automotive interior trim components and assemblies primarily for passenger and light truck vehicles, with operations based in North America, Europe and Africa.
Figure 23. Exco Technologies segment and business structure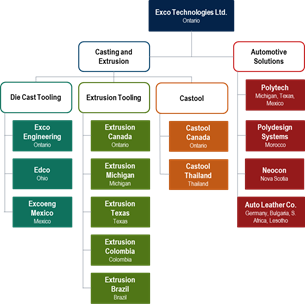 Source: Company reports
Exco's plants are operated as autonomous profit centres, with the exception of its operations in Matamoros, Mexico, and Maputsoe, Lesotho. All plants are part of either the Casting and Extrusion or the Automotive Solutions reporting segments. The profit centre business focus allows the company to align incentives and reward plant management and employees for performance, while also allowing individual plants to respond to shifting market requirements.
CASTING AND EXTRUSION SEGMENT
Exco operates three Casting and Extrusion Technologies related tooling and equipment businesses: Die Cast Tooling, Castool, and Extrusion Tooling. Together, these businesses accounted for 39% of 2015 revenues (Figure 24), but are an important driver of operating profitability by accounting for 49% of the company's EBITDA (Figure 25) with a 21% EBITDA margin.
Figure 24. 2015 Revenue by business line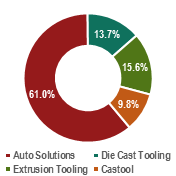 Source: Company reports
Figure 25. 2015 EBITDA by segment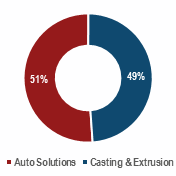 Source: Company reports
Die Cast Tooling
Exco's Die Cast Tooling businesses manufacture die-cast moulds, which are used to produce aluminum and magnesium die-castings. The moulds are produced through a combination of machining techniques including turning, milling, boring, drilling, tapping and electric discharge machining (EDM), and range in size from several cubic feet to several hundred cubic feet. These moulds may be used to produce automotive parts, consumer appliances, structural and industrial products. The primary customers of the mould-making sector are the major automakers and Tier 1 die casters.
Exco believes that it is the largest independent manufacturer of aluminum die-cast moulds in North America. The company supplies some of the largest and most complex moulds produced in the world, and has developed and applied many new techniques to the industry.
Moulds are produced and maintained at the Company's Exco Engineering division in Newmarket, Ontario and Edco located in Toledo, Ohio, and also maintained at the Excoeng Mexico located in Querétaro, Mexico. These divisions currently employ approximately 232 people of which approximately 55 are salaried and 177 are hourly. Excoeng Mexico has 27 unionized, hourly production staff.
Extrusion Tooling
The Company manufactures a range of tooling products used by its customers in the aluminum extrusion industry, among which aluminum extrusion dies are the most significant product area. Typical extrusion dies range in diameter from eight inches to twenty-two inches, although the company has the capability to make dies up to diameters of 40 inches.
Extrusion tooling is produced by Exco Canada, a division located in Markham, Ontario; Exco Michigan, an indirect subsidiary of the Company located in Chesterfield, Michigan; Exco Texas, an indirect subsidiary of the Company located in Wylie, Texas; Exco Colombia, a direct subsidiary of the Company located in Medellin, Colombia; and Exco Brazil, a direct subsidiary of the Company located in Sorocaba, Brazil. Together, these divisions employ approximately 346 people, of which approximately 72 are salaried and 274 are hourly employees. None of these facilities are unionized except for 25 employees at the Brazil facility.
Each division designs and manufactures aluminum extrusion dies, and supplies them to aluminum extruders in North America, Central and South America, the Far East and Europe. Significant customers include SAPA, Western Extrusion, Extrudex and Alcoa (Kawneer). Exco has been involved in designing and supplying extrusion dies for over 60 years.
The design and manufacture of extrusion dies has become increasingly complex as extruders require thinner wall thickness and finer tolerances. The majority of extrusion dies are custom-designed, with the balance being repeat shapes.
Castool
Castool designs, manufactures and sells consumable tooling for the injection systems of both light metal die cast machines and extrusion presses. The die cast tooling system includes thermally controlled shot sleeves, proprietary plunger tips, plunger rods, lubrication and vacuum valve and controller. The extrusion tooling system includes a proprietary container and dummy block, stem, lubrication and single cell die ovens. Castool also provides both production tooling and technical advice to leading extruders and die casters globally.
Recently, Castool has introduced several innovations including a new vacuum valve and controller, high-pressure dummy block, air-cooled container, radiant die oven that is approximately 40% faster than the prior model, and a visual optimizing system with extrusion die management. Patents applications have been submitted for most of these items.
Castool also manufactures die ovens, which heat dies to the appropriate temperature before insertion into extrusion presses and most of its products are now either thermally controlled or managed by PLC/computer systems. The company believes it is the only company to provide single sourcing and undivided responsibility for these tooling systems.
Castool services the same customer base as the Extrusion Technology and Casting Technology businesses, but it also sells to other customers in the global market, which the Extrusion Technology and Casting Technology businesses do not currently sell to. While the latter two business groups focus on manufacturing and marketing dies and moulds that will make a high quality part, the Castool business focuses on making components and accessories that will increase the customers' extrusion press and die-cast machine uptime (longer tooling life) and yields (less scrap and energy consumption).
AUTOMOTIVE SOLUTIONS
Exco operates four businesses in the Automotive Solutions segment; Polytech, Polydesign, Neocon and Automotive Leather Company (ALC). Polytech and Polydesign are leading, world-class providers of flexible restraint and storage solutions for the global automotive market. Neocon is the premier designer and manufacturer of trays and rigid cargo organizer products for OEMs. ALC is a premier cut, sew and assembler of leather and/or fabric seat covers for automobiles.
Polytech and Polydesign
Polytech and Polydesign have three principal products: 1) flexible storage systems, 2) flexible restraint systems and 3) plastic injection moulded consoles, gearshift boots and componentry. Polydesign has also added additional product lines, which include the cutting and sewing of seat covers, headrests, instrument panels, sun visors and door panels. Flexible storage systems are designed as convenience products for the interior passenger compartments, but are highly engineered in order to meet flammability, ultra violet degradation, fogging/gassing and elasticity specifications.
Polytech's manufacturing is carried out in a 130,000 square foot facility in Matamoros, Mexico, located in close proximity to Polytech's warehouse in Brownsville, Texas. It employs approximately 133 salaried, and 1,048 unionized hourly production employees.
Polydesign's manufacturing operations are in Tangier, Morocco. The work force is comprised of 75 salaried staff and 712 hourly production employees and is very stable and is not unionized. The nature of Polydesign's operations, working with textiles, is a common trade of the Moroccan people and, accordingly, the work force is well suited to Polydesign's operations.
Currently, Polytech supplies approximately 15 OEMs and dozens of Tier One suppliers throughout the world. The Company believes that it is the largest supplier in North America for flexible restraint and storage systems, with the majority of the market.
Polydesign was established to penetrate the European market. Prior to the establishment of Polydesign, the European market was supplied by Polytech from Mexico. Exco believes that the size of the European market is traditionally as large as or larger than the North American market.
Neocon
Neocon manufactures and designs plastic thermoformed trays and trunk organizers for the interior compartment of automobiles. Neocon has two product categories: 1) cargo organizer systems and 2) flooring and protective systems.
Neocon's manufacturing is carried out in a 77,000 square foot facility located in Dartmouth, Nova Scotia. Product design and engineering use state of the art CAD systems and design software, while production includes heavy gauge thermoforming with secondary assembly of injection and blow-molded components as well as other unique OEM compression molded panels and assorted hardware.
Neocon's manufacturing operation has a very stable work force comprised of approximately 25 salaried and 147 hourly production employees is not unionized. Temporary and outsourced staff is employed from time to times as production volumes rise and fall.
Neocon was founded in 1993 in response to the growth of sport utility vehicles in the North American automotive market. The primary customers for Neocon's products are foreign domestic OEMs, in contrast, North American and other OEMs rely more heavily on their dealer 'parts and service' departments to accessorize vehicles.
Neocon continues to gain new programs as it has, over the years, adapted its market strategy from SUVs to crossover utility vehicles (CUVs) and hybrid vehicles. Neocon's products have achieved high market acceptance. High raw material content has been mitigated by developing plastic sheet blends that are lighter, stronger and less costly. These are mostly proprietary blends developed also to meet ever-changing consumer preferences.
Automotive Leather Company (ALC)
ALC manufactures seat covers for automotive OEMs or their Tier 1 suppliers. Leather, fabric and/or vinyl are sourced from suppliers and stitched into finish seat covers by the company.
The company has historically specialized in the sewing of all-leather seat covers but it is typical for leather seat covers to contain fabric or vinyl components on remote extremities of the covers. These are known as 'combination' seat covers. The Company also has several programs for all fabric/vinyl seat covers.
Seat covers are manufactured at the company's ALC subsidiaries in Musachevo and Ihtiman, Bulgaria; Rosslyn, South Africa and Maputsoe, Lesotho. Cutting and sewing takes place in the company's operations in Bulgaria and South Africa and at the present time only sewing takes place in Lesotho. These facilities are all rented.
These operations are staffed by employees who are very dexterous and proficient at sewing. Staffing levels fluctuate as production volumes fluctuate in unison with OEM automobile production levels and program awards. ALC has announced plans to discontinue cutting and sewing of seat covers in South Africa and close the production facility in Rosslyn. Accordingly, ALC is currently engaged in the mediation process with NUMSA as required by local labor laws.
At the present time, the ALC's sole customer for seat covers is BMW (BAMXY). ALC is a Tier 1 supplier on the 1 Series, 3 Series and 5 Series programs and the parts are shipped to BMW assembly plants in Germany. ALC is a Tier 2 supplier on all Mini programs and the parts are shipped to Faurecia, the Tier 1 integrator, at its seating assembly plant in Oxfordshire, UK. The market is mature with pricing now established on a global basis rather than 'cost plus'. Sales levels are also impacted by fluctuations in OEM production of light vehicles. The Company expects to diversify its customer base to include other luxury brand OEMs.
Source: 2015 AIF
BOARD AND MANAGEMENT
As a relatively small company by market capitalization, we consider that Exco's Board of Directors exhibits adequate independence, governance and controls. We note that Mr. Brian Robbins, appointed company president on the death of its founder, Mr. H.H. Robbins, controls nearly 22% of the company's outstanding shares. However, we believe that the Board's independence and overall management quality and experience will maintain decision-making that is aligned with company and shareholder interests.
Figure 26: Board and management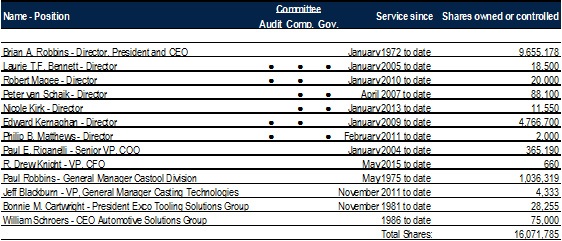 Source: Company reports
SHARE STRUCTURE
Exco has one class of common shares, with no limit on the amount of common shares that may be issued. Each common share is entitled to one vote and there are no restrictions on voting rights other than those imposed by law.
The company has approximately 42.5 million shares outstanding (42.8 million diluted).
INSTITUTIONAL OWNERSHIP
Figure 27. Institutional ownership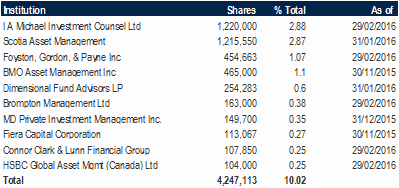 Source: Morningstar
LIQUIDITY AND FLOAT
Exco shares turn over approximately C$1 Million (US$750,000) per day, as per the last 6-month average. Based on management and institutional ownership, approximately half of the company's 42.5 million shares are part of the public float. Exco's liquidity on the Toronto Stock Exchange increased markedly following inclusion in the S&P/TSX Small-cap index.
Figure 28. Average daily turnover value per month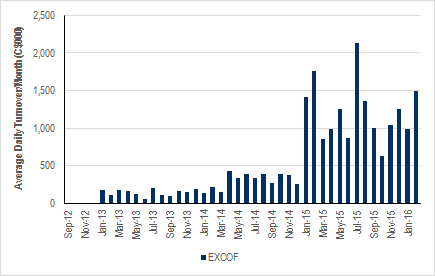 Source: Yahoo! Finance, analyst estimates
APPENDIX: FINANCIAL STATEMENTS
Figure 29. Income Statement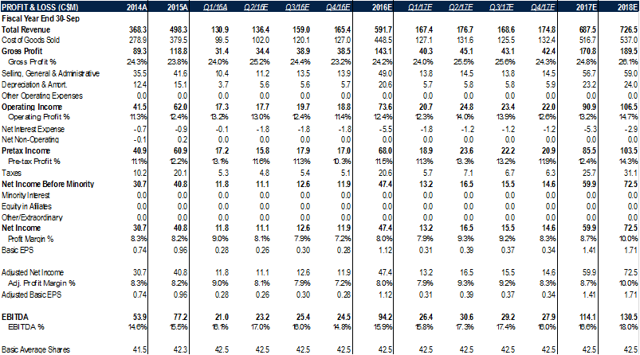 Source: Company reports, analyst estimates
Figure 30. Balance Sheet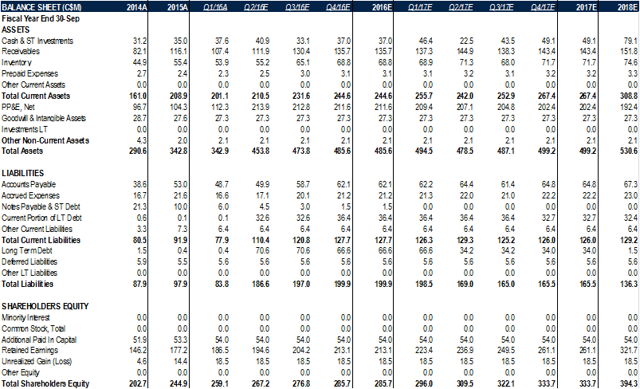 Source: Company reports, analyst estimates
Figure 31. Cash Flow Statement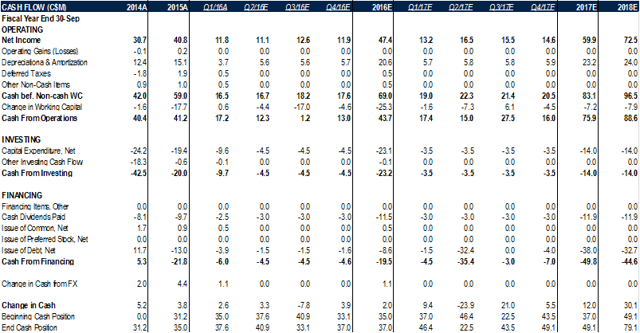 Source: Company reports, analyst estimates
Disclosure: I/we have no positions in any stocks mentioned, and no plans to initiate any positions within the next 72 hours.
I wrote this article myself, and it expresses my own opinions. I am not receiving compensation for it (other than from Seeking Alpha). I have no business relationship with any company whose stock is mentioned in this article.
Editor's Note: This article discusses one or more securities that do not trade on a major U.S. exchange. Please be aware of the risks associated with these stocks.