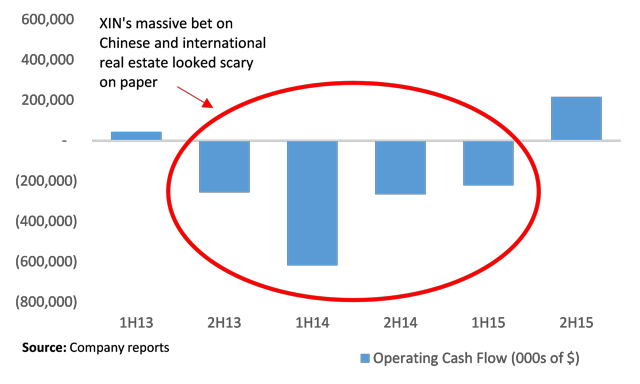 Starting in 2013, Xinyuan Real Estate (NYSE:XIN) made a massive levered bet on Chinese and NYC real estate. As a "Speculative Builder," XIN's financial success depends on the real estate conditions when projects mature 2-3+years later. Levered bets by a Spec Builder, especially ones financed by high cost debt, can quickly go bad if the real estate market turns south. Gross margins deteriorate as (1) expensive holding costs grow with reduced inventory turns and (2) average selling prices are reduced. As XIN invested in its massive business expansion, markets began to fear a downturn in Chinese and NYC housing. Exploding SG&A costs, as management invested in business expansion, further fueled the fire. In 2016, as development projects near completion, contracts are signed, and sales are closed, we will see positive cash generation that can be reinvested or returned to shareholders.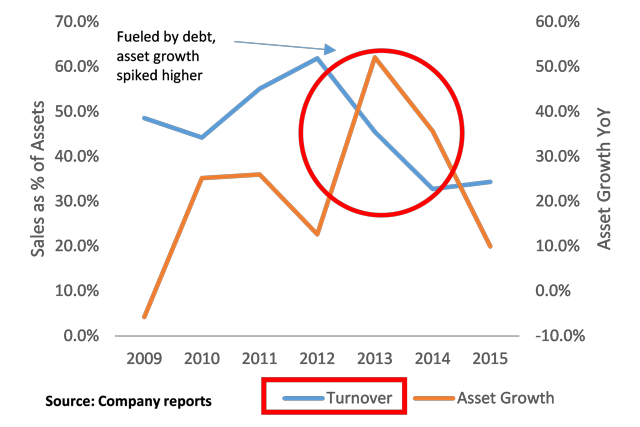 XIN's massive expansion led to a massive increase in asset growth without an immediate increase in revenue. Asset growth drove turnover ratios lower, reducing returns on assets and depressing price-to-book ratios as investors sought to compensate. But real estate development projects, especially high-rise apartments, take time to develop. Unlike homes in an active community, which can be sold once completed, there is a longer lag time before XIN can recognize revenues. Sales and marketing efforts do start soon after a project begins, but do not ramp up until projects are more mature. After two years of flat sales, XIN's massive bet in 2013/2014 is finally fueling sales growth. Turnover is set to increase as contract sales grow and convert into revenue, enhancing returns and making a case for higher valuations.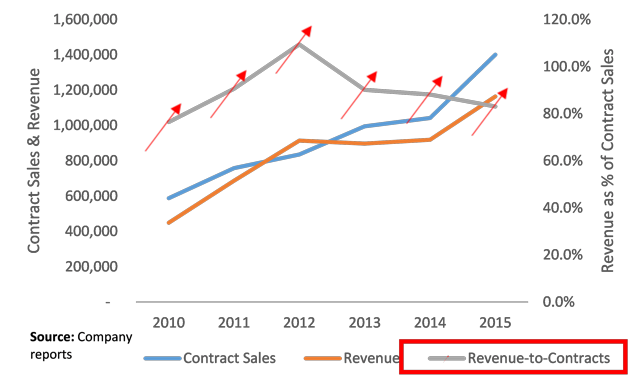 After reporting 26.6% revenue growth in 2015, with growth accelerating in 2H15, the stage is set for accelerating revenue growth in 2016. Contract sales outpaced revenue growth for yet another year in 2015. The revenue-to-contract sales ratio has been approaching record lows, and will rebound as projects are completed. With contract sales also projected to grow another 10-15%, I expect another strong year of revenue growth.

The sales-to-contract ratio is likely to rebound and exceed 100% in the next two years, as the developments started in 2013/2014 are completed. In 2015, XIN recognized $1.1B in real estate sales compared to contract sales of $1.4B for a sales-to-contract ratio of 81%. Given management's guidance for a 10-15% increase in contract sales, a rebound in the ratio will magnify the revenue increase. A rebound to just 91% combined with the mid-point of contract sales guidance, would push 2016 revenue above $1.45B. A stronger rebound in the ratio would lead to an outsized rebound in earnings that exceeds management's current guidance for 15-20% growth.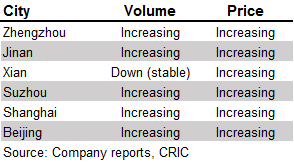 Chinese real estate markets are helping XIN monetize their big bet. During 2015, prices and volume generally increased in cities where ~50% (by gross floor area) of XIN's development projects are located. Easy monetary policy, lower taxes on home transactions, and lower down payments are contributing to strength in the Chinese real estate market. On the 4Q15 call, management mentioned plans to increase price in a few markets (e.g. Suzhou and Shanghai) and on higher margin units (e.g. higher floors). They also pointed to strong sales of lower margin units as a sign of the strengthening real estate markets. The commentary on lower margin units gives me more confidence in strong pricing ahead. Developers commonly sell premium-priced and higher margin units (top floors) later in the sales cycle. Management's commentary on the 4Q15 call suggests we will see stronger pricing on sales contracts in 2016.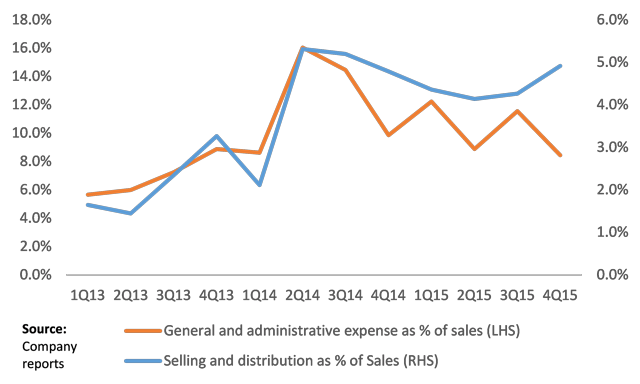 Developing real estate requires more than just hard costs and soft costs, and XIN's massive bet on real estate required increased SG&A. For example, sales personnel more than doubled to 117 in 2014 from 54 in 2013. More recently, this number declined to 99 at the end of 2015. As sales grow into this fully loaded cost base, I expect expenses to de-lever.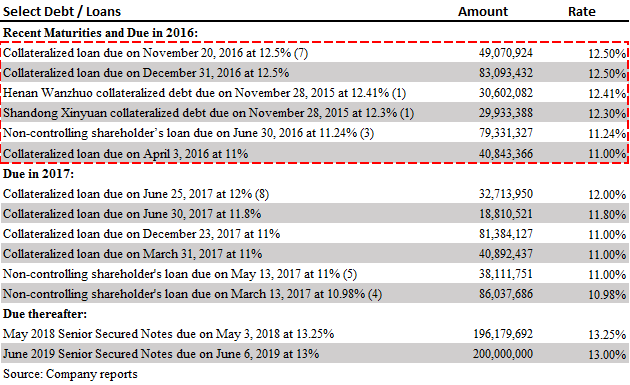 There are $312.9M in high cost debt with a weighted average interest rate of 11.96% that recently matured or will come due in 2016. Three tranches of onshore debt recently raised $337.8M in proceeds, with a weighted average interest rate of 7.40%, and this may be used to pay off maturing loans. The run rate for interest incurred can be reduced by ~$14M in 2016. Additional interest savings opportunities exist in 2017, when (1) other loans mature and (2) prepayment penalties on 2018 and 2019 Senior Secured Notes begin to roll off. These measures will help improve future gross margins and operating cash flows.
Risks
The main risks I see are weakening Chinese real estate markets. Combined with high cost debt, a build-up of capitalized interest as sales slow, there is downside to numbers if volume/prices plummet. This risk is mitigated to some degree by a build-up in unrecognized contract sales, which will flow through as projects are completed. Market conditions in cities with development projects bear watching. Both Elliott R. Morss and John Sheehy have done detailed market analysis on XIN's development portfolio.
Upside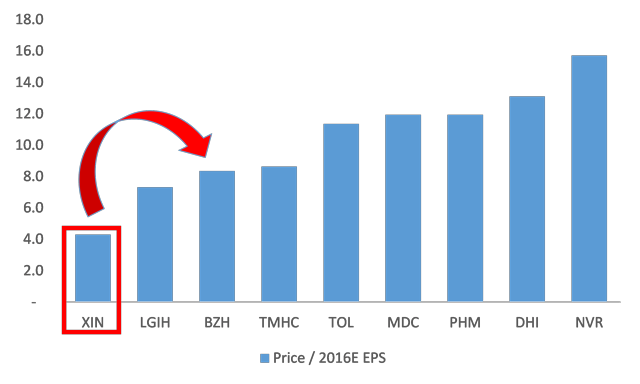 At $4.9, ~4.7x guided 2016 EPS, and ~0.38 price-to-book, XIN trades considerably below public sector homebuilder multiples. With earnings likely to grow 15-20%+ in 2016 and room for multiples to expand, there is 50%+ upside in the shares. Growth in sales and earnings, improving turnover ratios and return on asset all support another move higher.
Disclosure: I am/we are long XIN.
I wrote this article myself, and it expresses my own opinions. I am not receiving compensation for it (other than from Seeking Alpha). I have no business relationship with any company whose stock is mentioned in this article.