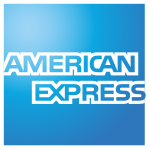 American Express Company (NYSE:AXP) is a credit services firm that has come in for a great deal of criticism in recent months. The last couple of years have been rough for American Express, no question about it. The appreciating U.S. dollar has been a factor, but that is a factor which has affected many businesses and does not tell the whole story. This bearishness, however, may prove to be an opportunity for the long-term investor to "be greedy while others are fearful."
Rating Downgrades, Falling Stock Prices and Lost Partnerships
On April 7, 2016, Fitch downgraded American Express from 'A+' to 'A' in the long-term Issuer Default Rating, or IDR. They also downgraded the company's short-term IDR to 'F1', and the overall Rating Outlook has been revised from Stable to Negative.
The reason for this is not hard to see: American Express has lost several card partnerships over the last few years, but the most impactful of these on the stock price by far has been the separation from Costco (NASDAQ:COST), which accounted for 8% of American Express' billed business and 20% of their interest-bearing credit portfolio.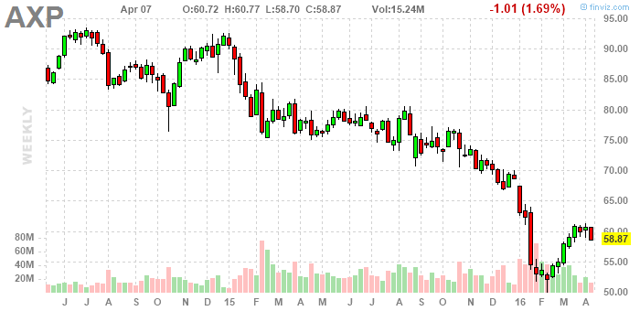 The termination of the 16 year long American Express-Costco partnership was formally announced on March 2, 2015, and the separation itself took effect on April 1, 2016. The trajectory of the stock price from March last year illustrates the impact this news had on the market. Costco named Citigroup (NYSE:C) as the new issuer of Costco credit cards, and American Express rival Visa (NYSE:V) as Costco's new credit card network.
A Loss? Or A Break-Up?
The fallout occurred because Costco wanted to re-negotiate the deal that they had with American Express, and the terms that Costco set were ones that, as American Express CEO Kenneth Chenault put it, made no "economic sense for us and our shareholders". The two sides could not come to terms, and that was that.
This is an important point to bear in mind about the fallout: American Express was not willing to hold onto Costco at any price, and was prepared to accept this situation as a possibility when the re-negotiations took place. To play up the loss as an unmitigated disaster, therefore, is little more than hyperbole. Instead, it is a short-term problem that the company willingly took on to avoid being tied into a bad deal.
Short-term it's problematic, yes, but it is not a long-term problem. Behind the market downturn and negative headlines, American Express remains an excellent company. It is safe to say that the issues surrounding American Express is now fully priced into the stock.
Valuation and Dividend History
Currently, the stock trades at $58-60 with a P/E ratio of 11.90, with a dividend yield of 1.97% and a payout ratio of 21.2%, which provides plenty of scope for dividend increases going forward. The company has paid increasing and/or steady dividends since 1996 (as far as I can check, possibly earlier than that):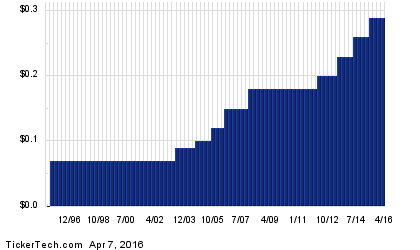 Long-term investors should take note of the fact that American Express maintained their dividend throughout the Great Recession, a fact that few financial service companies can lay claim to and which testifies to their superior fundamentals.
Competition Comparison
In respect of its competitors, American Express is third to Visa and MasterCard (NYSE:MA) in terms of market capitalization. Visa has a market cap of $169.4 billion, MasterCard has a market cap of $103.6 billion, and American Express has a market cap of $56.7 billion. So while it is a large-cap in its own right, it currently plays third fiddle within the credit services sector.
From a valuation standpoint alone, American Express is by far the better value opportunity. Visa trades at a P/E ratio of 29.74 and offers a 0.72% dividend yield, while MasterCard has a P/E ratio of 27.98 and offers a 0.81% dividend yield. American Express, as outlined above, is valued much more favorably for an investor seeking to establish a position today.
New Partnerships and Rewards
Going forward, the company has been offsetting the recent losses somewhat with some recent gains: American Express recently launched two new co-branded cards as part of a multi-year agreement with brokerage and banking firm Charles Schwab (NYSE:SCHW), and they have also been able to strike a deal with Wal-Mart (NYSE:WMT) subsidiary Sam's Club, getting acceptance for their cards approved by the warehouse chain. These partnerships, and others that are sure to follow, will help the company overcome the temporary issues that they are currently experiencing with recent partnership losses.
Furthermore, the Plenti rewards program that was launched last year in partnership with Direct Energy, Macy's (NYSE:M), Rite Aid (NYSE:RAD), AT&T (NYSE:T), ExxonMobil (NYSE:XOM), Hulu and Nationwide is still in the early stages, but the combination of strong brand names participating in the scheme - which customers who are not American Express cardholders can also participate in - and the fees that American Express can levy from participating firms in the program, also shows strong promise.
Same Sector, Different Structures
One 'issue' that is often played up by those who are bearish on American Express is the different structures between the three major credit card companies, and how these structural differences account for American Express' relative weakness and eventual decline.
Cards branded 'Visa' or 'MasterCard' are not issued by Visa or MasterCard: they are issued by banks and financial firms that join those respective companies' credit networks. Purchase made with those cards levy a merchant fee, which must be split between the actual card issuer and the credit network provider.
By contrast, American Express issues their own cards. This means it takes responsibility for transfer of funds with credit card purchases, and that entails additional risk, which forces American Express to charge more for their credit card purchases than Visa or MasterCard do.
This situation makes retailers less likely to accept American Express in lieu of Visa and MasterCard, and is the main reason why it is not as prominent as these two. Discover Financial Services (NYSE:DFS), the fourth-largest player in the credit services sector, are also structured in the same manner as American Express.
What is overlooked here is the following: American Express cardholders are generally a much more affluent customer base who tend to spend more than Visa and MasterCard clients do, which means that the merchant fees incurred from this greater volume of purchases generates more revenue. Thus, what American Express lack in card circulation, they make up for in revenue from their higher-end clientele. The FY'15 net revenue figures for the four major companies illustrate this:
| | |
| --- | --- |
| AXP | $32.8 billion |
| V | $14.1 billion |
| MA | $9.7 billion |
| DFS | $8.7 billion |
Going forward, American Express plan to cut costs through a restructuring program that will save $1 billion by 2017, and are eagerly looking into mobile payments as a future growth provider. It has partnered with Apple (NASDAQ:AAPL) to facilitate its entry into this sector, which has the potential to be very lucrative and further increase their revenues.
Management and the Oracle
American Express management obviously think that the current bearishness is unjustified: in May 2015, the company approved the buyback of 150 million common shares. That is not the action of management who think their business is in decline, and they are wise to do this while the stock is undervalued.
Warren Buffett also does not think that American Express is something to be bearish about: his Berkshire Hathaway (NYSE:BRK.A) (NYSE:BRK.B) holding company has 15.90% of its portfolio invested in over 150 million shares of American Express. While I do not recommend copying Buffett move for move, one should pay attention to what the most successful investor in history does and try to apply what they learn to their own investing strategy. If Buffett thinks that American Express still deserves such a large share of his portfolio, it might be worth pausing and thinking why that is so.
Conclusion
American Express is experiencing problems, but these are either exaggerated or short-term. The business remains solid, and likely to survive and thrive for many years to come. Long-term investors seeking reliable dividend income would be wise to take advantage of the current misguided views of the company and start a position.
DISCLAIMER: I am not an investment professional and accept no responsibility for any investment decision a reader makes. This article is presented for information purposes only.
Disclosure: I am/we are long AXP, T.
I wrote this article myself, and it expresses my own opinions. I am not receiving compensation for it (other than from Seeking Alpha). I have no business relationship with any company whose stock is mentioned in this article.