I have always liked Western Areas (OTCPK:WNARF) because its nickel operations have a very low cost basis. This has really helped the company to survive the current downturn in the nickel markets, where nickel prices have dropped below $4 per pound. As the nickel price seems to be continuing to trade around that level, I was very curious to see how the company coped with this in the first half of the financial year 2016.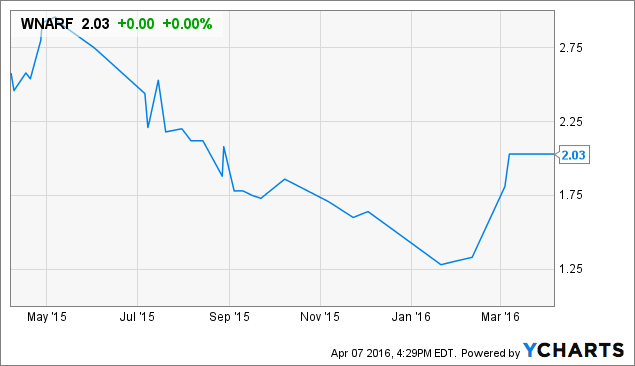 Keep in mind this company is an Australian company, and I would strongly recommend that you trade in the company's shares on the facilities of the ASX, as liquidity is much higher and better there. The ticker symbol down under is WSA, and the average daily volume is in excess of 1.6 million shares.
There's No Need to Panic After a Cash Flow Negative First Half
In the first half of the financial year 2016, the company has produced 30.8 million pounds of nickel after processing ore at an average grade of 4.6%. Western Areas has continued to work on reducing its operating costs, which resulted in the company being able to produce nickel at a cash cost of just US$1.63 per pound -- and that's on the lower end of its full year production cost guidance. Of the 13.8 million pounds of nickel that have been produced, the company has sold approximately 27.6 million pounds and an average realized price of approximately AU$5.7 per pound ($4.3/lbs).

Source: Company presentation.
The total revenue for the first half year was a little bit on the low side as Western Areas' top line showed a net revenue of just AU$106 million ($80M), resulting in the pre-tax loss of approximately AU$26 million ($19M). Despite a (minor) tax benefit, the net loss was approximately AU$20 million -- of which $17 million was attributable to the shareholders of Western Areas. Of course, given that a large part of the operating costs consists of depreciation and other non-cash charges, I was pretty sure the company's cash flow statements would provide a better overview of how WSA was really doing. The total capital expenditures were very likely the lower than the depreciation charges.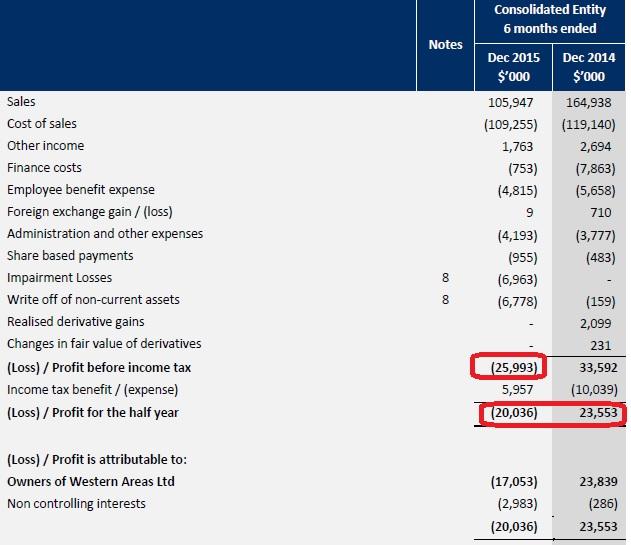 Source: Financial statements.
Indeed, the company's operating cash flow was a positive AU$14.6 million ($11M). Even though this is a substantial decrease compared to the AU$87 million ($65M) in the previous financial year -- and not sufficient to cover all of the capital expenditures -- I did see some one-time and nonrecurring events that might have skewed the final operating CF and free cash flow numbers. If you just blindly rely on the numbers provided by the company, Western Areas would've lost AU$20 million ($15M) in the first six months of the financial year -- that's not really a great result.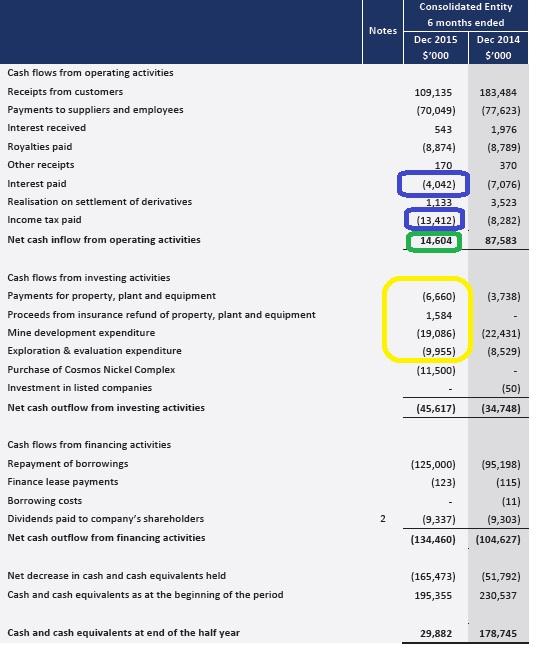 Source: Financial statements.
That's absolutely correct, but I would like to draw your attention to two non-recurring events. First, Western Areas has booked interest costs of AU$4 million ($3M), and as the company repaid its outstanding debts earlier in the financial year, the total interest expense should be less than US$1 million from here on out. That's an immediate costs saving of approximately $2.5 million. Second, the relatively low operating cash flow also takes a tax bill of approximately US$10 million into account.
As Western Areas has posted a negative income in the first half of the year, no further taxes will be due. The $10 million was actually just the residual payment to cover the tax bill of the previous financial year. This means that approximately $12 million (or approximately 16.5 million Australian dollars) were a one-time item. Correcting the company's free cash flow for this number would almost result in a break-even situation.
The A$60M (US$45M) Placement Surprised Me
If I was the CEO of a mining company that is (barely) breaking even on its existing mining operations, I wouldn't be too keen on spending too much cash on exploration. Of course, there will always be a need for "sustaining" exploration expenses at the existing mines that are in production to replace the ore that has been mined out. But I would most definitely cut back on exploration activities in growth projects.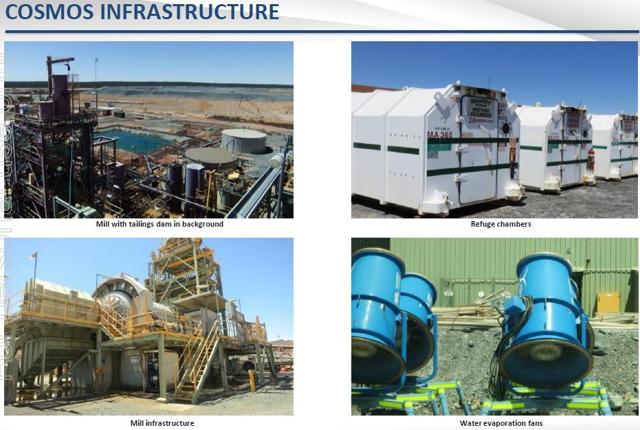 Source: Company presentation.
I can also accept that the company is looking at the longer term and wants to scoop up assets when the nickel prices are low. I fully support Western Areas' idea to buy the Cosmic nickel complex, but I'm not convinced the company should spend a lot of money on this property as long as nickel prices are trading at less than $5 per pound.

Source: Company presentation.
I was very surprised to learn the company was mulling over an AU$60 million private placement -- and WSA (US$45M) has already completed this placement. This has actually led to quite a substantial dilution for existing shareholders. I understand the company wants to be safe as it still has to pay approximately US$10 million to finalize the acquisition of the cosmic nickel complex, but raising US$45 million is quite a big deal. I hope this means the company is "zeroing in" on another acquisition, as I would not be very happy if the funds would be used for exploration and growth initiatives at existing projects.
Investment Thesis
Of course, I'm convinced that a company needs to have a longer-term plan, but I'm not sure Western Areas should spend this much money on its Cosmos nickel complex (at the current nickel price). Yes, WSA should make sure it has a sufficient amount of cash to cover the final property payments. But I would like to see the company just sit on the asset and wait for a higher operating and free cash flow, and to use that cash flow for further exploration and development activities.
This placement is a "done deal," and the fact that it has been underwritten at a minimal discount tells you the market still believes in this story. But I will still be a little bit unhappy with the additional dilution, which could have been avoided or at least minimized.
Disclosure: I am/we are long WNARF.
I wrote this article myself, and it expresses my own opinions. I am not receiving compensation for it (other than from Seeking Alpha). I have no business relationship with any company whose stock is mentioned in this article.
Editor's Note: This article discusses one or more securities that do not trade on a major U.S. exchange. Please be aware of the risks associated with these stocks.