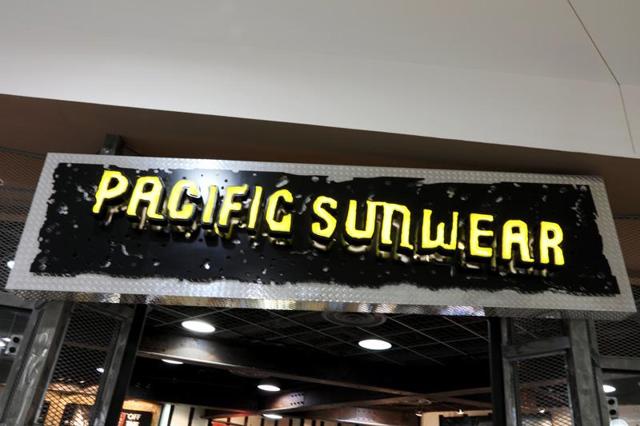 With the breaking news of famous 600 outlet retailer Pacific Sunwear's bankruptcy, and the constant refrain in the zeitgeist that retailing is going through a fundamental change because of the advent of online shopping, we decided to mine our BDC Watch List database to get a snapshot of the industry's own troubled exposure in this key segment of the economy. If you've been reading our prior articles you'll know we have been assembling a database of all the under-performing investments in which the BDC sector is involved with the goal of eventually keeping readers apprised in as close to real-time as possible about changes in credit performance and recovery outlook, both sector-wide and BDC by BDC. We're still not done, but with 37 of the 43 BDCs in our target universe input into the database (with varying degrees of detail) we're almost there. To break the tedium of the project, we're using this opportunity to take a gander at old fashioned retail, said to be going the way of the Dodo by many observers.
RETAIL IN THE SPOTLIGHT
To the best of our knowledge, no BDC is a lender or investor in Pacific Sunwear. Still, the bankruptcy follows other debacles in the retail space. As Fortune points out:
The company is only the latest struggling retailer to file for bankruptcy after being hurt by shifting consumer behavior and aggressive store expansion. American Apparel, Quicksilver, Wet Seal, and The Sports Authority have also sought to reorganize their finances in that way.
BDC EXPOSURE: MILD
To date, we have identified over 300 under-performing companies, with over 400 investments, across the 37 BDCS we've input into the soon-to-be famous BDC Credit Reporter Watch List Master Database. We were pleased, though, to find relatively modest exposure to under-performing players in Retail in our database. By our count, there are just 10 retailers, spread over a wide variety of product categories, whose outlook is in question. 11 BDCs have exposure to the sector, which is mostly in the form of first lien debt of one kind or another.
NON ACCRUALS
2 of the 10 retailers are on Non Accrual: Sports Authority and DirectBuy. The former is in Chapter 11. FS Investment (NYSE:FSIC) has extended $6.3mn in senior debt to the beleaguered sports equipment retailer, and has already written down the investment to $2.1mn. The latter has been troubled for several quarters. Both Solar Capital (NASDAQ:SLRC) and PennantPark Investment (NASDAQ:PNNT) have had loans and investments in DirectBuy for awhile, but have mostly written off their exposure. In any case, the remaining value of these investments, thanks to their relatively small size in the case of Sports Authority and prior write-offs in the case of DirectBuy. (PNNT has pumped about $35mn into DirectBuy debt, equity and warrants but has written down the lot to $4.4mn at 12-31-2015). At this stage, even if PNNT ends up writing off DirectBuy entirely, the impact of this non-income producing misfire will "only" be a 0.7% drop in Net Asset Value.
STILL PERFORMING, BUT…
Less troubled, but more critical from a lender's standpoint because there is more to lose from an under-performing company still marked relatively high than a lost cause, already written down, are investments in well known names like Charlotte Russe (women's fashion), Gymboree (children's clothing) and Payless Shoesource (you-know-what). Most of the unrealized write-downs to date are what we call Moderate (25%-50%) which suggests there is certainly trouble afoot, but no certainty that these investments will get written off down the road. We are keeping an eye on all the above names and the fast growing women's accessories chain Charming Charlie. This last name has had explosive growth, but we take note that Moody's has been worried since last year about a substantial drop in same store sales. Both Pennant Park Floating Rate (NASDAQ:PFLT) and, more recently, THL Credit (NASDAQ:TCRD) have loan exposure to Charming. The loans at fair value represent 1.0% and 1.3% of these BDCs Net Asset Value at 2015 year end.
SUMMARY TABLE
We do not have enough financial or market data to play at being a mini-Moody's or S&P or Fitch or Kroll's (not to leave anyone out) and project out what the ultimate value of these investments might look like. However, we do write up Investment Reports when we can which assembles all the relevant publicly traded data about how the investments are faring. That's information neither the underlying company or the BDC want too much attention paid to, and is necessarily incomplete. Nonetheless, readers can click on either the Company name or the Investment Report in the BDC Credit Reporter's Summary Table ,which we are attaching, to assess what we've gathered so far, and make their own assessment. This is still a work-in-progress, so if anyone has any comments or suggestions we are very open. Just drop us a line.
CONCLUSION
Our still incomplete snapshot of how Retail is faring in the BDC Sector suggests troubled exposure is relatively minor and spread out amongst only 11 BDCs. A couple of companies are on non accrual, and their outlook is not very promising. The other 8 names on our list are in various stages of under-performance. We'll continue to keep an eye on the sector as time goes by and compare today's notes with what we'll find.
Disclosure: I am/we are long PFLT.
I wrote this article myself, and it expresses my own opinions. I am not receiving compensation for it. I have no business relationship with any company whose stock is mentioned in this article.