It's so deflating when a coordinated terrorist attack tears apart the lives of hundreds of innocent people. You wonder how we got to where we are. This is so wrong - everything is wrong when it comes to terrorism.
I wish it wouldn't effect our lives or businesses, because that means the bad guys are winning. At least temporarily.
But I digress.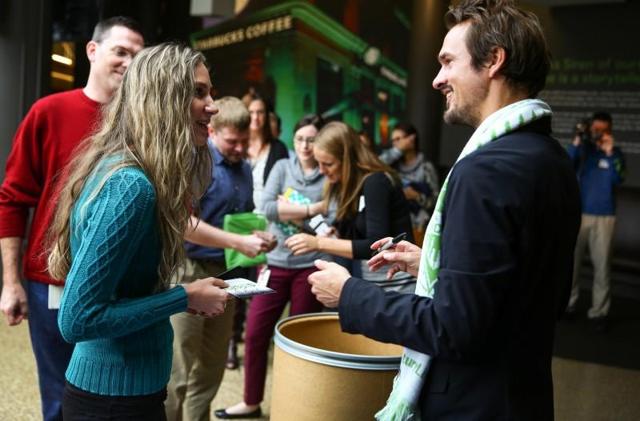 Following the attacks in Brussels, Starbucks (NASDAQ:SBUX) announced that it will temporarily close all of its locations in Belgium - 12 in all.
And while 12 stores is unlikely to have much of a financial impact, I would expect the European region as a whole to slow as well. Last Friday, Tom Jenkins, CEO of the European Tour Operators Association, noted net bookings to London and Paris declined, in addition to the obvious decline in Brussels.
Jenkins noted that it's not surprising to see travel to these major cities slow, considering the attack took place in an airport, which is "intimately involved in tourism."
It's not just intra-Europe either, as international travelers were hesitant to go to Europe following the Paris attacks in the fall. Less tourism and traveling is seemingly bad for Starbucks, as it's such a well-recognized brand.
Patrick Surry, chief data scientist for Hopper, noted that travel searches for Europe are down 13% so far this year, while other places - like South America, India and Asia - are up. Global travel has remained steady, but there's a noticeable avoidance for Europe.
Speaking on Paris, HSBC's head of European transport equity research Andrew Lobbenberg said, "it wasn't just to and from Paris, it was the fact that it was all travel to and from Europe and that travel within Europe on low-cost airlines, as well as long-haul on the major legacy carriers, was affected." A similar trend is likely following the Brussels attacks.
All of this is to say that Starbucks' sales will likely see a hit in the current quarter. The question is how much. One could argue Starbucks might see higher attendance as people band together in these regions, but it could also be argued that more are opting to stay at home. At the same time, travel is declining.
I think the impact will be negative, and that seemed to be the case previously, as Starbucks' COO Kevin Johnson had this to say in January's first quarter call following the Paris attacks in November:
[It was a] fairly strong performance given the dramatic decline in consumer and tourist activity across many of Western Europe's largest cities following their horrific November 15 terrorist attacks in Paris. Business prior to those attacks was strong and EMEA was on track to have a solid quarter. We have quite recently begun to see the effects of that region's resilience and a recovery.
The company's comp sales in that quarter were 1% for EMEA, compared to 5% in the prior quarter. It's true that Paris is far larger than Brussels, and its impact was likely more significant. But you could argue that a second attack in less than six months has a more tolling psychological impact on travelers, both domestic and foreign.
There are a lot of factors at play here. The U.S. dollar has been losing ground against the euro lately, and that may act to offset any slowdown Starbucks sees in EMEA. We won't know until April 21, when the company reports.
If Starbucks' earnings report is roughly in-line and Wall Street sells it down, I say let 'em. That's a buying opportunity.
Analysts' expectations have made it so big earnings beats are unlikely, especially given the full-year guide. But at least for me, I don't own Starbucks to see if it can beat these guys' estimates. I own it because it has a strong brand, is socially responsible, I love the product and because management has done a great job steadily growing and expanding the company.
If investors are going to be shortsighted enough to sell the stock on a roughly in-line result, given temporary headwinds, I would use it to add to my position.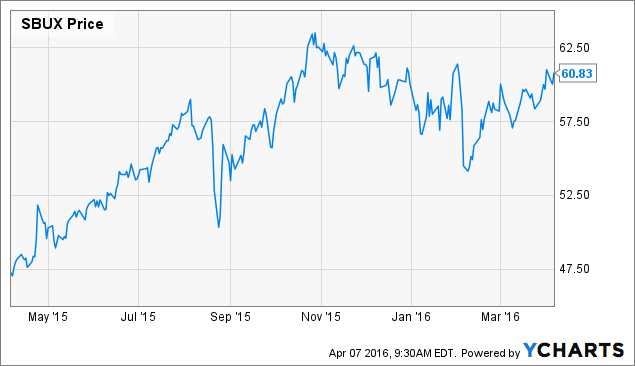 This is a disgusting act by any measure and my heart goes out to all those that were affected. I truly can't image. Broadly speaking, at least in my mind, Starbucks represents unity and community. Whether its sharing a cup of coffee with a friend or taking care of employees and farmers, togetherness is exactly what everyone needs.
The silver lining, if one can be found, is that these events do bring people together. It bands us. It unites strangers and even whole countries. It's a sad way to find togetherness, but in the end, we do move on from these tragedies, hopefully stronger overall, but definitely weaker in some regards.
Disclosure: I am/we are long SBUX.
I wrote this article myself, and it expresses my own opinions. I am not receiving compensation for it (other than from Seeking Alpha). I have no business relationship with any company whose stock is mentioned in this article.