Last month, I had focused on why the upstream business of Royal Dutch Shell (NYSE:RDS.A) (NYSE:RDS.B) is in for better times going forward on the back of a recovery in crude oil prices. However, of late, the oil rally has started losing steam as the Brent has dropped below $40 a barrel once again. But, even if the upstream business of Shell faces weakness due to low oil prices, its downstream business will act as a tailwind due to low input costs.
For instance, in the fourth quarter last year, earnings from Shell's downstream business stood at $1.5 billion as compared to $1.6 billion in the year-ago quarter. In comparison, earnings from the upstream business had dropped to $500 million from $1.7 billion in the year-ago period. This clearly indicates that Shell is witnessing strength in the downstream business, and it is likely that this momentum will continue this year despite a rough start. Let's see why.
Improving crack spreads will be a tailwind
So far this year, refining crack spreads have remained weak as compared to last year. For instance, the East Coast 6-3-2-1 refining crack spreads have averaged $6.31 per barrel in the first quarter of 2016 as compared to $10.44 a barrel in the year-ago period. Similarly, the Gulf Coast refining spreads are down to $9.22 a barrel as against $13.62 a barrel in the year-ago quarter.
This weakness in the refining crack spreads so far this year is a result of low demand for gasoline and heating oils, as the usage of these refining products has dropped due to the winter season in the U.S. as this has kept cars off the roads. For instance, according to the latest data, demand for gasoline in U.S. in the month of January dropped 0.6% on a year-over-year basis, marking the first decline in 14 months. As a result, the oversupply in the market increased and led to a drop in refining crack spreads.
According to Phil Flynn of Price Futures Group:
"The historic late January blizzard that buried much of the U.S. Northeast under mountains of snow hurt demand, Flynn said. "People in New York City couldn't find their car, so this was probably a one-off," Flynn said."
But, the good thing is that refining crack spreads have started picking up pace of late and are now close to 2015 levels. This is shown in the charts given below: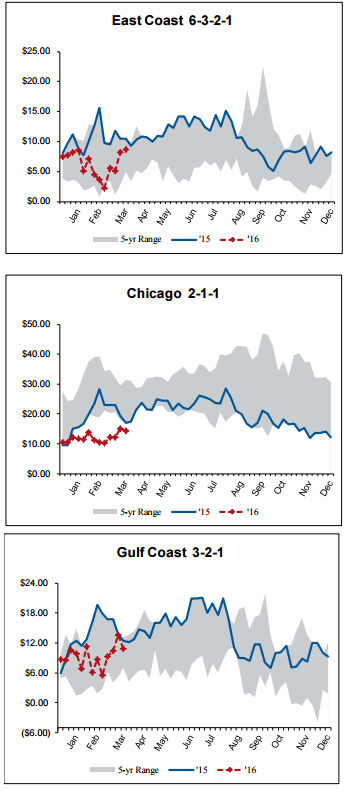 Source: Howard Weil
Thus, as evident from the charts above, refining margins across all regions in the U.S. have now improved. This is not surprising as gasoline prices and demand usually pick up pace in the spring and summer seasons as more cars get on the road. For instance, last year, gasoline consumption by motorists in America stood at 9.16 million bpd, and this year, demand is already tracking ahead of last year's rate at 9.4 million bpd.
Now, looking ahead, this positive trend in gasoline consumption will continue as sales of motor vehicles in the U.S. are expected to rise once again this year. For instance, after hitting sales of around 17.5 million units in 2015, which was the highest in 15 years, auto sales in the U.S. are expected to rise once again in the coming two years. For instance, according to IHS, the U.S. auto market will grow to 18 million units in the next couple of years, which will lead to higher consumption of gasoline.
Therefore, the weakness in the gasoline market should be short-lived due to higher demand, and allow Shell to gradually improve its downstream performance going forward. More importantly, Shell is well-placed to make the most of an increase in gasoline demand and refining crack spreads going forward as the company has streamlined its refining segment to achieve higher margins.
Shell's efficient downstream business will be a tailwind
Shell has managed to improve the efficiency of its downstream business by deploying higher grade feedstock and improving supply. As a result, the company has been able to generate stronger returns from a more streamlined portfolio, improving its earnings, cash flow, and returns over the years. Additionally, despite lowering its marketing volumes by 30% and refining capacity by 20%, the company has managed to retain its margins in the refining business. This is shown in the chart below: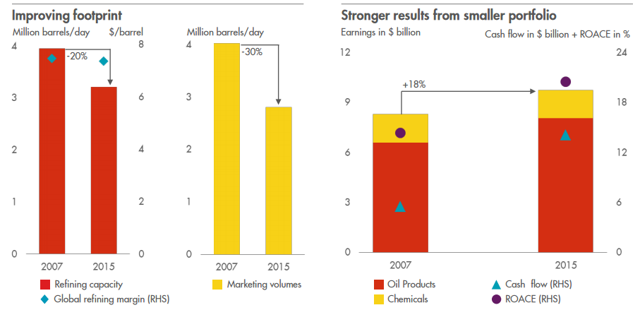 Source: Royal Dutch Shell
Going forward, Shell's feedstock footprint is anticipated to improve further after the break-up of its joint venture with Saudi Aramco last month. As a result of the end of this relationship, Shell will now be able to increase gasoline production from the Norco refinery in Louisiana since it produces high-value gasoline blendstock. Additionally, the Norco refinery is closely integrated with a petrochemical plant of Shell that's located nearby, giving shell integration benefits and lower costs.
Conclusion
Thus, an improvement in the gasoline market will gradually lift crack spreads going forward, and this will be a tailwind for Royal Dutch Shell's downstream business. Moreover, since Shell has focused on improving the efficiency of its downstream operations, it will be able to improve its earnings and returns as the crack spreads improve. So, apart from a potential improvement in the upstream business, strength in the downstream is another reason why investors should be positive about Royal Dutch Shell.
Disclosure: I/we have no positions in any stocks mentioned, and no plans to initiate any positions within the next 72 hours.
I wrote this article myself, and it expresses my own opinions. I am not receiving compensation for it (other than from Seeking Alpha). I have no business relationship with any company whose stock is mentioned in this article.