This year has been particularly unkind to the banks as the Fed's hesitation to follow its own rate hike guidance has sent interest rates plummeting and the outlook for banks collectively deteriorating as well. It is well known that Bank of America (NYSE:BAC) is the most rate-sensitive of the big banks and that reason is why I've been so bullish on BAC in the past. But as the higher rate story has failed to materialize, BAC has struggled mightily and sits well under its tangible book value. However, shares are over their 50DMA for the first time in a while and with Q1 earnings set to come out in a few days, I think BAC is well positioned for a move higher off of the report.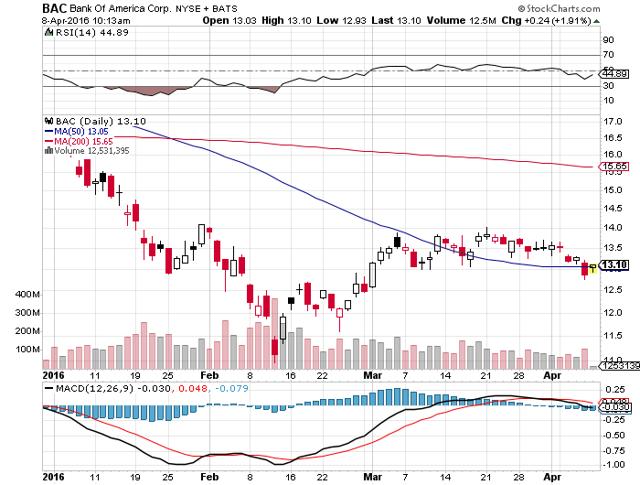 Of course, many factors are involved in BAC's sell-off aside from the Fed's commentary but interest rates are the principal factor driving bank share prices right now. And if you're wondering why banks have traded down as much as they have of late, take a look at the price action of the 2/10 spread: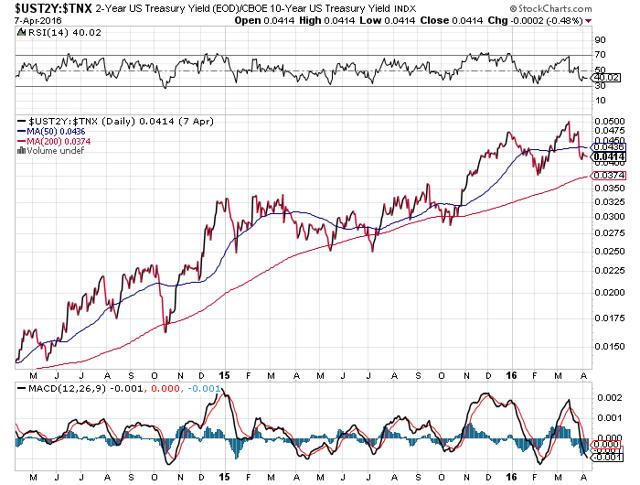 Over the last two years the yield curve has consistently flattened as evidenced by the fact that the 2 year Treasury's yield is a much greater proportion of the 10 year's yield; this uptrend has persisted for a long time and of late, has gotten worse. The Fed's balking on hiking rates at the previously forecast intervals has caused confusion among investors. And what's more, persistently low inflation has kept a lid on the longer end of the yield curve. A situation where the Fed is saying it will raise rates and inflation is simultaneously low is what you see above; a much flatter yield curve. And while I'd like to say things can't get much worse, history has shown us that they can and indeed, the yield curve can even invert. I don't think that kind of thing is on the table realistically anytime soon but hopefully the yield curve will expand back out again; without it, banks will struggle to grow very low margins.
But apart from that, there is a lot to look forward to in Q1 for BAC that could give us a clue as to whether or not the company's plans are still on track. For one, BAC has been making tremendous progress towards its longer term spending goals and I will be carefully watching its efficiency ratio during the report. Efficiency ratios can move around a lot from quarter to quarter due to charges and other non-recurring expenses but for core costs, they should remain flat to slightly down. BAC has already picked the low-hanging fruit with its costs savings but there is more yet to come so the first thing I'll be looking for in Q1's report is lower operating costs.
Second, the bank's exposure to energy hasn't helped with the sell-off as the headlines seemingly everyday for the energy complex are terrible. Prices of oil and gas are low and that spells trouble for a lot of smaller, highly leveraged companies. BAC's energy exposure is ~2% of its book and earlier guidance suggested a ~$900 million provision cost if the energy space deteriorated further. It will be interesting to see what BAC has to say about its energy book because oil has rebounded in Q1 and while the mid-$30s isn't ideal for most producers, it should be easier to service debt than at $26.
Margins will also be in focus as I expect continued weakness due to the interest rate pressures we just looked at. BAC's NIM is very low and while part of the reason is because it has been very cautious with lending, the other part is a flattening yield curve. BAC's guidance for what it sees in terms of rates this year will be market-moving.
BAC's credit quality will be in focus as well as BAC's credit metrics have been steadily improving in recent years. I've spent considerable space on SA talking up BAC's improving credit profile but if the company's progress is halted in any way, that will be a very bearish sign for not just BAC, but the industry. The company's focus on prudent lending has yielded great results in the past in terms of provisions but energy and general weakness in credit conditions could derail the progress we've seen.
Finally, it is CCAR time, the most wonderful time of year if you're a banker. I say that facetiously of course but the CCAR looms larger for BAC than JPM or WFC, for instance. Those banks never really had a crisis due to deft management of the recession and its aftermath so their capital returns are fairly straightforward; the Fed gives them more room to run due to a stronger track record. But for BAC, the company's capital return allowance can move the stock up or down so it is absolutely critical that BAC receive a worthy capital return allowance.
With shares well below tangible book value, I assume BAC is asking for an enormous buyback allowance as its dividend is far less important at current levels. The Fed is much more willing to approve a larger buyback because that form of capital returns is malleable from year to year; investors don't seem to care (for some reason) if buybacks diminish over time but cutting the dividend is a cardinal sin. I personally don't see the difference but others do and for that reason, BAC's capital returns are of the utmost importance. Any guidance BAC can give us as to how much additional capital it has built in Q1 against upcoming targets from the Fed can be a big positive. If BAC continued to build capital in Q1 odds are it will get a bigger buyback allowance and if it didn't, look out below.
On balance, with the stock down so much already YTD, I think most or all of these concerns are built in. Indeed, analysts continue to run for the hills with BAC's EPS estimates and as they continue to come down, BAC looks cheaper and cheaper. With so much negativity built into Q1's report ahead of time, the risk is to the upside. Given the improvement in the energy space and the positive momentum BAC carried into 2016 on cost cutting, credit metrics and capital builds, fears over margins and rate risk that are already well known shouldn't derail the report. Unless BAC has some bombshell to drop in its Q1 report, the risk to owning BAC is to the upside. I think we'll see a beat from BAC in Q1 and bullish guidance given the beaten down state of sentiment and the valuation.
Disclosure: I am/we are long BAC.
I wrote this article myself, and it expresses my own opinions. I am not receiving compensation for it (other than from Seeking Alpha). I have no business relationship with any company whose stock is mentioned in this article.