In the past two and a half months, Halcon Resources (NYSE:HK) has illustrated a searing rally on the stock market as its shares have gained more than 200% since January 20. This rapid rise in Halcon's shares is a result of the rally in crude oil prices. In fact, Halcon's rally has continued gathering pace despite the company posting a massive revenue decline in the last-reported quarter, though its earnings performance was way better than expected. The following chart clearly shows the close relation between crude oil prices and Halcon's stock price in recent months: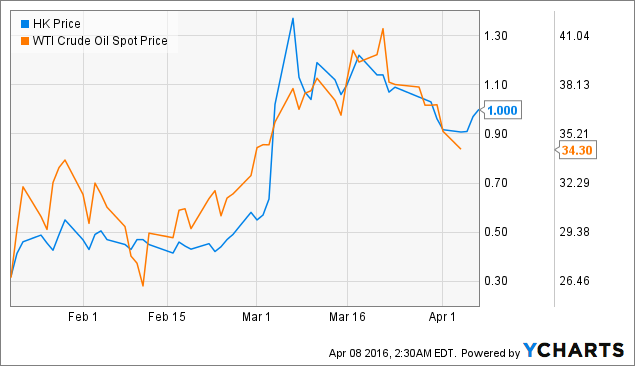 But, after such an impressive rally, will Halcon Resources continue to deliver more upside? Or is it time for investors to exit the stock? Let's find out.
Focusing on economic production
While it is true that Halcon's stock price resurgence is primarily driven by the rally in crude oil prices, investors should not ignore the fact that the company is focused on improving the economics of its production. For instance, despite a cut of 73% in capital expenses to $322 million in 2015, Halcon's production declined only 1.3%.
This strong level of production despite a drop in capital expenses was a result of Halcon's focus on areas that generate stronger returns due to low costs and robust production in difficult times. One such area is the Fort Berthold Indian Reservation, or FBIR, where Halcon believes that its entire acreage is economical in the current price scenario.
As a result, this year, Halcon will concentrate 80%-85% of its entire capital spending in the FBIR area. This is not much of a surprise as Halcon has been able to achieve impressive cost reduction in the FBIR. For instance, it had lowered its well costs in this region by 38% to $6.8 million from $11 million in the fourth quarter of 2014.
Halcon was able to achieve these well-cost reductions as a result of the deployment of better designs and re-designed well pads. In addition, the company has made process improvements such as reducing well stimulations and usage of less water, while also reducing overheads in the form of lower contract costs. The following chart clearly represents how Halcon has been able to reduce its well costs in the FBIR region: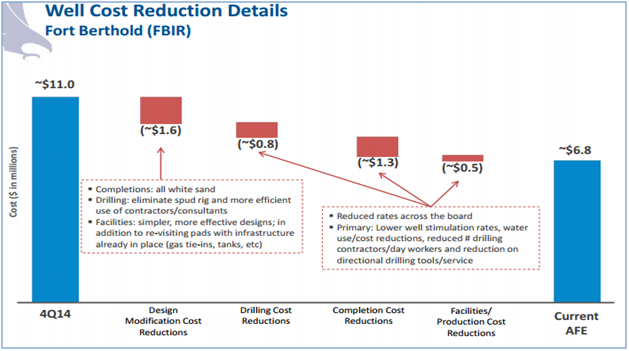 Source: Halcon Resources
In addition, Halcon expects to reduce its costs further in this area by making more infrastructure and process improvements. For instance, the company is focused on modifying the quantity of proppant that it is using over here. Now, Halcon has decided to increase the proppant load, while also increasing the length of the lateral.
Moreover, Halcon will electrify its oilfields for greater automation, apart from improving the water offloading solution to reduce water usage. As a result of these moves, Halcon will be able to reduce its general and administrative costs by 20% this year to $4 per BOE, while keeping its lease operating expenses intact. This is shown below: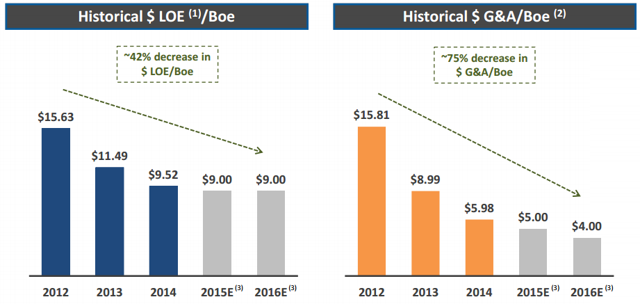 Source: Halcon Resources
Apart from these cost reduction, Halcon will also cut its capital expenses in 2016 by 54% to a range of $140 to $160 million. Even at this capital expenditure levels, the company expects its average production to be in the range of 37,000 Boe/d to 39,000 Boe/d for 2016, representing a drop of just 10% in average daily production as compared to last year. The following chart indicates the anticipated decline in the company's capital expenditure levels this year:

Source: Halcon Resources
A robust hedge position
Apart from its focus on extracting oil from economic areas, Halcon is also trying to protect its financials by way of hedges. For instance, the company has hedged approximately 81% of its oil volumes at a weighted average oil price of $81/bbl in 2016, as reflected in the snapshot below. In addition, about 3,750 bbl/d of its oil volume has been hedged at an oil price of $66/bbl for 2017.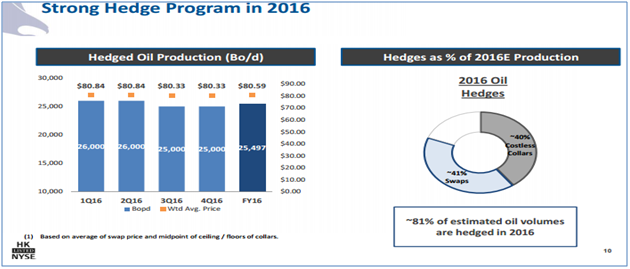 Source: Halcon Resources
As a result of this move, Halcon Resources will be able to derive gains from hedges. In fact, Halcon's hedging program had provided a gain of $129 million in the fourth quarter last year and $440 million for the full year. So, Halcon is making a smart move by hedging a majority of its production for the next two years at elevated price levels as compared to the existing oil price scenario.
Conclusion
Halcon Resources is improving its operational performance, which is good news for investors since this will allow it to deliver a better financial performance when oil prices improve. So, in my opinion, investors should continue holding Halcon Resources shares even though it has appreciated more than 200% in the past few weeks.
Disclosure: I/we have no positions in any stocks mentioned, and no plans to initiate any positions within the next 72 hours.
I wrote this article myself, and it expresses my own opinions. I am not receiving compensation for it (other than from Seeking Alpha). I have no business relationship with any company whose stock is mentioned in this article.