In less than two weeks, multinational coffeehouse Starbucks (NASDAQ:SBUX) will report Q2 2016 results. The company has thousands of stores in the US and a global store base of over 10,000 stores where it operates in dozens of countries. With a large portion of its most recent Q1 $5.4bn in revenue coming from overseas, it has also been a victim of 2015's US dollar. We last looked at how Facebook (NASDAQ:FB) and Netflix (NASDAQ:NFLX) stand to benefit from the recent weakening of the US dollar and Starbucks may be impacted as well.
The US dollar is down YTD against the Japanese yen: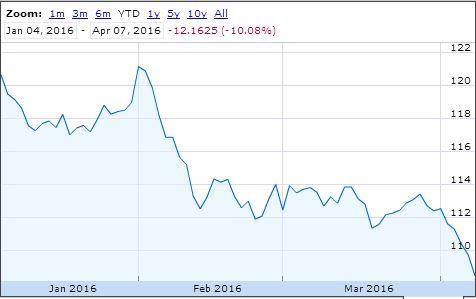 And also down against the Euro: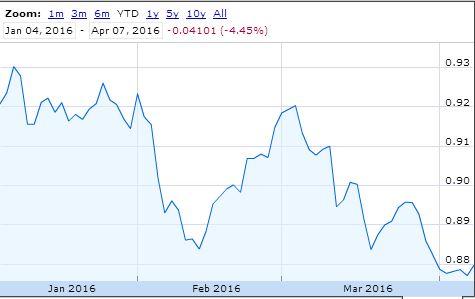 The dollar index is also down nearly 4.5% in 2016 as well, begging the question: will it matter for earnings?
Starbucks may also be poised to benefit from the easing of the dollar's strong rise last year. The last Q1 2016 report cited foreign exchange impacting net revenues in the EMEA sector, leading to a -6% drop YoY. Schulz described the company's performance "despite challenging macro-economic foreign exchange" that led to 2 points being shaved off Q1's revenue growth. In fact, "non-GAAP EPS growth included 5 points of negative foreign exchange impact."
What was the situation like in the year-ago quarter?
"Finally, foreign exchange is becoming an increasingly challenging headwind with over 2 percentage points of negative impact on both revenue and earnings growth…This was not contemplated in our plan or our initial guidance for the year."
Suffice it to say the problem was somewhat alarming and it looked as though the currency impact remained responsible for those 2 points throughout calendar 2015. Yet here we are, a new year, a new story for the US dollar. Here is how we may see it play out.
Impact in Emerging & CAP Markets
Starbucks looks favorably on its prospects in the emerging markets and the China-Asia Pacific segments. It expects "excellent growth" in CAP markets, but always finds a way to qualify with a reference to FX. Starbucks projected revenue growth in CAP to be in the mid-teens for the rest of the year. As you might have expected, this revenue growth was said to be "partially offset by ongoing foreign-exchange headwinds." In the quarter prior, negative foreign exchanged headwinds were to weigh on the segment's operating margins despite "increasing sales levels…across the region[.]" In Q3, the April-June quarter, Starbucks management explained that negative foreign exchange headwinds shaved off $44mn. And in the year-ago earnings report, with revenue increasing 18% YoY to $4.6bn, currency translation accounted for a 2 percentage point impact.
We see the pattern of management expressing their frustration with the effect of the strong US dollar on revenue and earnings growth. Another place we see the executive voice their concern over the situation is in how they discuss the future.
Guidance
Starbucks forecasted that foreign exchange would be a negative impact on revenue growth by 2 points and negatively impact non-GAAP EPS growth by 3 points for this earnings report. Due to these foreign exchanged headwinds, the company decided not to increase its full-year EPS guidance - in what would have been a positive catalyst for the stock. There is a possibility that the weakening dollar may lessen the impact to revenue and EPS growth.
Analyst Forecasts
According to Yahoo! Finance, 26 analysts are expecting 5.02bn in revenue, and earnings of $0.39. Interestingly we have seen no revisions throughout the quarter in light of the weakening USD: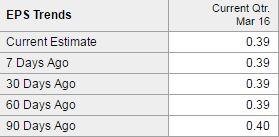 Perhaps the story of the US dollar is overblown - despite its weaker 2016 it has not translated into a very persuasive argument on strengthening EPS for Starbucks. Luckily, we will have an earnings report shortly to shed some light on these questions.
Conclusion
We are anxious to hear the company's guidance in light of the softening currency headwinds. How much revenue and earnings was impacted, if at all, will certainly be a topic for consideration. If the currency outlook is surprisingly optimistic we could see the beginnings of a change in tone.
Disclosure: I/we have no positions in any stocks mentioned, and no plans to initiate any positions within the next 72 hours.
I wrote this article myself, and it expresses my own opinions. I am not receiving compensation for it (other than from Seeking Alpha). I have no business relationship with any company whose stock is mentioned in this article.