Netflix Inc., (NASDAQ:NFLX) has amassed over 75 million subscribers globally with close to 45 million subscribers with the US. In the fourth quarter, it added 1.56 million subscribers in the US against 4.04 million internationally. It looks like the US market is nearing saturation, with over 57% of households having Subscription Video on Demand (SVOD) services of Netflix, Amazon (NASDAQ:AMZN) Prime Video or Hulu according to new Leichtman Research Group (LRG) report.
Although US market makes 60% of the total subscribers for Netflix, FBR analyst Baron Crockett has stated that the US streaming service would contribute a mere $25/share to the stock with the remaining coming for international growth prospects. A number of other markets are also nearing saturation, including the UK and Canada. The UK has 5 million Netflix subscribers, equating to 24% SVOD penetration in the households and Canada has 4 million subscribers, equaling 30% household penetration. Nordic countries (Sweden, Norway, Finland and Denmark) also have 3.5 million subscribers equaling 30.5% coverage among households.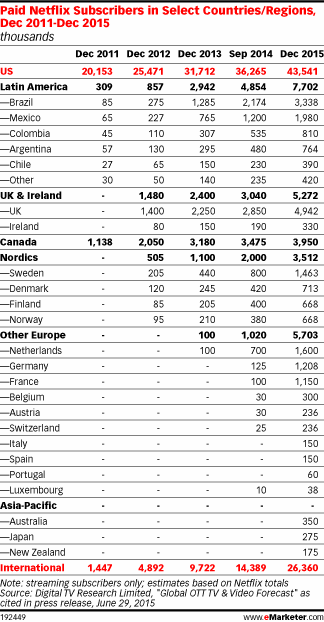 Fig: Netflix subscribers in different countries. Source: eMarketer
One of the markets which Netflix can look to increase its subscribers is India and other neighboring countries like Pakistan, Bangladesh and South-East Asian countries. One of the biggest benefits of this region is that English is used as a second language in many of these countries. Also, there is a greater prevalence of Hollywood movies within the local market which can reduce the need to produce customized content. (Although customized content would still be needed).
As an example, of the top ten box-office movies in India, two were Hollywood movies (Furious 7 and Jurassic World). According to a recent KPMG report, the top 10 Hollywood theatrical releases in India collected $98 million which was 34% more than last year. The report says that the entire India box office collections were up 9 percent to $2.09 billion of which $188.1 million were collected by Hollywood movies. Besides these, shows like Friends, Big Bang Theory and Game of Thrones have cult-like following.
Most of the countries in these locations have started seeing a higher use of 3G/4G technologies providing better internet connectivity at lower prices. This quarter will see full rollout of 4G services by Reliance Jio in India. It is a part of Reliance Industries Limited (RIL), which had $58 billion revenue in 2015 and has a market cap of $52 billion. Reliance Jio has bought pan-India 4G spectrum and is looking to spend a total of $17 billion in this sector by financial year 2017 according to a report by Kotak Institutional Securities.
This rollout has led to intensified efforts by current incumbents to bolster their 4G/3G networks and bring down prices. Currently, the price tag for 10GB data by the three main players (Airtel, Idea, and Vodafone India) is around 1,500 Indian Rupees (INR) or $22.5. Although a final tariff plan has not been finalized by Reliance Jio, most of the reports suggest a price tag of INR 500 or $7.5 for 10GB data might be taken by the firm.
Netflix is priced at INR 500 for a basic subscriber plan in India. The Indian government is strongly favoring net neutrality which should benefit Netflix.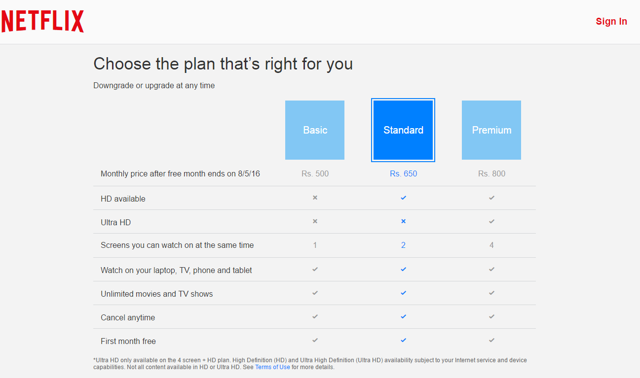 Fig: Netflix offers three plans in India at INR 500, 650 and 800 with first month free.
We know that last year Netflix users watched 42.5 billion hours of content. Dividing this by 75 million subscribers gives us 560 hours per subscriber in 2015 or 47 hours per month. Watching at basic quality takes 0.3GB data per hour. Hence, an average subscriber used 14 GB data on Netflix per month.
Lower prices for 4G data will be possible if the firms are able to convince the users to increase their consumption of data. Netflix is highest data guzzler among all other internet applications and services, even leaving YouTube (NASDAQ:GOOG) (NASDAQ:GOOGL) behind. Hence, this should lead to a win-win situation for the provider and Netflix. The new 4G provider, Reliance Jio, can reduce the per GB cost of data and still keep the average revenue per user high and Netflix also gains through a higher subscriber base.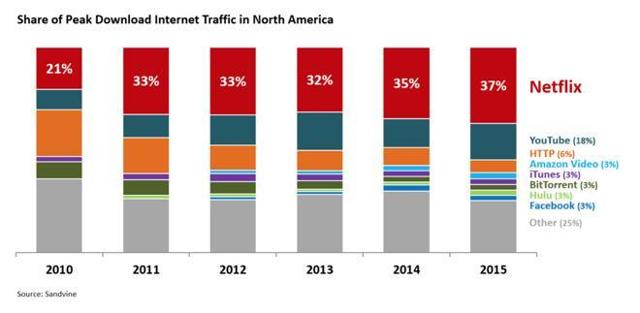 Fig: High data usage by Netflix platform in comparison to others.
This year an expected 160 million smartphones will be sold in India. The average price of smartphone devices is between $100 to $150, lower than China and other markets.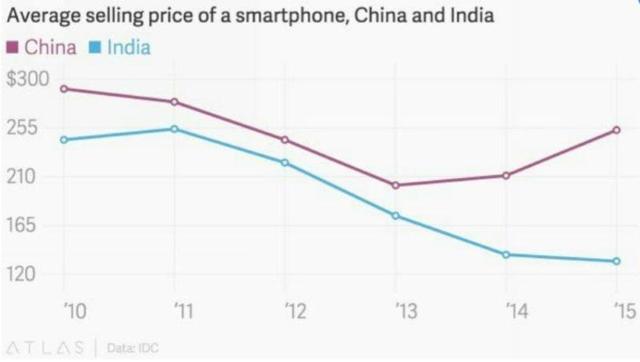 Fig: Average selling price of smartphones in China and India. Source:IDC
Currently, Airtel, market leader within Indian telecom market, is able to get average revenue per user (ARPU) of INR 200 for data usage. It has 55 million users. The per GB rate still stands at above INR 200 or $3. If the per GB rate falls to close to INR 50 or $0.75 by the entry of Reliance Jio, we should see a massive surge in the number of users having 4G data plan.
Going by a recent Cisco (NASDAQ:CSCO) report which estimated that Indian smartphone market can have 650 million users by 2019, and if half of them use 4G data it will still provide Netflix with 325 million possible customers. A similar coverage percentage to Canada and the UK would provide Netflix 50 million additional subscribers in India.
A look at other popular platforms shows similar growth in the past. Facebook has 130 million monthly average users (MAUs) in India compared to 164 million in the US and Canada. (Although it is not as data intensive).
There are huge stumbling blocks which the firm has to overcome in this market, including customized content, piracy, reasonable pricing and more. But it still remains one of the biggest possible markets for Netflix which can be an engine for future growth for a long time.
Conclusion
Investors should watch the growth of telecom providers in South Asia and South-East Asia to estimate future growth potential of Netflix subscribers. India is one of the main markets in this region with high usage of 4G smartphone devices and with cutthroat competition among telecom providers, the data price should become very reasonable. This will help Netflix gain an easier foothold in a market which can provide it tens of millions of additional subscribers and give good upward momentum to the stock.
Disclosure: I/we have no positions in any stocks mentioned, and no plans to initiate any positions within the next 72 hours.
I wrote this article myself, and it expresses my own opinions. I am not receiving compensation for it (other than from Seeking Alpha). I have no business relationship with any company whose stock is mentioned in this article.