The underwriting performance of global Aon Benfield Aggregate (ABA) listed reinsurance companies in 2015 deteriorated by almost half a percent, to 90.2%. Driven by an increased expense ratio that was partly offset by a continued lack of major losses and favorable prior year reserves, potentially masking true profitability.
During 2015 "The expense ratio rose by a full 1pp to 32.4%, driven largely by franchise investment, higher ceding commissions and business mix changes," explains reinsurance broker Aon Benfield in its latest ABA report, highlighting that over the last ten years the expense ratio of ABA listed firms has increased by 4.9%.
At the same time global insurance and reinsurance industry losses from natural catastrophe events have been benign, which, combined with favorable prior year loss reserve development has seen many reinsurers continue to report strong underwriting performance.
"Ten years have now elapsed since the last major land-falling hurricanes in the U.S. This has been a decade of unprecedented profitability for global reinsurers, as seen in the average combined ratio of 92.5% and average return on equity of 11.1% reported by the listed ABA companies over this period.
"The growing pressure on underlying earnings should be viewed against this backdrop, but in reality is likely to drive further M&A activity in the short to medium term," said co-Head of Aon Benfield's Market Analysis team, Mike Van Slooten.
Over the last ten years Aon reports that ABA listed reinsurers have reported an average combined ratio of 92.5%, with the lowest coming in 2006 at 88.8%, and the highest in 2011, at 105%, with the latter year having a significantly higher major loss ratio than any other year in the decade.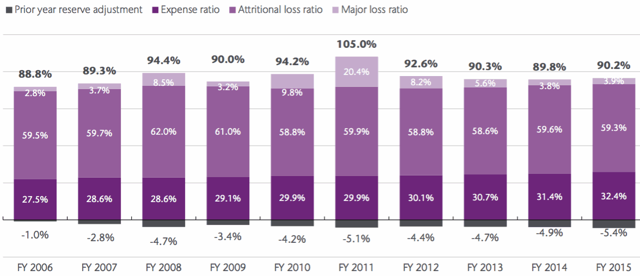 Reinsurance combined ratio composition - Source: Aon Benfield
However, while a combined ratio of 90.2% for the 2015 operational year appears strong, albeit it a decline of 0.4% from 2014's figure, should losses return to more normalized levels and expenses continue to rise in line with the last decade, then the underwriting performance and return on equity (ROE) of ABA listed firms could look very different, very quickly.
The chart below shows the average ROE of ABA listed companies during the last ten years, revealing that in 2015 the common net income ROE of the reinsurers came in at 9.8%.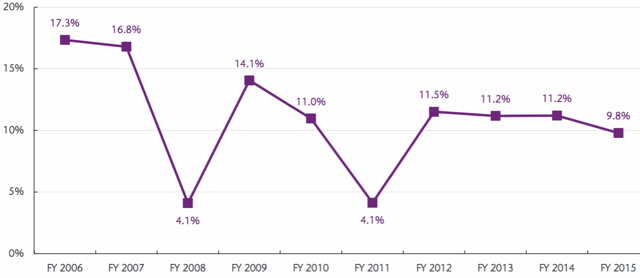 Reinsurance common net income returns on equity (ROE) - Source: Aon Benfield
As the chart shows this is actually a decline from the previous years ROE, and is lower than any of the last ten years, excluding 2008 and 2011.
The most important thing to note here is that the ROE in 2015 has actually declined on previous years that had higher major loss ratios and lower utilization of reserves, underlining just how challenging true profitability is in the current market conditions.
Artemis reported last year how challenging market conditions in 2015 saw insurers and reinsurers reduce ROE targets, underlining the growing importance of expense efficiency. But as Aon's latest Aggregate report shows, the expense ratio of ABA listed reinsurers has been on a steady increase since 2006, ending 2015 at 32.4%, a rise of almost 5%.
Global insurance industry losses from natural and man-made catastrophes during 2015 amounted to $37 billion, substantially lower than the ten-year average of $62 billion, according to reinsurer Swiss Re. (OTCPK:SSREY).
With that being said, the frequency of events during the year was actually the highest number ever recorded in a single year, as recorded by Swiss Re, suggesting that insured losses have the potential to be much higher should disaster strike in more built-up areas.
At the same time reinsurers have continued to experience a lack of major losses and other market pressures, meaning many in the sector have been releasing more and more reserves in order to bolster quarterly results, a trend that Aon highlights has also increased over the last ten-years.
During this period attritional losses have fluctuated between 58.6% and 62%, notes Aon.
The benign loss landscape, persistent rise in expense ratio, and aggressive reserve releasing seen across the sector is potentially a dangerous combination for reinsurers operating in today's marketplace, and underlines a need for discipline and efficiency across the board.
Should there be an increase in attritional losses by a few percent at a time when major losses return to more normalized levels, or when the next large loss event takes place, then the underwriting performance of ABA listed reinsurers could potentially move nearer, or beyond the 100% threshold at a fairly rapid pace.
And to this the fact that reserve releases are likely beginning to diminish, owing to an inability to bolster reserves used to boost profits as the benign loss environment has persisted, then it's easy to see how the underwriting performance of global reinsurers could deteriorate further, and faster.
Editor's Note: This article discusses one or more securities that do not trade on a major U.S. exchange. Please be aware of the risks associated with these stocks.