In article on Whiting Petroleum (NYSE:WLL) last month, I had focused on why the company is capable of sustaining its rally. My thesis revolved around the recovery in oil and gas prices, along with Whiting's aggressive move of cutting its capital expenses. But, apart from these reasons, there are some more factors why investors should continue holding Whiting Petroleum stock. Let's take a look.
A strong production profile
Whiting's acreage lies in areas that could be profitable even in a low oil pricing scenario. This is because the company holds acreage in two of the top three shale plays in the U.S. - the DJ Basin and the Bakken. These two plays carry net present value of $41 million each annually for each rig, which is among the best in the industry. This is shown in the chart below: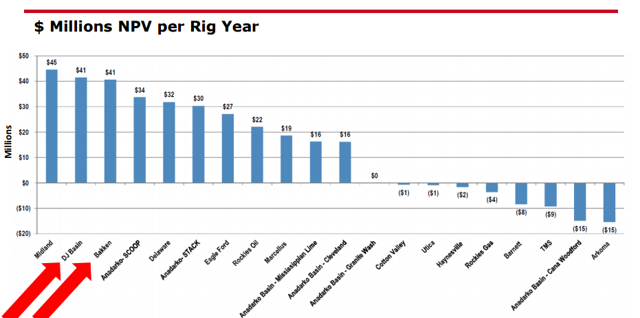 Source: Whiting Petroleum
Now, a high PV-10 values means that the anticipated revenue from oil and gas reserves, after excluding direct expenses, and discounting at an annual rate of 10% will remain strong. As such, Whiting holds acreage in those areas where PV-10 values are high. Therefore, its wells will have low base decline rates and low expenses. As a result, Whiting Petroleum will be able to generate strong value out of its assets in the long run.
Whiting is already seeing the benefits of its acreage in the high-value areas. For instance, in the fourth quarter of last year, Whiting saw a 22% increase in initial production rates in the Williston Basin, which is a part of the Bakken formation. This is shown in the chart given below: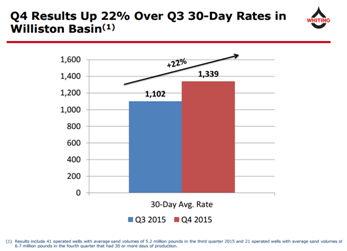 Source: Whiting Petroleum
More specifically, in the Williston Basin, Whiting's growth program is focused on developing concentrated acreage position in areas having 90-day aggregate production per well of over 50 Mboe. The company is trying to achieve this target by way of 1280-acre of key spacing units that include 6,052 drilling locations. This year, Whiting intends to develop over 700 Mboe EUR wells.
Therefore, Whiting is making a smart move by focusing its growth in areas where it can generate stronger productivity and keep costs low at the same time. I'm saying this because of its focus on such high-value areas, the company was able to achieve impressive cost reductions last year, as shown below: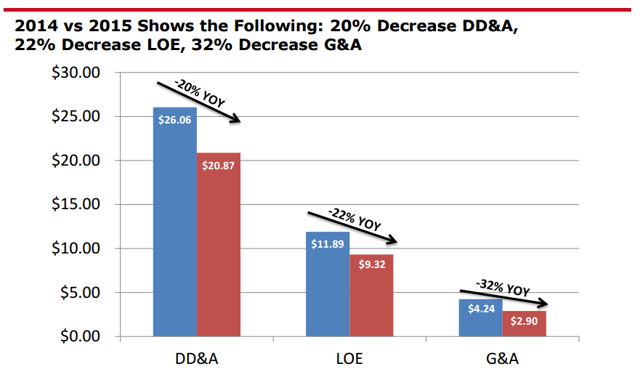 Source: Whiting Petroleum
As a result of its focus on such areas where production can be generated in a cost-effective manner, Whiting Petroleum is doing the right thing.
Strong liquidity
As a result of its cost cuts and efforts to adjust the business according to the situation in the end market, Whiting Petroleum has managed to strengthen its liquidity position. The company is focused on improving its free cash flow performance in a difficult environment for the oil industry by minimizing capex and reducing operating costs.
As a result of such moves, Whiting has managed to build a liquidity position of $2.7 billion. What's more, the company does not have any bonds maturing until 2018 and there is no significant maturity till 2019, while it also has a strategic borrowing capacity of $500 million. As a result of such moves, Whiting has managed to build one of the best liquidity positions in the entire industry. This is shown in the chart below: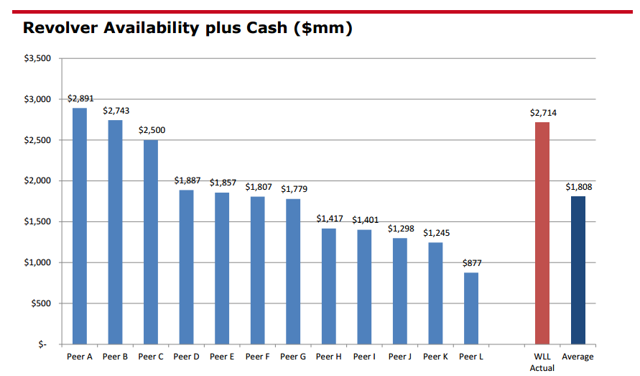 Source: Whiting Petroleum
Going forward, Whiting's liquidity should improve further as the company has already slashed its capital expenditure by 80% this year to a level of $500 million. Despite this significant drop in the capital expenditure, the company expects its production to be in the range of 128,000 to 138,000 barrels of oil equivalent per day in 2016. This reflects only a 15% reduction in production from 2015 levels as opposed to its capital budget reduction of 80%.
This robust production level is a result of Whiting's focus on low-cost zones such as the Bakken and the Niobrara, which are generating higher returns during this downturn in the oil market. As such, Whiting plans to invest $440 million in the development of these assets to enhance their efficiency and improve its cash flow profile in the long run.
Meanwhile, after having sold approximately $512 million worth of non-core assets in 2015, Whiting plans to sell a few more of its high-cost assets that are less profitable. Although, the company hasn't given any specific numbers, they are on track to sell some of their midstream and E&P assets.
Conclusion
All in all, Whiting Petroleum is progressing in the right direction despite a challenging oil environment. The company's focus on areas with higher production and lower costs, apart from a strong liquidity position, make it a good bet for the long run as these will allow it to benefit from an improvement in oil prices. So, it will be a good idea to stay long Whiting Petroleum as it looks well-positioned in the current oil environment.
Disclosure: I/we have no positions in any stocks mentioned, and no plans to initiate any positions within the next 72 hours. I wrote this article myself, and it expresses my own opinions. I am not receiving compensation for it (other than from Seeking Alpha). I have no business relationship with any company whose stock is mentioned in this article.