The great JPY-funded carry trade unwind has started and is not yet complete, suggesting JPY staying in demand. Price activity ahead of this weekend will tell us about the Street's positioning. Should USDJPY not rebound today as a result of risk reduction ahead of the weekend then we have to assume that short-term investors have not been participating in the JPY advance as much as hoped. Verbal intervention has come in again overnight with Finance Minister Aso calling rapid JPY moves "undesirable" and threatening action if required. I believe the verbal method is unlikely to develop the stabilizing impact on JPY. We cite two reasons. First, PM Abe's comment on Tuesday suggested to "refraining from arbitrary interventions in FX markets" and second investors putting the credibility of the BoJ into increasing doubt have reduced the effectiveness of verbal interventions. Abe's comments were meant to be directed at China, with latest statistics showing Chinese based entities continuing to buy short-term Japanese money market securities, while the rest of the world was net selling. None the less, a JPY-weakening intervention ordered by the Fin Min and executed by the BoJ would not sit well with this recent comment by PM Abe and could undermine his international credibility ahead of the G7 meeting hosted by Japan in May.
The more USDJPY comes under pressure, the bigger the bearish impact on high-yielding currencies. Perversely, the falling USD against JPY causes USD to rally against EM currencies. It may be the falling USDJPY terminating the USD downside correction against high yielding currencies. Since the fall of USDJPY can be mainly explained by falling real yield differentials, the recent dovish comments by Yellen, moving US real yields, have contributed to the USDJPY sell-off. Abenomics is facing increasing headwinds via FX, which suggests that Japan has been a loser of dovish Fed commentary. My bearish focus has returned back to EUR after seeing its inverse risk correlation breaking. This makes sense , given EMU's net foreign liability position and EMU's current account surplus easing, as indicating by the sharp weakening of net trade in Japan. UK's PM Cameron's late admission about having invested in tax-efficient Panama may add to increasing populism in Europe, adding to Brexit fears and potential spill over effects on other EU members. The outcome of the Dutch referendum may be the clearest sign of flourishing populism within Europe, making it more difficult to agree to necessary structural reforms. Technically, EURUSD has developed a 'negative divergence' yesterday.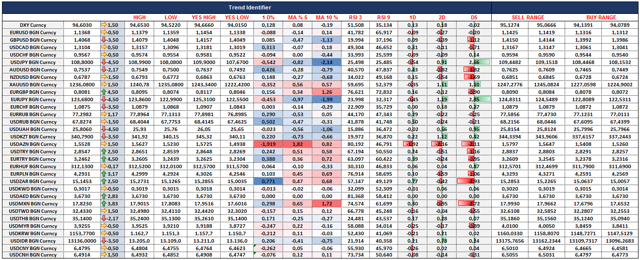 Looking at the price action, USDJPY and GBPUSD are trending lower with some strength however RSI's are naturally in oversold levels. Emerging markets are mixed, the recent correction and the JPY and oil fuelled risk aversion has hit EMFX and equities a bit. JPY lost some ground after Chief Cabinet Secretary Suga said they are watching FX markets with vigilance and will act appropriately on FX if necessary. Weaker currencies TRY, PLN and MXN are hit by possible rate cuts, politics and possible Brexit fall out. Today should determine if the EMFX correction is indeed a correction or is a momentum gathering selloff.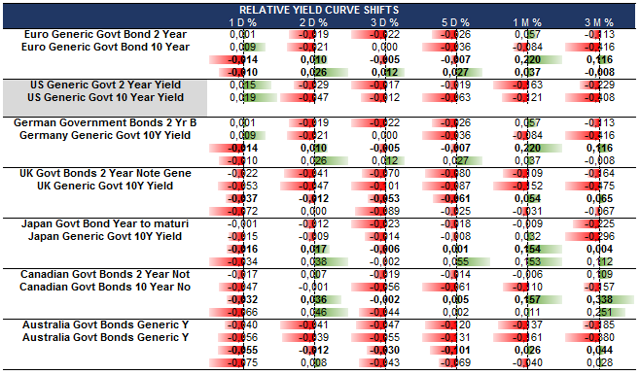 Treasury yields opened modestly lower coming out of overnight trading Thursday and then saw a good further rally in the New York morning before stabilizing at the day's best levels through the afternoon, resulting in substantial gains across the curve at the close. The gains in Treasuries were mirrored by renewed losses in equities and credit. The S&P 500 fell 1.2% and the IG CDX index widened 5 bp, the worst performances for both since February, ahead of what's expected to be another disappointing corporate earnings reporting season kicking off next week, at least in absolute growth terms. Consensus is for a 10% year/year decline in Q1 S&P 500 earnings (-5% ex energy) according to Bloomberg, worst since 2009 and fourth straight decline. We're in an earnings recession, and the corporate credit cycle is inflecting into what's expected to be a much bigger high yield default cycle in dollar terms than the TMT bust in the early 2000's because the corporate debt market is so much bigger now. Whether or not stock prices and credit spreads have adequately priced it in, that's a bad backdrop for economic growth, as Chair Yellen noted last week: "Although prices in these markets have since largely returned to where they stood at the start of the year, in other respects economic and financial conditions remain less favorable than they did back at the time of the December FOMC meeting. Thursday the 2-year yield fell 4 bp to 0.69%, 3- year 5 bp to 0.82%, 5-year 6 bp to 1.14%, 7-year 6.5 bp to 1.45%, 10-year 6.5 bp to 1.69%, and 30-year 6.5 bp to 2.51%. Real yields rallied solidly but couldn't keep up with nominals, so TIPS inflation break-evens were down modestly and have now unwound most of the gains posted last week in response to Yellen's speech. The 5-year TIPS yield 4.5 bp to -0.41%, 10-year 5 bp to 0.10%, and 30-year 4 bp to 0.78%. Those real yields were all low closes in nearly a year, but break-evens were down about 2 bp with the bigger rally in nominals.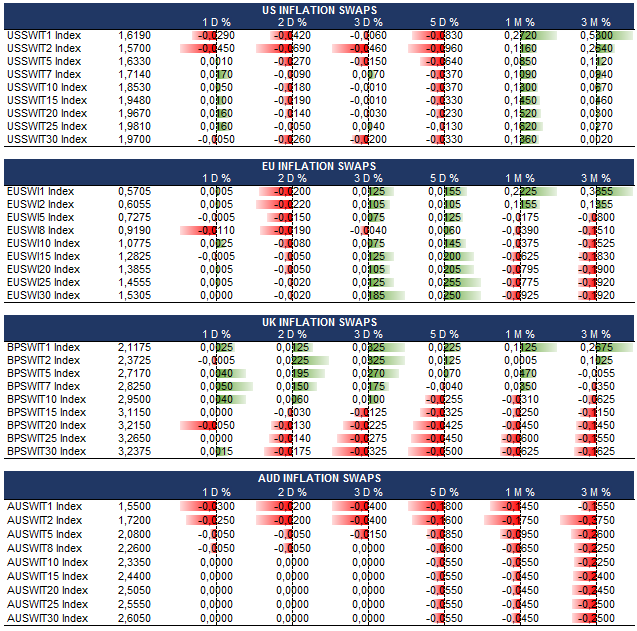 Initial jobless claims fell 9,000 in the week of April 2 to 267,000 after rising to a two-month high of 276,000 the prior week. That still boosted the 4-week average by 3,500 to 266,750, up from a record low relative to the size of the workforce of 259,500 in the week of March 12.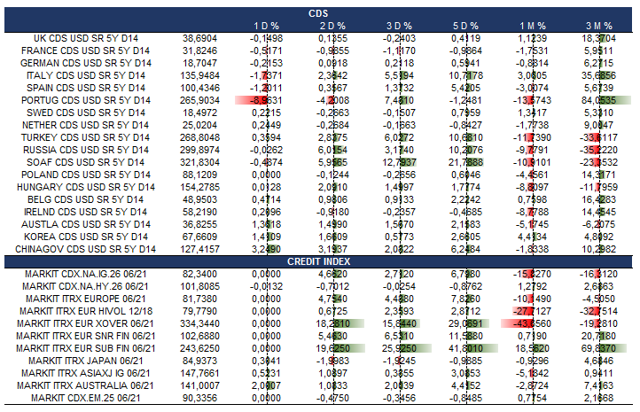 It seems today it is in everyone's interest to support Emerging Market economies as at least some of the weak earnings growth is linked to Emerging Markets. January scare has pushed everyone into a defensive corner and the recent drop in inflation is not marking it hard to play the next hand. Europe is now cornered into delivering promises and the last few days of spread widening in European financials is no coincidence. The weak earnings coupled with a low interest rate environment is clearly pushing the banks into a corner. As the US remains accommodative, it is now about time for Europe to deliver on promises and push credit spreads tighter and it is time for Japan & China to move on to fiscal spending measures and deliver on promises to jump start the economy and push inflation expectations higher to revive investment.
(NYSEARCA:SPXL),(NYSEARCA:SPXS),(NYSEARCA:EEM),(NYSE:JEQ),(NYSEARCA:FXY),(JPYS),(NYSEARCA:FXI),(NYSEARCA:FXA),(NYSEARCA:TLT),(NYSEARCA:IEF),(NYSEARCA:SHY),(NYSEARCA:TBF),(NASDAQ:VTIP),(NYSEARCA:WIP),(NYSEARCA:CPI),(MUTF:VIPSX),(NYSEARCA:ILB),(NYSE:EEA),(BATS:HEUS),(AESX), (NYSEARCA:CYB), (NYSEARCA:HAO),(NYSEARCA:ECNS)
Disclosure: I/we have no positions in any stocks mentioned, and no plans to initiate any positions within the next 72 hours.
I wrote this article myself, and it expresses my own opinions. I am not receiving compensation for it (other than from Seeking Alpha). I have no business relationship with any company whose stock is mentioned in this article.