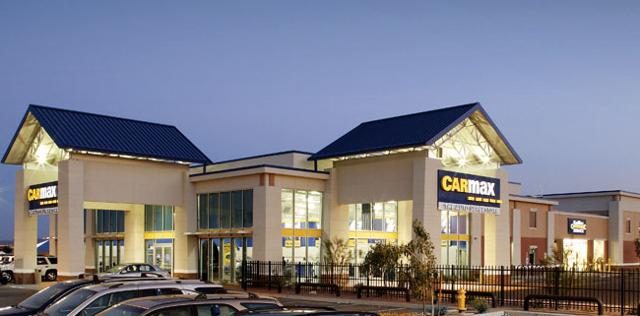 Shares of used car giant Carmax (NYSE:KMX) have moved around substantially of late as investors debate the future of the car industry as a whole. Carmax is certainly the most successful of the used car dealers but that scale may not necessarily translate to high future growth as KMX experiences growing pains of sorts. The stock was crushed yesterday as the company's Q4 earnings failed to impress but with shares now back towards their 52-week lows, is it time to buy?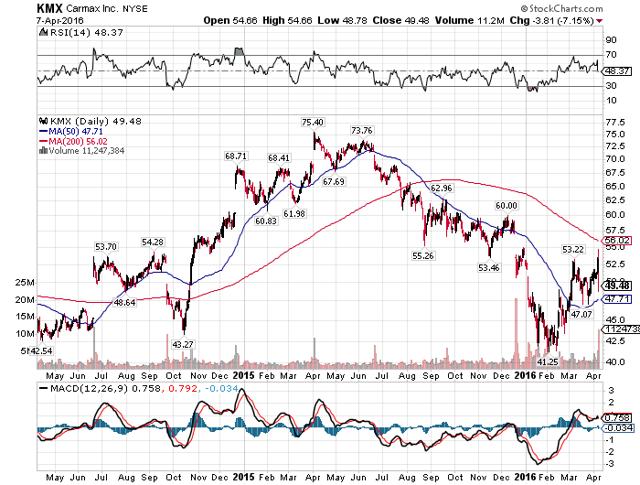 I've been cautious on KMX in the past because I felt that investors were pricing in too much growth for a company that - by nature of its business model and current scale - cannot grow at rapid rates. While that isn't necessarily a reason not to own the stock, it is a reason not to pay an exorbitant growth multiple for shares and at the highs of $75, that is exactly what investors were doing. But at a more reasonable $49, is the story still the same?
KMX saw its Q4 sales up 5.5%, a solid number for a company that is as mature as KMX. However, the majority of the increase was due to new stores as KMX added 14 during the year to its previous base of 144. Comp transactions rose just 70bps during the quarter but pricing did add 2.4%, a solid gain to be sure. But as I've warned before with other retailers - the comparison is certainly close enough - traffic is much more sustainable than pricing gains. KMX has made its living on pricing gains over the past few years and while that has worked, I fear it may not in the future and that puts KMX' growth trajectory at serious risk.
Indeed, the company's pricing power was called into question in Q4 as gross profit per vehicle fell for both traditional and wholesale vehicles, falling 1.8% and 3%, respectively. This is the problem with focusing on pricing alone for sales gains because KMX doesn't have a lot of control over what it can pay or charge for a vehicle; consumers are better equipped than ever before when making car buying decisions and a very active secondary market for cars makes it so that the arbitrage potential for each vehicle gradually narrows over time. That arbitrage is the vast majority of KMX' profit every year so the fact that it is narrowing should scare shareholders.
In addition, there are other potential pressures to KMX' model coming down the pike after years of steady growth that could derail the company's plans. Longer term, renewed interest among consumers to lease vehicles instead of purchase them could certainly lead to a flood of used cars on the market in the coming years. It doesn't take a genius to realize that this could certainly lead to not only increased inventory levels for KMX and other players but lower pricing as well. High levels of inventory are the enemy of car dealers and if millions of leases come due in a short period of time, KMX and the industry as a whole would almost certainly suffer for it.
In addition, subprime lending has come into focus again as that sub-segment of the credit market makes an unwelcomed reappearance. While KMX' customers are typically not subprime borrowers, the fact is that pressures on lending standards due to subprime weakness could very easily have repercussions even for those that aren't subprime customers. Weakness in the subprime category - or even perceived weakness - could take marginal customers away from KMX and when sales growth is so low already, that impact could be devastating.
Apart from revenue pressures I just cited, the company's margins are in decline as well. EBIT margins for last fiscal year in comparison to the previous year were down 10bps but the decline in Q4 was much worse at 50bps. KMX has not only top line headwinds to work through but its pricing pressure is causing profitability to fall; something that couldn't come at a worse time.
Even after yesterday's beat down, KMX is still trading for 14.8 times this year's earnings estimates, hardly a value multiple. While KMX is certainly a strong company its growth trajectory has some serious headwinds to contend with on both the top and bottom lines. And the fact that it is growing so slowly makes me think the current multiple is even too high; KMX looks more like an 11 or 12 PE stock to me given all the headwinds to growth it has.
On the plus side, KMX has $1.4 billion remaining on its current share authorization, good for a whopping 14% of the current float. KMX repurchased just under a billion dollars' worth of shares last year so I suspect we'll see the majority of that authorization used up this year. That will help drive KMX towards its EPS goals but to be fair, that is really the only bright spot.
For these reasons, I'm still bearish on KMX despite the fact that it is trading near its 52-week low. While I wouldn't necessarily short it here, I certainly don't want to own it. There are far too many long term and very powerful headwinds to growth for KMX that it has little to no control over for me to want to be involved. There are better places for your money than a company that has such a steep hill to climb to growth; you can do better.
Disclosure: I/we have no positions in any stocks mentioned, and no plans to initiate any positions within the next 72 hours.
I wrote this article myself, and it expresses my own opinions. I am not receiving compensation for it (other than from Seeking Alpha). I have no business relationship with any company whose stock is mentioned in this article.