In December of 2015 I authored an article titled "Bed Bath & Beyond's Gross Profit Margins Come Home To Roost" that highlighted the continued issue with the home goods retailer. Bed Bath & Beyond's (NASDAQ:BBBY) gross margin contractions were in free fall and with no sign of a solution from the retailer in sight. To revisit just how badly and how long gross margins have been contracting please see the below chart and extrapolation from the article below:
| | | | | | | | |
| --- | --- | --- | --- | --- | --- | --- | --- |
| Margins | 2007 | 2008 | 2009 | 2010 | 2011 | 2012 | 2013 |
| Gross | 41.5% | 39.9% | 41.0% | 41.4% | 41.4% | 40.2% | 39.7% |
In 2015, the trend in gross profit performance has continued to worsen in the face of a modestly strong economy that is near maximum employment levels and with a good portion of the housing market recovery in the rear view window. To repeat, Bed Bath & Beyond's gross profits are less than where they were during the financial crisis. As it is typical for bull market cycles to run approximately 7-8 years, this could be viewed as another warning sign regarding timing an investment in shares of BBBY. Looking at the first half of FY15 gross profit margin results, it is safe to say that the sales issues persist for the retailer and likely impacted Q3 2015 results to the extent the company has issued worse-than-expected preliminary results. In Q1 2015, the company reported a gross profit contraction of 70bps, and in the Q2 2015 period, the company reported a 40bps gross profit contraction.
Prior to the retailer issuing its Q4 2015 results, Bed Bath & Beyond gross margins were near all-time low levels. Having said that, the share price was also exhibiting this concern from analysts, investors and would-be investors.
For the 4th quarter of fiscal 2015, the Company reported net earnings of $1.91 per diluted share compared with $1.80 per diluted share for the 4th quarter of fiscal 2014. Net earnings per diluted share for the fourth quarter of fiscal 2015 included approximately $.06 per diluted share of a net benefit for certain non-recurring items, including a favorable state audit settlement. If we eliminate the one-time item, the company would have earned $1.85 a share against the lowered full year guidance issued during the 3 rd quarter of $1.72-$1.86 a share. Net sales for the 4th quarter of fiscal 2015 were approximately $3.4 billion, an increase of approximately 2.4% from net sales of approximately $3.3 billion reported in the 4th quarter of fiscal 2014. Net sales on a constant currency basis increased by approximately 2.8% for the 4th quarter of fiscal 2015. Comparable sales in the 4th quarter of fiscal 2015 increased by approximately 1.7%, compared with an increase of approximately 3.7% in last year's fiscal 4th quarter. Comparable sales on a constant currency basis increased by 2.1% for the 4th quarter of fiscal 2015. Comparable sales from customer-facing digital channels grew in excess of 25% while comparable sales from stores were flat during the 4th quarter of fiscal 2015 and in-line with previously stated guidance for the quarter. And of course, gross margin for the 4th quarter was approximately 38.6%, down about 110 basis points from last year. The decrease was primarily due to a decrease in merchandise margin. Also contributing were increases in net direct to customer shipping expense and work downs. For the year, the gross margin deleverage was less than it was in 2014.
Unfortunately and in my opinion, the earnings results lack quality as the majority of the earnings beat is tied to the retailer stepping on the gas with regards to its share repurchase program. Stone Fox Capital positioned this understanding best in his article titled "Bed Bath & Beyond: Positive Vibes". Within the article the chart below explains the increase in share repurchases that occurred during the Q4 2015 period.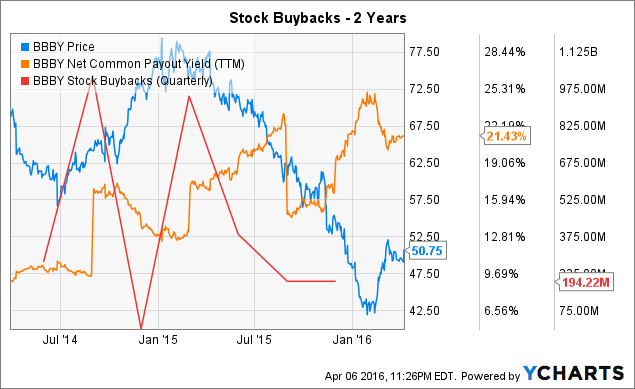 BBBY data by YCharts
During the fourth quarter of fiscal 2015, the Company repurchased approximately $327 million of its common stock, representing approximately 7.0 million shares. Based on the increased level of share repurchases that only managed to grow YOY earnings by roughly $.03 a share, I find the earnings growth quality to be poor and problematic long-term.
The reason I find the earnings growth quality to be problematic long-term is based on the continuation of operating profit deterioration. With SG&A cost rising another 20bps during the 4th quarter, management is not recognizing that for all the investments being implemented over the last 2-3 years, these investments are not providing the company with increased operating profits. In total, operating profits slid once again during the 4th quarter by 130bps to rest at only 14.6 percent. It's one thing to invest back into the company and operations, but to carry the cost of investment through debt and without exhibiting growth in operating profit is seemingly negligent on the part of management.
On the surface, sales growth during the 4th quarter of 2015 seemed favorable. Having said that, a closer look at where the growth came from indicates that the sentiment for earnings growth could be equally shared by sales growth. All of the company's sales growth came from two areas, new store openings and the digital sales channel, as physical store sales were flat year-over-year. In addition to the poor quality of sales growth, CEO Steven Temares' commentary on the retailer's FY15 performance is also concerning.
We are pleased to have completed another successful year," said Steven H. Temares, Chief Executive Officer and Member of the Board of Directors of Bed Bath & Beyond Inc. "Our fiscal 2015 financial performance reflects the benefit of the significant investments in our business, steady progress on our strategic initiatives, and the return of more than $1.1 billion to our shareholders through share repurchase.
While the company did manage to grow earnings and total net sales YOY, those results came at a steep cost to the company's gross profit and operating margins, on the back of increased debt load and with the share price deteriorating significantly. Over the last year, shares of BBBY are down more than 33%, but well off of the January 2016 lows. Based on the CEO's company performance sentiment, it would seem as though a poor stock performance in the face of deteriorating metric results is something the company has accepted.
Prior to Bed Bath & Beyond reporting its 4th quarter results I offered investors the following commentary in an article titled "Bed Bath & Beyond: Trading While The Malaise Persists".
I don't admire the task at hand for Bed Bath & Beyond or any brick and mortar retailer of scale. Most are undergoing some form of restructuring like Macy's (NYSE: M) and Kohl's (NYSE: KSS). Others are equally expressing gross margin pressures like Target (NYSE: TGT) and Wal-Mart (NYSE: WMT). To reiterate, I believe that having a long-term perspective when deciding to dedicate capital to BBBY is optimal for a variety of reasons. The company has exhibited a steady contraction of gross margins over the last several years and sales growth is very meager. The macro trends don't appear to be helping the retailer garner greater sales as proven in the quarterly results. Presently, I will remain on the sidelines when it comes to deploying capital in shares of BBBY. The stock has appreciated from recent low prices and I think shares can come down in price from the recent run for which to take advantage of longer-term.
Based on all the actions Bed Bath & Beyond has and is currently taking, and even with the newly commenced $.12 quarterly dividend, I believe shares of Bed Bath & Beyond will be pressured for some time to come. Regardless of how many shares the company repurchases, investors can clearly see beyond the financially engineered earnings growth. Gross margins for the retailer indicate that growing earnings and sales are coming with higher costs per unit sold. And for this, the company seemingly has had no answer for several years and doesn't seem to have an answer to combat the issue going forward. While a long-term perspective on the retailer remains optimal, I will still be on the sidelines unless shares become more egregiously depressed and exhibit even greater value.
Disclosure: I/we have no positions in any stocks mentioned, and no plans to initiate any positions within the next 72 hours.
I wrote this article myself, and it expresses my own opinions. I am not receiving compensation for it (other than from Seeking Alpha). I have no business relationship with any company whose stock is mentioned in this article.