Bloomberg reports NXP Semi (NASDAQ:NXPI) is looking to sell its Standard Products division, which provides analog/power management chips for many end-markets. It adds Chinese suitors such as JAC Capital, which last year bought NXP's RF power amplifier business for $1.8B - the deal was needed to appease regulators worried about NXP and acquisition target Freescale's combined amplifier share - are interested, and that NXP could seek at least $2B.
Bloomberg understandably cautions U.S. regulators have shot down many attempted tech acquisitions by Chinese firms. However, NXP's Standard Products unit is in a deeply competitive market with plenty of alternate suppliers for most chips. It's also a market that has been consolidating - one rival (International Rectifier) was sold in 2014 to Infineon, while another (Fairchild) is in the process of selling to peer ON Semi (NASDAQ:ON). Even if regulators block a Chinese purchase of Standard Products, NXP should have other options.
Standard Products' revenue fell 3% in 2015 to $1.24B. The business also had a 2015 non-GAAP gross margin of just 35.3%, well below NXP's company-wide GM of 49.2%. NXP has already moved the unit's bipolar power management chip ops to a JV formed with China's WeEn Semi; it went into effect in November. Selling Standard Products will help lower a debt load that - thanks to both the Freescale deal and NXP's P/E past - totaled $9.2B at the end of 2015.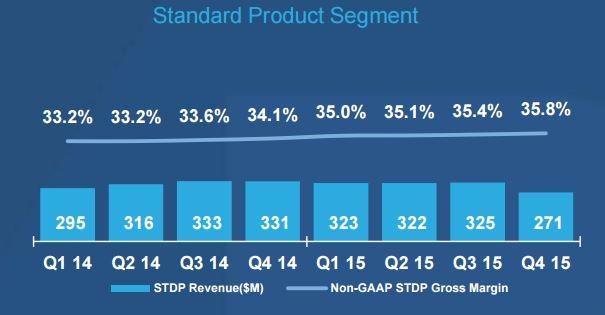 Source: NXP's Q4 earnings slides.
NXP's key end-markets
Looking at the markets NXP wants to target going forward, automotive clearly looms large. The amount of chip content going into the average car has been steadily rising, thanks to a wide range of technologies including in-car entertainment systems, in-car networking systems, driver-assistance/autonomous driving systems, and EV/hybrid car growth. NXP is easily the largest player in automotive microcontrollers following the Freescale deal, and is also present in other fields such as vision processors and radar ICs for driver-assistance systems.

Source: NXP's 2014 analyst day.
Secure transactions are also a priority - in addition to having a large NFC chip business (has mobile design wins with Apple, Samsung, and many others), NXP is a top provider of microcontrollers for EMV (chip-and-PIN) payment cards, mass transit smart cards, and electronic ID cards/documents. ASPs for this business are typically low, but volumes are enormous and growing at a healthy clip.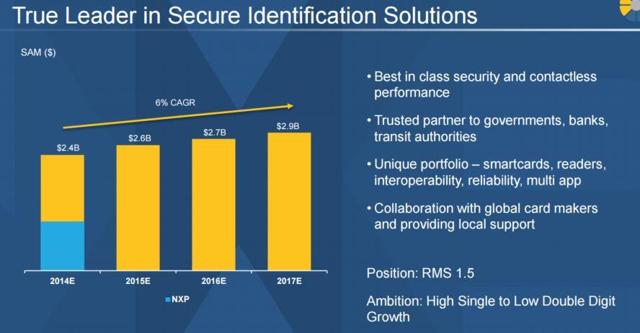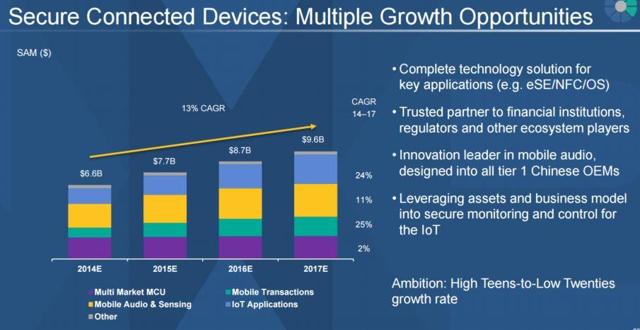 Both automotive and secure transactions tie into a broader IoT market - that is, a market for intelligent, embedded, connected devices - expected to see tremendous growth as cheap processors and digital radios find their way into billions of shipped products. NXP, of course, is far from the only company going after this opportunity - microcontroller rivals such as Texas Instruments (NYSE:TXN) and Microchip (NASDAQ:MCHP)/Atmel (NASDAQ:ATML) also want a piece, as does Intel (NASDAQ:INTC). But the market should be large enough for a slew of firms to fare well.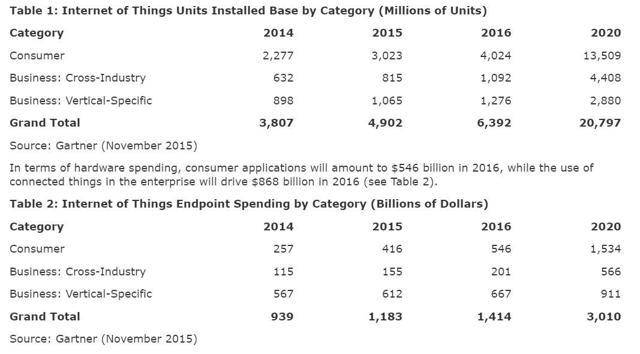 Networking is an overlooked but important part of NXP's strategic focus going forward. Freescale is a top player in the base station RF amplifier market, which (though unlikely to see huge growth) should benefit from small cell base station adoption. It's also a major player (along with Broadcom (NASDAQ:AVGO), Intel, and Cavium (NASDAQ:CAVM)) in the market for merchant network processors (NPUs), and that market should benefit from the adoption of software-defined networking ("SDN"), which makes it easier to replace switches running on proprietary ASICs with commodity gear running on off-the-shelf chips.
Parallels with Broadcom/Avago
There are some similarities between NXP's product and M&A strategy and that of Broadcom, the product of the Avago/Broadcom merger and a string of prior Avago acquisitions. Both companies took on a sizable amount of debt to acquire fellow chipmakers, with the goals of reaping cost synergies, increasing bargaining power with suppliers and customers, and growing the product lines they offer for key end-markets. And after closing the acquisitions, each is looking to unload non-core chip businesses to narrow its focus and lower its debt load.
There's always a risk that so much wheeling and dealing will distract management and hurt the company's performance within core businesses. But NXP and Broadcom/Avago's track records provide enough reasons to trust management to execute.
Disclosure: I/we have no positions in any stocks mentioned, and no plans to initiate any positions within the next 72 hours.
I wrote this article myself, and it expresses my own opinions. I am not receiving compensation for it. I have no business relationship with any company whose stock is mentioned in this article.