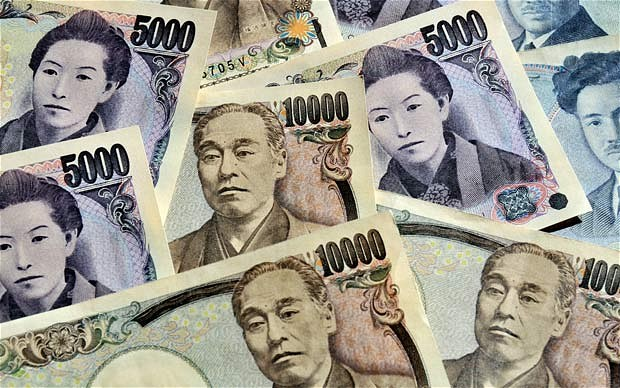 Another day, another dollar… weakening against the Japanese yen (NYSEARCA:FXY). It has become an incredibly familiar story. The yen is quite literally out of control and there seems to be nothing the Bank of Japan can do to tame it.
This week when Japanese officials issued a warning on the yen's one-sided moves and hinted at possible intervention, the yen climbed to its highest level versus the U.S. dollar since late in 2014. In our opinion, the moves are almost suspicious. It is as though traders are attempting to incite intervention.
But ultimately, many economists point to negative interest rates as being the catalyst for the mess the Bank of Japan is in. Of course, Janet Yellen delaying interest rate hikes is another key reason for the chaos. The world's largest economy, whether it likes it or not, shapes the monetary policies of many nations worldwide. When they gamble on their own respective policies by factoring in predicted Federal Reserve moves there is a danger that things could go wrong very quickly if things do not go according to plan.
Something clearly needs to be done and, as we have said many times before, it needs to be done fast.
The one-sided move.
As you may have noticed in the title, we used the term "one-sided" within it. There was an interesting reason for this. Courtesy of the Financial Times, the below graphic explains the key relevance of the words one-sided when it comes to Japanese intervention.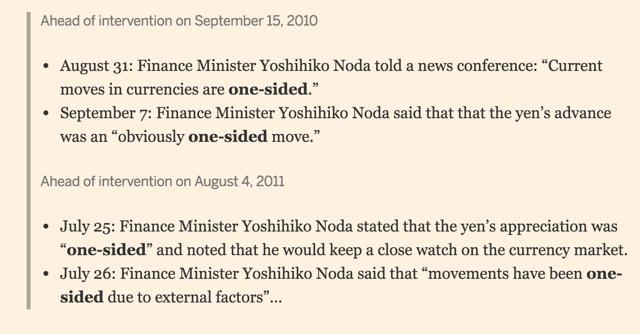 Sourced from the Financial Times
As BNY Mellon's Simon Derrick points out, the term one-sided has been a key indicator of the Ministry of Finance's readiness to authorize any further intervention from the Bank of Japan. Just this week the term one-sided has cropped up twice.
The first came from Chief Cabinet Secretary Yoshihide Suga at a news conference. Suga, who is known to be supportive of aggressive measures to counter deflation, described moves by the yen as being one-sided. Chief Cabinet Secretary Yoshihide Suga informed a news conference that "Excessive volatility and disorderly currency moves would have a bad impact." Suga then described recent yen moves as "one-sided".
The second occurrence was the one mentioned at the beginning of the article. Reuters reported that Minister Taro Aso warned that rapid currency moves were both undesirable and one-sided.
We speculated last week that the Bank of Japan will be on the verge of qualitative and quantitative easing number three (QQE3). In our eyes this solidifies our view and we expect it is inevitable now that intervention is coming very soon. Governor Kuroda will have his chance to speak next week at his Bank of Japan speech. We expect this will be a big day for the yen, where Kuroda may start to put a lot of pressure on the out of control currency.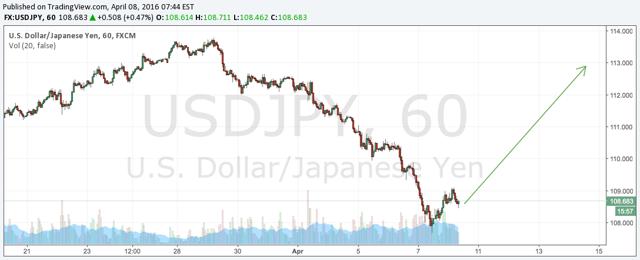 Sourced from DailyFX
What should we do now?
The rhetoric from Japanese officials does seem to have had an effect on the yen. The U.S. dollar has rallied from those lows, as you can see above. We have a short-term target for the U.S. dollar to climb 4 percent to 113.000. But in the long-term we expect it will go as high as 124.000. This would be a return of 14 percent from the current trading price.
For it to get there, though, the Bank of Japan will have to work wonders with its monetary policy and make the Japanese yen an unattractive safe haven. The very opposite will have to be done for the U.S. dollar, which means interest rates will need to start rising. Until they do it is very unlikely the dollar will climb to that level.
Another option is going long with Japanese stocks. If QQE3 does get introduced, then the Nikkei 225 will almost certainly rally strongly. We believe that going long with Japanese stocks through the SPDR Russell/Nomura PRIME Japan ETF (NYSEARCA:JPP) is a good move. We have a target of $47.00 on the ETF in the next twelve months, which will provide traders with a fantastic return of around 12 percent.
Once again, best of luck with your trades!
Disclosure: I/we have no positions in any stocks mentioned, and no plans to initiate any positions within the next 72 hours.
I wrote this article myself, and it expresses my own opinions. I am not receiving compensation for it (other than from Seeking Alpha). I have no business relationship with any company whose stock is mentioned in this article.
Additional disclosure: We are short the JPY vs USD via futures contracts