With sustained weakness in potash prices, as is the case for many commodities, I am looking to see how efficient Potash Corporation (POT) is in its cost management, especially relative to competitors. The projected outlook this year for potash prices is that they will continue to be under pressure due to lower corn prices as farmable acreage continues to rise, making cost management vital in being able to generate stability in earnings. Furthermore, as I'll explain, Potash is in jeopardy of missing on quarterly earnings reports on the bottom line based upon their margin development last year.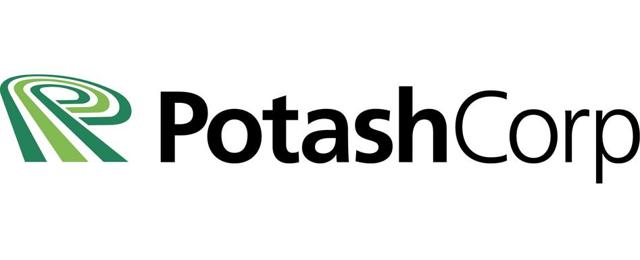 Source
Income Statement
Back in November, CEO Jochen Tilk stated that the direction of the company in a low-priced fertilizer environment would be to cut costs, but not to lay off employees. Thus, we really weren't to expect a decline in SG&A. Unfortunately, SG&A reported in Q4 2015 increased some $15 million from Q3, and was slightly higher than the Q1 and Q2 amounts. Instead, we saw the greatest decrease on the year in the line item "Other Operating Expenses," which proved to be of the most help. Take a look at some of the initial income statement line items in 2015:

Source: Bloomberg
The gross margin ended up shrinking 28.8% from Q1 to Q4. If the gross margin in 2016 shrank at the same pace as it did in 2015, Potash Corporation would be looking at a gross margin of roughly 20.03%. This is certainly possible if potash prices see sustained weakness, but even irrespective of prices, this is an efficiency problem, not necessarily a macro problem. COGS remained relatively high as a percentage of sales in 2015, despite falling revenue due to lower fertilizer prices. A COGS reduction is necessary, moving forward, in order to see a more useful gross margin.
Now, the company has taken appropriate steps to manage costs, like when they curbed production at two Canadian mines earlier this year. This should slightly reduce other operating expenses and COGS, but it'll also have an adverse top line effect on the upcoming Q1 report. I'm already projecting revenue to be weaker because of this curtailment and lower average fertilizer, both ammonia and urea, in Q1, so this really stands to hurt their equity.
Now, let's flip below to the line items. For Potash, the following has been reported: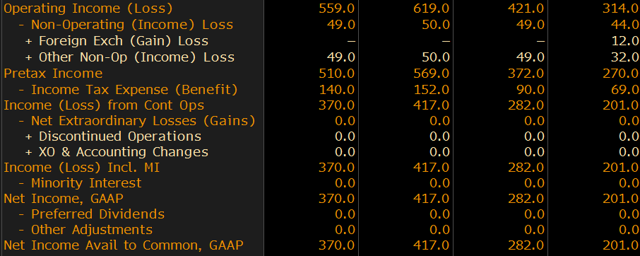 Source: Bloomberg
Initially, you'll notice declines in the full year in operating income, pretax income, and net income due to a combination of inefficiencies and macro factors. The tax rate actually declined from 27.2% to 25.5% as the year went on, and for forward-looking projections, I'd rather be conservative and use 27.2%. However, both of these are beside the point. The fact remains that Potash, despite being the largest player in the industry, has severe inefficiencies in its margins, which I will discuss in the next section.
Comparing Potash to Competitors
Below are the individual quarterly margins for Potash against its comparable universe. In the establishment of its comps, we look at Potash Corporation relative to Agrium (AGU), Intrepid Potash (NYSE:IPI), and Mosaic (NYSE:MOS).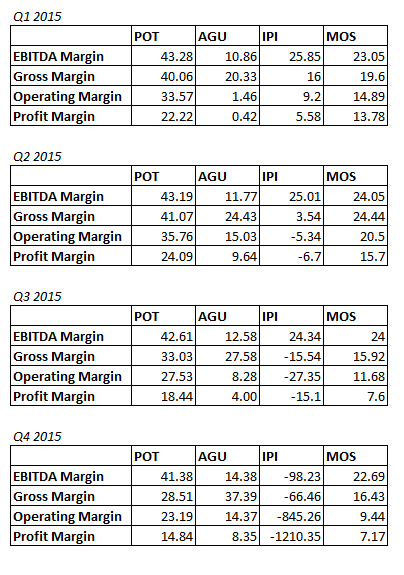 Source: Author
After compiling these margins, a few interesting things came to light. First, Intrepid Potash as a comp is very much an anomaly given that its margins in Q4 2015 are so different compared to everyone else (this can also be seen in the company's equity performance relative to the other three companies). Intrepid's margins begin the year positive, and then fall sharply negative. While this makes Potash Corporation look incredibly strong, as Potash's margins did not fall negative, the company still has its own problems.
All of Potash Corporation's margins decreased from Q1 2015 to the end of Q4 2015. Potash Corporation's declining margins is the largest standout. Given that Potash Corporation is the largest fertilizer producer by volume, the company should be a bellwether for the industry and know how to manage costs effectively in a low priced environment. Instead, it's inhibiting equity growth for shareholders by being inefficient, especially relative to smaller competitors. Furthermore, shareholders have no reason to believe that margins will improve in 2016, as this decline is the track record.
Potash Corporation's margins were expected to decline in 2016, but not to this magnitude. While that scenario directly relates to fertilizer prices, in that these prices fell lower than most expected, it's not an excuse to have the margins lag. Cost cutting, in good times and bad, should be a necessary entity in creating a more seamless and efficient business to create the max potential value for shareholders.
Mosaic saw its profit margin cut by nearly half from Q1 2015 to Q4 2015, which really shows the extent to which the lack of pricing strength has an effect. The only margin for Mosaic that showed slight resilience was the EBITDA margin. If we look at the path of Agrium, however, they actually increased all of their margins in the year, which is an exceptional development. It makes sense, as well - on an equity performance basis, AGU has actually outperformed POT by a few percentage points. Thus, it's a logical conclusion that the same series could occur in 2016, provided management for both of these companies continue making the same decisions.
The Need For Margin Improvement In 2016
If potash prices were to not move from now until the end of 2016, Potash Corporation would need to find serious discipline in its cost structure in order to be able to produce a heftier bottom line. The decline in net income from 22% to 14%, a change of 33%, would cause another 4.9 percentage points to be knocked off from the bottom line. At that point, net income would stand to jeopardize operating cash flow levels, and more importantly, the dividend, which sits at a current yield of 6.14%. Furthermore, it'd jeopardize the payout ratio on the dividend if the net income margin continues to decline.
In 2016, I believe a reduction in SG&A is going to need to see a cut. Potash Corporation needs to prop up all of its margins, not just operating, without having to continue to curtail production and adversely affect the top line.
I expect Potash Corporation on this Q1 report to show significantly lower revenues, given the dip in potash prices in Q1, and given the severity of the decline in their margins, the company can't afford a carryover. That's when we start having to talk about further dividend cuts and a lack of backlog actualization. Furthermore, after Potash Corporation cut the dividend in January, CEO Tilk explained that his medium-term strategy was to focus on acquisitions and stock buybacks. A lack of margin discipline inhibits both of these from happening on both a synergy front and a liquidity front. They will not be able to afford significant future acquisitions, like K+S to increase geographic exposure and quality assets.
Additionally, with their margin decreases in 2015, it's now reasonable to expect, in my opinion, that the company will miss on the bottom line again. This comes from their EPS downgrade a few months ago and in Q4, the company missed EPS by $0.07, which directly reflected the margin challenges they were facing.
Conclusion
The company is set to report earnings on April 28, for which we will see how these margins change. The company needs its margins to improve in order to be able to protect its bottom line and protect its dividend, as well as remain attractive as an equity against competitors. The failure to do so, which I'll be gauging by the data released in the 1H reports, would likely spell inefficiency and a pair trade to sell POT and buy a competitor, notably AGU. The company needs greater margin discipline and a strategy shift towards that would be a positive step towards greater earnings in this low-priced fertilizer environment.
Disclosure: I/we have no positions in any stocks mentioned, but may initiate a short position in POT over the next 72 hours.
I wrote this article myself, and it expresses my own opinions. I am not receiving compensation for it (other than from Seeking Alpha). I have no business relationship with any company whose stock is mentioned in this article.