Arena (NASDAQ:ARNA) investors that have not already expressed frustration with the sales levels of Belviq are probably going to join the bandwagon sooner rather than later. The anti-obesity drug Belviq is simply not selling well in the United Sates, and prospects for sales for the remainder of the year are pretty much dismal at best.
This past quarter Belviq sales came in at just 122,000 scripts for an average of just under 9,400 scripts per week. Last weeks sales of about 9,200 are on the wrong side of that average. The last time sales were lower than this was almost 2 years ago in Q2 when the tally was 111,000.
A common theme is blaming marketing partner Eisai (OTCPK:ESALY) and its efforts, but the underlying issues in this sector are what are the root cause of slumping sales:
Insurance companies have not embraced weight loss medications
Doctors are reluctant to script the drugs
None of the currently available drugs is effective enough to drive consumers to the table.
The narrative from both Arena and Eisai do not help the situation. They seem to feel that getting heart safety data will be a catalyst. The problem here is that this data is still years away, and the heart safety aspect of the drug is not, in my opinion, the major issue. The major issue is that on any of the branded anti-obesity drugs weight loss peaks after 3 to 4 months. Patients simply do not get to their desired weight, stop losing weight, and then stop taking the pills and filling scripts. The "flat-line" is not in peoples hearts, but rather in the sales levels of this drug.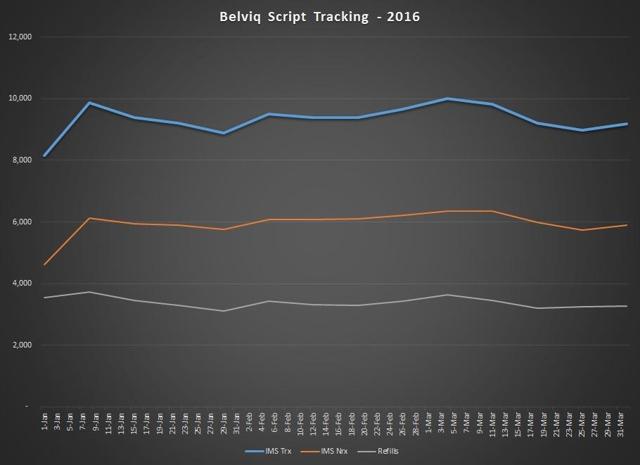 Chart Source - Spencer Osborne
On a quarter over quarter basis there are no words to describe the situation other than ugly. The fourth quarter in weight loss drugs is typically the worst performing quarter of the year. Q4 includes 2 major holidays and peoples minds simply are not programmed to worrying about weight or scheduling doctors appointments. In contrast, Q1 is the beginning of weight loss season and we typically see sales ramp up. Q1 of 2016 sales were lower than Q4 of 2015. Simply stated, that is BAD!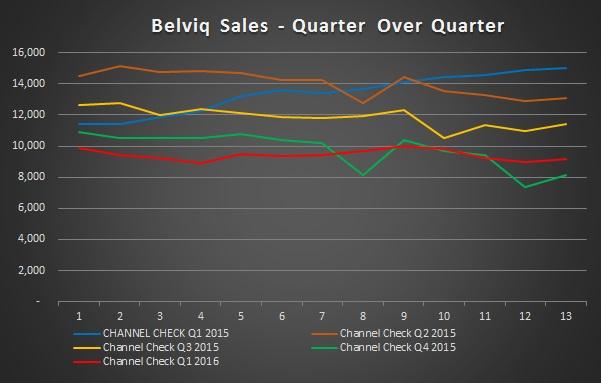 Chart Source - Spencer Osborne
On a year over year basis things are even worse. Q1 of 2015 saw script sales at 173,000. Q1 of 2016 saw a drop of over 50,000 scripts. That represents a drop in sales of almost 30%. There is now sugar or sweetener that is going to make that sour taste disappear. There will be passionate investors that will see and extended release version of Belviq (Belviq XR) as a savior. Belviq XR will not cure the underlying issues relating to poor sales. It may help in a small way because it forces patients to be more compliant with taking the pills, but I assure you that Belviq XR will not even come close to getting sales on the right track. The year over year chart below clearly demonstrates that sales are simply trending quite poorly.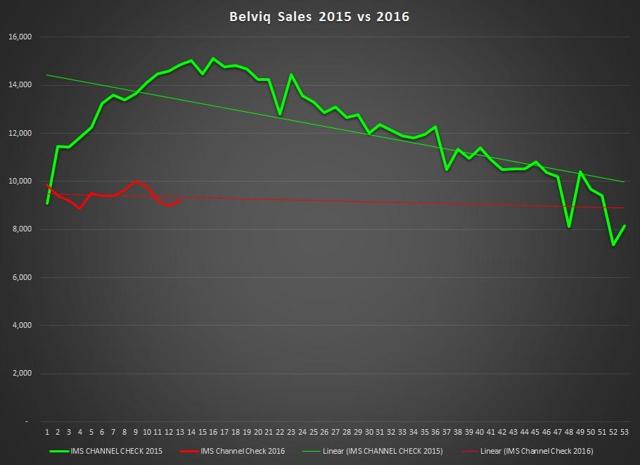 Chart Source - Spencer Osborne
In looking at market share among branded anti-obesity pills we see Belviq sitting at just 27.66% of the market. This is better than last week when the share was in the 26% range, but is far from ideal when the market in the space is essentially running very flat and is much smaller than desired. The market share trend line for Belviq is headed down.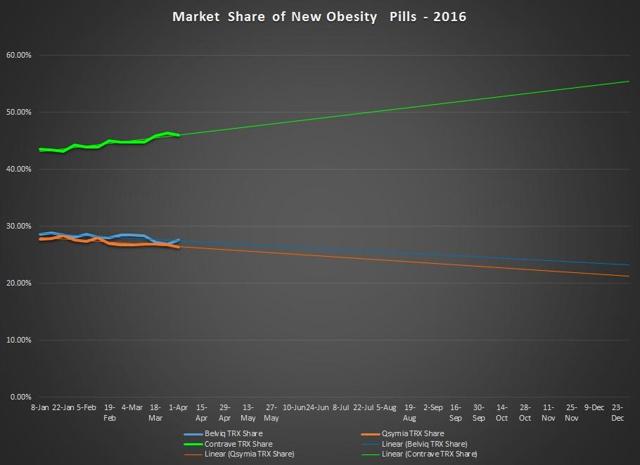 Chart Source - Spencer Osborne
The overall branded anti-obesity market includes an injection treatment called Saxenda. Saxenda is actually making a few waves in the space and now has captured about 8% of the overall branded market. The market share trendline for Saxenda and competitor Contrave are both headed up, while Belviq and Qsymia are both headed down.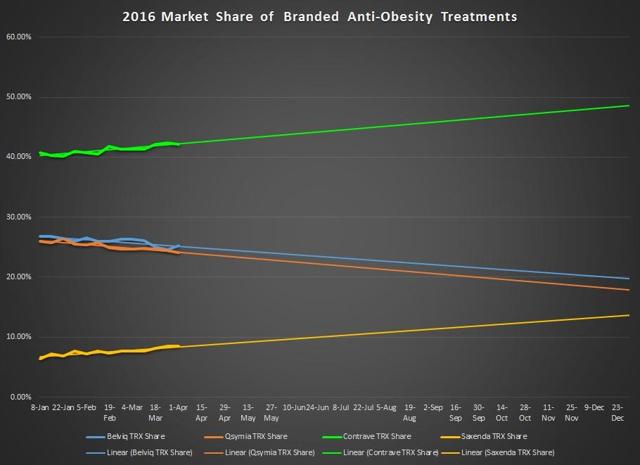 Chart Source - Spencer Osborne
The underlying issue is that the sector as a whole is simply not growing. In fact, over the past few weeks, we have seen sector sales trend down below the levels of last year. The issues here are not unique to Belviq, but a systemic issue within the entire weight loss space.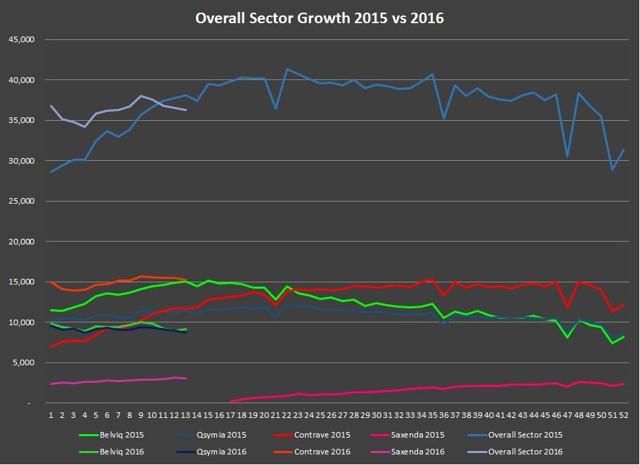 Chart Source - Spencer Osborne
In simple terms the Arena story is not Belviq, but rather the pipeline. Those that invested in this equity for Belviq need to stop and assess the weight loss space and determine if they want to stay in the equity for the pipeline instead. Placing faith in Belviq XR or the CVOT trial data that will be out a few years from now is taking a bigger risk than necessary in my opinion. The commitment of Eisai needs to be a question mark in the minds of investors as well. Eisai is losing money each quarter on Belviq, and the length of time that a company can sustain losses usually has limits. Under the current terms, at least Arena is able to keep the costs associated with Belviq under control and actually does garner some revenue.
It is my opinion that the negative sales trend will continue and quarter over quarter comparisons will get worse. Approvals in other countries may seem like positives, but the reality is that sales of this drug are falling well short of what is needed. Stay Tuned!
Disclosure: I am/we are long ARNA.
I wrote this article myself, and it expresses my own opinions. I am not receiving compensation for it (other than from Seeking Alpha). I have no business relationship with any company whose stock is mentioned in this article.
Editor's Note: This article discusses one or more securities that do not trade on a major U.S. exchange. Please be aware of the risks associated with these stocks.