When Lenovo (OTCPK:LNVGY) announced its plan to acquire IBM's x86 server business on January 24, 2014, and subsequently Motorola Mobility on
January 30, 2014, the stock price dropped 23% from HKD 10.425 per share to HKD 8 per share in two days. Since then, the share price climbed to HKD 12 per share in September 2014 and peaked at HKD 13 per share in the heyday of the Chinese stock market bubble (May 2015), until the bubble burst and the ensuing global sell-off brought the share price to where it is now, at HKD 5.75 per share. Lenovo is currently trading at 12x (trailing) P/E and 2.8x P/B, which are below the 5-year averages of 16x and 3.6x respectively.
Lenovo operates in technology hardware, an industry that a considerable number of investors (including myself) view as unattractive due to the overall positioning of such companies in the low ranks of the industry value chain. This negative positioning is reflected in their characteristically low ROIC levels relative to software peers who occupy the higher ranks of the value chain. Moreover, the competitive advantage of hardware companies often revolves around cost efficiency instead of pricing power, and the former is much less sustainable than the latter.
Although Lenovo cannot fully escape the shortcomings of its industry, one of the company's strengths is management's M&A competence. In fact, Lenovo owes its identity and success today to M&A - the hallmark acquisition of IBM's PC business in 2005. Given its characteristically short memory span, public markets are pricing in everything except management's solid execution on the integration and turnaround progress of acquired businesses. The low sign of confidence is similar to the general reaction in 2005 towards the IBM PC acquisition.
Lenovo: Savvy M&A Investors with Outstanding Business Acumen
First and foremost, Lenovo always stays within its circle of competence when identifying acquisition targets. What is Lenovo's "circle of competence"? Any type of hardware business remotely related to PCs or general consumer electronics, especially those that require companies to compete on razor thin margins. A look at Lenovo's three largest acquisitions certainly confirms this principle.
Out of all the deals Lenovo has done, three have received considerable media attention: IBM's PC business (including Think) in 2005, Motorola Mobility in January 2014, and IBM's System X (servers) in October 2014.
The common characteristics of Lenovo's major acquisition targets are:
1) Companies or business segments that are loss making or suffering from low profitability levels. IBM's PC business and Motorola Mobility are a prime example. Both businesses suffer from ailing profitability despite their established and recognizable brand name, because the golden years for both companies are far behind them and they are currently being overtaken by industry newcomers.
2) Business lines whose P&L situation can be rectified by ramping up scale or streamlining costs, the latter of which is an exceptionally strong competency of Lenovo.
Both criteria, in fact, are natural extensions of the characteristics of the hardware industry because of commoditization 1) often means that failure to be the top three of four players in the industry leads to loss-making operations, and 2) means that players are more reliant on cost advantage (commoditized products give minimal pricing power) and the player who is best at achieving cost efficiencies win.
Why they acquire such businesses is related to how they turn these businesses around:
1) Volume and scale - M&A calls for both the Motorola and x86 servers acquisition, when asked how they intended to turn around the businesses, management cited the same two items of "driving top line growth" and "achieving cost efficiencies". This is synonymous to volume and scale.
2) Channels - The Motorola acquisition equips Lenovo with distribution in mature markets (especially North and South America, and Western Europe where Motorola is strong). Coupled with Lenovo's existing strong channel relationships in emerging markets, the acquisition completes Lenovo's desired global distribution network. This essentially facilitates the volume and scale argument above. Obviously, any overlapping channels can be restructured to eliminate redundancies.
How much Lenovo paid for its main acquisitions: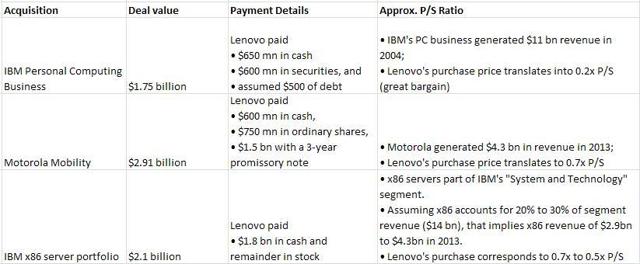 Source: Company Data
Execution in terms of integration/report card
Lenovo has largely delivered on execution of the integration of Motorola and the x86 servers. In their 3Q FY'16 earnings call, management pointed out that the mobile business reached operational breakeven if non-cash M&A accounting charges were excluded. The enterprise business (which is the servers segment) has been at operational breakeven before non-cash M&A accounting charges for 5 consecutive quarters. Overall, losses are narrowing and blended pretax profit margin (including non-cash M&A charges) swung back to positive territory in 3Q FY'16.
Source: Company Data, Credit Suisse Data
Conclusion
The reason why I am cautiously optimistic on Lenovo's ability to turn around both business lines is 1) the company's long history of competing effectively in the hardware industry characterized by razor-thin margins and fierce competition - if Lenovo cannot turn Motorola from a loss to a profit, then it is unlikely that anyone else can. 2) It is by far a lot easier to improve margins (on all levels) from 1% to 2% than it is from 10% to 20%. The task facing Lenovo is obviously the former. 3) Management's (underappreciated) capability as M&A investors. In fact, Lenovo is one of very few Chinese companies that successfully and appropriately use M&A to supplement organic growth and create shareholder value.
Although a prolonged adverse industry environment for PCs and smartphones can admittedly weigh on overall revenue growth, earnings can still continue to improve simply by virtue of successful transformation of acquired businesses.
*Image Source: Lenovo
Disclosure: I/we have no positions in any stocks mentioned, and no plans to initiate any positions within the next 72 hours.
I wrote this article myself, and it expresses my own opinions. I am not receiving compensation for it (other than from Seeking Alpha). I have no business relationship with any company whose stock is mentioned in this article.
Editor's Note: This article discusses one or more securities that do not trade on a major U.S. exchange. Please be aware of the risks associated with these stocks.