The Stock Market is designed to transfer money from the "Active" to the "Patient". - Warren Buffett
With the S&P near all time highs, my approach to the market now will be a patient one, as I attempt to navigate what I believe could be a large trading range. As demonstrated last week, the case was made that the S&P 500 has been "range bound," between 1800 and 2130, since March 2014.
This trading range "theory" has become quite popular among analysts. The contrarian in me makes me wonder if I am setting myself up in a pattern that won't materialize. The old axiom I follow says when everyone is thinking the same thing, there isn't much thinking going on.
The lower end of the range may have already been established with the February lows. Unless there is some sort of "global shock" in our future, I don't envision a complete breakdown into a full blown bear market.
However, depending on your individual outlook on the markets, the potential upside is very much a question mark. The skeptics see a "rounding top" pattern in the charts. They believe that there is no upside left. That relates to little reason to be invested, or to be aggressively positioned "short" at these levels. Using the same chart, the Bulls see a long base building period, with the possibility for a potential push to new highs.
I find it totally amazing how the analysts and market pundits who DIDN'T see the bottoming pattern in February, when they called for new lows, are now calling for a major "top". Hmm, should we believe and follow them now?
This recent rally has left the markets overbought in the short term, but they can correct that by going sideways or having just a marginal pullback. That may already be occurring. It is the period that follows where the picture becomes less clear.
In times of little clarity I find it best to consult my contrarian side. The consensus view is that the "real risk" for the S&P is to the downside. It is hard to find more than two people calling for new highs. So in that regard the next big move "may" surprise us all and be in the opposite direction.
If one believes that this is indeed a secular bull market, I will suggest that most of the surprises do come on the upside. The latest "surprise" came in February. As just about everyone that called for lower lows at S&P 1800, were indeed surprised by the subsequent 260 point upward move by the S&P.
Some of the reasons for a possible upside spurt are very simple, starting with the idea that no one is expecting it. For sure, the majority is preaching that there are little or no catalysts for such a move. Sentiment numbers reflect caution and outright bearishness, while money manager and investor "positioning" confirms that.
So, if by some strange course of events we do get positive catalysts, the fuel is there to be ignited. Once started, emotion takes over, and instead of "fear", the tables could be turned to "greed".
Ok, enough of that, as I may be getting way ahead of myself with these projections. It's always better to stay grounded, first things first. Let's review what "could" develop to cause investors to be "surprised".
Earnings improvement will be needed to get things started, therein lies a catalyst. What is needed to get that catalyst going is what has been discussed ad nauseum here and everywhere else. WTI and the USD need to continue in the "right" direction. Lower USD and higher, or at least stable, WTI.
Commodity prices and the U.S. dollar have been almost perfectly inversely correlated during the last 15 years. Since the beginning of 2011, the dollar has either trended sideways or strengthened while commodity prices have either been flat or weak.
If, as we have seen recently, commodity prices do begin to rise for the first time since early 2011, the U.S. dollar may similarly go into a period of protracted weakness. Strength in commodities (WTI), and a weaker USD would represent a new and unexpected trend for most investors. A "curve ball" many cannot envision taking place.
Another key to add to the mix of "surprises" will be for the market to continue to broaden out as we have seen with the rally off of the lows. Perhaps new leadership in different sectors will emerge. Lately this market's leadership has been dominated by a few select investment themes. The dividend aristocrats, consumer stock sectors over producer sectors, large capitalization stocks, and U.S. based as opposed to international stocks. Should commodity prices begin to trend higher, many of the most popular investment themes could be turned upside down during the balance of this recovery.
While some will view what I just wrote as "pie in the sky" and "wishful thinking", the message here is a simple one, keep an open mind. The arguments presented that contradict the approach that I have taken, seem to have one thing in common. The data is parsed to only look at what they want to see or hear. That was proven recently at the market lows, when every positive that was rolled out to show all sides of the equation were completely dismissed. Hence the calls for lower lows.
In the "earnings" section of this article, I'll add in the headwinds to earnings even if the USD continues to fall. An attempt to look at all variables to demonstrate how everything isn't rosy on the earnings front. Indeed, investors do face a difficult environment going forward.
I will close this segment by reminding everyone of the dovish comments from Ms. Yellen regarding interest rates. It may have been what investors need to see the total picture in a different light. Perhaps that will also assist to keep the positive trend in place until we get a good view of the earnings landscape.
However, if that positive view doesn't materialize, a "trading range" isn't the worst thing for investors. Right now it is more about exercising "patience" with a "wait and see" attitude.
Economy
An update on the latest Atlanta Fed's GDPNow model that I posted last week. Their forecast for real GDP growth (seasonally adjusted annual rate) in the first quarter of 2016 is 0.4 percent on April 5, down from 0.7 percent on April 1st.
Recent data has shown that the current housing market is badly constrained by a complete lack of inventory. Existing home sales have basically recovered to levels that prevailed in the early 2000s, and they're doing so with very little inventory. The most recent figures show homes available for sale meeting less demand than any month other than the peak of the boom in 2005. This isn't leading to higher existing home sales because existing home sales are dramatically higher than new starts (incremental supply). Presently, there are 6 existing homes sold for every 1 started. Historically, that is still very elevated.
Tight supply is less obvious in the new home market. What is obvious is that turnover is very fast, (i.e. very low time on market) and prices are very high on an absolute dollar basis. While the number of new homes sold every year is still barely one third of the 2000s peak, price is now 15% higher for the median home. Recently the median time on market for new homes registered an all time low, and while it bounced in the shoulder season of the calendar, that figure is expected to remain well below historical averages given tight supply.
This past weeks report on Factory Orders (which is the Final version of the Advance Manufacturers' Shipments, Orders, and Inventories report, aka 'Durable Goods') was broadly disappointing, as most categories decelerated sequentially following a very strong January.
Looking into the details, I do think there are some interesting trends at work in Manufacturing. Revisions to the report did not knock out the constructive readings we saw from the advance in terms of 3 month year over year rate of change for "core" durables. It is also notable, that nominal year over year New Orders are now up versus the same period a year ago on a seasonally adjusted basis.
The U.S. manufacturing sector has been the poster child for those promoting their view on an upcoming recession. However, as this chart indicates, the U.S. has experienced these mid cycle slowdowns before.

Rather than signaling a recession, I view recent months in the U.S. economy as reflecting another mid cycle slowdown. A slow down primarily caused by the collapse in energy prices, the slowing of growth in China and the strength of the USD.
While manufacturing has contracted, the bulk of the U.S. economy continues to expand. Auto's and housing remain robust, retail sales held firm, and the labor picture looks fine.
The data may now begin to show that we are in the process of finishing this mid cycle slowdown while in the latter stages of an economic expansion.
After last week's report that showed stronger than expected growth in the manufacturing sector, the latest ISM report in the services sector also showed better than expected growth. While economists were expecting the ISM Non-Manufacturing survey to come in at a level of 54.2, the actual reading came in at 54.5.
Details of that report showed strong breadth in March, as the only category that showed a month over month decline was Imports.
Markit U.S. Services PMI was reported at 51.3 in March, up from 50 and above estimates looking for a 51.2 print.
Chris Williamson, Chief Economist at Markit:
"Demand is growing at the slowest rate since late 2009 and, with business optimism also sliding to its weakest since the recession, firms clearly expect worse to come. Firms are worried about a potential weakening of demand both at home and abroad in the face of various headwinds. As such, the data support the cautious approach to policy tightening currently advocated by Fed Chair Janet Yellen."
After a disappointing reading last month, the Job Openings and Labor Turnover Survey (JOLTS) from the Bureau of Labor Statistics was somewhat improved in February. Headline job openings were down slightly but remained in their recent range while the separations rate (which includes all possible reasons for leaving a job including layoffs, firings, quits, retirements, and other forms of departure) was sideways month over month.
The more encouraging dynamic in the report was a modest recovery in "quits". After falling off recovery highs in January, February data showed sequential improvement and quits are higher than they were during almost all of 2015 for both the private sector and total labor force.
Global Economy
Adding to market weakness earlier this past week was the Markit Economics report that Eurozone growth remains anemic.
Chris Williamson, chief economist at Markit in London:
The euro-zone economy failed to show any significant gain in momentum. "Sluggish growth is the result of lackluster demand, accompanied by falling prices as firms compete at the expense of profit margins."
Services PMI data from China surprised to the upside, with Chinese Services businesses reporting an uptick in general market conditions allowing new order growth.
He Fan, chief economist at Caixin:
"Overall, the services sector developed well, but the economy is riding choppy waves, indicating the lack of a solid foundation for a recovery,"
The Fed
The bottom line on the Fed minutes that were released this past week: they were dovish, and they were further confirmation of the intentional shift in stance since February for the committee. In my view, that is constructive for risk assets (equities and credit), suggests a steeper Treasury curve, should keep implied volatility low, and is bearish for the USD.
While equities remain in need of a pullback, lower stock prices here would be an example of fighting the Fed. A committee that's signaling in the March minutes that they will not hike in April (and may not hike in June!) is one that in my view, is explicitly giving the green light to stock markets.
Let's' see what the investment community does with it.
Earnings
The earnings story is challenging going forward. Jim Paulsen of Wells Capital Management notes:
"If economic growth remains sub par, and sales trends anemic since profit margins cannot improve much further, overall earnings growth will also remain disappointing."

"Alternatively, should economic growth quicken and improve top line sales results, labor cost will rise even faster causing profit margin erosion mostly offsetting better sales. Either way, earnings growth, which until last year had been solid in this recovery, is likely to be far less robust going forward."
Here is one issue that has been a real drag on the earnings picture lately.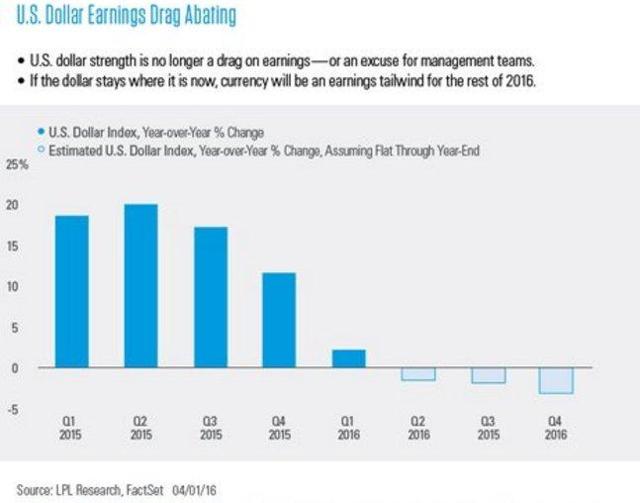 If this comes to pass as illustrated, it could then be a catalyst for the "surprise" that I mentioned earlier.
GAAP vs. Non-GAAP
There's been a GAAP vs. operating EPS (Non-GAAP) debate for decades. For some reason there seems to be a reason that many need to pay more attention to it now than in prior bull markets. I'm not sure why this is other than to say the entire bull market run has always seemingly been in doubt.
The never-ending battle between the stock market optimists and pessimists, the "GAAP vs. Non-GAAP" debate is frequently cited by the bearish camp, and in fact, in some cases, for very good reason.
GAAP is consistently more volatile quarter over quarter and operating is consistently higher. But the trend growth is largely equal. The trailing 12 month EPS growth from 12/09 to 12/15 on an operating basis, 77%, on A GAAP basis, 71%.
While all U.S companies report EPS on a GAAP basis, many U.S. companies also choose to report EPS on a non-GAAP basis. There are mixed opinions in the market about the reporting of non-GAAP EPS by U.S. corporations.
Supporters of the practice argue that it provides the market with a more accurate picture of earnings from the day to day operations of companies, as items that the companies deem to be one-time events or non operating in nature are typically excluded from the non-GAAP EPS numbers.
Critics of the practice argue that there is no industry standard definition of non-GAAP EPS, and companies can take advantage of the lack of standards to (more often than not) exclude items that have a negative impact on earnings in order to boost non-GAAP EPS.
Brian Gilmartin has written extensively on this topic and suggests that investors might be better served by looking at operating cash flow per share. His suggestion, when valuing companies, particularly on a P.E. ratio basis, don't forget operating cash flow per share. It is probably a much more telling calculation. GAAP vs non-GAAP is a good discussion and worth having: GAAP and Non-GAAP vs. cash-flow is probably a better discussion.
Crude Oil
Concerning oil, hopes for a production freeze are fading. Bloomberg reported that "Saudi Arabia will only freeze its oil output if Iran and other major producers do so," according to the kingdom's deputy crown prince. Crude has now pulled back 12.58% from its recent March 22nd high of $41.90.
Over the last few months, stocks and oil had been tracking each other very closely. Since late March, however, we have seen stocks continue to trend higher even as oil has pulled back. Can stocks keep ticking higher if oil continues to dip? Probably not if oil gets back into the low-$30s or high $20s.
Source: Bespoke
It is no revelation to point out that the global oil and gas industry has responded to the commodity meltdown with severe cutbacks in capital spending. What is not fully appreciated, however, is the unprecedented extent of this recent austerity.
Average spending cuts in 2016 are expected to be 22%, nearly on par with the average 2015 cut of 25%. This multi year investment downturn is unprecedented since at least the 1980s. While onshore U.S. spending is experiencing particularly severe cuts of approximately double the global average, virtually all non-OPEC geographies are seeing curtailments of varying degrees. By definition, this will lead to a supply response, albeit not always materializing in real time.
Raymond James Associates published their views of this situation.
"Two consecutive years of global investment curtailments on this scale are the worst in at least a quarter century. While many of these cutbacks will not result in an immediate fall off in oil production, the unprecedented collapse in investment will translate into a negative oil supply response that will play out over years to come and spread across a wide range of geographies."

"For energy investors who question whether oil prices will ever rise again, it is essential to underscore that achieving sustainable global oil supply growth is simply not possible at current oil prices and oilfield investment levels."

"Once the supply glut is alleviated and global inventories begin to fall (anticipated in 2H16), future oil demand growth will require a substantial recovery in investment to more sustainable oil supply growth. This is only possible if higher oil prices enable higher industry cash flows."
Three consecutive years of global oilfield capital spending curtailments drive spending down 47% from 2013 to 2016. The bottom line is that the industry is embarking on its third consecutive year of lower spending, taking total spending to approximately three quarters of 2010 levels.
At some point in time, the pendulum which has now swung to extremes, will rebound sharply, and the price of WTI may follow that track.
The Technical Picture
As the recent market rally showed signs of broadening, the prospects of last February's lows being the final bottom gains more credibility. So far the equity market has remained resilient, thus digesting the strong upward move off the February lows.
The chart below depicts a trading range chart for the S&P 500 over the last year. The red zone represents what is called "overbought" territory, which is calculated as between one and two standard deviations above the index's 50 day moving average.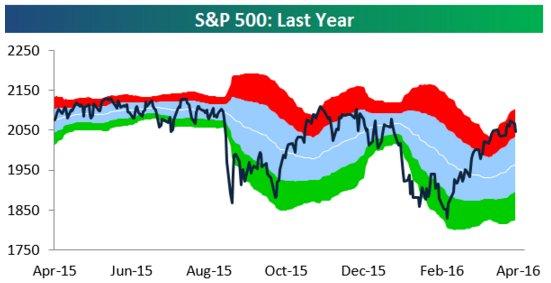 Source: Bespoke
As shown, the index moved into overbought territory in March, and it has stayed there since. Even after the market's pullback over the last few days, prices remain elevated. Overbought levels can be worked off in one of two ways; prices can decline back into neutral territory, or prices can trend sideways and allow neutral territory to catch up with it. Bulls will be hoping for the latter in the days ahead.
The daily chart reveals the S&P has maintained and closed above the upward sloping 20 Day moving average.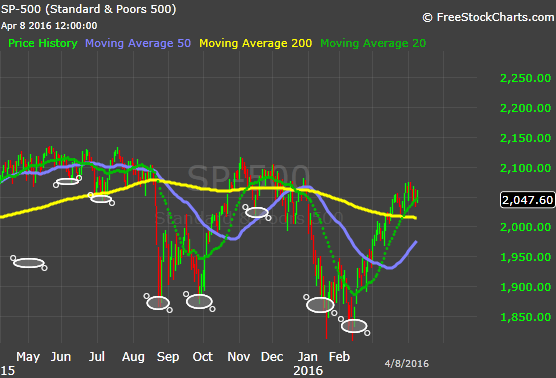 From a technical point of view, the market has been declining in a choppy pattern since the 2075 high that was set a week ago. In my view the bears will need to see a breach of the 2019 pivot point to get the downside momentum going.
The bullish perspective looks to S&P 2033 as short term support. If that level can hold, it could be a sign for another attempt to scale the 2080 resistance point.
Market Skeptics
Perhaps because it is a political season, we keep hearing the refrain "wages have gone nowhere for years." And, as the story goes, because wages have been so bad, household economic anxieties have surged causing both consumer confidence and spending to remain subdued. In fact, the real wage rate in this country has been enjoying one of its most prolific and persistent advances of the post-war era.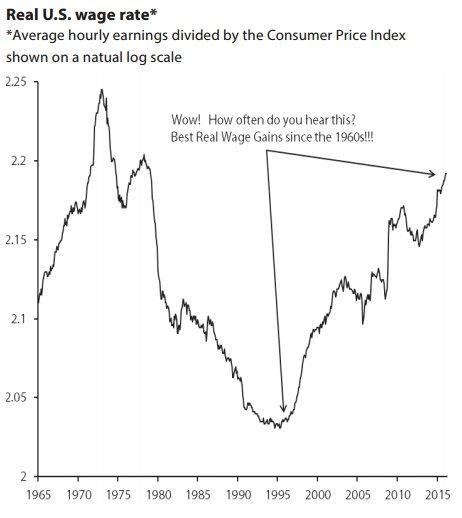 Chart courtesy of Wells Capital Management.
As shown in the chart above the real wage rate has risen steadily since the mid-1990s, and this trend did not stop with the 2008 crisis. Indeed, since the end of the last recovery (i.e., December 2007), the real wage rate has risen at an annualized pace of about 0.83%, one of its strongest periods of advance in at least 50 years!
Individual Stocks
Given all that investors face in trying to find value in a mature bull market, selected stocks in the Healthcare sector have one thing that other companies don't possess - top and bottom line growth. It is the reason I continue to look at this group for new acquisitions.
A look back at some recent data points:
Healthcare was the worst performing sector in March, with the S&P Healthcare Index posting a modest 2.8% gain. Healthcare is now the worst performing S&P sector YTD (-5.5%), despite what I would argue are relatively strong fundamentals and a reasonable valuation. Breaking down the group's underperformance, seven of the nine healthcare sub-sectors underperformed the S&P 500, but continued pressure on biotech and specialty pharma stocks, plus another soft month for distributors, weighed most heavily on the space.
In my view, Healthcare fundamentals remain favorable. Per Factset Research:
"The Healthcare sector is projected to report the second highest revenue growth of all ten sectors at 8.9%. All six industries in this sector are expected to report sales growth for the quarter, led by the Health Care Technology (17%), Biotechnology (12%), and Health Care Providers & Services (10%) industries."
The weaker dollar currently stands to be a tailwind to growth, which I do not believe is reflected in street estimates. There are selected companies within these sub sectors that easily beat these growth projections. Alexion (NASDAQ:ALXN), Celgene (NASDAQ:CELG), Gilead (NASDAQ:GILD), Amsurg (NASDAQ:AMSG) and a company I mentioned last week, Mednax (NYSE:MD) are standouts. I added shares to my portfolio this past week.
I also decided to "trade what was in front of me" by purchasing shares of Allergan (NYSE:AGN) when the stock fell to the $230 level after their proposed merger was called off. The acquirer, Pfizer (NYSE:PFE) put a price tag on the company north of $320. Allergan stock traded at $320 after the deal was announced late last year. I viewed the selloff as unreasonable, given Allergan's fundamentals. Pfizer has told us what they feel is fair value, so with the stock trading now around $250, there is plenty of upside left.
The short term picture for the sector may be cloudy, and so it's best that I mention the reality of the situation as it exists today. While fundamentals, for the most part, continue to screen positively, let's not forget the recent five years of outperformance. Hence the general "trade" may be moving away from the sector, perhaps as part of the flows back into the energy sector. Given these dynamics, stock selection will continue to be the driver of success in the sector.
To be sure, sentiment on the sector has gotten quite bearish. We regularly hear about regulatory risk and the U.S. Presidential election candidates. I don't have a specific view on the regulatory risk that could exist for biotech from, for instance, a Trump or Clinton Presidency. However what I do know is that the more we hear opinions on this sort of thing from generalists, the better they become as a gauge of washed out sentiment. While there is recent precedent for executive branch regulatory action having huge negative consequences for a specific industry, generally speaking in American history "fading" regulatory risk has been a winning strategy.
A "change" in the entire picture was presented to investors last week. Looking at the price action, we could be at the doorstep of a technical breakout for the Biotech sector. This may lead to a self-reinforcing sentiment shift around the headline risk for the industry headed into November.
The concerns around the potential fallout from the 2016 election and the negative news cycle surrounding specialty pharma are weighing on sentiment. This could then be the perfect buying opportunity. These stocks have been pummeled, any pullback now should be a reason to research them and take positions.
Summary and Conclusion
The secret to this bull market has been its ability to embrace and relish a chronic wall of worry. From its beginning, the stock market run has always been considered at imminent risk of ending in another colossal Armageddon.
Along the way, consumers were never going to spend again, nobody was ever going to borrow or lend money again, the unemployment rate would never come down again, and we were likely to have another major banking failure, a secondary housing market collapse, a massive municipal bond default, a fiscal crisis (going over the fiscal cliff), a blowup of the Eurozone, a hard landing in China, and a deflationary spiral led by collapsing oil prices.
Well, we are all still here and the S&P is closer to the highs than the recent lows.
To say it was a good month of March for the market would be an understatement, but can the party continue in April? Or are we in for a Spring hangover? From a seasonal perspective, the picture is mixed.
Bespoke Investment Group tells us that the S&P 500's median return in the two week window from the close on 4/4 through 4/18 has been a gain of just 0.43% with positive returns in six out of ten years.
Since 2011, though, the returns have been really poor, with only one year of positive returns. Interestingly, off the S&P sectors, Energy is once again the leader in this week's report with a median gain of 1.81% and positive returns 60% of the time. The last two years have been especially strong for Energy with gains of 3.0% and 5.3%. Given that the sector is bumping up right against resistance, the sector could use a good two week period. Behind Energy, the other two sectors that have better median returns than the S&P 500 are Industrials and Materials. On the basis of consistency, Technology has been the best sector to be in with positive returns in seven out of ten years for a median return of 0.24%.
If this sector strength proves true for this year, then one would give the S&P a decent chance of at least being flat to positive in the near term. In addition, new leadership may emerge.
It has been 322 days and counting since the S&P recorded a new high. This current streak is now the longest. With over ten months having passed since the last new bull market high last May, the consensus view is that the stock market is in the midst of a transformation to a bear market.
By itself, the long stretch of time without making a new bull market high is not indicative of a bear market. In the pre WWII period, the longest stretch of time was just over three months (105 days). Since WWII, though, it has been very common to have extended periods where the S&P 500 goes nine months or more without making a new high.
In keeping with the "surprise" theme, this period could easily just be a pause and re-charge for a bull market that raged for six years from 2009 to early 2015.
So I continue to believe the way to approach this situation is staying with the "plan". It has shown to be effective and profitable throughout this entire bull run. The main focus allows me to take advantage of volatility, to periodically rebalance portfolios and remain disciplined.
Right now, it's more of wait, watch, and then observe how the market reacts now as it battles with overhead resistance levels.
Best of Luck to all!
Disclosure: I am/we are long AGN,AMSG,CELG,GILD,MD.
I wrote this article myself, and it expresses my own opinions. I am not receiving compensation for it (other than from Seeking Alpha). I have no business relationship with any company whose stock is mentioned in this article.