Constellation Brands (NYSE:STZ) reported earnings a few days ago, in line with expectations, and positive guidance. The company produced double-digit revenue and earnings growth and is expecting to do the same in the current calendar year, fiscal 2017. The news was well received by investors, as it should be, because it is likely to continue for years to come.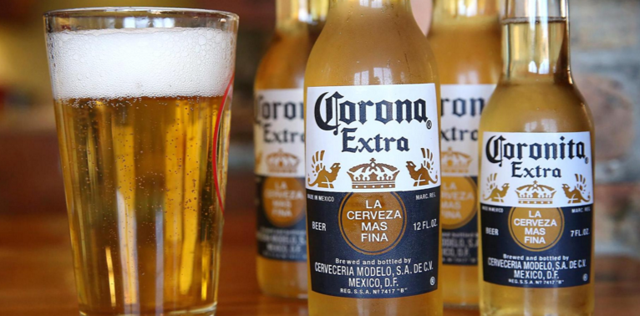 Perhaps the most important take away is that this is a well established, profitable business with growing sales. Free cash flow was positive and is expected to remain strong in the current and following fiscal years; the money being used to fuel expansions and unlock shareholder value.
Growth is not just because of acquisitions, although they too are driving growth. All segments of the business are experiencing steady organic growth; wine and spirits grew 3% and beer grew 14%. This growth is largely due to volume increases, particularly in the US beer market, and should remain steady if not grow in the coming years.
My thesis, Constellation Brands will benefit from a steady stream of new 21-year olds for at least the next 10 years that will inflate the available customer base, driving revenue and profit growth.
Demographic And Economic Trends Favor Growth
Bear with me here. Data shows that Millennials are about 26% of total US population. The age group covers those born between 1986 and 2006 (some studies use arbitrary time frames for their comparisons, I use 20-year groups; 1945-1965 Baby Boomers, 1966-1985 Generation X and 1986 to 2006 Millennials), an age group that is now evenly split above and below 21 years. The oldest are turning 31 this year, the youngest 11.
Starting with the assumption that there are roughly 330 million Americans, more or less, 26% of them are Millennials, 85.8 million. Half of those, 42.9 million, are not yet 21, 8% of the population. The Baby Boomers are 26% of population and Generation X is about 16%. So, not counting anyone above the age of 71, the current drinking age population of the US is about 50% of the total. The addition of the too-young-to-drink portion of the population could increase that as much as 16% over the next ten years to 58% of the total, not counting for those aging out.
At the same time, don't forget, labor trends are positive and indicative of a healthy economy. Jobs growth is averaging more than 200K monthly, unemployment levels are trending lower, wages have shown steady year-over-year growth and even the Fed agrees (most of them anyway) that we are near to full employment. The KC Feds Index of Labor Market Conditions is trending higher, crossing above 0, indicating the onset of economic growth, not a recession, led by labor. The point being, there are a lot jobs, more money flowing in the economy and plenty of current and new customers to drive revenue and profit for a beverage company such as this.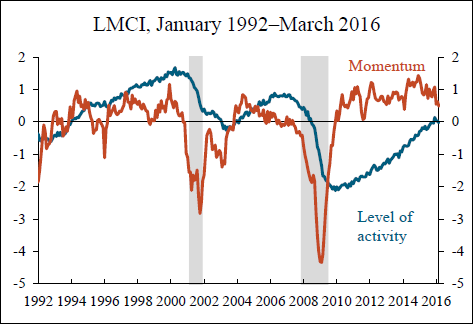 Getting Ready For Growth
The company has been making moves to accommodate demand growth. The most recent actions are plans to expand production for some of its more iconic brands, the purchase of The Prisoner Wine Company portfolio of brands and the potential spin-off of a fast growing segment of Canadian business.
One expansion is already completed, a 5 million hectolitre brewery at the Nava facility. Another is planned for a Mexicalli, Mexico, brewery to enhance production of "iconic Mexican brands", both in addition to the purchase of Ballast Point brewery, the US top microbrewer. Other purchases include The Prisoner Wine Company, owner of 5 premium brands, which is expected to add $0.03-$0.05 to EPS in the current fiscal year. That deal is slotted to close at the end of this month.
The spin-off is targeted at a Canadian wine business that is growing rapidly. The company feels that the brand would benefit from an IPO in terms of brand recognition and growth and is looking to move forward with the deal later this year. The move could unlock shareholder value through multiple expansion, it will certainly strengthen the balance sheet for STZ and pave the way for expansion in other areas.
Currency Headwinds Diminish
The company reported a negative impact from currency conversion. The impact was negligible, barely worth a mention in the earnings report, but one that is diminishing. Policy from the ECB, BOJ and FOMC has the dollar index down near 6-month lows, reducing negative affects of conversion for this and all multinationals.
Taking Care Of Shareholders
Executives were able to make a number of moves over the past quarter to enhance value, including a buyback and an increase to the dividend. Distribution was increased by 24% to $0.40 annually, about 1.0% at current share prices, and buybacks totaled over $34 million. While there is no guarantee the board will initiate another buyback, it is not out of the question; another dividend increase is also a possibility.
"Our strong earnings and operating cash flow growth continue to enhance our financial profile and create significant financial flexibility. This has enabled us to finish fiscal 2016 with a net debt to comparable basis EBITDA ratio below the 4 times mark, even as we made significant capital investments in our Mexican operations, acquired Meiomi and Ballast Point, initiated a dividend and repurchased shares," said David Klein, chief financial officer, Constellation Brands. "We are significantly increasing our dividend for the coming year and expect to continue to grow operating cash flow with a goal of $1.5 to $1.7 billion for fiscal 2017.
Valuation And High Prices
The stock jumped following the earnings release, gaining about 5.25%, and is now trading just below the new all-time high. On a price-to-earnings basis, current share value is near 30X current earnings. This is a little high but considering the growth potential, it's not too high, in my opinion. On a forward basis, valuation is closer to 26X earnings, suggesting there is room for the stock to move up over the next 12 months.
Volume is worth noting while talking about the recent price surge and valuation. Volume spiked on the move, about 3X average daily, and remained elevated in the days to follow. Price may retreat to close the gap opened with the release of earnings, but on a technical basis, support is evident in the volume and elsewhere.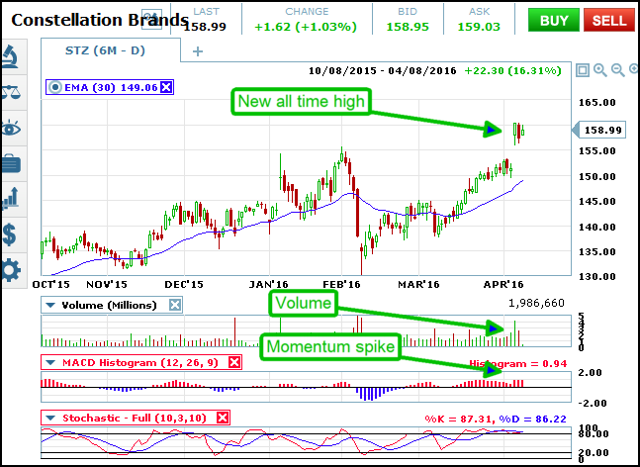 If the stock were to move up to trade 30X forward earnings, the target range would be $181 to $195. Based on today's prices, that would be an additional gain of 13.8% on the low end, with a possible 18.5% gain on the high end. Support target is roughly $155, about -2.5% to -3.5%, making the risk-reward scenario favorable to say the least.
If a move to support does occur, that would be the more opportune entry point. An entry of $156 increases the range of potential upside to 16% to 25%, any entry below that is gravy. I also want to point out that at no time, yet, have I mentioned the possibility that the company will beat forward earnings expectations due to ongoing economic expansion, further inflating potential upside for shareholders.
The Stars Are In Alignment
This stock has a lot of things going for it. Earnings and revenue growth, organic growth, strong and positive cash flow, a rising and healthy dividend, the benefit of economic and demographic trends, all combine to point to ongoing strength in beverage sales, revenue and earnings. The yield isn't stellar by itself but adds a little something extra when considering the stock for long-term growth potential. I am certainly interested and a likely buyer on a retest of support.
Disclosure: I/we have no positions in any stocks mentioned, but may initiate a long position in STZ over the next 72 hours.
I wrote this article myself, and it expresses my own opinions. I am not receiving compensation for it (other than from Seeking Alpha). I have no business relationship with any company whose stock is mentioned in this article.