For more than two years, natural gas prices have been in a downtrend. This past winter was a disaster. The commodity has lost 65% of its value since its peak in February 2014.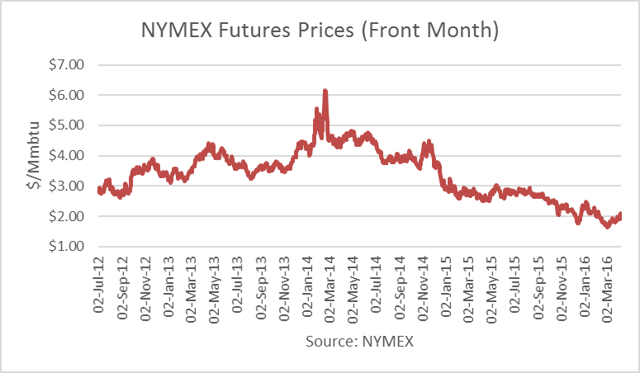 El Niño produced the warmest U.S. temperatures on record this past winter.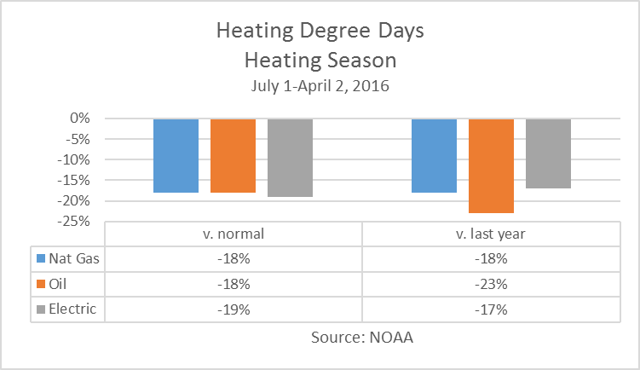 The storage surplus swelled to its five-year maximum, as measured by the Energy Information Administration (EIA).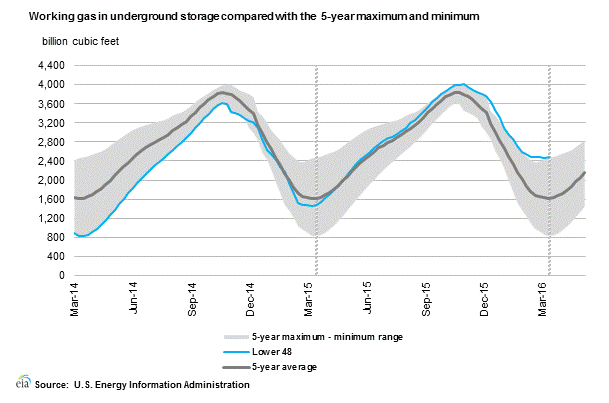 But one market commentator penned an article explaining that the market could even get uglier this summer. The author sees a "perfect storm" of conditions that may line up to produce "unimaginably low prices" that can be "historic."
Epic Hurricane Season
Bill Kirk, CEO of Weather Trends International (WTI), sees a different kind of perfect storm brewing. All of the climate indices and statistics are aligning to set the stage for a very active and destructive 2016 hurricane season in the Atlantic Basin with several land-falling hurricane threats for the U.S. He thinks it may be an epic hurricane season. This video explains why.
Unlike other weather forecasting firms, WTI uses a unique approach that provides long-term (one-year out) forecasts. Since 70% of the earth is covered by water, and ocean temperatures do not change quickly, they focus on oceanic cycles. As WTI explains it, once a cycle starts (El Nino is one of the 24), it stays that way for an extended duration, so knowledge of these cycles combined with advanced math, statistics, and probabilities make it possible to provide much more accurate year-ahead forecasts than the physics-based meteorological models that only work well a week out. I have worked with WTI and know first-hand the quality their work.
AccuWeather just recently published their hurricane season for 2016. They are also forecasting a more active season as well, two more-than-normal storms.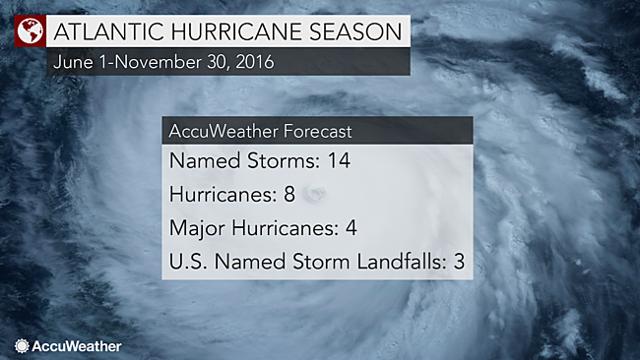 For those who were not in the natural gas market back at the end of August 2005, Hurricane Katrina caused a massive disruption in natural gas production…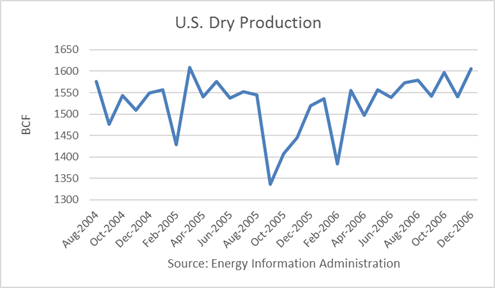 ...which caused prices to spike from $8 to over $14 per mmbtu in December.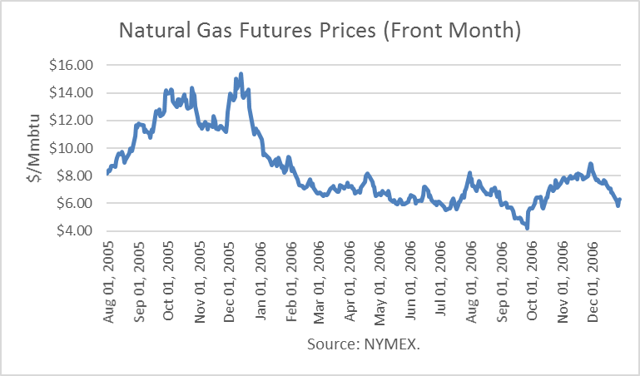 Analysts, such as the EIA, point out that natural gas supplies are no longer as vulnerable to hurricanes in the Gulf Coast because the proportion of U.S. production from offshore has dropped to 5%.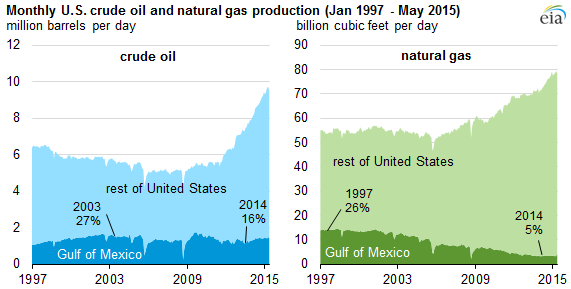 However, one of the reasons why Katrina was so devastating was that it reached Category 5 status in the Gulf and reached landfall as a Category 3 hurricane.
By the way, the best trade was actually on the short-side after prices peaked in December. Prices collapsed from $14 to $4 per mmbtu, a $10 mmbtu drop in ten months. That's the equivalent of a $100 per barrel crude price move ($100,000/futures contract).
Scorching Heat
WTI is forecasting a scorching hot summer and severe drought from the Midwest into the Northeast. For the core July - August summer months, WTI predicts the Midwest having +30% more cooling degree days (CDDs) than average and +59% more than last year. Natural gas usage is highest in the mid-continent. In the Northeast, core summer month CDDs are expected to be up 17% compared to average and 21% versus last year.
By contrast, in the EIA Short-Term Energy Outlook ("STEO"), population-weighted cooling degree days are forecast about 5% higher in July and August compared to the same months last summer. The WTI forecast would therefore come as a surprise, if realized.
A hot summer boosts electricity production to power air conditioners. In 2016, natural gas supply is expected to exceed coal as the number one energy source to utilities.
Cold Winter
According to the National Oceanic and Atmospheric Administration (NOAA), transition to El Nino Southern Oscillation (ENSO)-neutrality is likely by early summer 2016, with close to a 50% chance for La Niña to develop by fall. La Niña is the cold phase of the ENSO cycle during which unusually cold temperature anomalies are recorded in the South Pacific.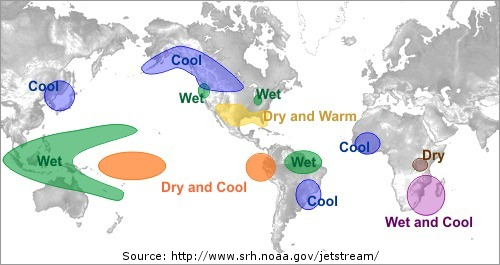 WTI predicts that there will be an early start to winter with the La Niña pattern among other 23 cycles they monitor. For December in New York City, WTI projects 19% more heating degree days (HDDs) than normal and a whopping +112% more than last year. It would be the coldest December in 16 years. For a video discussing WTI's summer and winter, click here.
The EIA is projecting an increase in U.S. population-weighted HDDs of 12% from November to February this winter compared to this past winter.
Surplus to Decline
EIA's STEO projects ending December 2016 storage at 3,473 billion cubic feet (bcf). That is 205 bcf less than December 2015. By December 2017, STEO projects ending storage at 3258 bcf. The daily storage build of 1.32 bcf/day in 2015 is offset by a net draw of 0.57 and 0.68 bcf/day in 2016 and 2017, respectively.
The improvement is based on an increase in consumption of 1.8% in 2016 and 0.8% in 2017. The largest add comes from gas-fired electric power generation.
Trading Nat Gas
The EIA is projecting a steady improvement in prices as the surplus is reduced.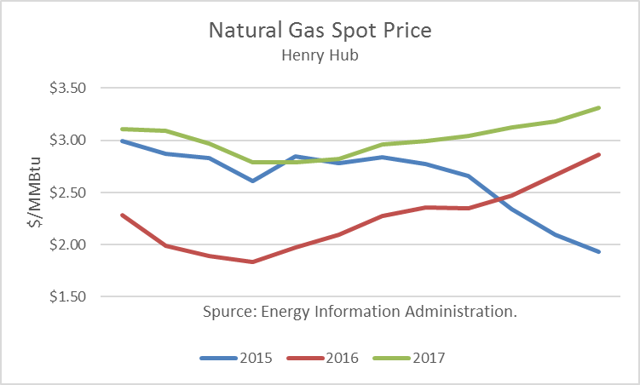 But as I discussed in my article, "What Determines U.S. Natural Gas Prices? A Modeler's Perspective," one important factor for prices is the deviation in degree days from normal. The reason the difference is important is that it represents the surprise to the market since the market generally bakes "normal" temperatures into futures prices. The WTI forecasts, if realized, would definitely pack a surprise to the market.
Conclusions
Given how much nat gas prices have been beaten up, a price reversal could provide a powerful surge. However, the natural gas market can be much more volatile than the crude market. That's why I advise disciplined risk management. It will probably be a roller coaster experience, as opposed to a"subdued" affair.